How To Use Metal Home Decor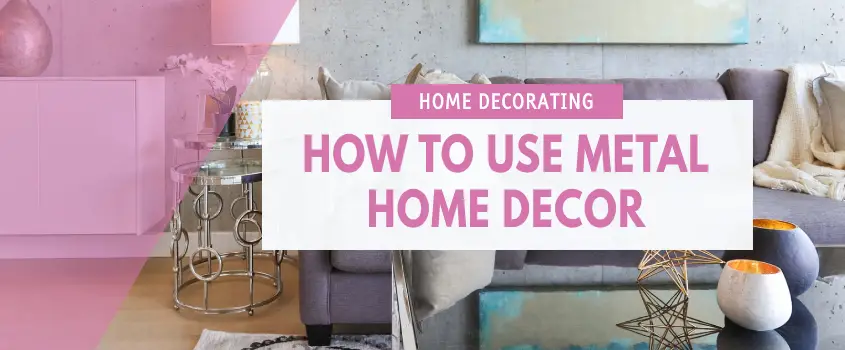 FTC Disclosure - This post contains affiliate links and I will be compensated if you make a purchase after clicking on my links.
*Item received for free for promotional consideration or a sponsored link.
Not all that glitters is gold, but its fun when it is.  Gold, silver, copper, iron, stainless steel, and brass are all popular types of metal home decor.
I know a lot of people are over the rose gold craze, but I still kind of love it.  Luckily, if your affection for this trend has waned there are a lot of other options for metal home accent decor.
Home accessories traditionally fashioned from wood or ceramic are popping up in metallic versions all over the place.
So, what are the best way to use metal home decor?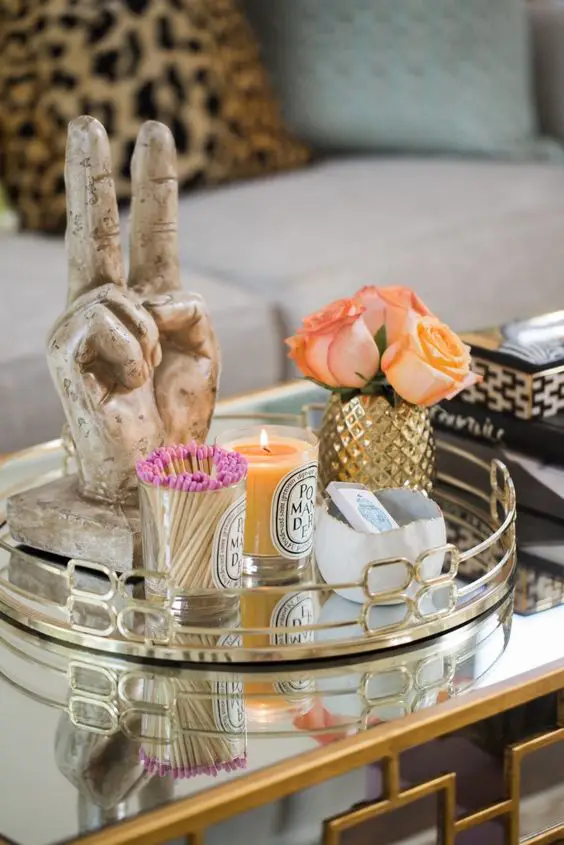 How to Use Metal Home Decor
Metal wallpaper, metal wall art, metal vases, backsplashes, and even floors are becoming increasingly popular.
While browsing around Pinterest as I do several times each day, I noticed two strong trends around metallic home decor.  You can go full glitz and glam, or you can go earthy rustic.
For sure, there are a lot of other options in between, but these are the two I'd like to focus on in this decor discussion.
First up is the earthy metal decor.
Earthy Metal Decor
If you like farmhouse decor, you'll probably like an earthier version of the metallic trend.
Aged tin pails and distressed end tables bring a lot of character and texture to your space.  Look for iron and brass pieces to decorate your tabletops and walls.
Distressed Tiered Tray
Below is arguably the most popular home accessory for the farmhouse decor style, a tiered tray.  This rough, distressed metal accent is super trendy.
It's also incredibly versatile and can be used as a base for your seasonal decor.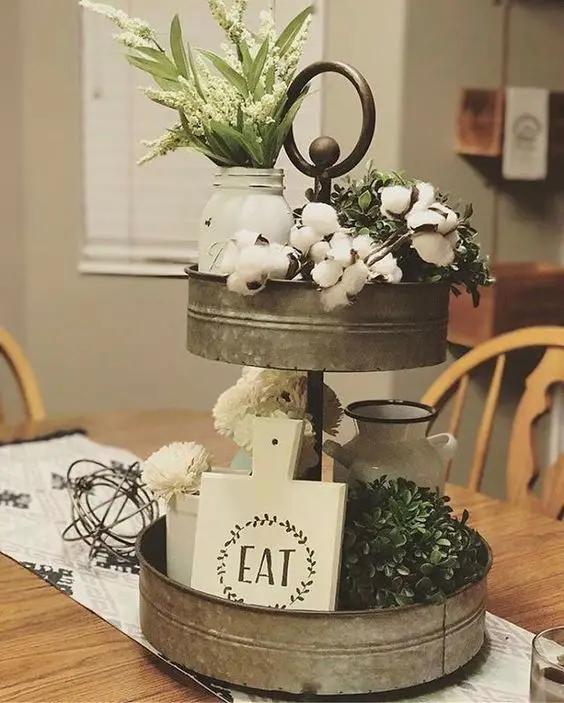 Weathered Wall Art
Another great option for incorporating the earthy metal decor look into your home is with wall art.  This distressed, windmill style accent is the perfect example of how to use this type of metal to fill your blank walls.
Wall Hanging Pots
You don't have to use weathered or aged metal for that earthy look, however.  Simple hanging tin or aluminum pots are a great way to get that rustic feel.
They're also incredibly cheap and can usually be found at the Dollar Store.
Glam Metal Decor
High shine glamorous metals have been in style for a while now.  Silver and mirrored tables and dressers have saturated the furniture market for the past two years.
When you have a lot of high shine elements in a small space, all you need is a little candlelight to turn your room into a glimmering wonderland.
The formula: Metal + Mirror + Candlelight = 1 Glitzy Masterpiece
Glam metal decor tends to evoke a lot more "oooohs" and "aaaahhs" than it's earthy counterpart.  So, if your aim is to use metals as statement pieces, I'd opt for these polished, reflective options.
Mirrored Picture Frames Paired with Mirrors
This living room is just stunning.  The set of mirrors centered over the sofa with highly polished silver picture frames flanked on either end is a great way to get that glam metal decor look.
Metal Mirrored Furniture
Mirrored metal furniture just screams glam.  In the example below Randi Garrett has paired this sideboard with other metal accessories like the mirror, tray, and metal accents on the lamps.
It's a gorgeous display, but then everything she designs is gorgeous.  I'm a big fan.  If you're in need of some glam interior inspiration, I highly recommend visiting randigarrettdesign.com.
Metal Home Accessories
The final way to incorporate glam metal decor into your space is to use small home accessories like candleholders and vases.  Small items like this are great to pepper in a little metal throughout your room without having to commit to large installations.
Conclusion
I'm curious to know which style you like best.  Are you a fan of earthy distressed metals or high shine glamorous metallic decor?  Let me know in the comments below.
If you found this post helpful, please share it with a friend and follow Dianne Decor on Bloglovin'.
If you'd like to have my latest posts delivered directly to your inbox, join the mailing list before you go.  I'll send you my weekly newsletter filled with weekend reads and home decor sales from around the web.