FTC Disclosure - This post contains affiliate links and I will be compensated if you make a purchase after clicking on my links.
*Item received for free for promotional consideration or a sponsored link.
When it comes to deciding what to put in large glass jars for decoration, there are a ton of great options.
However, depending upon where you plan to display this decor, you may want to select one idea over another.
In this post, we'll take a look at different jar filler options and how to decide which one is right for you.
What Can I Use To Fill Glass Jars for Decoration?
The width of your jar or vase opening will ultimately determine what can physically be placed inside.
That being said, you may want to give extra consideration to where you wish to display these items, what season you're in, and the type of jar you're using.
In a moment I'll dive into each one of the jar filler types and talk about the pros and cons of each.
However, quick and easy decisions about what to put in a decorative jar can be made by its intended location.
If you plan to use your glass jar as a table centerpiece, foods and dry organic material are the best bet.
Things like lemons, apples, or other foods placed inside of jars will need to be removed at some point unless of course, you opt for the faux versions (which I recommend).
Organic material like shells, rocks, and moss are interesting to look at up close, making them a great choice of filler for a glass jar centerpiece.
Acrylic water and craft materials, on the other hand, are best displayed at a distance on a shelf or in a bookcase.
Decorative objects such as balls or beads are great for console tables and bathroom countertop displays.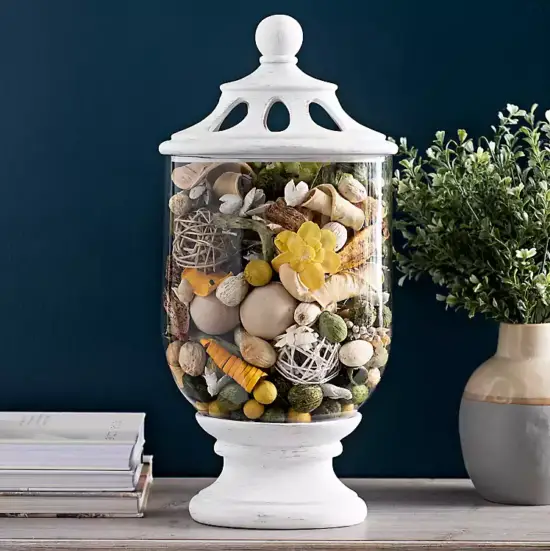 1. Dry Organic Materials
Dry organic materials such as moss, grass, shells, sand, rocks, and pebbles make great jar fillers.  They're interesting to look at and no two arrangements will look the same.
Moreover, they're an affordable way to fill several jars at once if you're decorating on a budget.
The best thing about them, however, is their natural earth tones which compliment any decor style.
The use of dry organic material to fill large jars as decoration is ideal for glass containers no larger than the size of a traditional flower vase.  Including these materials in anything larger and the scale of the filler will appear to be out of sync with the size of its container.
Not to mention, it's a missed opportunity to utilize intricate decorative objects or other plant materials such as pinecones.
2. Decorative Objects and Potpourri
Wood, twine, and moss ball are popular decorative objects that are fantastic to put in a large jar for decoration.
Oversized potpourri is also available in any color scheme you'd like.  The large scale of these items is perfect for filling space in a big ginger jar or potpourri jar.
In my opinion, jars filled with decorative objects like the aforementioned are much more interesting to look at than a standard floral display.
So, if you're looking for a more creative route to take, consider something like this as your jar filler.
You can also use jars to display a collection of items like antique keys, spoons, scrabble letters, or spools of thread.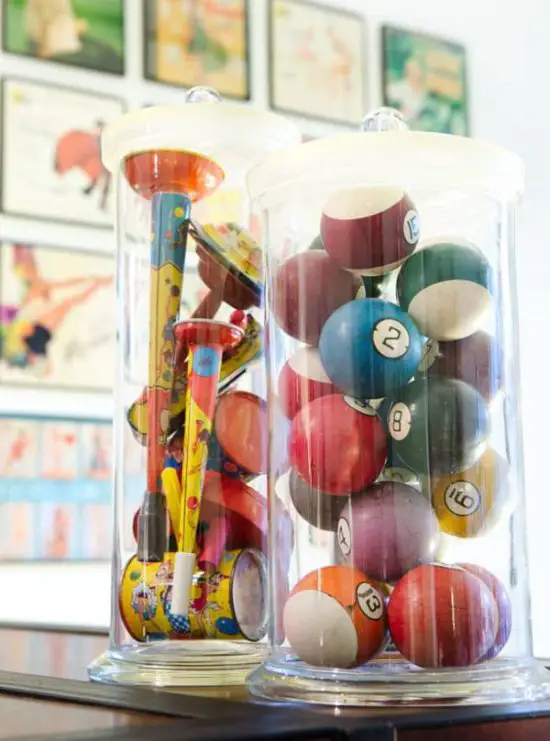 3. Submerged Floral Display
While the traditional way to arrange flowers in a vase is to place only the stems into the jar, a submerged floral display where the entire bloom is also placed in the jar is a wonderful way to fill a large jar or vase.
To pull off a display like this simply use a put of floral wire to attach the bottom of the flower stems to a couple of washers.
The washers are used to hold the flowers down so that they don't simply float to the top when you add water.  Next, add a decorative filler like acrylic crystals to the bottom of the vase to disguise the washers.
Finally, fill the vase with water.  If you want to avoid bubbles forming around your flowers, use distilled water.
Another option for this display is to top it off with a floating candle.  You often see these displays used as wedding centerpieces.
4. Craft Materials
Beads, crystals, corks, balls of yarn, sequins, buttons, and other craft materials work well in large glass jars as decor.
That being said, pay careful attention to the scale of the craft material you choose.  If you pick something too small you'll need much more of it to fill your jar and that may become costly for you.
Large acrylic crystals like the ones shown below are available in a ton of different colors and work well in layers with other crafting materials.
5. Foods
The spring and summer are the perfect time of year to experiment with the use of foods as jar filler.  If you've been wondering what to put in a large glass jar for decoration, try citrus fruit like lemons or limes.
I recommend using faux lemons, limes, or other fruit, but you can certainly use real fruit for a special occasion like a party.  I say this because you don't want to have to continuously swap out your food week after week as it starts to age and changes colors.
Corn kernels, candy, dry pasta, dry beans, and rice also work well as vase fillers.
Recommended Read: What Is Citron Decor and Why Is It Everywhere?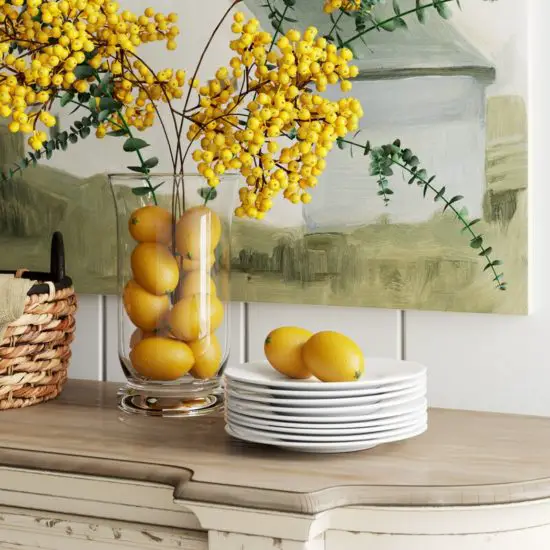 6. Plant Material
Acorns and pine cones are a wonderful combination for the fall and winter.  Together they create a lovely tone on tone display when used to fill a glass jar.
The variation of brown earth tones will work with any decorating style, but look especially nice if you have a rustic or modern farmhouse style interior.
Remember, you can always spray paint these for a more unique look.  Glitter pine cones are a very popular decorative accent during Christmas time.
Conclusion
I hope you found this post helpful.  If you did please share it with a friend and follow Dianne Decor on Medium.  For more from me, you can find me on Instagram, Pinterest, and Twitter.
To have a copy of my latest posts delivered directly to your inbox, join the mailing list before you go.  I'll send you a copy of my weekly newsletter filled with weekend reads, decorating inspiration, and the latest deals on home decor.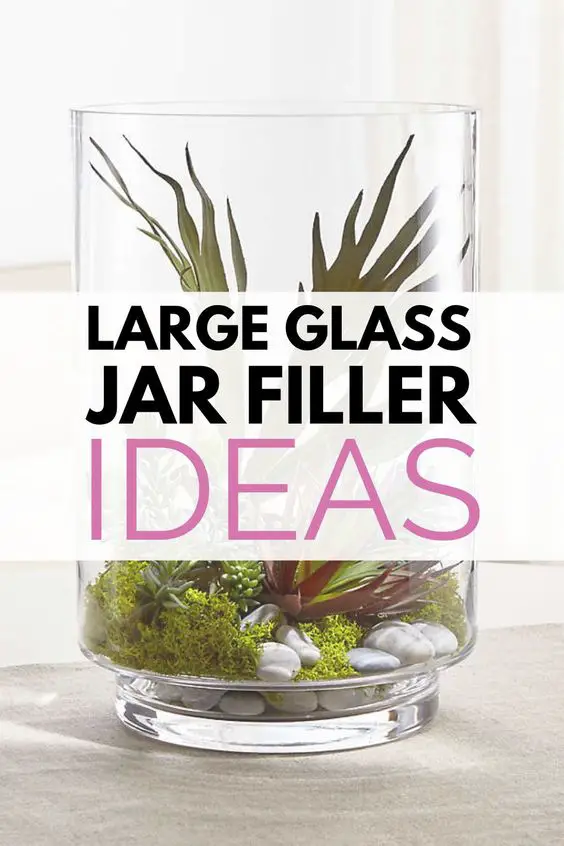 Thanks for reading!
bowl filler
decorative filler
jar filler
jar filler ideas
large glass jar for decoration
vase filler
vase filler ideas
what to put in a large glass jar