Textured Decor: Top 3 Places to Use Woven Home Decor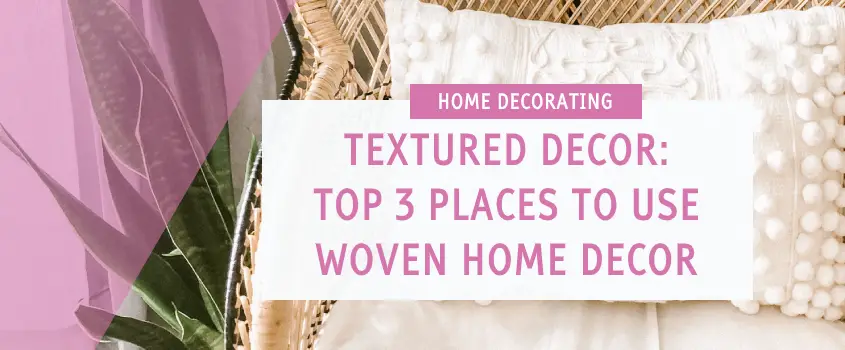 FTC Disclosure - This post contains affiliate links and I will be compensated if you make a purchase after clicking on my links.
*Item received for free for promotional consideration or a sponsored link.
Don't you just love it when you see something so beautifully textured, you just have to reach out and touch it?  I sure do.  Woven and textured decor is trending this year.
We're seeing a lot of layered fabrics, woven rugs and baskets, and lots of plush pillows.  For those of us that love an eclectic style, textured accents are perfect for decorating a room.
If you like the look of these layered styles but aren't sure where to start, keep reading.
3 Places to Use Woven and Textured Decor
Adding Textures to Your Bedroom
The first, and most commonly made over room is the bedroom.
Bedding layered in a variety of textured accent pillows, throw blankets, and quilts make you just want to dive in.
Start with these 3 key elements and then make your way outward from the bed.
Consider an accent rug, lampshades, and wall decor as opportunities to incorporate a new texture.
Textured Decor in the Living Room
The second space is the living room.  Like the bedroom, pillows, throws, and rugs are a great place to start.
After that, the room is literally an open book.  Because this space tends to be larger and much more heavily filled with decor than a bedroom, you have a lot of options.
Try some tapestries on the wall, textured paintings, indoor topiaries, wreaths layered on top of mirrors, rugs on top of rugs, the options are endless.
Find contrasting textures and start putting them together like a puzzle piece.  You'd be surprised how many mismatched textures work well together if you find a common thread, such as a color scheme or function.
How to Incorporate Textures in Your Dining Room
For a slightly more challenging project, try mixing up your dining room.
Start with juggling your seating and incorporating two different types of chairs.  Pair metallic accents with woven chargers to create an interesting tablescape.
Use a layered table runner or compile a few pieces together on a tray to make a centerpiece.
The dining room is a conversation starter and likely an area where each one of your guests will see.  Not to mention the high probability that they will be sitting down to share a meal.
Make it fun and unique.
Conclusion
I hope these tips helped you.  If you have any you'd like to share, please comment below.  I'd love to hear your opinions.
For more from Dianne Decor don't forget to join the mailing list before you go and follow me on Pinterest and Bloglovin'.