How to Fill Your Blank Walls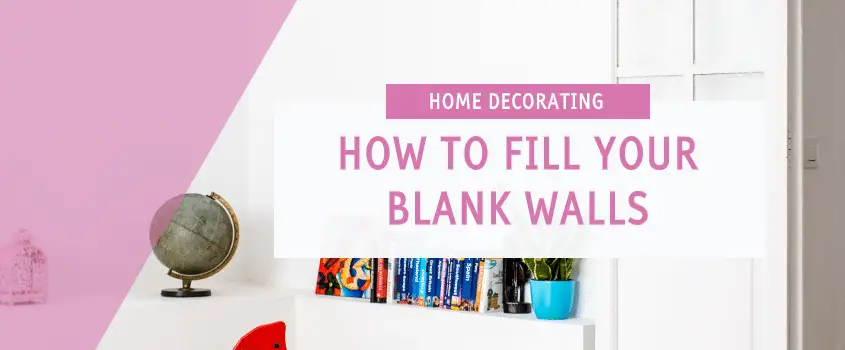 FTC Disclosure - This post contains affiliate links and I will be compensated if you make a purchase after clicking on my links.
*Item received for free for promotional consideration or a sponsored link.
Blank walls can make your home feel empty and unfinished.  Having visual interest at eye level is an important part of having a great interior design.
Unfortunately, a lot of people get stuck on choosing the right pictures or paintings for their walls.  But there are many other ways to fill your blank walls.  In this post, I'll share 10 ideas to fill blank walls.
1 – Baskets & Medallions
A fantastic way to add both texture and visual interest to your walls is to hang baskets or medallions.  Shallow baskets hung in a series or gallery wall style arrangement make a great statement piece.
Wall medallions serve the same function, but with a bit more versatility.  Because they're easier to paint than woven baskets, customizing the look of the medallions is simple.  You can create a tone on tone look for a more subtle wall hanging or go big with a metallic finish.
There are tons of options to choose from.
For more about using baskets as wall decor, check out the post "Baskets: They're Weaving Their Way onto Our Walls".
2 – Abstract Wall Art
Beyond photographs and paintings, there are so many lovely framed art pieces with which to adorn your walls.  If you've been stuck on choosing the right photo or print, consider something a little more abstract.
3 – Wallpaper
If your aim is to create a larger backdrop for your furniture and home accents, wallpaper may be the way to go.  You'll be able to cover a large surface area quickly.  Not to mention, the options for wallpaper are practically infinite.
4 – Wall Decals
Adding graphic interest to your walls with decals is also an option.  This method is particularly great in spaces where interests will change frequently, like kid's rooms.
Using wall decals is good for temporary housing situations like dorm rooms as well.
For more on choosing between wallpaper or wall decals, read "Should I Use Floral Wallpaper or Floral Decals"?
5 – Gallery Walls
Gallery walls are still going strong.  Not only are they a great way to display beautiful photographs, but they can be as large or as small as you want.
With gallery walls, you can choose menagerie of small items or opt for 9 oversized framed photos and fill the entire wall.  They're very versatile and a great way to fill blank walls.
Suggested read: "The Ins and Outs of Gallery Walls".
6 – Beadboard
Installing beadboard on your walls will add a layer of texture and interest to your room.  I recommend using it sparingly, however.  Much like shiplap, not everyone is into it and a permanent installation of beadboard may turn off some buyers if you end up putting your house on the market.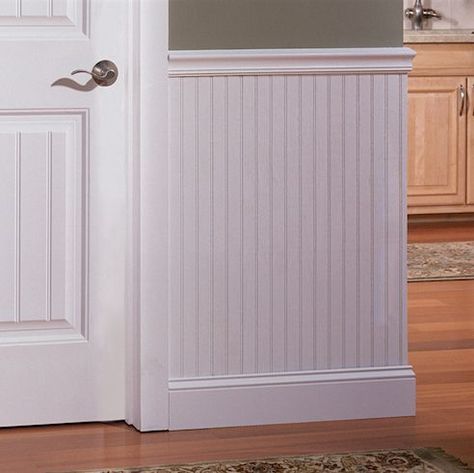 7 – Chair Rail & Picture Molding
The addition of chair rail molding to your walls can really elevate your space.  Not only is it functional, but it's a detail that many homes lack these days.  The same can be said for picture molding.  So, if you're going for a sophisticated, traditional interior, consider both to help fill your empty walls.
8 – Stenciled Patterns
If you prefer paint over wallpaper, but still want an interesting design, a stenciled pattern may be for you.  Stenciled furniture is very popular right now and for good reason.
It creates a new layer of interest to a piece and makes it look custom made.  The same thing can be said for your walls.
With a stenciled pattern you have a lot of flexibility over where it is placed.  Use it to create a bold accent wall or an all-over subtle tone on tone pattern for your entire room.
9 – Curtain Lights
You may not have thought of lighting to decorate a wall, but it works.  Curtain lights, in particular, can be layered over a wall or even used to create a wall and define a space.  They're gorgeous indoors and out.
10 – Mantels & Picture Ledges
Who said mantels are only for fireplaces?  Adding a mantel to a living room that doesn't have a fireplace is a great way to create a decorative focal point.
Picture ledges work the same way.  They're essentially mini mantels and they're very popular right now.  Besides displaying photographs they can be used to hold children's books, figurines, and small vases.
That's it for this post.  I hope you found it helpful.  If you did, please share it with a friend and follow Dianne Decor on Bloglovin'.
To have new blog post notifications sent directly to your inbox, join the mailing list before you leave.  Thanks for reading!