This post is all about small bedroom decorating for a single woman.
It goes without saying, your bedroom is your sanctuary. It is your space for sleeping, waking up, getting ready, and so much more.
Having your own bedroom as a single woman signifies freedom and independence.
Even if it is only a few feet in width and length in an apartment you share with 2 other roommates. Nothing beats the feeling of having your own space to indulge in. 
So, today we're going to talk about how to make the most out of every square inch.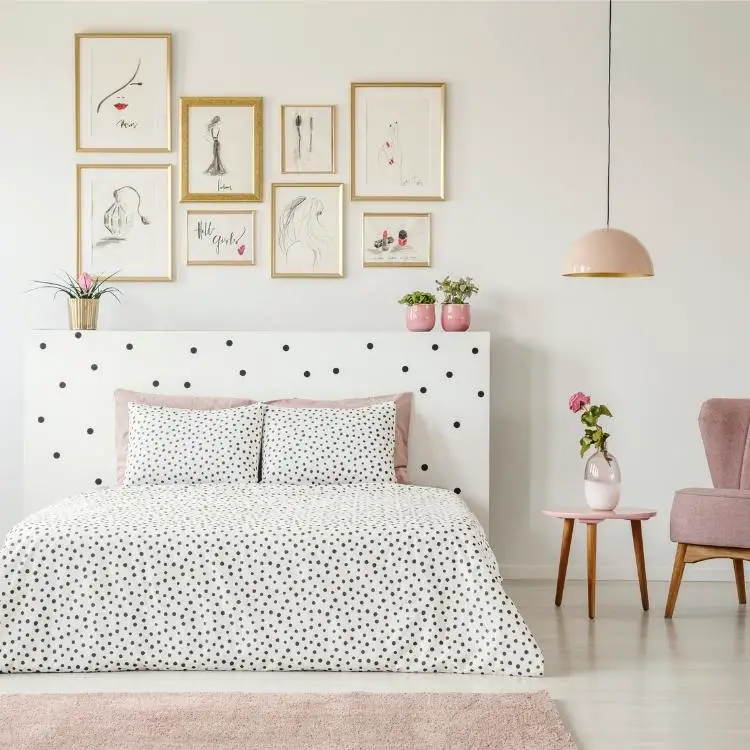 Single vs Couple Decorating
There are some easily apparent benefits to decorating for yourself compared to decorating as a couple. 
Less compromise, more individuality
You don't have to consult with another person on what to put in your bedroom. It's all yours.
You can impulse buy to your heart's content and are only accountable to yourself.
Sweet, right?
Better yet, if you change your mind about something you don't have to explain yourself or renegotiate with anyone.
You have the ability to make your space uniquely you when you're decorating for yourself alone. 
Exactly suited to your needs/habits/routine
You know yourself best. If you get up in the morning and prefer to have your coffee immediately after rolling around in bed, who is to tell you that you can't have a coffee maker in the bedroom?
Or if you love lavender, you can spray a light yet refreshing scent on your curtains to make your room smell like a five-star hotel.
Your room is the best showcase of your own personality and self-love.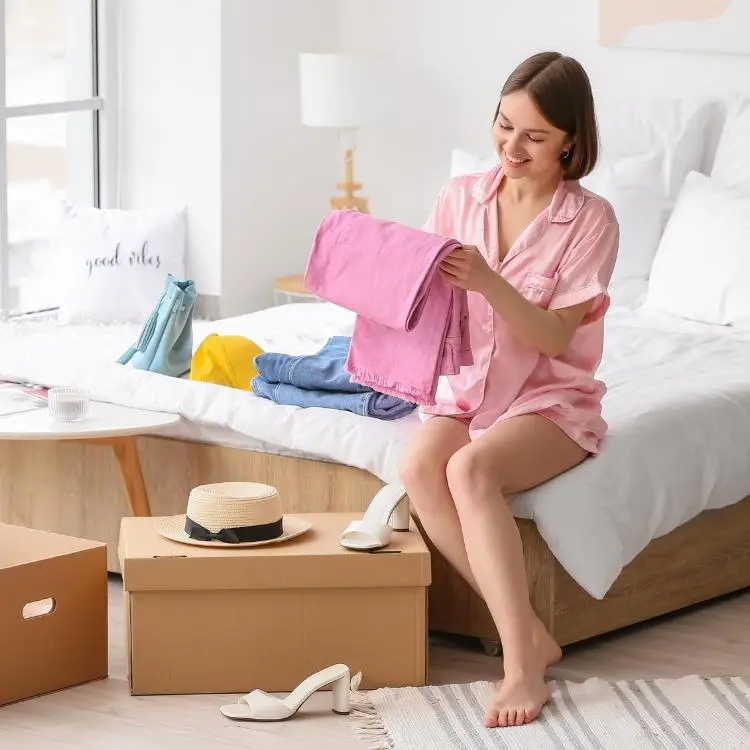 Room To Grow
While you don't need to reserve a whole section of your closet for when Mr. or Mrs. Right comes along, opt for 2 nightstands and 2 lamps if you can fit them.
When you're working with limited space it may seem counterintuitive to add furniture for a second invisible guest.
But, the simple fact is, that most people will seek out an intimate committed relationship.
As you grow, evolve, and change, you may want someone else along with you on that journey. It's important to make space for them both emotionally and physically.
Also, from a design standpoint, there's also a lot to be said for balance and symmetry.
Small Bedroom Do's and Don'ts
Like any other type of interior decorating project, there are a few common do's and don'ts.
Here are some quick guidelines when approaching small bedroom decorating for a single woman.
Don't buy anything bigger than a queen bed for a small bedroom.
Don't push your furniture against the wall if you can avoid it.
Don't put a dresser in the bedroom if you have a closet.
Don't put any unnecessary furniture into the room like an end of the bed bench, accent chair, or vanity.
Don't use an overly bulky bedframe like a sleigh bed.
Do use light colors and bedding.
Do adorn your walls with full-size artwork.  Small pieces will just draw more attention to the small space around you.
Do layer in an area rug to define your space.
Do use semi-sheer curtains with blinds to let light in but maintain privacy.
Small Bedroom Decorating For a Single Woman
Here are some examples that may inspire you to decorate your small bedroom as you embrace singlehood. 
Remember, small bedroom decorating for a single woman gives you the opportunity to really showcase your personality.
Go bold, go glam, or go neutral if you want. The choice is yours and yours alone.
Modern Regency Bedroom
Designed by Lindye Galloway Design, the gold and teal perfectly contrast against a white canvass.
There's a punctuation of gold throughout the room in the chandelier, the gold polka dots in the sloped ceiling, and the gold lamps on the nightstands.
The teal headboard adds a nice touch to the white and gold combination.
Natural lighting spills onto the bedroom, and the all-white setting makes the space appear bigger. 
Inner City Apartment
This inner city apartment proves that you don't have to shy away from color in a small bedroom.
The white walls and sheets serve as a clean canvas off which the vibrant colors pop.
Even a small intimate bedroom can feel like a tropical oasis with the touch of natural wood as evidenced by the nightstand and lamp.
The prints and patterns on the bed are a subtle nod to a tropical theme.
In the absence of a headboard, the large watercolor artwork on the wall is calming yet inviting.
The blooms in the vase complement the mix of prints and patterns in this small bedroom.
As far as small bedroom decorating for a single woman goes. This is a fantastic example. 
North Seattle Guest House
Natural light can do wonders in maximizing intimate spaces.
This Scandi-inspired bedroom in Seattle serves as a great example of small bedroom decorating for a single woman, or anyone for that fact.
The all-white walls and ceiling are the perfect backdrop for the bray streamlined platform bed.
The decorative pillows in dark hues pop against the white.
The setup stays true to minimalist touches such as the artwork, floating mini shelves as nightstands, and hanging sconces for added illumination.
The overall vibe of this room is calm and inviting.
I love it! 
Chicago-Transitional-Bedroom
This transitional bedroom in Chicago proves that gray is here to stay.
This all-white small bedroom features gray tones be the defining palette, from the headboard, pillows, and bed cover.
The area rug properly defines the space.
Instead of sconces, two identical lamps are supported by petite folding tables that serve as nightstands.
Three black and white framed photographs add personality to the space and serve as artwork above the headboard. 
Isla Vista, CA, Santa Barbara County, Del Playa Mediterranean Residence
A touch of natural wood is sometimes all you need to achieve a serene calming feeling.
This bedroom in Isla Vista is a fantastic example of how to approach small bedroom decorating for a single woman.
In this small bedroom, the all-white walls and ceiling open up the space
The focus is kept firmly on the plush bed that can rival any hotel room.
The low profile, super sleek bedframe, and matching sconces are divine.
The sheer curtains provide privacy and help to filter out harsh light from the outdoors.
The cabinet is a great way to display decorative items or serve as extra storage.
This design is simple yet elegant, playing up the contrast of the most of dark wood against the all-white walls. 
Referens
The gray tone-on-tone decor in this next bedroom is modern and lovely.
The walls are done up with wallpaper featuring subtle gray stripes.
The wall opposite the bed displays a small gallery wall. This is a great alternative to an oversized piece of artwork if you're decorating on a budget.
The dark gray sheets and headboard contrast fantastically with the crisp white duvet.
The layered pillows and throw blankets make for a simple, sophisticated bedscape.
The minimal foliage in window plants was a great choice. They add a natural element to the space without overpowering the gray and white color scheme.
My Houzz: Putting the Craft in an Ohio Craftsman
This seafoam green and yellow combination of this room have a distinctly feminine vibe.
The pops of color, just like the decor are minimal yet powerful.
While I am a bit perplexed by the lack of window treatments in this urban setting, there's no doubt that the windows steal the show in this room.
The bright natural light streams in and really open up this small space. The nightstands are petite but useful and the bed is just the right size for this small room.
The dark wood floor sets off this small eclectic bedroom design, providing good contrast to this refreshing mint green number. 
If you're limited on space and feel like you don't have enough items to make your room look good, think again.
This is a great example of small bedroom decorating for a single woman done right.
Conclusion

If you have a space all to yourself, celebrate it. Small bedroom decorating for a single woman presents nearly limitless opportunities to show off your personality.
Stay light and bright on your walls, balance your layout with symmetry, and scale your furniture appropriately.
Keeping these 3 key tips in mind as you decorate will steer you to success.
I hope you found this post helpful. If you did, please share it with a friend and follow Dianne Decor on Pinterest, Instagram, and Twitter for more from me.
Here are a few more posts you may like:
Don't forget to join the mailing list before you go. I'll send you a copy of my weekly newsletter filled with weekend reads, decorating inspiration, and the latest deals on home decor.
Thanks for reading!
single woman decorating
small bedroom
small bedroom decorating ideas
small bedroom single woman decorating