FTC Disclosure - This post contains affiliate links and I will be compensated if you make a purchase after clicking on my links.
*Item received for free for promotional consideration or a sponsored link.
Leaving the bottom of your Christmas tree bare can detract from all of the hard work you put into decorating it.  From the lights to the garland, ornaments, and toppers, a lot of time and effort goes into trimming a beautiful tree.  
But, when you scan your tree from top to bottom, does your enthusiasm for your holiday design disappear?  If so, it's no doubt because the bottom of a real or artificial tree is nothing pretty to look at.  
Here are 4 great ways to hide the bottom of a fake Christmas tree and make the base look just as nice as the top.
How To Hide the Bottom of a Fake Christmas Tree
For as long as I can remember, the only way I (or anyone I know) covered up the bottom of a fake Christmas Tree was with presents.
If you pile them up around the base, it will hide the ugly bottom of your tree, albeit crudely.
However, I've found that there are much more elegant ways to hide the bottom of a fake Christmas tree.
1. Christmas Tree Skirts
Christmas tree skirts act as a tidy layer to your tree stand. They're easy to use, inexpensive, and the most common solution for how to hide the bottom of a fake Christmas tree.
They're available in every conceivable style and color. This makes matching your decor and the colors of your tree ornaments easy.
What is a Christmas tree skirt, you ask? It's a circular piece of fabric with a small center hold designed to go around the base or trunk of your tree.
It also has a slit up one side that allows for easy installation.
Simply wrap the fabric around the trunk, straighten and fan out the excess, and secure it with velcro, ties, or even buttons.
Tree skirts add a festive and upscale appearance to your tree display. 
They also come in various designs and textures: faux, fur, felt, and velvet. These materials and textures can accentuate your holiday décor.
Velvet is an opulent material that can boost the overall appearance of your tree. Felt is also a versatile material that has a traditional feel to it. On the other hand, faux fur is the type of material that exudes warmth.
If you are leaning toward getting a tree skirt, consider getting one with a diameter that is six inches more than the width of your tree. This ensures ample coverage under your tree and gives enough space for laying out presents.
Think of it as a mini area rug for your tree.
2. Christmas Tree Collars
A Christmas tree collar is another way to make a holiday statement. They come in a variety of materials and textures to match just about any theme.
If a tree skirt is like an area rug under your tree, then consider the collar like a chic necklace around the trunk of your tree.
In contrast to the Christmas tree skirt which lays flat on the floor, the collar has its own structure and stands up vertically while wrapping around the bottom of the tree.
Most tree collars are around 8 – 10 inches in height and come in multiple hinged pieces that fasten together.
The materials used are usually wood, woven fibers, and metal.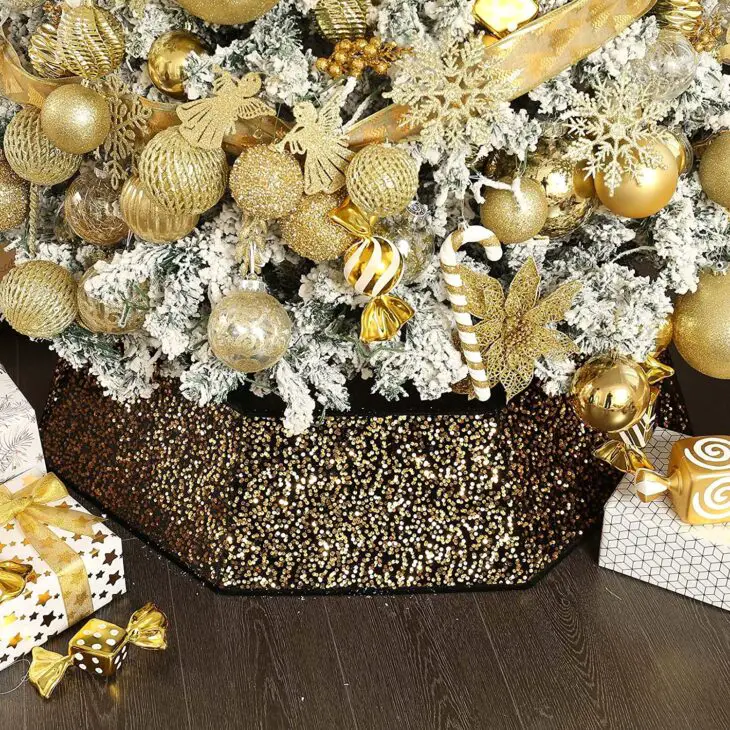 3. Christmas Tree Hugger
Here's a quick hack for your artificial tree at home. 
The Christmas Tree Hugger is the finishing touch that you didn't know you needed.
Don't let the metal pole at the bottom of your artificial tree distract from the beautiful ornaments and lights you've spent hours setting up.
By far, the easiest and least expensive option to tidy up the base of your tree is to use The Christmas Tree Hugger.
I have a full review of The Christmas Tree Hugger here on the blog.
It's easy to install and is essentially a foam wrap with a tree bark pattern printed on the outside.
It's designed to conceal the metal pole at the base of the tree and provide it with a realistic tree trunk appearance.
It has a 2-in-1 reversible design. You can choose between a natural-looking bark or a playful candy cane design. 
It is made up of flexible foam material that can be folded or cut to fit your tree with ease. Although, I didn't find the need to cut it on either my 7.5-foot or my 4.5-foot tree.
This is such an easy way to hide the bottom of a fake Christmas tree. Here's what it looks like in action.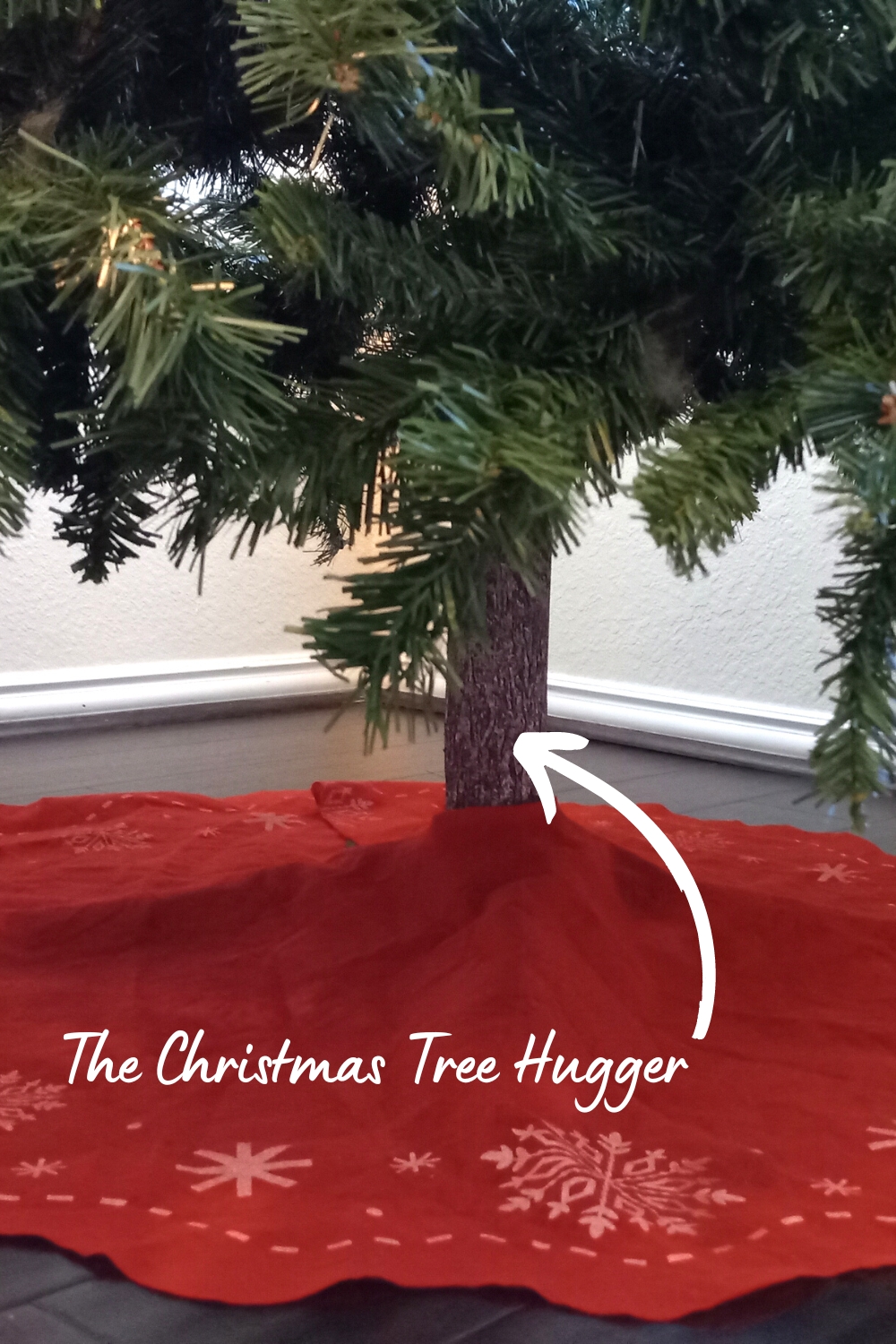 4. Christmas Tree Basket
Anytime I see a Christmas tree in a basket I think it looks charming. But putting the tree in the basket can be quite tricky, I've learned. 
This method for how to hide the bottom of a fake Christmas tree is best used on smaller trees under 6 feet tall. Most likely, you won't have a basket big enough to accommodate a tree that large and stay balanced.
If you like the look of a basket as your base but have a much larger tree, look for a woven tree collar. Those will give you a similar look.
As I mentioned, the hardest part is getting your basket weighted and balanced properly. You don't want your basket to start leaning or fall over if it's nudged.
This proved to be much harder than I thought. But, after a lot of finagling, here's how I did it:
First, find an appropriate-sized basket for your tree. Your tree will be more balanced if you can put the entire stand in the basket. Unfortunately, due to the taper of my basket, I wasn't able to do this. If you find yourself in a similar boat, look for a basket with a diameter that is no more than 6 inches less than the widest part of your tree.
To ensure stability, position a few heavy objects such as bricks or stones to hold the weight of your tree. This will balance it all out. 
Use moss, fake snow, or another natural material or fabric to cover up the base of your tree.
Lastly, you can position your tree in the room before you start adding ornaments and lights.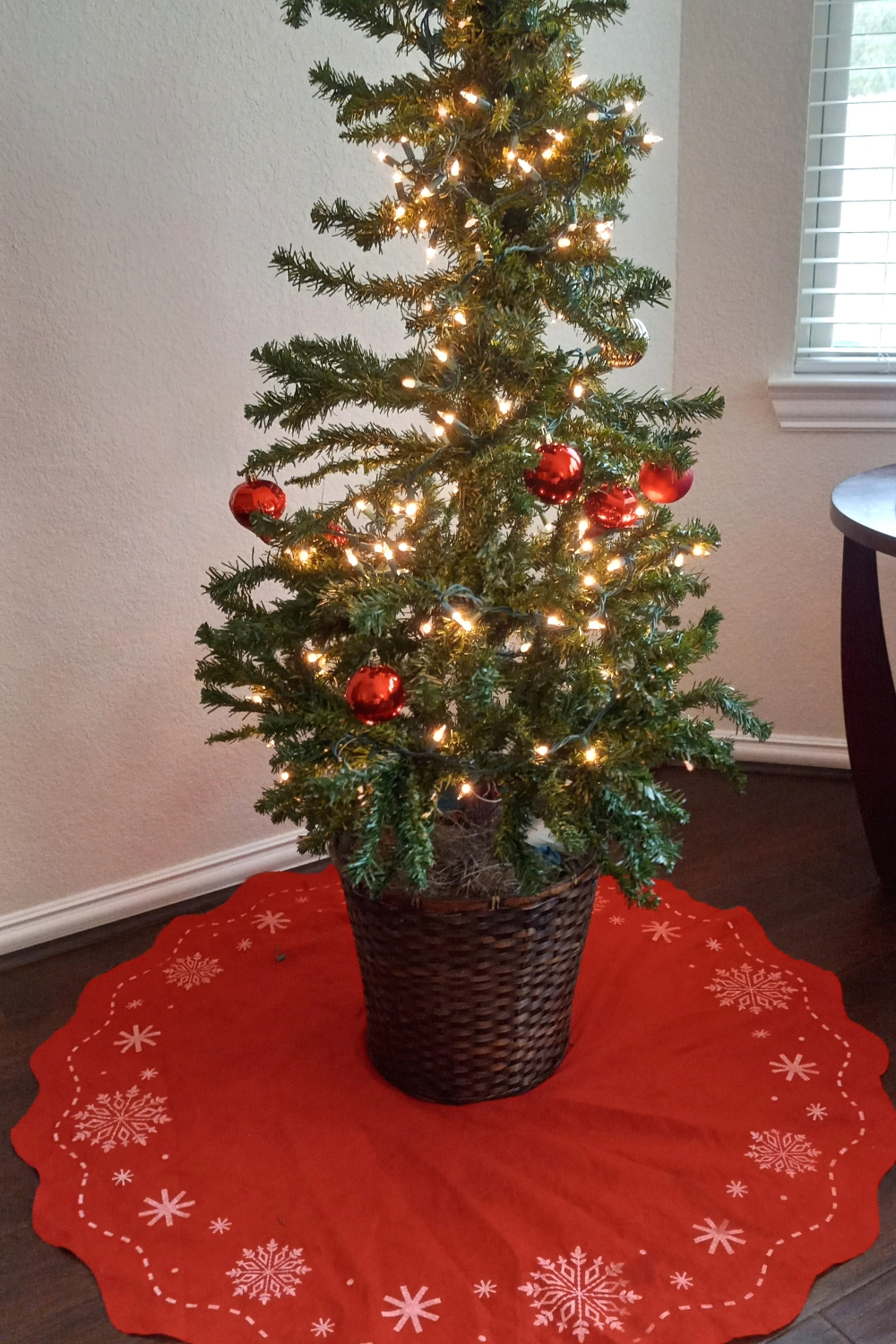 Conclusion
In most homes, the Christmas tree is a symbol of the season. People's faces tend to light up when they see Christmas trees with presents already laid down.
And, now that you know 4 ways to hide the bottom of a fake Christmas tree, your living room centerpiece will look better than ever.
I hope you found this post helpful. If you did, please share it with a friend and follow Dianne Decor on Pinterest and Instagram for more from me.
Here are a few more posts you may like…
Don't forget to join the mailing list before you go. I'll send you a copy of my weekly newsletter filled with weekend reads, decorating inspiration, and the latest deals on home decor.
Thanks for reading!
bottom of christmas tree
christmas decor
christmas tree