A Metallic Masterpiece: Mixing Metals In Home Decor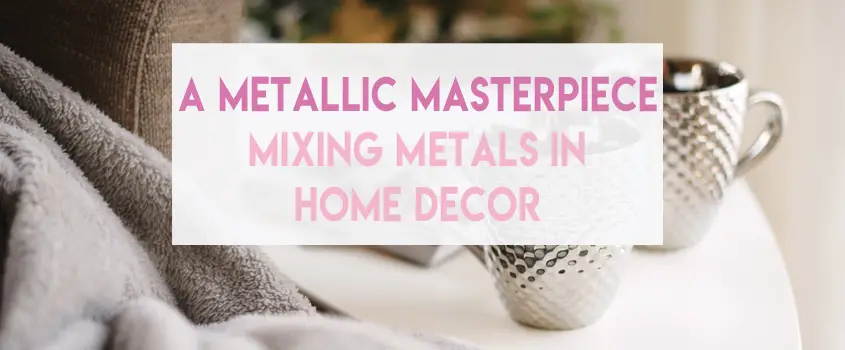 FTC Disclosure - This post contains affiliate links and I will be compensated if you make a purchase after clicking on my links.
*Item received for free for promotional consideration or a sponsored link.
When I was a young girl I remember being told never to mix my metals when wearing jewelry.  I never understood why.  Gold and silver seem like a match made in heaven.
And if it works for the Christmas Tree, why wouldn't it work with anything else?  Turns out, I'm not the only one who feels this way.  Mixing metallic finishes in the home has become very popular.
In fact, mixing metals anywhere (jewelry, sculpture, buildings) is popular.  There are lots of color combinations and finishes to mix and match.
Whether you're experimenting with contrasting hardware and fixtures in your kitchen or want to piece together a mixed metals tablescape, the result is sure to be a good one.
Just about any metal can be used in the home for decoration.  Coloring varies from cool tones like stainless steel and nickel to warm tones such as copper, gold and rose gold.
In addition, these metals also vary in the finish such as polished, brushed, antiqued, hammered, etc.  This creates a ton of options when it comes to design.
For more on specific metal types check out this metal types and finishes guide.
Popular Mixed Metal Combinations
Beyond the obvious silver and gold combo that is popular during the holidays, silver and copper are paired quite often.
Rose gold and stainless steel together have a lovely, feminine appeal.  For a more masculine look, try matte black and brass.
Now, I know matte black isn't exactly a metallic finish, but it does pair well with any of the metals mentioned here.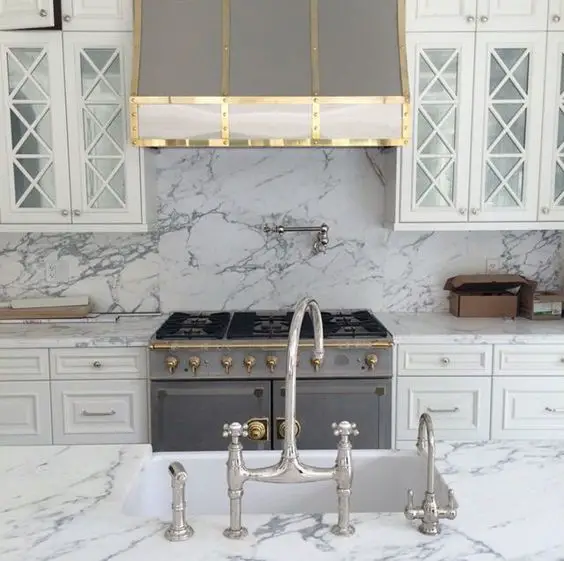 This kitchen has made mixing metals look like a masterpiece.  The polished chrome hardware and fixtures make the brass accents on the stove a focal point for this kitchen.
The range hood trimmed in brass ties the whole thing together beautifully.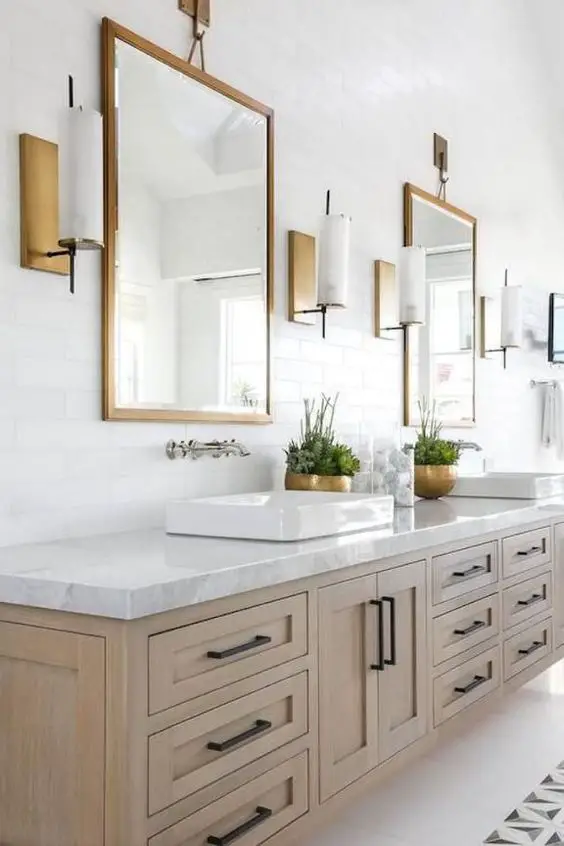 This bathroom styled by Lindye Galloway is a perfect example of the warm metal and matte black trend happening now.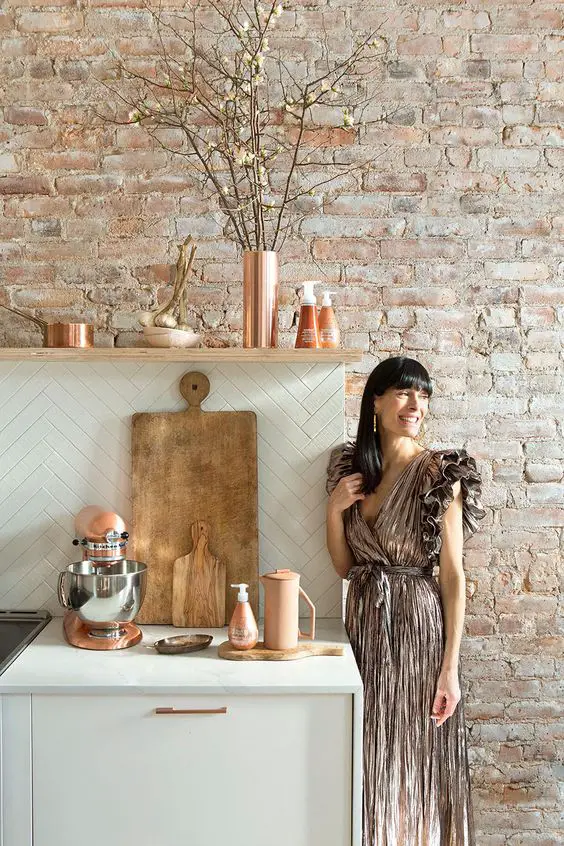 The rose gold and silver standing mixer from Kitchenaid is the perfect appliance choice for this warm rose gold theme.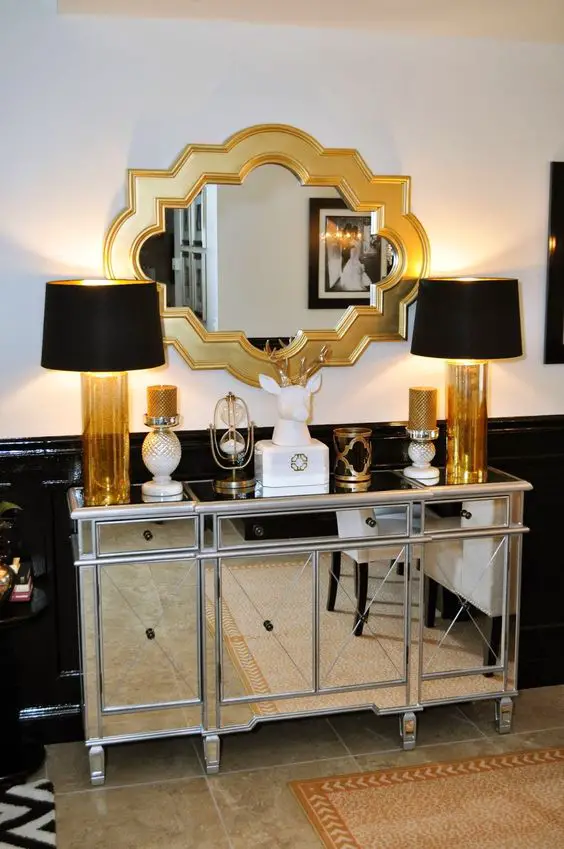 The strong yellow gold, black, and silver in this room make quite a statement.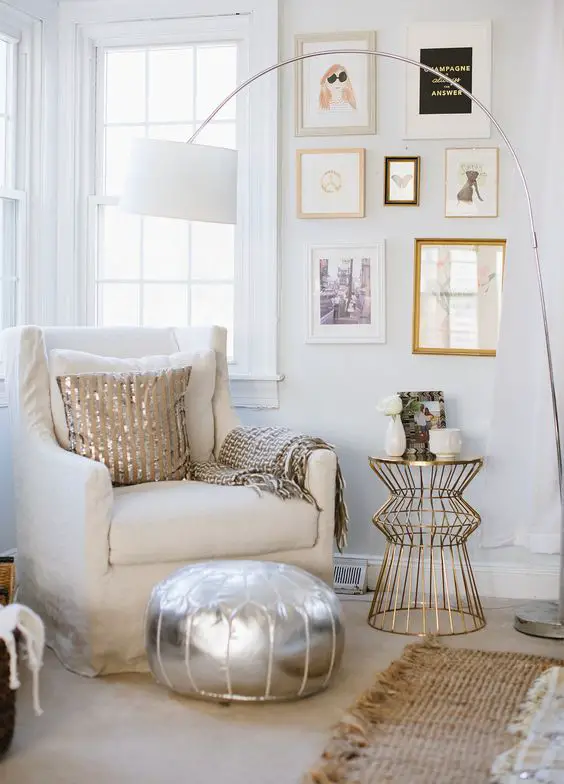 This reading nook featured in PopSugar is another great example of how to bring metallic decor into your living space.
What do you think of mixed metal decor?  Is it something you plan to do in your home?  Please comment below, I'd love to hear your opinion.  If you found this post helpful, please share it with a friend.
Also, I'd love it if you'd follow Dianne Decor on Bloglovin'.  For more decor inspiration check out our Mixed Metals Pinterest Board.
Thanks for reading!