FTC Disclosure - This post contains affiliate links and I will be compensated if you make a purchase after clicking on my links.
*Item received for free for promotional consideration or a sponsored link.
FTC Disclaimer: **I was compensated for this post. This post also contains affiliate links and I will be compensated if you make a purchase after clicking on my links.
The winter holidays are all about family, food, and decorations.  I love decorating trees, styling wreaths, and putting together new DIY holiday decor.
Let's face it, when it comes to Christmas, more is more.  You can never really go overboard with this holiday, in my opinion at least.
Over the years I've found the best way to immerse my home in cute holiday decorations without spending a fortune is with DIY decor projects.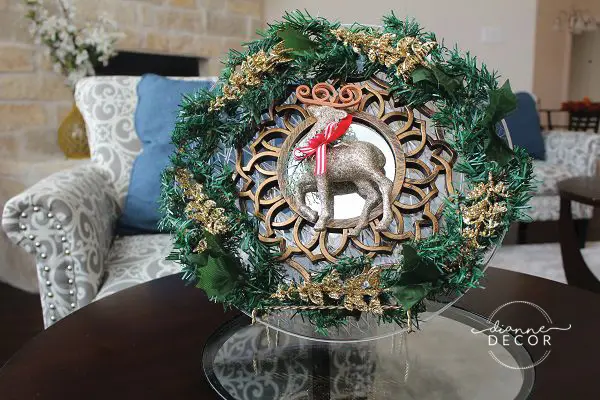 DIY Holiday Decor Using Items From Dollar Tree
This past weekend I visited Dollar Tree to check out the first selection of holiday items they had on display.
One of the things that stood out to me the most was an antique gold-colored reindeer ornament.  It was large and the coloring on it gave it a really regal and classy appearance.
It's pretty common to see a lot of yellow/gold and silver decorations, but this is the first time I've seen this antique gold style.
I decided to try my hand at creating something featuring the reindeer that looked really timeless and sophisticated.
I also wanted something sizable.  So, I expanded my search outside of the holiday section to find a large base for my project.
I ended up finding a large clear plastic tray near the party section that worked perfectly.
Here's a look at my final creation.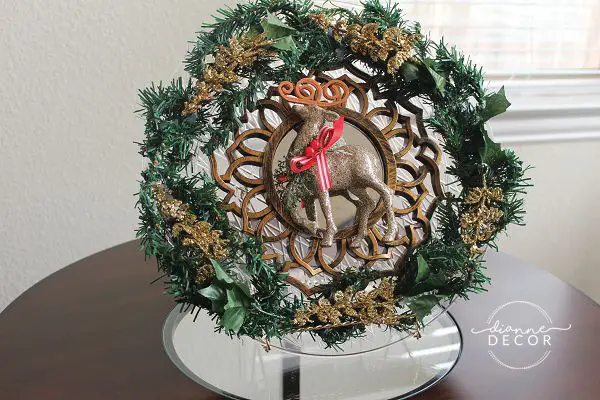 This project only cost $5 to complete!
I love the way it turned out.  It's also super versatile.
I currently have it displayed with one of the Dollar Tree display easels, but it could be mounted on a wall, door, or better yet; you could create a pair and mount them on your kitchen cabinets with a command strip.
But, without further adieu, if you'd like to recreate this holiday decor accent, here's what you'll need.
DIY Holiday Decor (Dollar Tree Decoration)
Step 1: Glue Your Mirror to Your Tray
Glue the mirror to the center of the tray.  Place the glue along the outer rim on the backside.
Because of the slightly domed design of the mirror, you won't be placing glue on the entire backside.  Only the outermost rim.
Once you've placed your mirror, glue it again around the perimeter on the front side.  I added a generous amount of glue to fill in any gaps between the mirror's edge and the tray.
Step 2: Place Your Wreath
Fluff out and shape your wreath the best you can.
Then, place it on the tray so the mirror is centered in the middle of the wreath.  Secure the wreath with hot glue where it meets the tray.  This is what it will look like when you're done.
Step 3: Separate Your Heather Branches
Clip the Heather branches from the main stem with scissors or a wire cutter.  Make sure you keep the leaves.
Step 4: Shape Your Stems
Bend the stem of the Heather branch slightly to give it a curved shape.  This will help it weave into the wreath better.
Step 5: Place and Glue Your Heather Stems
Identify any places where the bare wire from the wreath is exposed.  Then place your heather bush right on top to hide it.  Weave the stem into the wreath and secure it with hot glue.
Here's what it looks like with the rest of the stems placed and glued.
Step 6: Attach Your Reindeer
Finally, snip the tie from the top of the reindeer.  Then, glue the backside of the reindeer's legs and feet.
Note: Much like the mirror, not all portions of the reindeer will touch the mirror.
Position it first to figure your where you'll need glue and where you won't.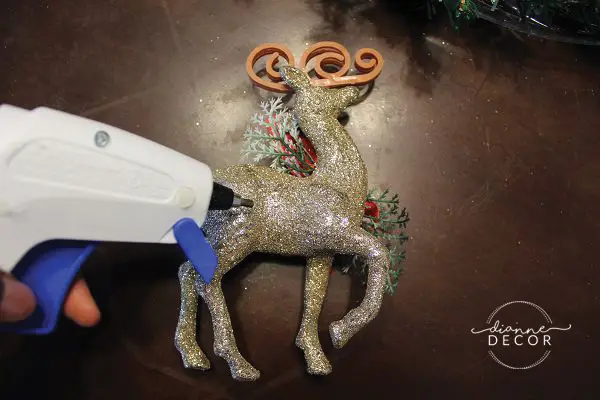 Step 7: Final Touches
Last but not least.  Tidy up the wreath branches.
If there are any that project beyond the edge of the tray, bend them in slightly.
The same goes for any protruding into the mirror.
The goal is to create a nice even ring of branches that is fluffed out, but not too whimsical.  Otherwise, your wreath will look more like a wild pinwheel.
The image below will better illustrate what I mean.
DIY Holiday Decor: Final Results
Here's another look at the final piece.
This was so easy and inexpensive to create.  I think I'm going to make another one so I can hang them as a pair on my upper cabinet doors in my kitchen.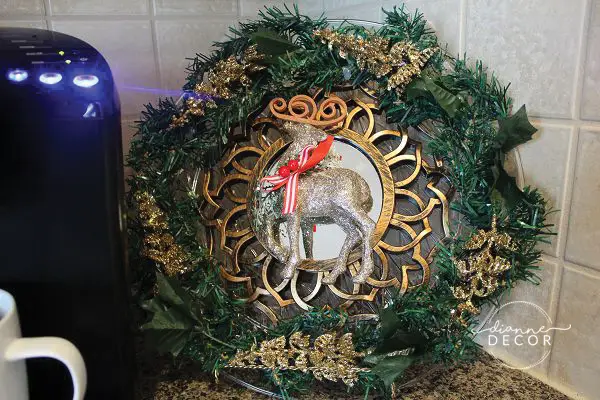 Conclusion
Please let me know what you think of this project in the comments below.  Don't forget to tag me on Instagram if you recreate this.  I'd love to see how it turned out.
If you liked this post please share it with a friend and follow us on Bloglovin' for more content.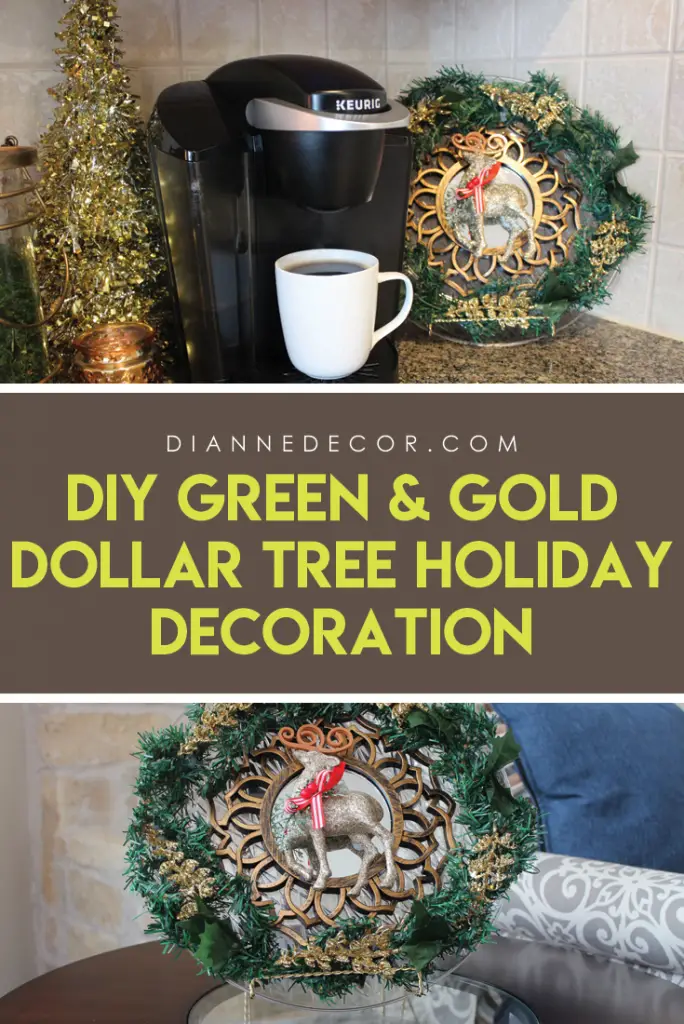 Thanks for reading!
diy
diy decor
dollar tree
dollar tree decor
dollar tree diy
dollar tree holiday decor
holiday decor