24 Bathroom Decorating Ideas You Should Try
FTC Disclosure - This post contains affiliate links and I will be compensated if you make a purchase after clicking on my links.
*Item received for free for promotional consideration or a sponsored link.
If you're looking for a few realistic and totally doable bathroom decorating ideas, you've come to the right post.
Often times, magazines and design publications rely on bathroom design features as a way to showcase high style.  But, for the average homeowner who doesn't have a walk-in steam shower or vintage clawfoot bathtub, decorative accents are needed to enhance the style of our bathrooms.
Luckily, there are several ways to decorate the bathroom.  So, if you've been looking for a little inspiration for your home.  Here are 24 bathroom decorating ideas you should try.
24 Bathroom Decorating Ideas
When in doubt, add a plant.  There's something about bringing the outdoors inside that makes a bathroom feel calm and serene.  In the example below, you'll see there are plenty of places to tuck away a plant or two in a bathroom.
Style your shelves or the top of your toilet tank with small potted plants to bring a natural element to your overall decor.
Word art is very much so still alive and kicking.  The difference between now and then is the font selection, tag lines, and frames.  This "So Fresh & So Clean Clean" sign is a big upgrade to the "Live, Laugh, Love" signs of 10 years ago.
Including, a bold typography print is a great way to decorate your bathroom.
Furniture is a super-easy way to add a decorative element to your bathroom.  While there are not a ton of options, an over-the-toilet cabinet like the one below makes a huge difference in this space.
Consider something like this to double as storage and decor.
Another option for adding splashes of the holiday decor to your bathroom is with towels and a mini countertop Christmas Tree.
No need to trim the tree, simply fluff the leaves and find a fun base like the burlap sack style base used in the example below from thesunnysideupblog.com.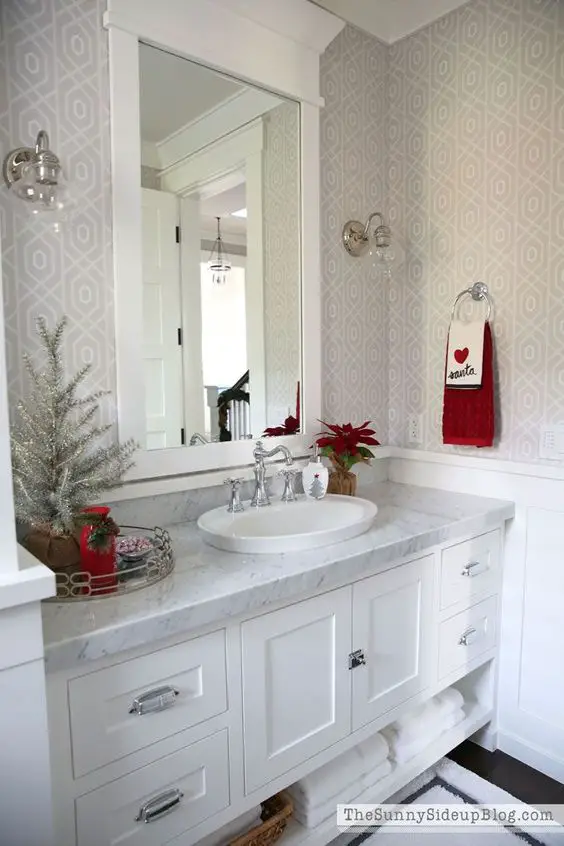 Above, we talked about adding furniture to the bathroom to double as a decorative accent.  This freestanding towel rack is one of those easy bathroom decorating ideas that you wish you'd thought of earlier.
Not only will it help hang dry your recently used towels, but it also offers ample space on the bottom shelf for extra storage or additional decorative elements like a small plant, decorative baskets, or some toiletries.
The over-the-toilet ladder shelf is really popular right now.  If you're into the modern farmhouse look or even modern industrial, these chunky style ladders are perfect.
Use the bottom rungs for storage and easy access to items you may need.  Leave the upper steps of the ladder for vases, potted plants, and decorative containers.
A closed shower curtain makes a bigger impact on your bathroom than you might think.  It essentially runs the entire width of a wall.  This means that you can use it to make a bold, yet temporary statement.
Choosing your bathroom shower as a statement piece is perfect if you're in a rental or don't want to retile an accent wall.  It's quick, easy, and can be replaced in the blink of an eye.
Funny bathroom signs are a great way to put your guests at ease.  You can showcase your humor by adding a trio of signs like these from Etsy in your guest bathroom.
Not only are they an easy decorative element to add, but they can help reinforce the overall color scheme of your space.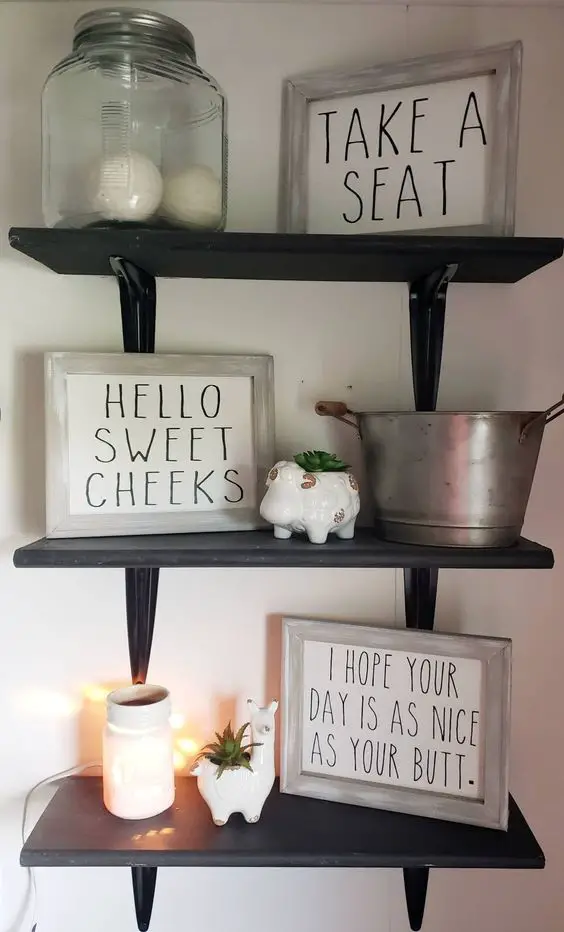 A hanging basket and shelf combo is a fantastic alternative to the traditional towel ring.  It gives you the opportunity to infuse a little personality into your bathroom along with creating storage space.
This wire basket with a simple "wash" sign is a great combo.
Boho style plants are all the rage right now and one of the most popular bathroom decorating ideas of 2020.  Succulents, hanging plants, and creeping vines are the perfect option to add interest to your space.
They work well with any decor style, but especially the boho, aesthetic, and eclectic decor styles.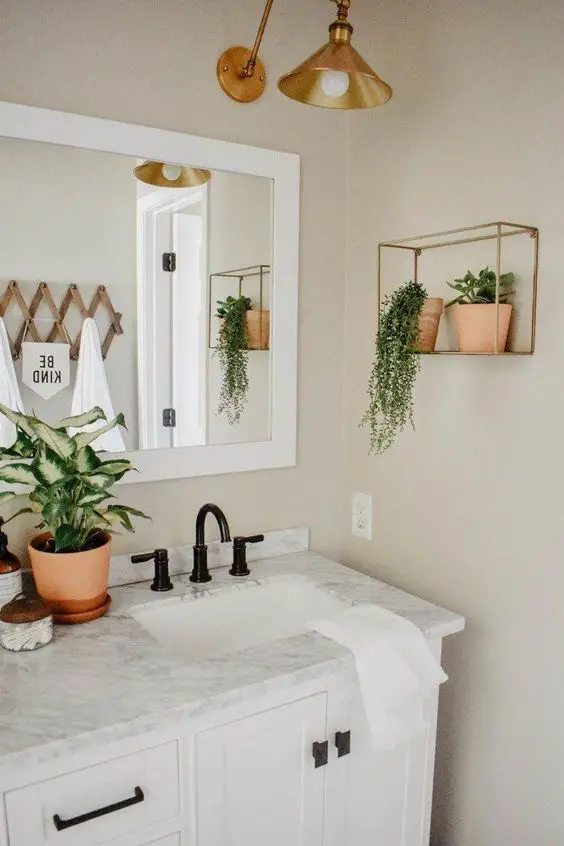 Make a statement in your bathroom with your rug.  Opting for a large bathroom rug over those small sets you see being sold at Walmart and Target will really help give a small space big style.
This "Wash Your Hands" rug is the perfect statement for the bathroom.  The woven texture and braided out tassels make this a real showstopper.
The king of all bathroom decorating ideas is really more of a general interior design principle.  That is to work within a color scheme.
In the example below, there is an undeniable pattern of color that makes the space look finished and complete.
The black, brown, white, and green combination is a fantastic way to add depth and color to an otherwise all-white bathroom.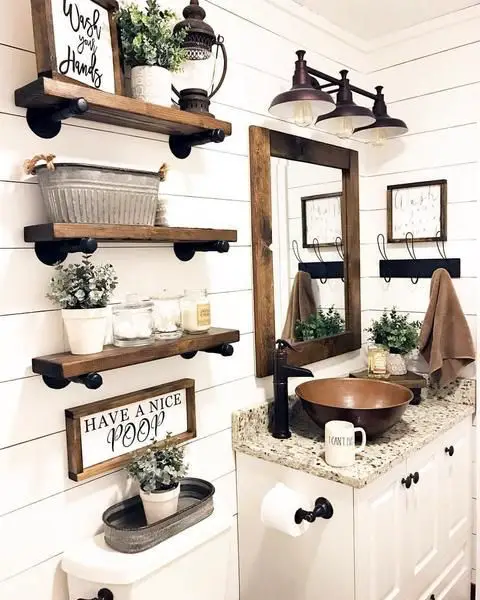 Sometimes bold is the way to go.  Nothing makes more of a "look at me" statement than a black wall in a bathroom.  The added texture of the subway tile and grout make this room look amazing.
Don't forget, you can always mimic this high-style look while decorating on a budget with black peel and stick subway tiles from Home Depot.
Much like the oversized "Wash Your Hands" rug in example number 12 above, a colorful statement runner is one of those bathroom decorating ideas that are simple to bring to fruition.
This one from urbanoutfitters.com is adorable.  It also looks incredibly soft and plush which is great for this type of application.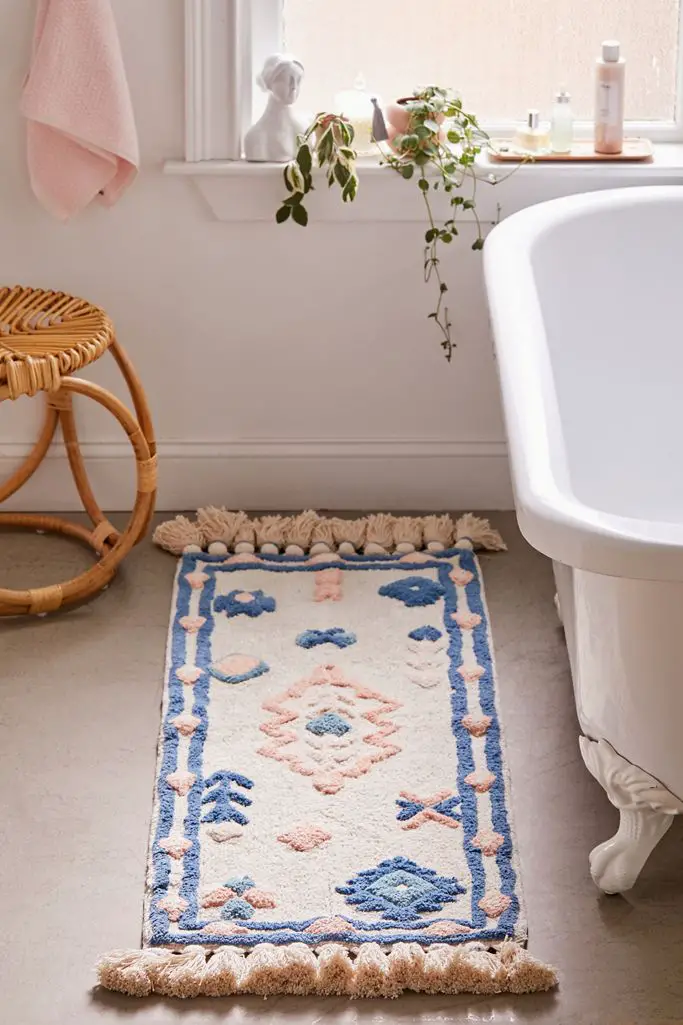 Consider replacing your builder-grade towel bar with some chunky floating shelves.  It's these little details that can help you turn the blank canvas of your new construction house into a beautifully styled home.
Click here for more tips on how to decorate a new construction home.
Bring on the candles and the tub tray to create a beautiful spa-style bathtub.  While the candles may not be burning all the time, you can style your tub tray with decorative soap bottles, towels, and a small potted plant.
These few simple things make a big impact on this space.
I absolutely love the look of this two-toned bathroom wall tile.  The patterned pink tiles on the bottom ground the space in a lovely way.  Their transition to white just above the sink helps keep a light and airy feel about the bathroom.
Using a two-toned tile pattern like this in the bathroom is akin to using chair rail and baseboard in a dining room.  It helps segment the wall, while also adding texture and dimension to your space.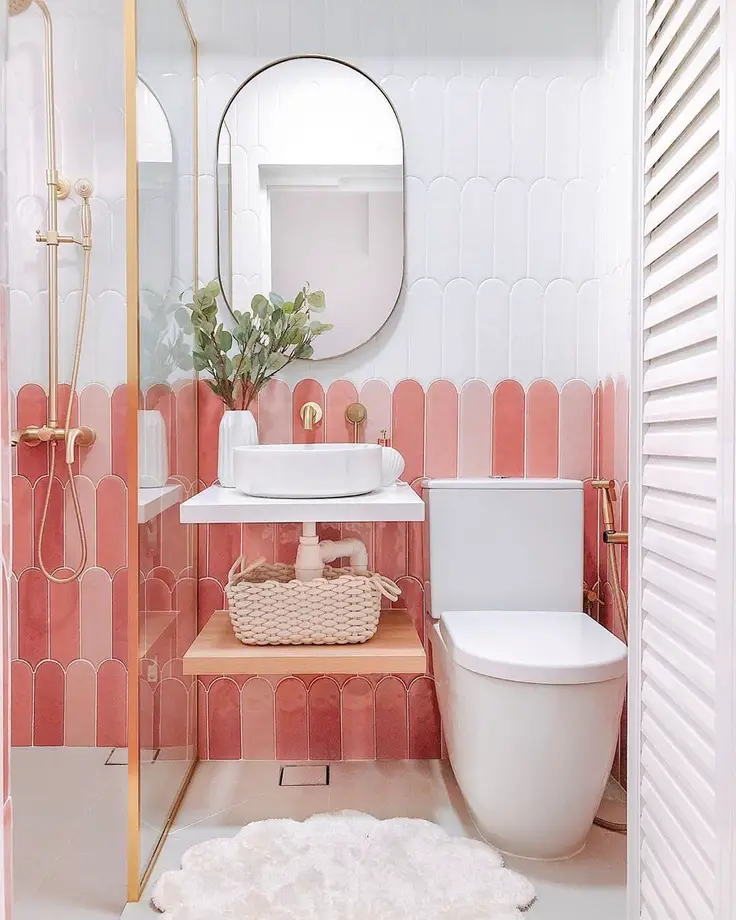 Boldly patterned wallpaper in small spaces makes for an exciting experience.  If your small water closet needs a bit of sprucing up, check out a few bold wallpaper patterns.
Filling your bathroom with plants will instantly transform your space from a utilitarian room to a relaxing retreat.  If you have space, use small stools and an accent table to surround your tub with greenery.
This look amps up the traditional countertop or shelf top potted plant and lets it shine as a decorative statement.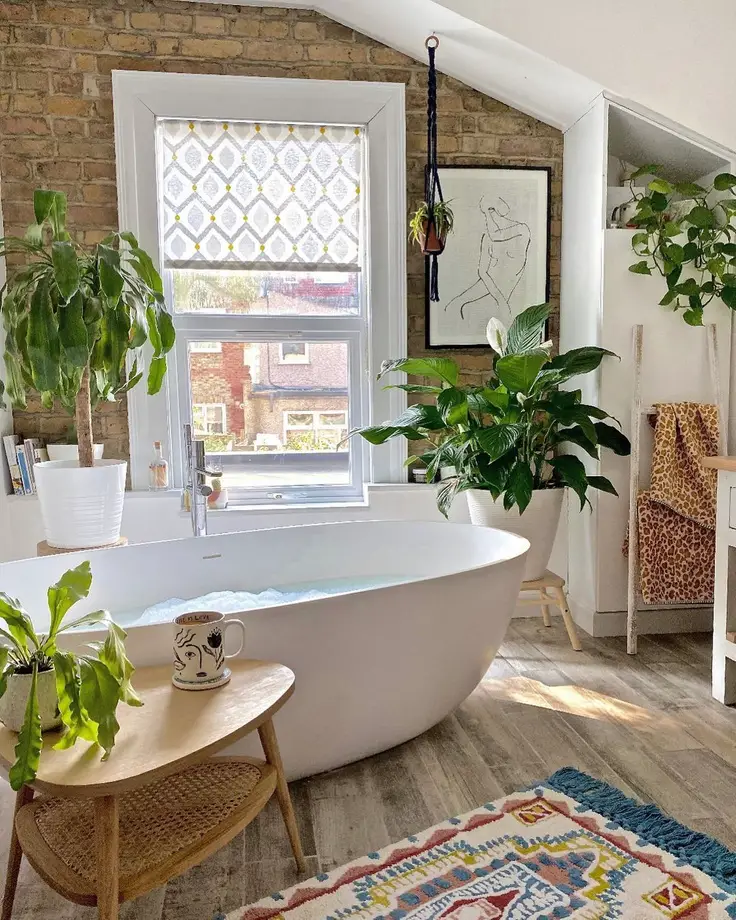 There's something about a piece of carefully selected oversized wall art that makes a bathroom seem sophisticated and refined.  This one by haneens-haven.com is no exception.
The color palette used in the painting perfectly compliments the mirror, doors, and vase.  This is such a lovely look.
If you want to dabble in color but still like a clean neutral look, consider using a boldly colored shower curtain like the one seen here.  I recommend checking out artist-designed curtains at places like Red Bubble and Society6.
Bold, colorful designs are usually the exception to the rule at big-box retailers.
Last but not least kids bedrooms are easily decorated with alphabet letters, animals, and bright colors.  All of these things combine to make a spectacular bathroom in this example from Being Home below.
I especially love the yellow sun on the ceiling.  What a creative idea!
Conclusion
I hope you found this list of bathroom decorating ideas helpful.  If you did please share it with a friend and follow Dianne Decor on Instagram, Twitter, and Pinterest for more from me.
If you'd like to have my latest posts delivered directly to your inbox, join the mailing list before you go.  I'll send you a copy of my weekly newsletter filled with weekend reads, decorating inspiration, and the latest home decor deals.
Thanks for reading!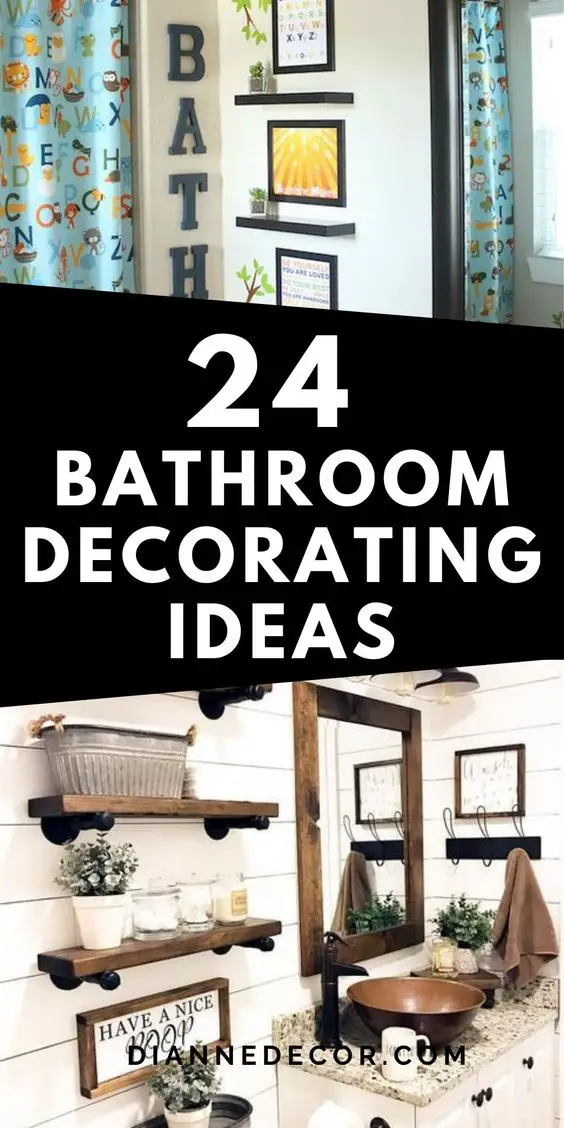 Thanks for reading!