Office Sheds – 10 Outstanding Backyard Offices
FTC Disclosure - This post contains affiliate links and I will be compensated if you make a purchase after clicking on my links.
*Item received for free for promotional consideration or a sponsored link.
Are you struggling to focus while working from home?  Office sheds are a great way to achieve a work/life balance.
Most commonly referred to as a "she shed", these high style backyard installations can make working from home an utter delight.
Even with a home office, I sometimes find it hard to get in the zone when it comes to working.
Particularly with a little one running around who wants my undivided attention.
Office Sheds to Separate Work and Home
If you work from home too, I'm sure you've heard the sage advice to get dressed as if you were going to a traditional office.
As tempting as it is to sit in front of the computer in your sweats, it will keep you with one foot in the door and one foot out, so to speak.
Properly getting yourself into a work frame of mind is hard when the distractions of home surrounding you.  A way that many have found to create that clear separation is an office shed.
This is a structure independent of your main residence dedicated solely to work.  An office shed allows you to get dressed, step outside, (even if its only 10 feet) and leave the home life behind.
The uses of an office shed are vast.
You can create a conventional office with a desk and chair, a yoga studio, an art studio, a meeting/collaboration space, or anything really.  The space can be tailored to your exact needs.
The key is to have a separate location dedicated for that purpose.  A place free of distraction with everything you need to be productive and work efficiently.
Here are 10 awesome examples of office sheds.
10 Outstanding Office Sheds
1. Artist's Cottage
This gorgeous office shed has been turned into an artist's studio.  You couldn't ask for a more beautiful walk to work with this shrub lined pathway.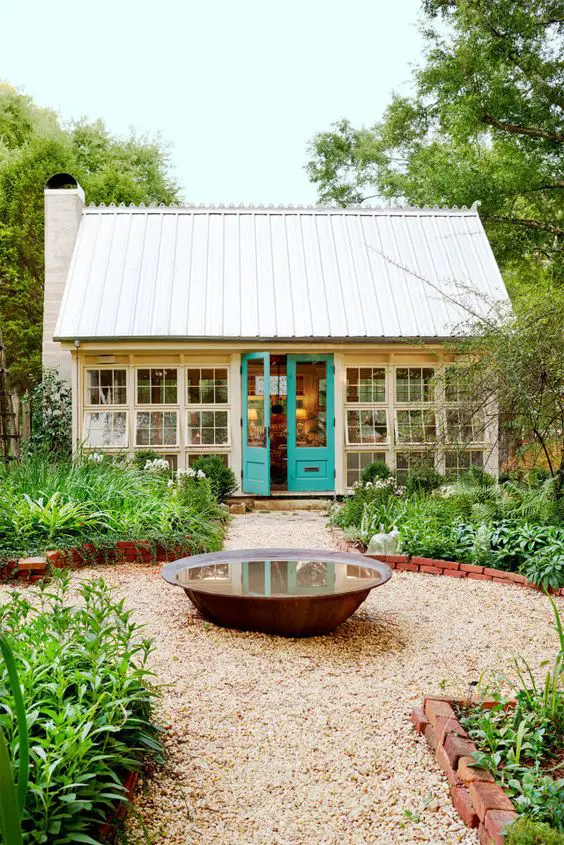 1. Sleek and Modern
This industrial-style studio office is complete with a sitting area, air conditioning, and exterior lighting.
2. Tiny and Tucked Away
Nestled under a tree, in the corner of a patio, this petite office space is just one step outside of the home.
3. A Quiet Backyard Corner
This small she shed is brightened up with french doors and skylights.
4. A Room With a View
Complete with an amazing view, this office shed features huge windows to let in the light.  If you've ever wanted a corner office, this Tuff Shed is a great option.
5. Petite with a Patio
Small but effective, this backyard office is complete with its own patio.
6. Simple Backyard Office
The natural paneling and color scheme of this shed makes it look right at home among the trees.
7. Office Hideaway
This backyard office could easily double as a guest house with its string lights and patio furniture.
8. Perfectly Sized Office Shed
Set in the corner of the yard, this inviting office is perfect for a single worker.
9. Stylish and Refined Office Shed
With a wall of windows, this shed makes a perfect office with ample space and lighting.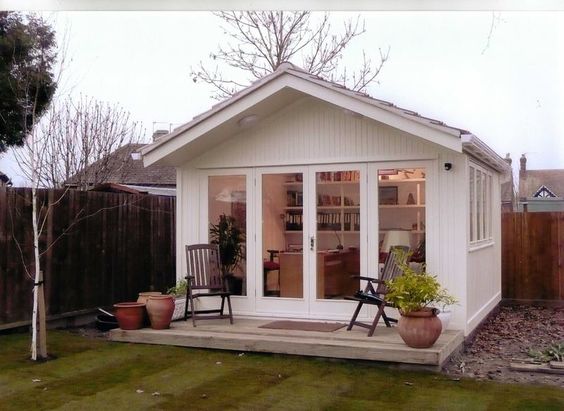 Conclusion
Are you thinking about adding an office shed to your backyard?  I'd love to hear about it below in the comments.
If you found this post inspiring please share it and follow us on Bloglovin' for more content.  If you'd like to see additional examples of backyard office sheds, check out our Pinterest board.
Thanks for reading!