FTC Disclosure - This post contains affiliate links and I will be compensated if you make a purchase after clicking on my links.
*Item received for free for promotional consideration or a sponsored link.
Landing the best deal on budget-friendly home decor is not just about catching an amazing sale. Timing is far less important than knowing where to buy.
In fact, the best deals are rarely found at conventional home retailers.  So, if you've been waiting around for Black Friday, Prime Day, or Way Day to get a great price on something for your home, keep reading.
In this post, we'll discuss where to buy specific decor items for the best deal.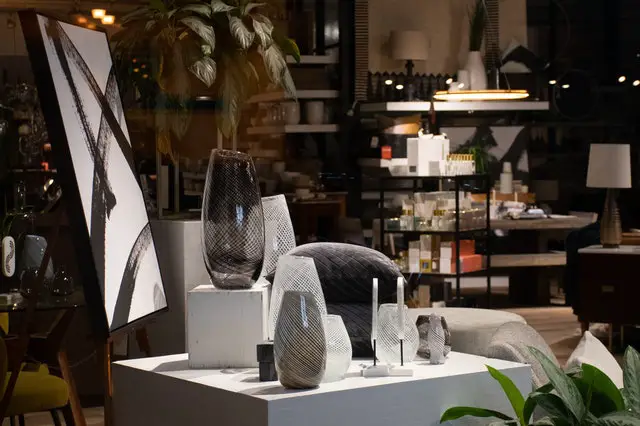 Where To Buy Budget-Friendly Home Decor
The best places to find the deepest discounts on decor for your home are second-hand vendors and dollar stores.
However, there are specific items you should be searching for at each to get the best bang for your buck.
Avoiding the mistake of buying furniture from a dollar store and organizational baskets from a thrift store is half the battle.
An easy rule of thumb is anything that you would hold in one hand is probably best found at a dollar store.  These are items generally considered to be accessories.
Here we're talking about vases, candleholders, blankets, baskets, bins, small picture frames, and tabletop trinkets.  For more about accessorizing your home read "How to Accessorize Your Home on a Budget".
If you're searching for larger items such as furniture or textiles look for a second-hand vendor.  This could be a consignment shop, thrift store, yard sale, estate sale, pawnshop, or flea market.
Now, let's take a deeper dive into the best budget-friendly home decor buys at each place.
Suggested Read: 10 Places You Never Thought To Shop For Home Goods
Thrift Store Decor
The two biggest thrift store chains with a national presence are Goodwill Industries and Salvation Army.
Savers also has hundreds of store locations.  Local thrift stores, however, should not be discounted as options.  Although most thrift stores are non-profit, not all adhere to this business model.
Personally, I've never gone into a Goodwill store intentionally wanting to patronize them because my money is going to a charitable organization.  I generally only think about that when I'm donating goods.
But, if that matters to you then do a little research on the thrift store you're interested in prior to visiting to see how and where the funds are being spent.
When shopping in a thrift store look for solid wood furniture that is either in good condition or can be easily restored.
I also tend to keep my eye out for solid sterling silver serveware and trays.  Remember, tarnish can easily be removed from silver.
It might not look great in the shop, but if you can find real silver (look for the 925 stamp on the back) and like the style, you're going to get one heck of a deal at a thrift store.  Prices will be far below the new retail price or even the retail sale price.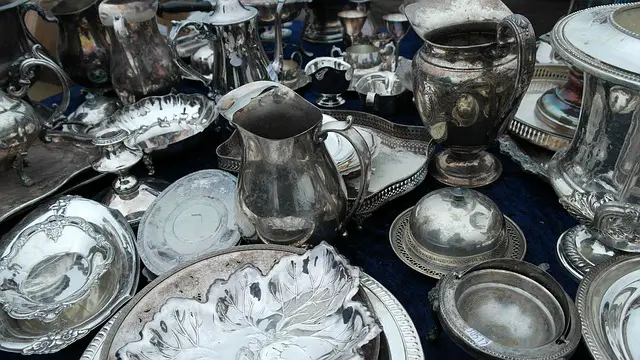 Artificial plants and extra-large picture frames are other items to seek out at a thrift store.
To see how to upgrade an old artificial plant from the thrift store check out the post "Home Decor Hack: Easy Thrift Store Artificial Plant Makeover".
A final note on thrift stores is to keep in mind that they will likely need a little sprucing up.  This may be as simple and wiping it down with a damp rag to sanding and restaining, depending on what you buy.
Consignment Finds
Consignment shops tend to be more selective with the items they sell in-store.  This means, you'll likely get a designer, name brand, or high-quality items from a consignment shop that are pre-owned.
There's much less sifting through junk to find a beautiful item at these types of stores.  This is because they want to profit from the items they carry.  So, consignment shop owners only accept things they deem to be sell-able and profitable.
Instead of accepting random donations they agree to hold and advertise a second-hand item it good condition that the owner wants to sell.  For this service, they'll take a commission when the items sell.
That being said, furniture is hands down the number one thing to look for at a consignment shop.  You may see hand carved 4 post beds, full living room sets, crystal chandeliers, and other luxury decor items up for consignment.
So, if you're looking for those items and don't want the hassle of visiting a thrift shop hoping to strike gold, go for this option.
When purchasing from these types of store you're likely going to pay a few hundred dollars a piece of furniture versus a thousand or more.
It's more costly than buying at a $50 entertainment center at a thrift store (with a missing door) but the quality is generally much better.
In the end, you're still paying 40% or less than what you would if it were new at a conventional retail store.
Another perk is that you can often leave contact info with the store owner and let them know what you're seeking.  They're more than happy to have a lead on a new sale and will let you know when they receive something you want.
Budget-Friendly Dollar Store Deals
Last but not least are dollar stores.  Not all are created equal, however.  There is, of course, Dollar Tree, arguably the most well-known dollar store.
At Dollar Tree everything in the store is $1 USD.
There are other dollar stores that start at $1 such as Dollar General, Daiso, 99 Cents Only, and Five Below.  The pricing at these stores depends on which store you visit.
I believe Daiso is $10 and below and Five Below sells everything for $5 and below.  Target has also jumped into the mix in recent years with its Target Dollar Spot.
All of the aforementioned are great places to find budget-friendly home decor.
The items you should buy at dollar stores are small picture frames, home organization items, chargers, glassware, seasonal decor, seasonal dishes, trinkets trays, tabletop home accents, and DIY decor supplies.
Conclusion
In conclusion, getting the best deal on home decor is all about know where to buy what.
I hope you found this breakdown helpful.  If you did, please share it with a friend and follow Dianne Decor on Bloglovin' and Instagram.
For decorating inspiration, check out our Pinterest Boards for thousands of ideas.
Thanks for reading!
budget decor
cheap decor
consignment
decor
dollar store
goodwill
home decor
shopping for decor
thrift store
where to buy decor