FTC Disclosure - This post contains affiliate links and I will be compensated if you make a purchase after clicking on my links.
*Item received for free for promotional consideration or a sponsored link.
If ever there was too much of a good thing, it's Modern Farmhouse decor. Why did it become so popular and where do we go from here?
This style has been roaring on for frankly, too long (in my opinion). 
But before you click off this post in disgust, let me say – I really do love the style. I don't have it in my home, but I love looking at other people's Modern Farmhouse kitchens and dining rooms.
I love Chip and Joanna. And I love the whole "return to an old, traditional style (but with a twist)" concept. But I'm over it.
My Instagram and Pinterest feed has been so oversaturated with Modern Farmhouse stuff that it's hard to find anything else.
Over the past year, I've started to wonder – why this trend became so popular? And what's next for all those die-hard shiplap and chalk paint fans?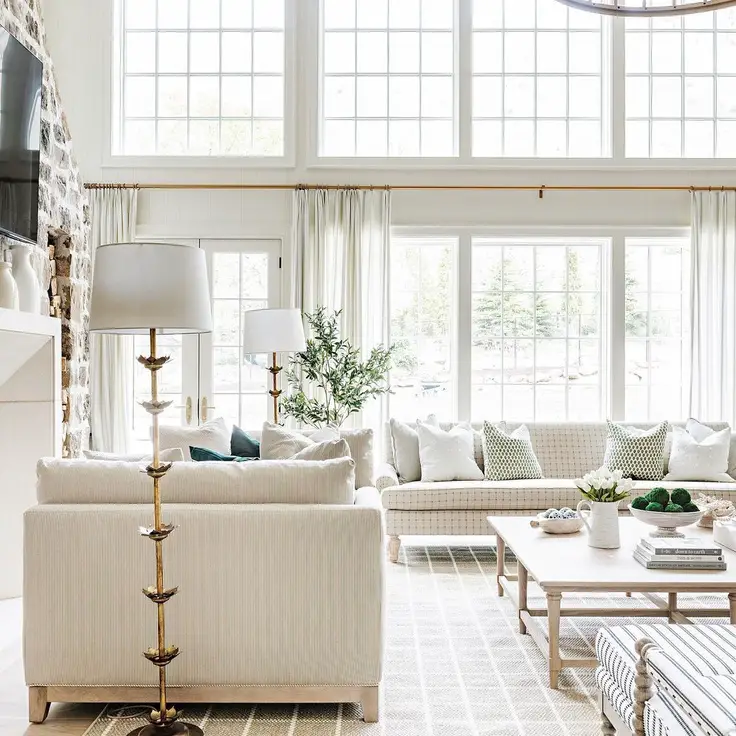 Is Modern Farmhouse Going Out of Style?
The modern farmhouse is not out of style yet.  However, the fandom that has driven this trend for years is starting to die down.  Many are starting to transition from modern farmhouse to adjacent home decor styles such a modern industrial and rustic chic.
If you're looking around your home right now and realizing it looks like Chip and Joanna Gaines had a field day inside it, don't worry.
If you're concerned about what to do now that the enthusiasm for Modern Farmhouse seems to be dying down, fear not.
This post will arm you with manageable tips to transition your home style into the future, whether you're planning a total remodel or just need to make a few tweaks.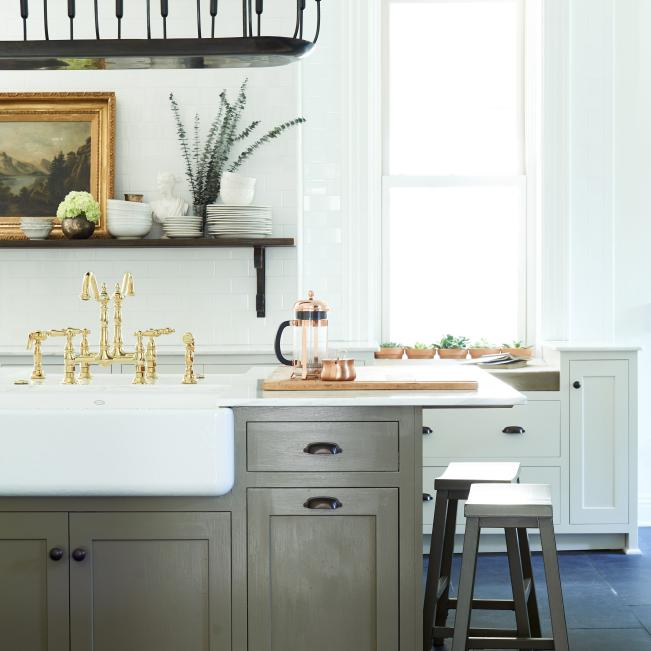 The Rise of Modern Farmhouse
There is no question that HGTV and Fixer Upper had a profound impact on the popularization of this decor style.
The homes featured on this show were beautifully remodeled in Joanna Gaines' signature style. They were undeniably incredible transformations. 
From shiplap walls to custom harvest tables, there was something about this style that felt not only comforting but attainable.
There's a simplicity to it that echoes a simple farmhouse country life. And in an era where we're bombarded with information 24 hours a day, it's no wonder people are ready to slow down and return to a quieter time, even if it's just in the form of decoration.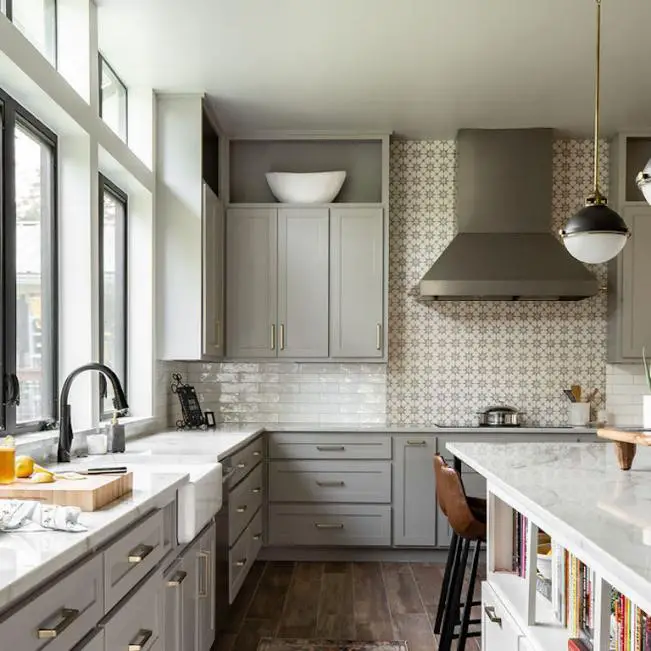 The Oversaturation of Farmhouse Decor
When retailers big and small began seeing Fixer Upper's popularity, they wasted no time jumping on the trend.  Very quickly, demand snowballed. Etsy shops selling strictly farmhouse decor popped up everywhere.
Store shelves were packed with home accents in this style – so much so that I stopped shopping at Target in-store for decor because everything was Modern Farmhouse. 
And I get it. Give the people what they want. But it was way too much.
There were virtually no other options in Target until they began releasing some of their newer in-house brands like Opalhouse. Kirkland's and Pier1 were also guilty of this.
In the past 2 or 3 years, the only home decor styles that have managed to make any headway are modern industrial and boho.
Why Did The Modern Farmhouse Style Become So Popular?
Aside from the fact that the Gaines' are a wonderful couple to watch on screen – that alone couldn't have been the reason for this style becoming so popular.
Or could it?
We've all seen celebrities plug products like hair care, diet supplements, clothing, handbags, etc.
This is an effective sales method.
That being said, pre-Magnolia Chip and Joanna never tried to sell farmhouse decor to anyone.  They simply created beautiful spaces that exuded warmth and family.
With a subtle nod to a simpler time, this exemplified what many of us want.  Moreover, it was brought to us by a likable family.
It also helps that this style is really easy to adopt whether or not you have a large decorating budget.
At its core, we're looking at light, airy kitchens of white or gray.
Dark contrasting hardware and fixtures are usually coupled with an apron front (farmhouse) sink. A large, wooden, harvest style table is commonly featured alongside other faux distressed furniture.
Finally, re-purpose a few galvanized buckets and mason jars and you're in business.
How To Transition From Modern Farmhouse
As we enter a new decade, this trend is slowly starting to peter out.
However, I think it will still be another 2 years before something else takes its place as the dominant home decor style.
Depending upon the number of custom farmhouse details you incorporated into your home, transitioning to another style should be easy.
If you went floor-to-ceiling shiplap in every room, however, you'll need to put in a little more work to move on from this trend.
There are several adjacent decor styles that one could transition to from Modern Farmhouse. Contemporary, Transitional, Modern Industrial, and Rustic are all options.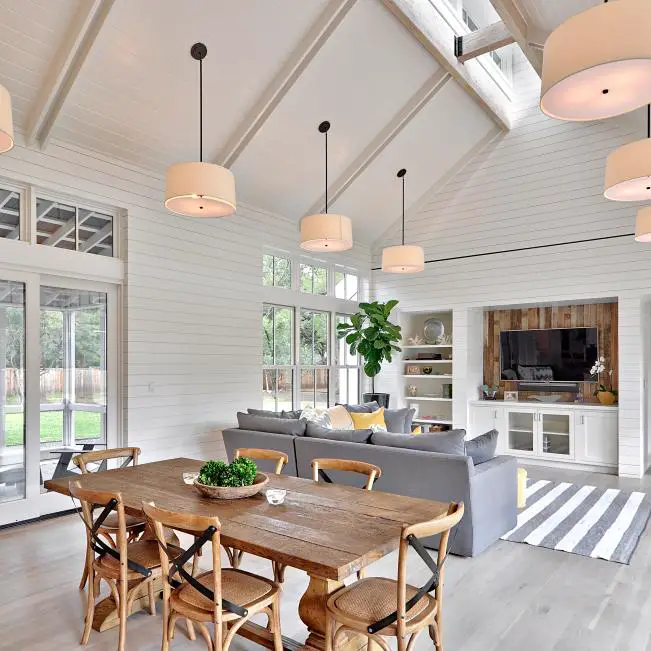 1. Contemporary
Contemporary interiors share the light, airy feel of Modern Farmhouse as well as the clean-lined furniture design.  They also tend to share a similar black, white, and gray color palette, making for a harmonious transition.
Wall decor is a simple way to introduce elements of a new style into an existing setup.  A hanging planter like this is beautiful without adding too much noise.
Swap out one of your more rustic pieces with a sleek, monochromatic piece like this to change the tone of a space.  And what you put in that planter matters!
Succulents are very contemporary-feeling, while flowers or an herb garden tend to veer more into farmhouse territory.
You can never have too much lighting, and swapping out (or adding) wall lights is a quick way to update the feel of a space.
Again, we're going for sleek, minimalist, and monochromatic while still evoking warmth, which is exactly what this wall sconce would accomplish in your space.
2. Transitional
Transitional is a similar decor style, however, you may begin to see darker tones in the mix.
The benefit of taking this route is that the Transitional style embraces, rather than shies away from, contrast.
It leans into the feeling of being in-between and constantly changing – which is exactly what you're doing with your space.  Keeping what still works and updating what doesn't.
Embrace colorful accessories.
Modern Farmhouse can tend to be quite monochromatic.  Update this with colorful curtains, bedding, or furniture pieces in a bright color.  This will bring life into your space and pull it into a new type of modernity.
A chair like the one below would look right at home in a Modern Farmhouse aesthetic, but the pop of color adds some life.
Remember what I said about color?  This gorgeous accent cabinet provides a perfect style mid-point.
The piece's design is reminiscent of a rural farmhouse, but the styling is updated with cold hardware and sleek, modern lines.
Rugs add texture and warmth that Modern Farmhouse can sometimes lack, and they're a great single piece that sets a whole new tone for a room.  This rug's floral motif is nostalgic and classic, but the updated color scheme pulls it (and whatever room it's in) into modernity.
There's a reason I'm offering so many lighting suggestions – it can really set the tone for a whole room!
I love that these bathroom sconces add just a touch of glamor without being glitzy.
Simultaneously, they add a touch of color without being loud, and add a touch of modernity without fighting with more rustic pieces.
Very Transitional.
3. Modern Industrial
Modern Industrial plays on the contrasting hardware and exposed structure that you see in the farmhouse style.  This makes it an ideal candidate for a style pivot.
This steel tiered shelf introduces exposed metals, a highlight of Modern Industrial style, in a way that will still play nicely with your existing Modern Farmhouse decor.
It's bold, but not so bold that it will be jarring next to more rustic pieces.
Exposed light fixtures are peak Modern Industrial style.  This fixture combines exposed bulbs and dark metal with rustic wood, making it the perfect transition point between farmhouse and industrial.
It's also a good example of how a piece can toe that line while staying very modern – the bronze color is more rustic, while the black option is a bit sleeker.
If you're looking for a single piece that will do a lot of legwork in a single room, a bold geometric bookcase against a wall is a great option.
A piece like this gives a modern facelift to a wall of shiplap.  It also helps reset the tone for the rest of the room, allowing you to take your time incorporating smaller items piecemeal.
Wall art can go a long way in setting a style tone, even without making a lot of other drastic changes.
Swap out one of your more farmhouse-style pieces with a modern geometric piece like this.
Even though it doesn't scream "industrial" all its own, if you combine it with other industrial pieces (perhaps some metals), it will help bridge the gap between both aesthetics to create a cohesive design with a real sense of movement.
4. Rustic Chic
Rustic Chic would be another easy transition. This would allow you to keep that worn, distressed look along with the natural wood furniture.
The thing to look for, then, is for pieces that introduce a bit more of the "chic" than of the "rustic," since modern farmhouse is intrinsically a bit rustic.
Look for individual furniture pieces like this console table that feel rustic, but that have chic or contemporary elements.
The woodgrain feels lived-in and homey, but the black accents and minimalist style are very fashion-forward.
Woven elements scream "rustic" in a way that I love. It ties into the Modern Farmhouse feel, but taps into a different aesthetic that's a bit more current.
The chic contemporary style of the rest of the lamp, as well as the arc design, will elevate the tone of everything around it.
A large piece like this helps set the stage for lots of other gradual transitions as you slowly incorporate new pieces to carve out your new aesthetic.
These trinket boxes are certainly more on the "rustic" side than the other pieces I suggest here, but they're so charming I couldn't help myself.  But hear me out!
The classic lacey design feels luxurious in a way that Modern Farmhouse often lacks, while the distressing and off-white color still let the pieces blend in.
This is a perfect starting point if you're looking to add a bit more feminine fun and frill to your space.
There are several adjacent decor styles that one could transition to from Modern Farmhouse.  Contemporary, Transitional, Modern Industrial, and Rustic are all options.
Contemporary interiors share the light, airy feel of Modern Farmhouse as well as the clean-lined furniture design.  Transitional is a similar decor style, however, you may begin to see darker tones in the mix.
Modern Industrial plays on the contrasting hardware and exposed structure that you see in the farmhouse style.  Rustic Chic would be another easy transition.
This would allow you to keep that worn, distressed look along with the natural wood furniture.
For a closer look at these decorating styles check out the post What's Your Home Decor Style? Part I and Part II.
For me, the most interesting part of the next decade in design will be seeing these transformations.
In 5 years are we going to see people look at these shiplap walls like we looked at wood panel walls and popcorn ceilings?  Maybe.  We'll just have to wait and see.
Conclusion
Hopefully, these ideas serve as a springboard for you to push your modern farmhouse aesthetic into the future.
It might sound intimidating, but with a bit of forethought and reflection, transitioning decor styles can also be a fantastic time to get in touch with your sense of style.
It can also be a lot of fun.
If you have a modern farmhouse interior I'd love to hear from you.  Do you plan on redecorating in another style anytime soon?  Or, have you already done it?
Please let me know in the comments below.
For more from me, you can find me on Instagram, Pinterest, Twitter, and Medium.
To have the latest blog posts delivered directly to your inbox join the mailing list before you go.  I'll send you a copy of my weekly newsletter filled with weekend reads, decorating inspiration, and the latest deals on home decor.
Thanks for reading!
decorating style
farmhouse decor
home decor
home decor style
modern farmhouse
modern farmhouse decor
modern farmhouse style