FTC Disclosure - This post contains affiliate links and I will be compensated if you make a purchase after clicking on my links.
*Item received for free for promotional consideration or a sponsored link.
The internet is a virtual smorgasbord of interior decorating inspiration.  There are so many interior trends to choose from it can be hard to determine your home decor style.
Scandinavian, mid-century modern, modern industrial, and modern farmhouse are all very popular.
But, even though you may like elements from many different styles, you might be wanting to narrow down your focus to one home decor style before you start decorating.
What's Your Home Decor Style?
In this post, we'll take a look at the characteristics of 6 different interior trends to help you choose your home decor style.
GET THE LOOK
Mirror Finish Picture Frames – Etsy
Modern Farmhouse
If you're looking for a really lovely mix of the old with the new, modern farmhouse may be for you.  This home decor style is a bit country and a bit shabby chic mixed together.
A clean neutral white or cream color palette and lots (and I do mean lots) of faux distressed items are the hallmarks of modern farmhouse decor.  This style is very warm, inviting, and unpretentious.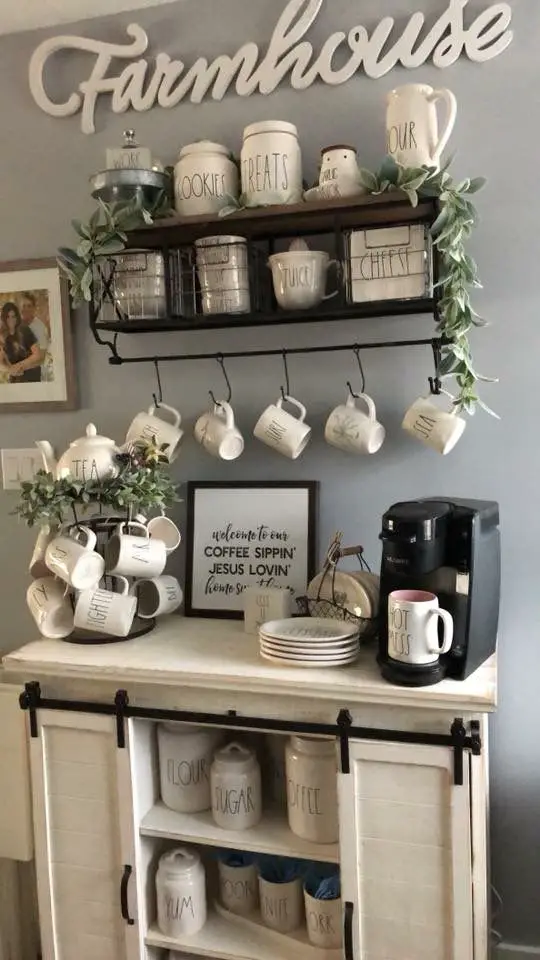 GET THE LOOK!
Custom Wood Cut Out Word Sign – Etsy
Rae Dunn Inspired Canisters – Etsy
Wall Shelf With Metal Baskets & Hooks – Hobby Lobby
Farmhouse Coffee Bar Cabinet – Amazon
Scandinavian
The Scandinavian decor style has practically taken over Instagram.  It's rather minimalist with clean lines and bright, airy spaces.
You'll at times see a pop of color to break up a white or gray color scheme.  House plants or other interior foliage are also a big part of this decor style.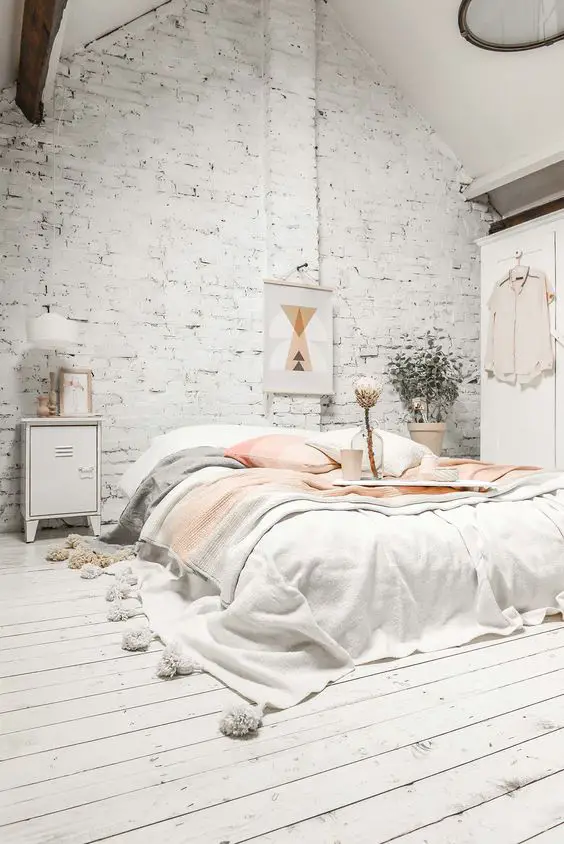 GET THE LOOK
White Pom Pom Tassels Blanket – Etsy
Mid-Century Modern
This throwback style emulates the interior decorations of the '50s and '60s.  Quite literally, the middle of the century between 1900 and 2000.  Think Mad Men.
If you like simple silhouettes and wood-framed furniture with simple fabrics, you may like this style.
During this time period, it was more function over form.  The color palette at this time was earth tones (browns, oranges, and yellows).
With the remake of this style, however, you're likely to see upholstery in a variety of colors, however, the overall frames and silhouettes of the furniture remain the same.
Contemporary
Contemporary is a bit of a moving target.  The term is often used interchangeably with modern, however, the word contemporary suggests the style of the time.
For the purpose of identifying an interior style, contemporary decor is all about smooth sleek lines.
Tan, cream, beige, and white are your base colors with pops of color being introduced with rugs, bedding, or curtains.
This decor style is clean with minimal accents.  Tabletops, mantles, and countertops should be adorned with a few simple accents.  Tone on tone decor is also very common with contemporary styles.
Modern
If you like clean lines, alternative materials, and minimal home accents, a modern decor style may be what you're after.
Sometimes described as a bit cold, modern interior styles introduce materials such as glass, stone, and resin.  White and black color schemes are prevalent in modern interior decorating.
Hollywood Glam
This style is all about opulence and luxury.  If you love that over the top sparkle and glitz, or your head turns when you see shiny things, this style is for you.
If you're a lover of Z Gallerie, Hollywood glam would suit you well.
One caution I will offer is this style of home decor and children don't always go well together.  You'll be looking at lots of glass, lots of fragile crystal lamps, and studded furniture.
Intricate mirrors and mirrored furniture along with tufted chairs and sofas are characteristics of a Hollywood glam style room.  Your color palette will be black, gray, silver and deep rich jewel tones.
Stay tuned for part II of this decor discussion where we explore 6 more home decor styles.
If you found this post helpful please share it with a friend and follow Dianne Decor on Medium for more from me.
You can also find me on Pinterest, Twitter, and Instagram.
To have a copy of my latest posts delivered directly to your inbox, join the mailing list before you go.  I'll send you a copy of my weekly newsletter filled with weekend reads, decorating inspiration, and the latest deals on home decor.
Thanks for reading!
contemporary
decor styles
decorating
decorating style
farmhouse
glam
glam decor
hollywood glam
home decor
home decor style
home decor styles
home decorating
interior decorating
interior decorating style
interior design
interior design style
interior style
mid century modern
modern decor
modern farmhouse
scandinavian
what's my decor style
what's my decorating style