FTC Disclosure - This post contains affiliate links and I will be compensated if you make a purchase after clicking on my links.
*Item received for free for promotional consideration or a sponsored link.
Fall is a great time of year to get married.  The leaves are changing, it's not super hot, and everything is getting a bit cozier by the day.  Moreover, there are so many creative fall wedding decor ideas that come along with this season as well.
Pumpkins, hay bails, leaves, acorns, and smores are all things that can be woven into your big day.
Featuring these seasonal items into your wedding will make for a fun and memorable day for everyone involved.  Not to mention, the endless photo ops.
Here are 10 fall wedding decor ideas you may want to use on your big day.
Fall Wedding Decor Ideas
Weddings are meant to be a one-of-a-kind celebration for you and your partner.  No two are exactly alike.  What is on one couple's must-have list might not even be on your radar and vise versa.
There are so many different elements and traditions that you may choose to incorporate or omit from your wedding day.
However, there tend to be a few key elements that most weddings have in common.  That being; the ceremony, the food, and the table settings.
In some way shape or form, there will be guests witnessing the marriage, enjoying food, and needing a place to sit while they enjoy the food.
Of course, there are a ton of other details and events that you may want like the big send-off, cocktail hour, or the first dance.
For a more comprehensive list of wedding details, you may need to consider, check out the post "The Ultimate DIY Wedding Planning Checklist".
However, for this post, I'd like to share 10 fall wedding decor ideas that can be incorporated into your foodservice/display, table settings, and ceremony.
Here they are.
1. SMORES KITS
This is such a cute idea.  A roaring campfire and roasting marshmallows are such a cozy feeling and bring back a lot of fond childhood memories.
Treat your guests with smores kits and you'll see a lot of happy faces.  This is also great fun for kids (under supervision, of course) at your wedding.
Alternatively, you can make to-go smores kits as a wedding favor if you're unable to have a fire pit at your venue.
The best place to snag DIY Smores Wedding Favor Kits is from Etsy.
You can order just the tags alone, or the full kit for a few dollars more that includes the tags, the bags, and the twine.
Best of all, they're super inexpensive.  You can get 20 full kits for under $15.00!
2. PUMPKIN PLACE CARD HOLDER
Mini pumpkins as place card holders are a great way to incorporate this staple of the fall season.  You can paint them white or glittery gold to glam them up.
Anyway, you decorate them, they'll be a lovely addition to your tablescape.
You can also buy Pumpkin Card Holders on Etsy if you don't want to DIY them yourself.
3. BLANKET STATION
If you're planning on having an outdoor wedding or a tented reception in the fall, why not offer a blanket to your guests.
When the sun goes down the temperatures drop quickly.  A nice chic flannel blanket is a sweet way of letting your friends/family know that you planned ahead for their comfort.
A blanket station doesn't have to be a huge splurge either.  Firstly, you don't need a blanket for every guest.  Not everyone will opt for one.
Also, if your blanket is long enough it may be shared by a couple or by a few children.
The first place I'd go to find blankets for this purpose is Five Below.  They have different styles of blankets that come in and out of stock throughout the year.
Personally, I'd go for something like their Diamond Cotton Throw Blankets for only $5.00.
For this price, you can fill a crate with 15 blankets for under $100.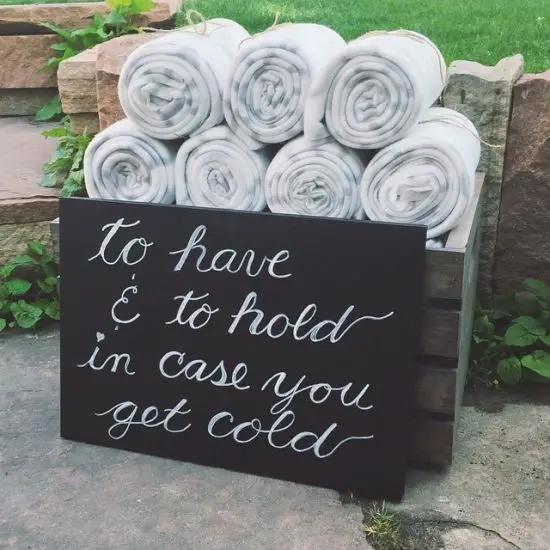 4. CANDY CORN CENTERPIECES
A really inexpensive and seasonally appropriate way to decorate your tables is with candy corn centerpieces.
Personally, I've never loved the taste of these things, but they're really cute to look at and would make a great filler for a vase.
5. PUMPKIN AISLE DECOR
Pumpkins are plentiful this time of year.  That means they're also inexpensive.  Generally speaking, anything in season is usually less expensive.
So, consider using pumpkins, sunflowers, and colorful leaves in your aisle decor in lieu of roses or lilies.
6. HOT CHOCOLATE STATION
Adding a hot chocolate or apple cider option to your beverages will be a real treat for your guests.  Warm beverages aren't common at weddings, so this will add another element of coziness to the affair.
This is an inexpensive addition to your reception that will have a huge impact on guests.  Not to mention, a hot chocolate bar or station gives you the opportunity to add several fun decorative elements.
You can find hot chocolate bar signs in a ton of different styles for under $5.00 that you can print and frame at home.
7. GOLD MAPLE LEAF NAME CARDS
If you don't love the idea of a pumpkin place card holder check out this beautiful gold maple leaf name card below.
If you have a steady hand and a little time, these can be made by spray painting some faux maple leaves and handwriting names.
Or, there are similar die-cut versions made from glass and wood that you can purchase for under $2.00 each on Etsy.
8. CARAMEL/CANDIED APPLE STATION
Let your guest dip their own apples as a fun addition to your dessert station.  This is another fun activity for kids at your wedding.
9. ACORN LANTERNS
Another subtle nod to the season is to fill your centerpieces or lanterns with painted or glitter acorns.
Much like the candy corn option, this is an easy and inexpensive way to incorporate seasonal staples into your decor.
10. PUMPKIN CENTERPIECES
Saving the best for last.  Incorporating pumpkins into your table centerpieces can be done in a ton of different ways.  You can hollow out fake pumpkins and use them as vases to hold flowers.
Or they can be wrapped up with leaf garland or pip berry vines like in the centerpiece shown below.
Conclusion
I hope you liked this post.  If you did, please share it with a friend and follow Dianne Decor on Medium for more from me.
Also, check out my Pinterest Board for this post for more fall wedding decor ideas.
To have my latest posts delivered directly to your inbox, join the mailing list before you go.  I'll send you a copy of my weekly newsletter filled with weekend reads, decorating inspiration, and the latest deals on home decor.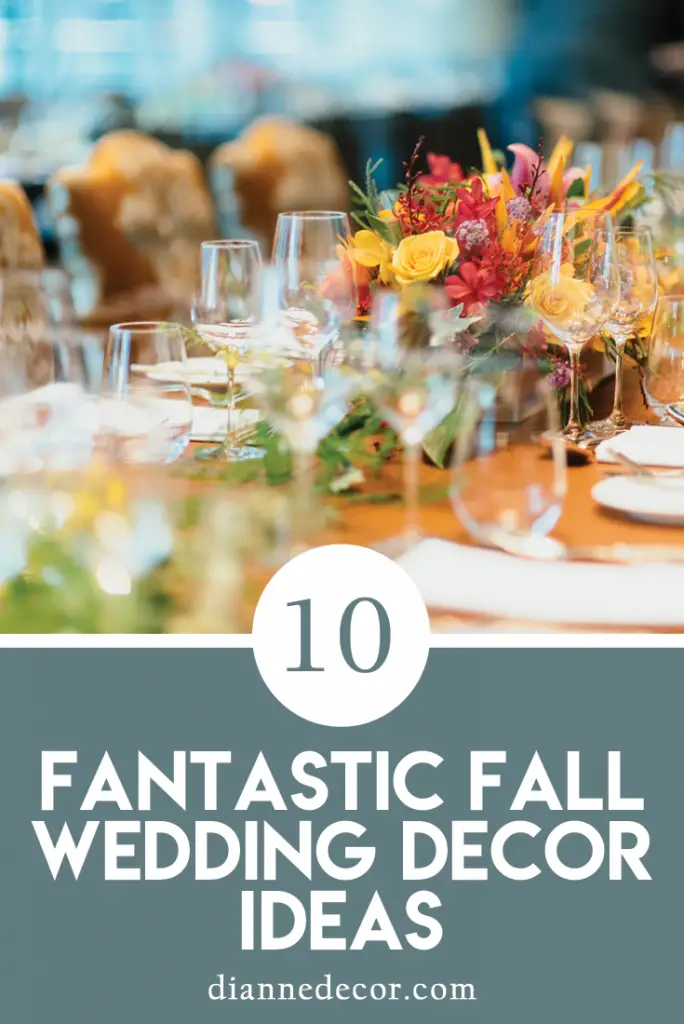 Thanks for reading!
autumn wedding
autumn wedding decor
decor
fall wedding
fall wedding decor
fall wedding decorations
wedding decor
wedding decorations
weddings