FTC Disclosure - This post contains affiliate links and I will be compensated if you make a purchase after clicking on my links.
*Item received for free for promotional consideration or a sponsored link.
Lantern styling is quickly becoming a skill you'll want to learn.
With no signs of slowing, this trend is showing itself in all seasons at all times.  It is no longer considered just a holiday item as it did in past years.
They are now readily available in all different shapes, sizes, and finishes.
For a while, I would just admire all of the lantern decor from afar.  I was too intimidated by this item to actually purchase one.  I didn't know where to begin.
Sure I can throw a candle in it and call it a day, but I knew there were so many other possibilities.  I just didn't know where to start.
Lantern Styling
After a bit of research, I found that the type of lantern you have will heavily dictate what you can do with it.
For instance, one with glass can hold items one without glass can't.
A lantern with battery operated lighting will be able to create scenes and cast light other types cannot.
In addition to the type, the placement or use is also important when determining how to style it.  Is this lantern going to be outdoors?  Is it meant to be a part of a centerpiece?
Or, do you want to hang it from your wall?
In this post, I will break down the different styling options and which types lend themselves best to each style.  Let's get started.
1. Lantern Styling with Flowers
A lantern styled with flowers makes a really lovely centerpiece.  They're also great to place on a mantle.
Flower styling is one of the most versatile options.  You can use large or small lanterns; with or without glass.
If you're using a smaller one, consider topping it with the flowers instead of stuffing them inside.  Or, use small succulents inside of a glass lantern.
More often than not, if you are using fresh flowers, you'll want to add them to a style with a glass enclosure.  This will help contain any falling pedals and give you the ability to preserve your arrangement with a small dish of water.
Alternatively, you could use fresh flowers in a more whimsical manner to top a lantern for an event.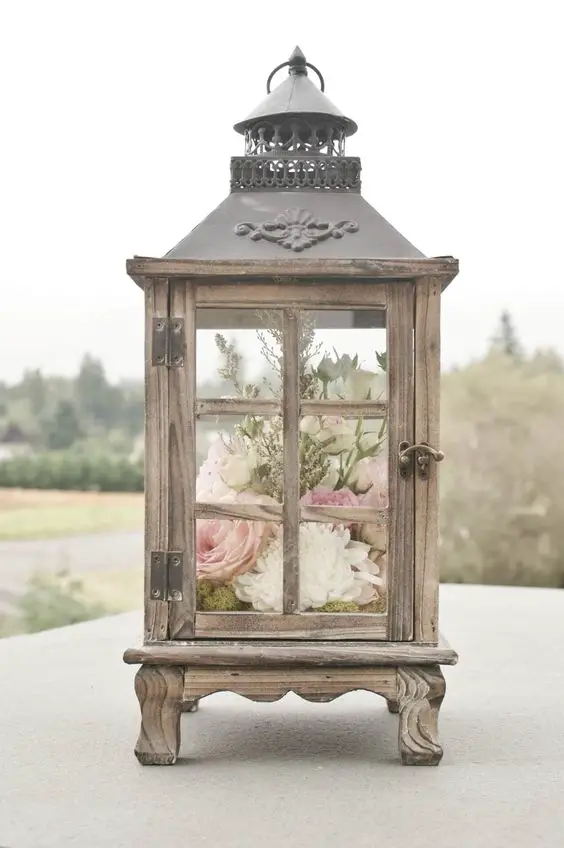 2. Lantern with Fairy Lights
Battery operated fairy lights or string lights are a great styling option.  Not to mention, safe.
You can use the lights alone or mix them in with other fillers like moss.  They won't through off a lot of light; so if you're hoping to use them to illuminate a pathway, you may need to go with another option.
Instead, fairy lights will gently illuminate and accentuate the lantern and create a beautiful ambiance.
3. Lantern Styling with a Candle
If you want a real flickering flame, make sure to use a glass enclosure.  Better safe than sorry.
A bumped elbow, hot wax, or curious little fingers can lead to problems when it comes to open flames.
The good news is, you can style a lantern of any size with candles.  Because candles come in a variety of shapes and sizes, there will always be one to suit your needs.
If you're working with one of the jumbo, oversized lanterns try adding three pillar candles of varying heights to fill up the center.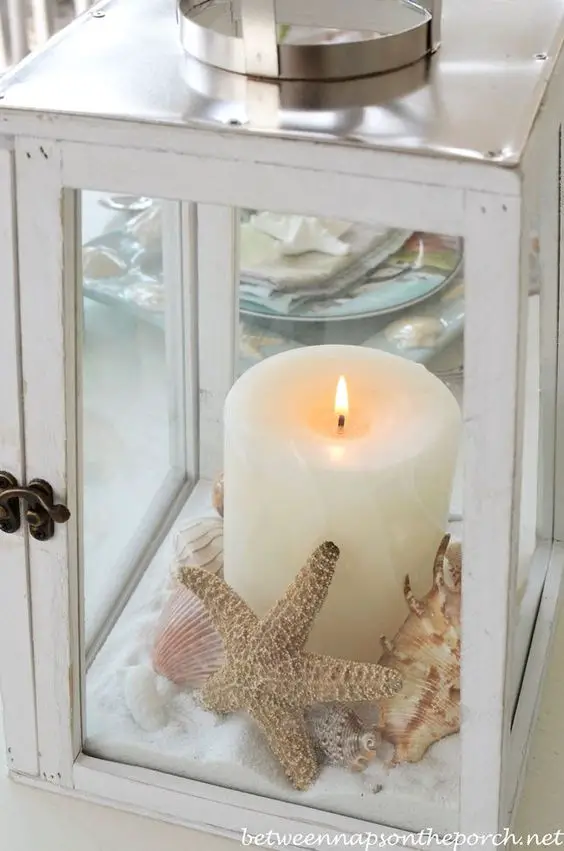 4. Styling a Lantern Without Glass
Styling a piece without glass might seem tricky at the onset, but is actually the most flexible type of lantern to style.
Because you're not constrained to a defined area, you can let greenery spill out of the edges a bit for a nice carefree look.  This type of lantern styling works well indoors.
Especially on mantles and as a part of a centerpiece.
Florals, vines, ribbon, or fairy lights can be snaked in and out of the frame to create movement within the piece.  This is something that can be done easily when you don't have a glass enclosure to worry about.
Note: If you have a lantern with glass and want to try something like this, simply remove the top and look for the groves or clips holding the glass panels in place.  You'll most likely be able to remove them or slide them out.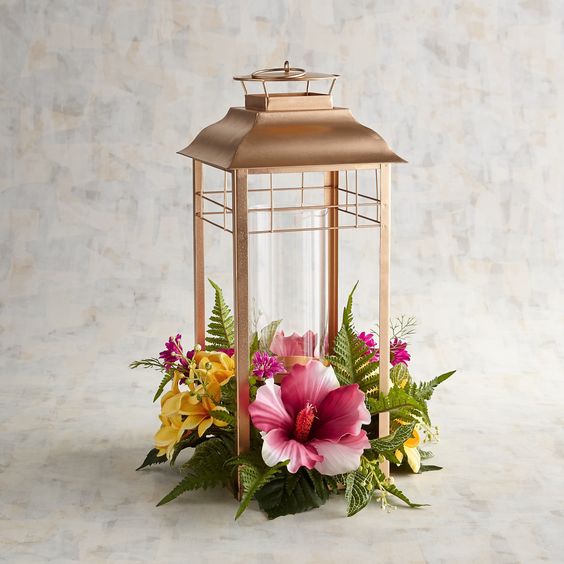 5. Lantern with Bulb
A style with a bulb already installed is hard to come by.
However, if you do have one, make sure you keep your filler low to the base.  You don't want the hot bulb to overheat.
In the case of a lantern with built-in lighting, styling around the outside is the best option.
This can look just as beautiful and will throw off a good amount of light to help illuminate your pathway or table.
Conclusion
If you have any more styling tips, please comment below and share them with everyone.
For more lantern styling inspiration check out this Pinterest Board.  If you liked this post, please share it with a friend and follow Dianne Decor on Bloglovin'.
Thanks for reading!
decor
decorating
decoration
home decor
interior decorating
interior design
lantern
lantern decor
lantern styling
lanterns