10 Amazing Fall Tablescape Ideas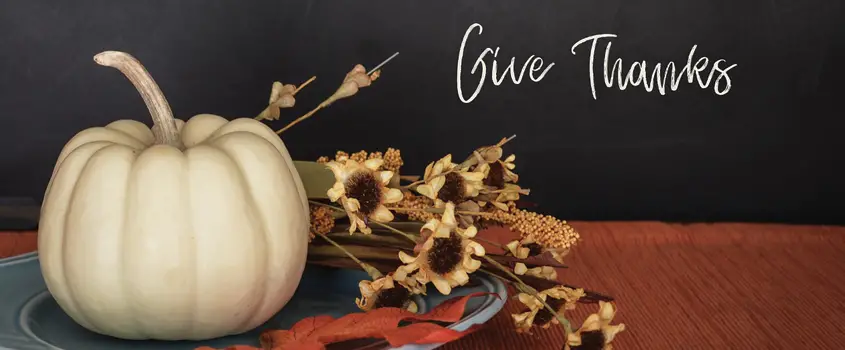 FTC Disclosure - This post contains affiliate links and I will be compensated if you make a purchase after clicking on my links.
*Item received for free for promotional consideration or a sponsored link.
Tis' the season for creating an amazing fall tablescape.
With the holidays fast approaching you may be thinking about upcoming family events, holiday party invitations, and the meal to end all meals, Thanksgiving.
Although we're still a way away from creating the ultimate Thanksgiving tablescape; now is a good time to start picking up a few items while fall decor is still available.
We all know how quickly the store shelves turn from fall to winter decor accents.  In fact, I've already seen some Christmas displays locally.
But, let's not rush it.  It's fall and I love this season.  In the past few weeks, I've come across some amazing fall tablescape ideas on Pinterest that I just had to share.
These table settings will work throughout the season for dinner parties, Sunday dinners, and just about anytime you'd like to serve a nice sit-down meal.
Here are my top 10 picks.
10 Fall Tablescape Ideas
1. Cream and Orange
This gorgeous table masterfully combines neutrals with a pop of orange for the season.  The white and beige pumpkins of varying sizes create a lovely swaying motion as your eye moves down the table.
The ornate dishes and goblets are just fantastic.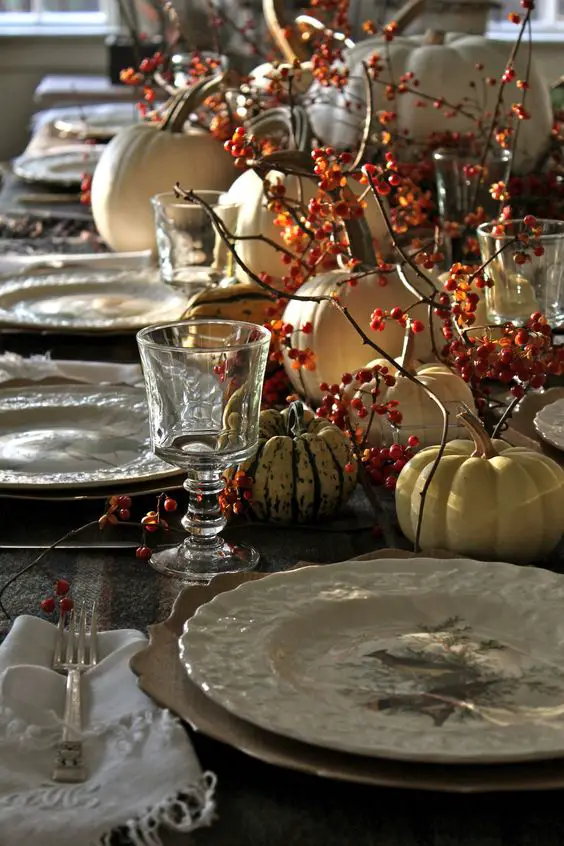 2. Pale Blue and Green
Pale blues and greens are quite popular this year.  It seems lots of people are embracing a neutral fall theme instead of the traditional orange, red, and brown color schemes.
This table does neutral fall fabulously.  I particularly like the touch of the pale green mossy leaves at the base of the centerpiece.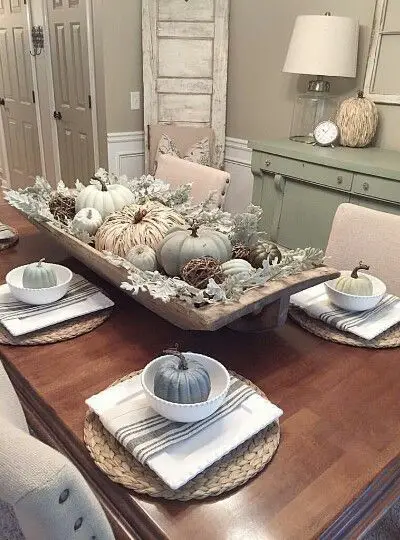 3. Buffalo Check
The buffalo check and raised centerpiece in the example below are gorgeous.  The mini green wreaths in the center of the plates really pop against the black, white, and gray tones on the table.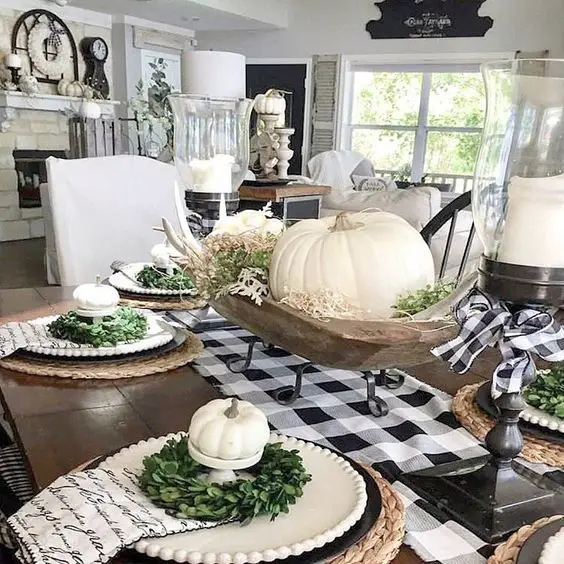 4. Rustic
Another example with a raised centerpiece is this very rustic trough style table accent.  The pumpkins and acorns divided up into the segments of the distressed trough are really charming.
This table isn't overdone.  It's simple, functional, and features lots of great texture.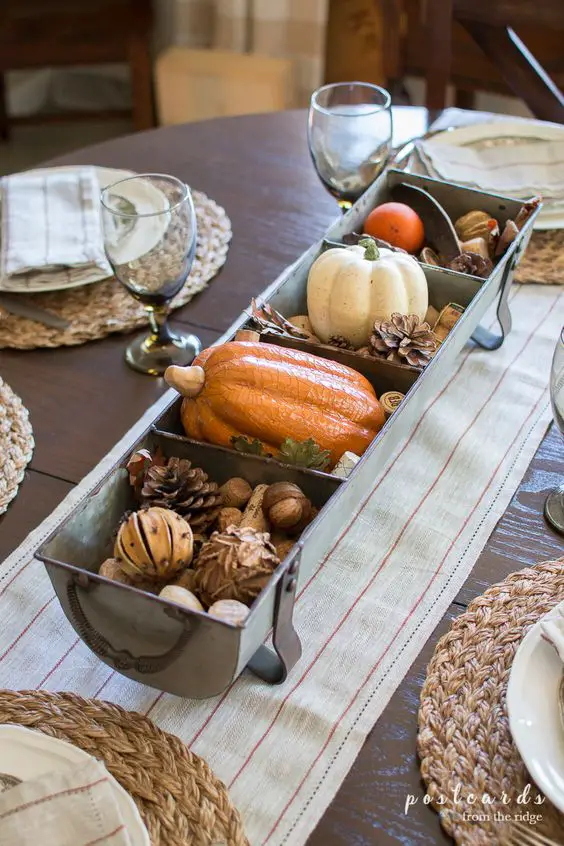 5. Fall/Winter Mix
The next tablescape is a little bit of fall and a little bit of winter mixed together.  The tall tree-like candles make me think of Christmas, but the woven macrame table runner and plum napkins make me think of fall.
It's the best of both worlds.
The gold candles and chargers add just a touch of glam to the table.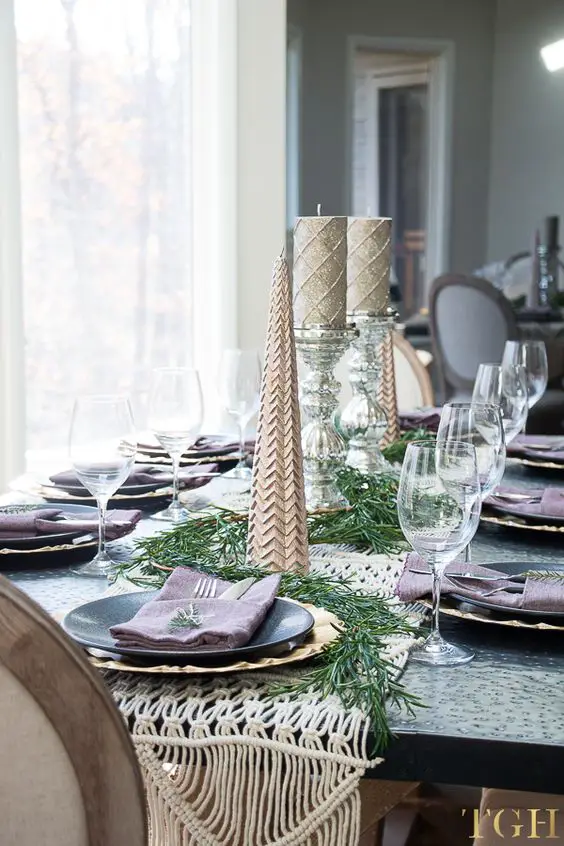 6. Classic Orange
If you still like your traditional fall colors, this orange on orange tablescape may give you some great ideas.
I personally still like a pop of orange.  Probably because I have so much blue in my house and the color combination of orange and blue work well together.
In any event, this tablescape features a set of really cute pumpkin bowls.  They also use a ton of small pumpkins to fill vases and jars on the table.  I love this look.
But, what's really unique is the fabric layering.  If you look closely you'll see a table runner topping a tablecloth.
In between those layers, you'll see the placemats tucked in on the diagonal.  It gives the base of the table a lot of visual interest.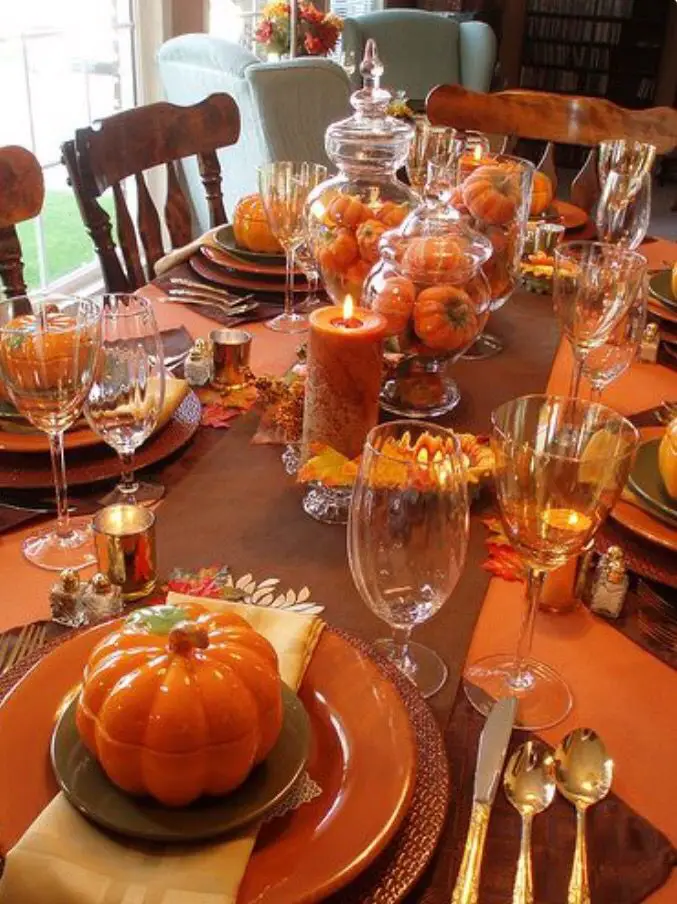 7. Candles and Pumpkins
If you like a lot of candles and incorporating natural fall elements into your table check out the example below.  Large thick pillar candles are featured along with mini pumpkins, squash, and berry vines.
The neutral background really makes these elements stand out. The single leaf tied with a thin string is a nice addition to the table setting as well.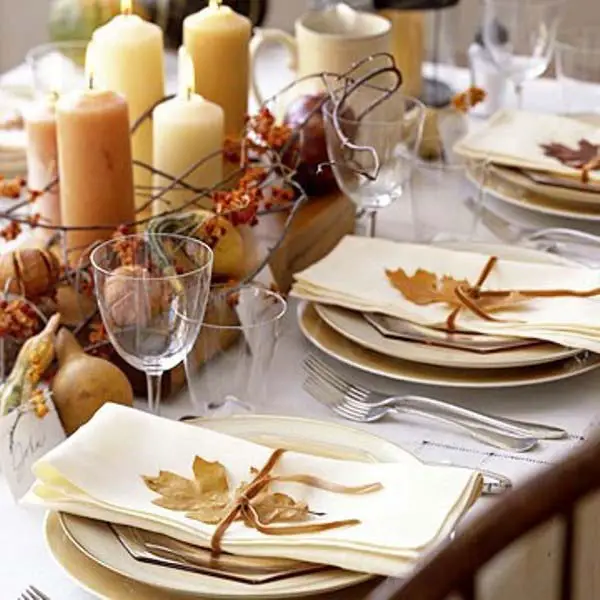 8. Flannel and Bronze
In this outdoor tablescape, the use of the flannel blanket as a tablecloth brings in a lot of vibrant color to the scene.  The chargers and plates are beautifully coordinated.
And, the antlers add a bit of rustic, country charm.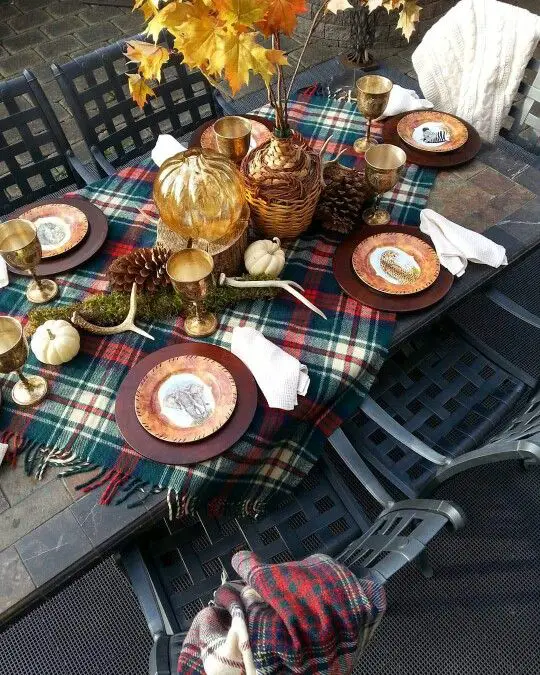 9. Neutral Contemporary
Another great example of a neutral fall tablescape is this one featuring tall, wooden candle holders and straw chargers.  The large white pumpkins are stunning against the pale blue-green tablecloth.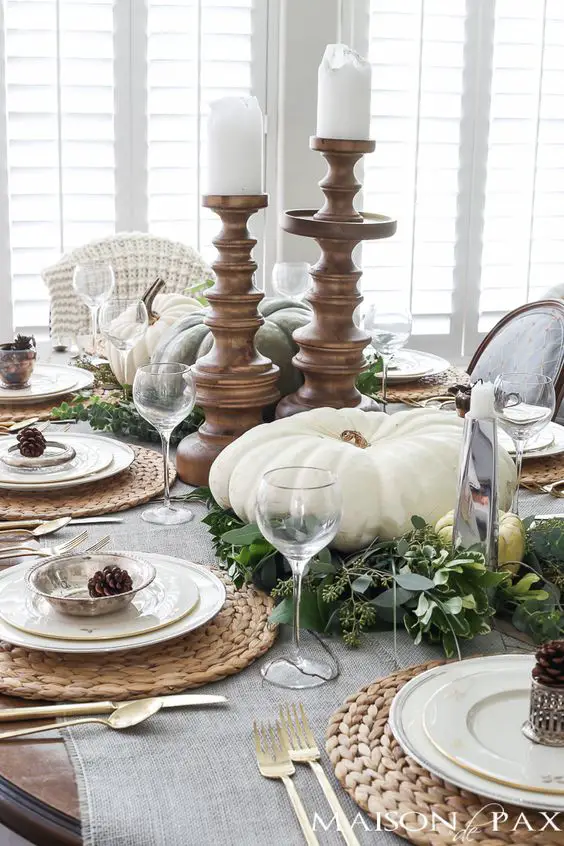 10. Pumpkins and Acorns
This final example screams thanksgiving.  The pumpkin and acorn sequence running down the table makes for a beautiful extended centerpiece.
The turkey-themed plates and checkered tablecloth give me a warm, cozy, old school Thanksgiving feeling.  With the candles lit and the overhead lights dimmed, this is a lovely setting for a family meal.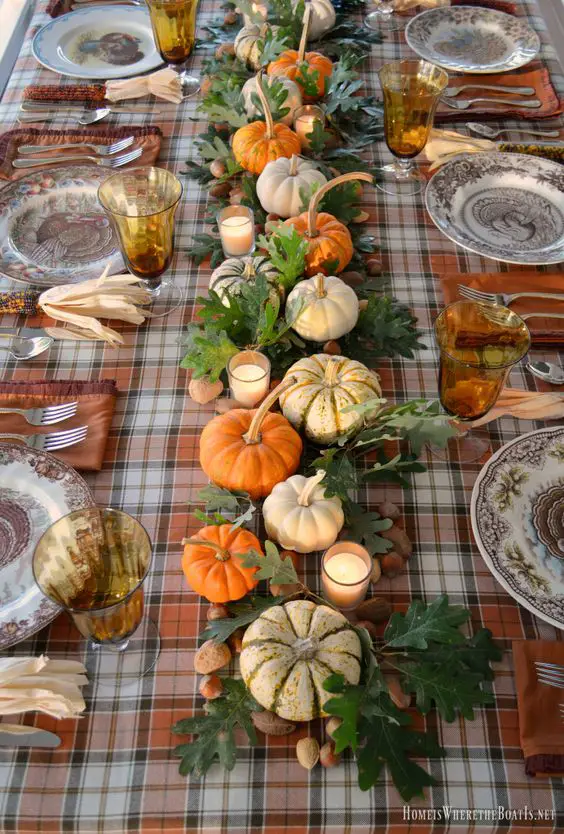 Conclusion
That completes this fall tablescape round up.  If you have a design you'd like me to feature in an upcoming post, send me a message here.
For more fall decor inspiration check out this Pinterest Board.  Please share this post with a friend if you found it inspiring and follow Dianne Decor on Bloglovin' for more content.