FTC Disclosure - This post contains affiliate links and I will be compensated if you make a purchase after clicking on my links.
*Item received for free for promotional consideration or a sponsored link.
When it comes to cooking, baking, or otherwise preparing food; there are a few kitchen essentials everyone needs.
Having the ability to make even the most basic meal is incredibly important.
It saves money that would otherwise be spent dining out. It saves you time by way of meal planning or meal prepping.
Most importantly, it helps you take control of your health and better monitor what goes into your body.
However, without the proper tools needed to prepare and cook a meal, you may find the thought of working in your kitchen laborsome.
In this post, I will break down the 13 essential kitchen tools everyone needs.
Essential Kitchen Tools
If you're moving into your first apartment or just starting to cook for yourself this will be a great reference guide.
It's easy to get swept away with lots of fancy kitchen gadgets.  Things like specialty cookie cutters and panini presses rarely get used.
More often than not, they find a permanent home at the back of a cabinet mocking you every time you open it.
Included in this guide are only the true essentials.
Things I use multiple times per week, if not daily, and would struggle without.
Once you begin to develop a cooking style and signature dishes that you like to prepare often, then add in the specialty tools.  Let them be items that make preparing specific dishes you make often easier.
For me, it's my mini chopper that dices onions and pepper for me in seconds.  Although it is cool to have, I survived for a long time without it by chopping by hand.
So, without further adieu let's get into the list of must-have kitchen tools.
13 Must-Have Kitchen Tools
1. Measuring Cups
Unless you're skilled at estimating quantities like 1/4th of a cup or 1/8th of a teaspoon.  Get a set of measuring cups and spoons.  Note: there is a difference between liquid measuring cups and dry measuring cups.  Get both.
2. Can Opener
Even if you don't regularly consume canned foods (and you shouldn't), you need a can opener.  It's important to have non-perishable items on hand in the event of an emergency.  Most of these things come in cans, so get a can opener.
3. Spatula
I use a spatula probably a good 350 days out of the year.  If you want to flip eggs, pancakes, quesadillas, pretty much anything… you'll need this item.  For years I never had a set of tongs, so when I wanted to flip a chicken breast or steak in a pan I used a spatula.
4. Slotted Spoon
If you're trying to remove potatoes or hard-boiled eggs from boiling water, a slotted spoon is your safest option.  Lots of people like to drain items in a colander.  Don't get me wrong, this is a great way to remove items from liquids, but it does not replace a slotted spoon.  You may be frying something in a pan filled with oil.  Or, need to pull a piece of meat you used to flavor gravy out of the pot.  For these types of scenarios a colander won't work, so make sure you pick up a slotted spoon.
5. Cutting Boards
Cutting boards or mats are essential for protecting your countertops.  They're also key to protecting your fingers by preventing your food from slipping around everywhere.  If you get a cutting mat, make sure it has those little rubber feet on the bottom so it doesn't move.  Personally, I prefer cutting boards and chopping blocks over the mats.  They have a lot more heft to them and hold up better over time.
6. Knives
Absolutely, positively, knives are a kitchen must-have.  You don't need a huge set to start out, just a few basics.  A knife for chopping, a paring knife, and a set of serrated knives are a good start.
7. Pots and Pans
You'll also need a few essential pots and pans to start out.  A skillet/frying pan, a large pot, a saucepan, and a baking sheet will cover you under most circumstances.  Having more pots and pans simply allows you to cook more items at once.  This is important for big meals like Thanksgiving or Christmas.  It prevents you from having to wait for one item to finish cooking before you can start the next because you need that pan. However, as far as essentials go, those four should serve you well.
8. Apron
Simply put, if you want to keep your clothes clean, get an apron.  I don't use an apron on a daily basis, but I do when I'm preparing big meals, elaborate dishes, or anytime flour and a rolling pin are involved. If you're hosting friends or family and cooking is still happening when they arrive, you need an apron.  This will allow you to be dressed and ready for guests and protect your clothes while you're putting the finishing touches on your meal.
9. Kitchen Towels
There are a few different types of kitchen towels (i.e. tea towels, chef towels, dish towels).  Determining which one you need will depend on your cooking style.  Kitchen towels are one of the most utilized tools in a kitchen.  Personally, I lean towards chef towels.  I use these to wipe my hands as I cook instead of blazing through a roll of paper towels.  I never dry my dishes with these towels or use them to line a basket of muffins.  They're only used to clean my hands.  I find it incredibly efficient, but you may have a different school of thought.  Growing up with my parents, our kitchen towels were never used for hands, only for drying dishes.  Rolls and muffins served at nice meals were in a basket lined with a cloth napkin, not a tea towel.  So, it's completely up to you. Either way, they're a kitchen essential.
10. Peeler
A vegetable peeler is essential if you do not have a lot of experience with a pairing knife.  You'll be able to skin potatoes, apples, carrots, and other veggies quickly and efficiently with a peeler.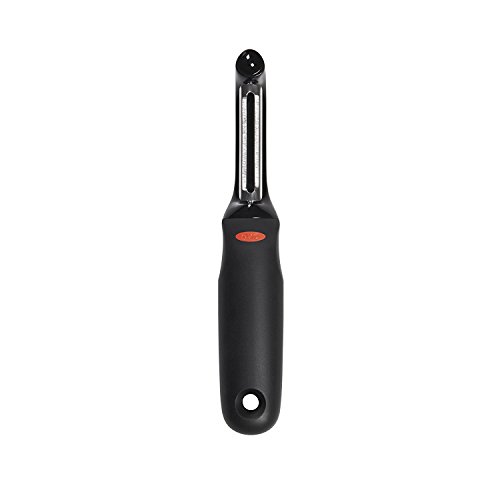 11. Large Spoons
Earlier I mentioned the slotted spoon, the non-slotted version is just as useful.  It's great for mixing and tossing items when they're cooking and then transferring them from pan to plate.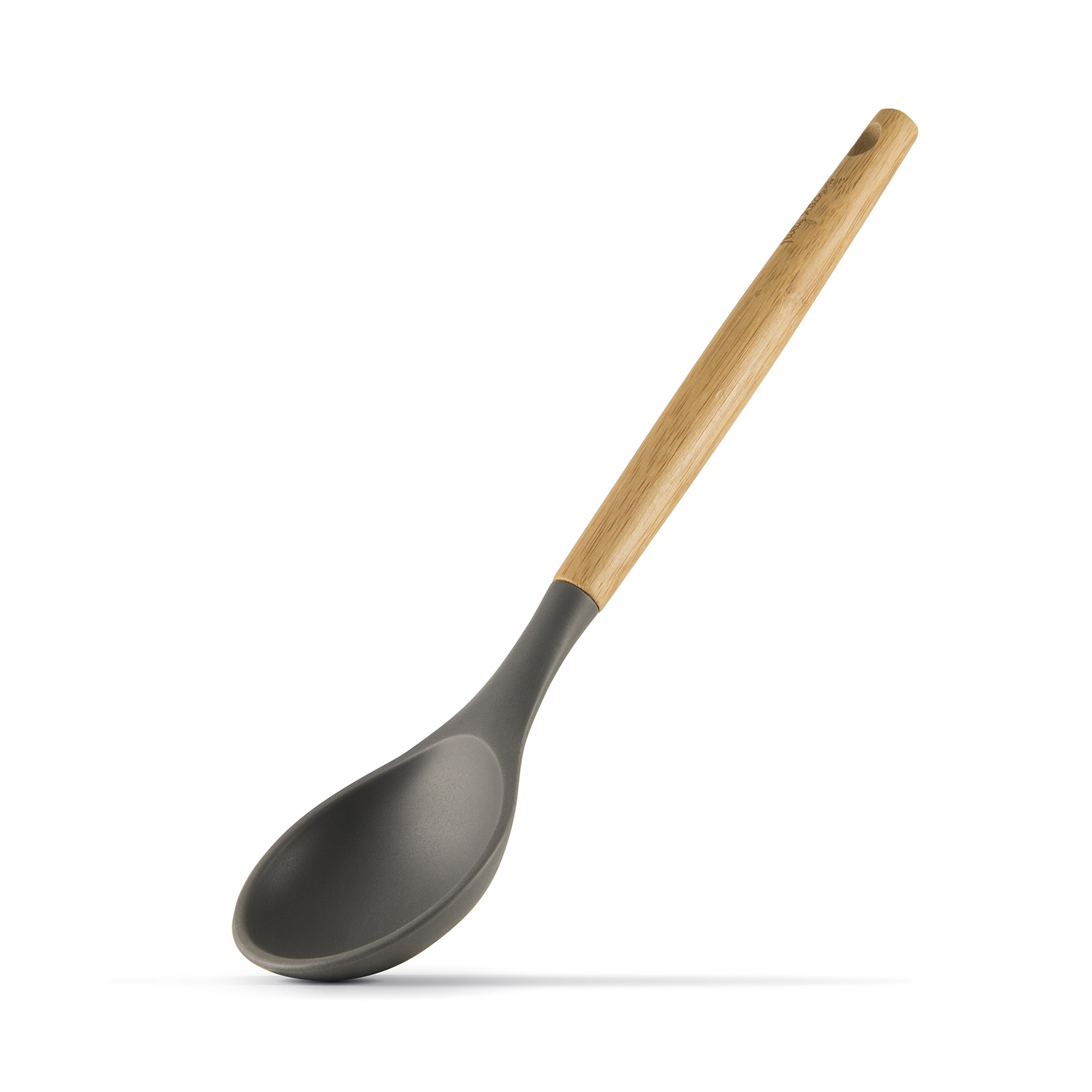 12. Mixing Bowls
To combine ingredients you'll need some mixing bowls.  You may be able to get away within a soup bowl for combining small things, but anything more than a couple of eggs needing scrambling will require a proper mixing bowl.  They typically come in sets of three or five.  Three is plenty to get your kitchen started.
13. Oven Mitts
This one is a no brainer.  You absolutely need a safe way to retrieve items from your oven after they're done baking.  Do not use kitchen towels or your shirt.  They are not thick enough to protect your hands.  And, if you accidentally spill anything liquid like a sauce onto them during transfer, towels and clothing will absorb it immediately and you'll get burned.  Trust me on this.  Oven mitts are specially designed to protect your hands from the heat.  Many have non slip grips as well.
Conclusion
Those are the 13 basic kitchen tools everyone needs.  If you're just starting out, you don't have to spend a fortune on procuring these items.  Dollar Tree sells a ton of kitchen tools along with Walmart and Big Lots.  If you're looking for something a bit more fashionable check out FlirtyAprons.com.  They have some lovely collections and lot of cute throw back 50's style aprons that are adorable.
If you found this post helpful, please share it with a friend.  For more content from Dianne Decor follow us on Bloglovin' and Twitter.
Thanks for reading!
cooking essentials
cooking tools
kitchen
kitchen essentials
kitchen tools