Home Office DIY Command Center Project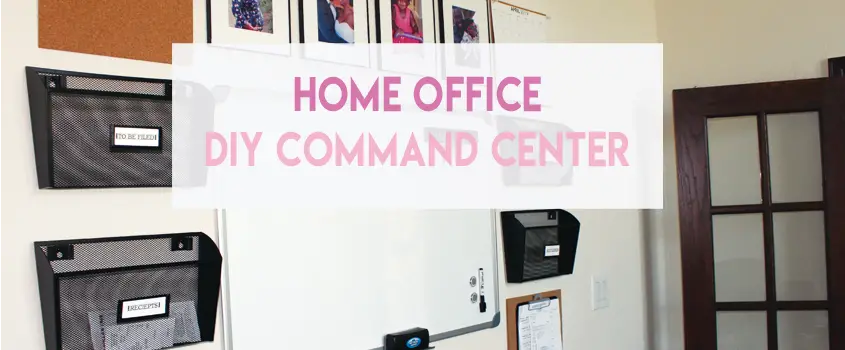 FTC Disclosure - This post contains affiliate links and I will be compensated if you make a purchase after clicking on my links.
*Item received for free for promotional consideration or a sponsored link.
If you have an area of your home in desperate need of an organization system, a DIY command center may be your answer.
For us, our home office organization was not working.  We had "in" and "out" baskets that were overflowing with old mail and items to be filed.  Both were acting as catch-all junk drawers.
I had no place to sort receipts or a designated spot for items to be mailed.  Each time we needed to reference a piece of mail that arrived at the house we had to sift through this giant stack of stuff.
I was over it and decided to once and for all create a system that worked.
Here's what I ended up with in the end.
This DIY command center created a solution for all of our problems, including what do to with this giant blank wall!  I love it.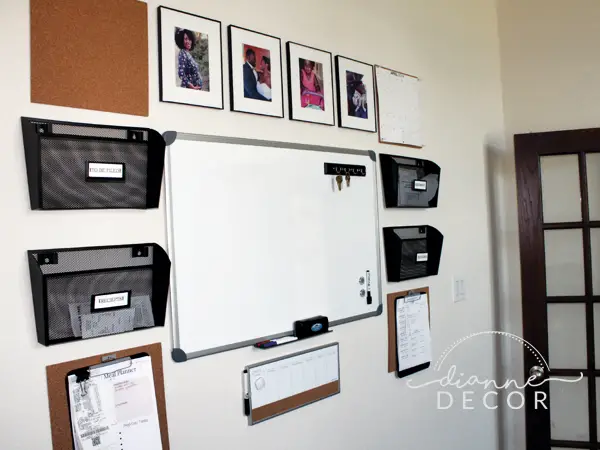 Getting Started & Project Objectives
I knew I wanted a command center, I just didn't know how to go about it.
I browsed through Pinterest looking for inspiration and found a lot of systems for family command centers.  However, they weren't what I needed.
My daughter isn't even 2 y/o yet.  We don't have school schedules or after school activities to coordinate.
At the moment, the only item we're seriously tracking that needs to be out and in the open is our monthly meal planning system.
So, I knew I would need to adapt one of these family command centers to something that would work for a home-based business.
Before I hit the store I outlined exactly what my needs were.
First, I needed an inbox and an outbox.  I also wanted a monthly overview calendar for reference.  A place for receipts and items to be filed was also important.
Then, I needed a place for my post-it notes that I use for quick access to passwords.
A decorative element was also something I wanted to incorporate, although I didn't know exactly what I wanted.
Finally, a whiteboard for brainstorming and a home for my meal planning and appointment schedule.
What to Buy
With this list in hand, I headed to Walmart hoping to score a deal on organizational items that could be mounted to the wall.  Miraculously, I found everything I needed there.
A lot of the organizational supplies were marked down or on clearance since it was well past the start of the year.
I grabbed a few metal wall hanging file pockets, a pack of cork board squares, some clipboards, and a key hook among other things.
Below is the full list of items I used for this project.
DIY Command Center Project
Items Used
1 –

Large Whiteboard

2 – Clipboards
1 –

Key Hook

1 – Small Weekly Calendar Whiteboard
Hammer/Nails
Screwdriver or Drill with Screwdriver Head
Note: I purchased everything from Walmart but you could certainly go to Target, Office Depot, or Staples for the same items.
Now for the nitty-gritty details.  Here's how I started this project.
DIY Command Center Setup
The very first thing I needed to do was work out a configuration.  This took a while and quite a bit of rearranging.
My largest item was the whiteboard so I made that the center and worked around it.
I flanked it on both sides with the wall hanging file pockets.  Then, I balanced them out with the four cork board squares and used them to establish the four corners of the layout.
Lastly, I filled in the gaps with the smaller elements.  I put the 4 small picture frames in a row above the whiteboard.  I tucked my key hook, clipboards, and weekly whiteboard calendar on the bottom row.
Measurements & Placement
Next, I measured my arrangement and then confirmed that it would in fact fit on my wall.  To do this I used painter's tape to outline the rough dimensions.
I used a trick mentioned by Cas from the Clutterbug YouTube Channel.
Instead of trying to take exact measurements across a large space to make my outline, I simply found the location of my first corner and strung a long piece of painter's tape across the wall.  Then I used the level to make sure the tape was straight.
This was much easier than measuring a bunch of points and connecting the dots.
From there, I strung another long piece of tape up the wall and leveled it.
Marked the tape where I wanted my command center to stop and finished it off by going back across and down again to complete the rectangle.
In a nutshell, just work in a clockwise motion to tape off your border (taking the time to level your tape in between) and you're good to go.
You will likely need to make some adjustments.  On my first placement, I realized that the bottom of my command center would hang lower than I wanted, so I moved everything up.
This also meant I needed to compact things a bit more so it didn't reach too high on the wall.
Remember to test your reach for things like the wall hanging file folders.  If they're too high you won't be able to use them.  If they're too low, they'll become an attractive nuisance for kids.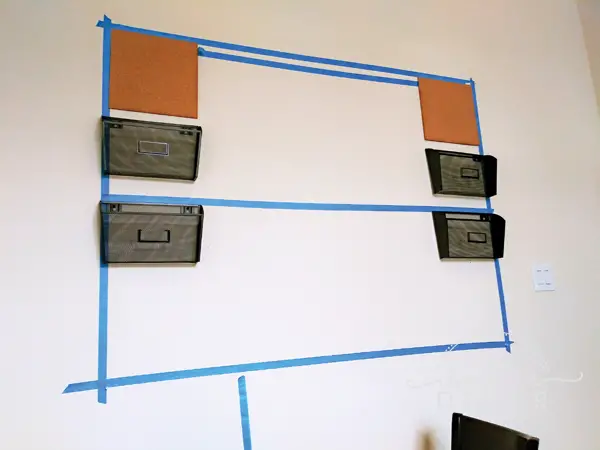 DIY Command Center Installation
To begin the installation I mounted one side of the command center.  Moving vertically down the wall this was one corkboard, one wall hanging file folder, a second file folder, then another corkboard.
I repeated this process on the other side using the tape as my leading edge.
Next, I mounted my whiteboard in the center and aligned the top of the board with the top of the first file folder.  I then proceeded to hang the picture frames across the top.
Initially, I used command strips to do this.  It allowed me to eyeball their location and then adjust with the velcro to get the exact placement.
However, a day after I installed this the frames started to fall off of the wall.
I'm not sure why this happened.  It's possible I got a bad batch of strips or there is some type of coating on the wall that prevented them from adhering properly.
I've used command strips dozens of times in the past to hang frames and other decor and have never had this problem.  The frames were a fraction of a pound and did not come anywhere close to exceeding the weight for the strips.
I had to replace the set of frames since some had broken during their fall and nailed them in place.  In the end, it all worked out without too much of a headache.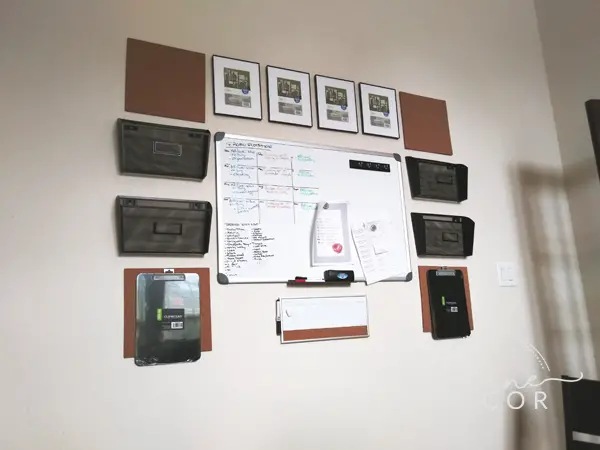 The final part of the installation was to mount my clipboards to the bottom two cork board squares.  I used thumbtacks to do this.
Then, I mounted the key rack to the upper portion of the whiteboard.
I originally had it placed at the bottom of my arrangement, but I realized the keys would dangle too low, and little fingers would get to them, so I moved it.
Next, I added the weekly schedule whiteboard strip centered below the large whiteboard.  Last but not least, I attached my monthly calendar to one of the upper cork board squares and printed labels for my file folders.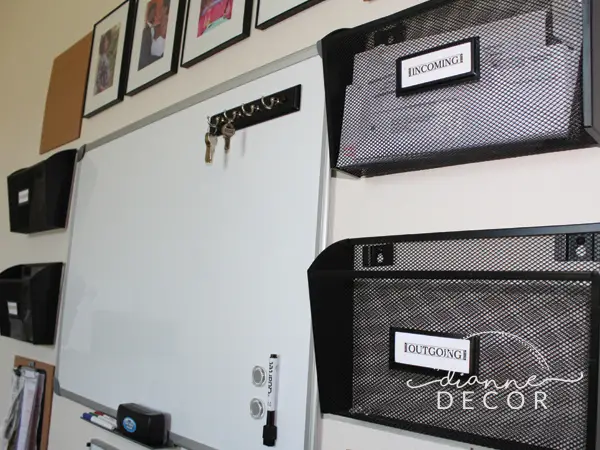 DIY Command Center Tips & Final Thoughts
I loved this project.  It's probably one of my favorite DIY adventures.  It did, however, take me longer than expected.
Solo, it took an entire day.  From my early morning Walmart run to the last label, it took a good 10 hours of work.
Of course, I had a lot of mommy breaks tucked in there since my daughter was home with me.
So, cut out the lunches, naptime routine, bedtime routine, snacks, dinner prep, and general entertaining of a toddler and I'd say you could do it in 4 uninterrupted hours if you're starting from scratch without supplies.
If I were to do it again I wouldn't have bothered with the command strips.
In the end, they were a wasted purchase.  I generally try not to put holes in the wall if I can avoid it.
But, considering I needed to do so for the heavy whiteboard and the file folders, I could have saved myself the headache and just tacked the frames in from the get-go.
I'm also thinking about a better way to integrate the monthly calendar at the top.  I had to rip out the page of the current month so it would look good with the rest of the arrangement.  But, this is not sustainable for me.
It's out of my reach and the idea of having to get a stool every month to switch it out doesn't appeal to me.  So, that spot will likely change.
That being said, I'd recommend reserving the top of your arrangement for decorative elements or permanent items that don't need to be rotated out often.
For anyone attempting this type of project, leveling off your lines is key.  Use the painter's tape method I mentioned or a laser level.
When it comes to floating arrangements like this the negative space speaks volumes.  You want to make sure your lines and spacing are even and straight.
That's it!  Here's another look at the final project.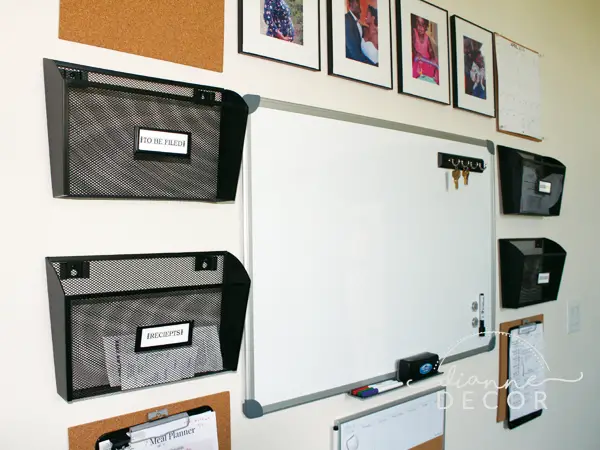 Conclusion
I hope you found this helpful.  Feel free to comment below or contact me with any questions.
If you enjoyed this post please share it with a friend and follow Dianne Decor on Bloglovin' and Instagram for more content.