FTC Disclosure - This post contains affiliate links and I will be compensated if you make a purchase after clicking on my links.
*Item received for free for promotional consideration or a sponsored link.
With so many different decor styles trending it is hard to keep up with the subtle differences.  Two decorating styles frequently confused are a country kitchen and a modern farmhouse kitchen.
For a while, if someone told me something was shabby chic, I would assume they meant country, or farmhouse, or vintage.  It's all kind of the same thing, right?  Well… not exactly.
With the modern farmhouse interior style in full swing, I figured it would be a good time to sit down and chat about the differences between this style and a country kitchen.
Country Style Decorating vs. Modern Farmhouse
For the longest time, I dreamed of a beautiful country kitchen.  Complete with a huge distressed table, white cabinets, and wood floors.
I slowly began to notice that every time I saved a pin on Pinterest of my dream kitchen it was labeled "farmhouse", not country.
So I decided to do a bit of digging to figure out what the big difference was between these styles.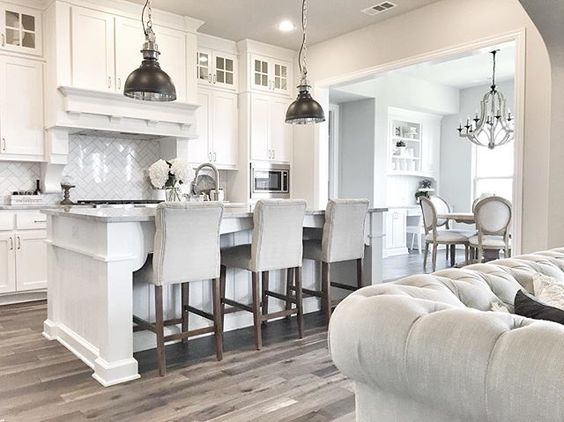 Similarities Between Modern Farmhouse and Country Kitchen
1. Wood Furnishings
Both styles feature wood furnishings, vintage-style accents, and an overall distressed vibe.  More often than not, this is what drives the confusion between the styles.
It's a rustic look that many different home decor styles share.
2. Mason Jars
The use of mason jars is also prevalent in both.  These jars are used to hold spices and other dry goods.  Pantries and pantry walls are often organized using mason jars.  They're great for creating a clean, uniform look.
Furthermore, they're incredibly functional because you can see the contents through the clear glass.
I will mention, however, you're more likely to see painted mason jars in modern farmhouse kitchens and the traditional clear glass jars in country kitchens.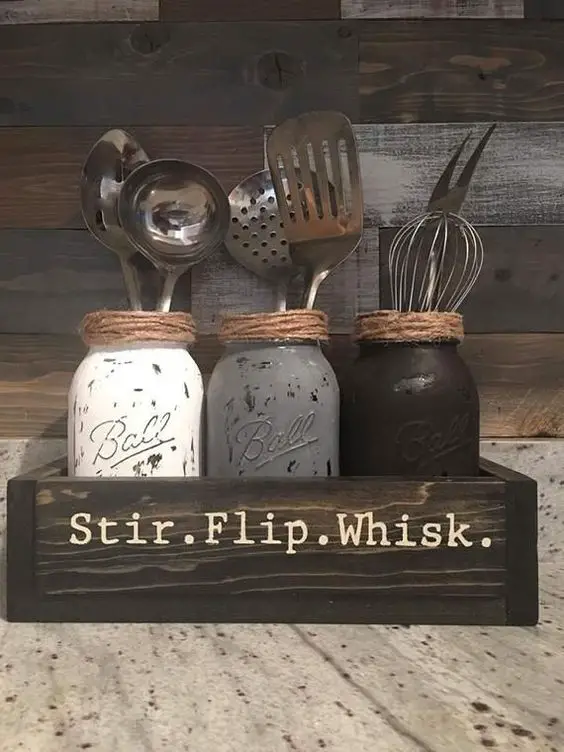 3. Apron Front Sinks
A farmhouse-style sink (also termed apron front sink) is a unique style of sink that projects all the way to the edge of the counter.  This edge is often used as a place to drape an apron or kitchen towel.  Hence the name.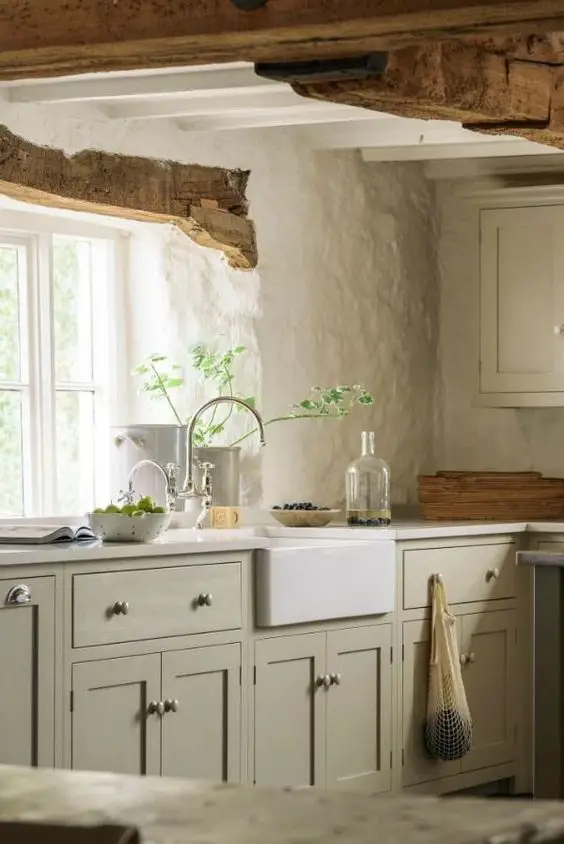 4. Open Shelving
Open shelving is a feature shared by both country kitchens and modern farmhouse kitchens.  In fact, open shelving is a trendy interior style that is being incorporated in several decor styles like modern industrial and boho interiors.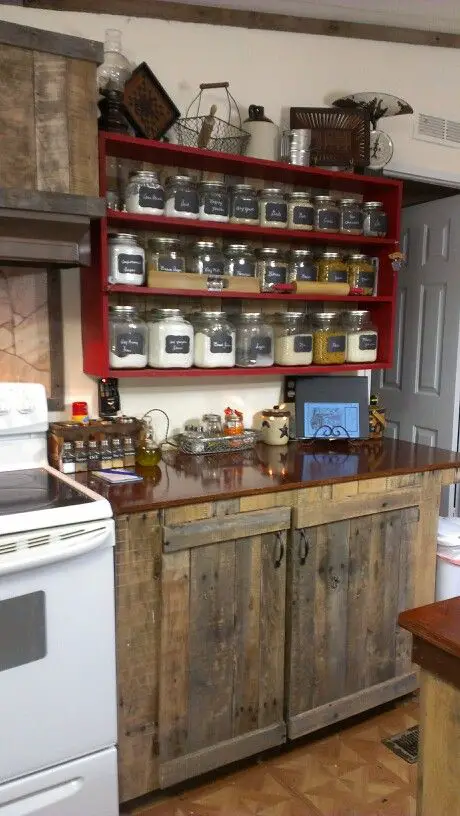 Differences Between Modern Farmhouse and Country Kitchen
1. Accessories
Country-style decor relies heavily on accessories.  A quirky flea market vibe is felt from all the little nick-nacks, likely procured second hand.
Likewise, thrift store treasures are frequently found in modern farmhouse interiors.  The kitchen design, however, is free of visual clutter.
You may find a few decorative accents on the countertop or wall (like those popular "pantry" signs), but that's it.  You won't find a menagerie of handpainted salt and pepper shakers or upper cabinets lined with decor.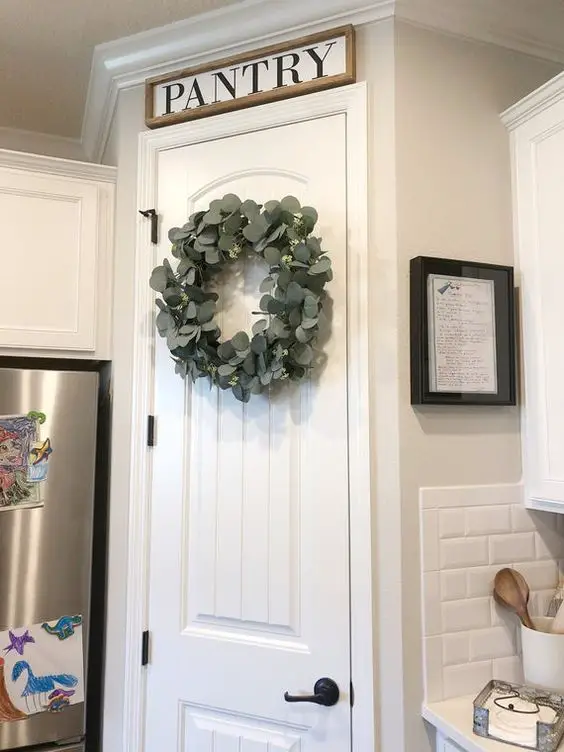 2. Fabrics
Fabrics are usually of a striped, plaid, or buffalo check pattern.  While farmhouse curtains more often feature either solid fabrics with a bit of texture or subtle patterns with little color variation.
3. Colors
As far as colors go, you are more likely to get a light, airy feeling from a modern farmhouse interior.  They feature white or lightly colored neutrals throughout the home for a clean, crisp feeling.
Country kitchens, on the other hand, are more likely to feature deep, rich wood tones and painted cabinets in colors like cranberry red or sage green.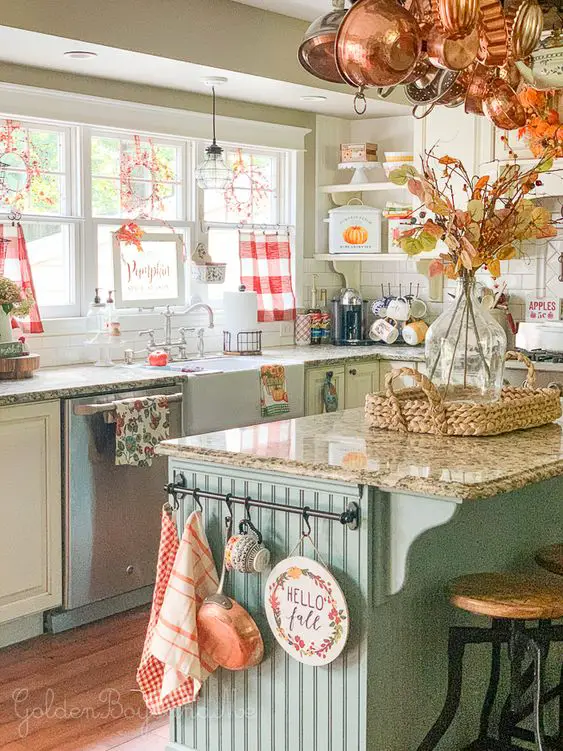 Conclusion
Which kitchen style do you prefer?  Let me know in the comments below.
If you found this post helpful, please share it with a friend and follow Dianne Decor on Bloglovin'.
To receive my latest posts delivered directly to your inbox, click here to join the mailing list.  I'll send you my weekly newsletter filled with weekend reads, decorating inspiration, and let you know about the best home decor sales.
Thanks for reading!
country
country decor
country decorating
country home decor
country kitchen
farmhouse
farmhouse decor
farmhouse decorating
farmhouse home decor
farmhouse kitchen
farmhouse sink
kitchen
kitchen decor
modern farmhouse