FTC Disclosure - This post contains affiliate links and I will be compensated if you make a purchase after clicking on my links.
*Item received for free for promotional consideration or a sponsored link.
While often overlooked, coffee table accents are a great way to customize your living room's decor without spending a lot of money.
Because they tend to be small, it's easy to find coffee table decor that's affordable while still being fashion-forward and eye-catching.  It can be a great way to shake things up or solidify your style and really makes a room feel more specific to you and your family.
Pieces don't have to be large or expensive to make a splash, and over time it's easy to accumulate a collection of pieces that you can swap out seasonally or even according to your mood.
I've assembled these coffee table decorating ideas to show you how versatile and experimental you can get. Hopefully, these give you some ideas to try in your own home!
14 Fabulous Coffee Table Accents
1. Metal Bowl Gold – Threshold™
One of my favorite coffee table accents in this list is the gold metal bowl from Threshold.
Frankly, I'm not surprised to see an offering like this from Threshold.  I talked about them in my post "7 Affordable Home Decor Brands You Need To Know".  Everything from this line is stylish and contemporary.
There's a beautiful simplicity about it that I absolutely love.  It's also large enough that you can experiment with different sized items being placed within it.
You could use the traditional jar filler balls, decorative stones, or magazines.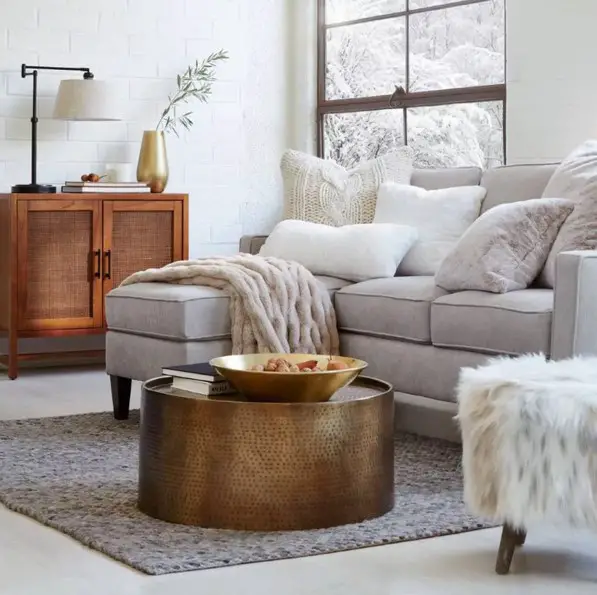 2. Antique Copper Finish Decor Tray – Hearth & Hand™ with Magnolia
While I'm a fan of any tray on a coffee table (check out the post "Coffee Table Decorating: How Much Is Too Much?" for my thoughts on utilizing trays), this one from Hearth & Hand is exceptional.
The warm copper tones are right on trend and the welded handles are fantastic.  It's just about 12 inches, which is perfect for a coffee table, and for less than $25, this is an amazing find.
The crystals and gold tones in this basket make a statement without interfering with your living room's color scheme, and the fact that it's mostly transparent gives it a light feel.
Since it's a modern, design-forward piece it would look great solo, or you could fill it with knick-knacks.
If you're big on switching up details seasonally, this basket can stay on your table year-round while you swap out its contents according to the time of year.
I love this play on the classic balloon animal for a modern, playful room – maybe a den or game room.
It's available in a full range of bright colors and three different sizes. It would look great as a matching set, or in coordinating colors and differing sizes to drive home the lighthearted feel.
The unique blend of distressing and geometric stylization on this elephant figurine adds an artsy touch to any coffee table. It would look great paired with a woven mat alongside similar figurines in various sizes.
I guarantee this oversized Tic Tac Toe Set by Olivia & May will be used if you put it on your coffee table before a party.  It's a fantastic addition to any coffee table and comes in both gold and silver to match your other decor.
Personally, I'm not a party game kind of person, but I'd be happy to play a couple of rounds of Tic Tac Toe with a guest.  It's a great ice breaker and has a sleek and contemporary look to it.
This tray would be perfect to pull together a mishmash of existing decorative pieces just like it is in the photo, or to keep coffee table books organized.
It's a great combination of practicality and decor. The rope handles also give it a nostalgic vibe that sets it apart.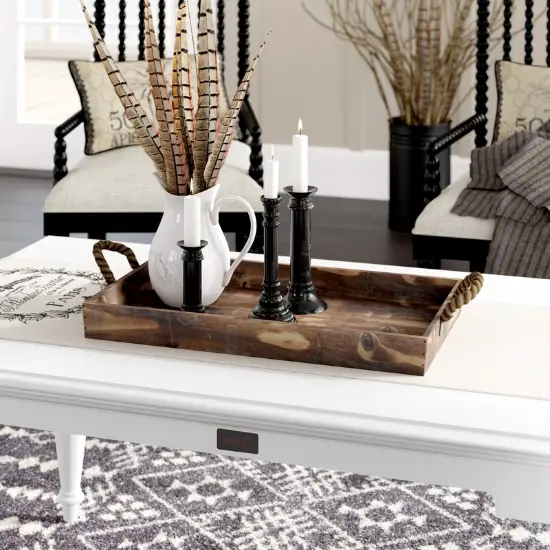 If you're into seasonal greenery and foliage or flowers, these vases are a great option.
Ranging from 5 to 10 inches in height, you can fill them all for a burst of color, or keep it reserved – and stacking them on top of books or other surfaces is a great way to play with height.
They come in a range of colors so you can match the feeling of your living room, whether you're into rustic neutrals, modern color-blocked grays, or a bold mod color scheme.
This votive and tray combination has an intimate feel that could really pull an earth-tone room together.
You could easily swap out the candle holders to match the season or replace the electric votives with small scented candles to add to the cozy ambiance.
The best decor is both practical and beautiful, and this box is a great example of that.
The baroque relief pattern feels timeless and clean, but still modern enough to fit into a current-day home.  The texture adds some visual interest without sensory clutter.
And bonus, you can tuck away little knick-knacks so they're out of sight.  No one has to know how many hair ties and toys are inside.
This Iron Geodesic Basket set are perfect coffee table accents.  Pictured below is just one of the two that come in this set.  The ironwork frame is lovely and its open frame allows you to highlight other decor accents as opposed to obscuring them like other baskets often do.
I think this is a lovely set at an amazing price of only $28.
The delicate detailing on this jar makes it look much more expensive than it is, and it would go perfectly in a timeless room with soft colors.
The intricate glaze adds a lot of visual interest without adding a lot of bulk or looking busy. And though it's a distinctive style, because blue china is a classic, it'll go with just about anything.
You could easily find other small boxes and figurines painted in a similar style for an eclectic arrangement that fits together cohesively.
These are a great blank slate full of possibilities. And because they feel upscale and luxurious, not at all rustic, they can elevate a space without feeling out of place next to distressed and shabby-chic pieces.
If your home has a beachy feel, fill them with sand to accentuate that. Or, swap out the sand for a clean, modern look.
You can even switch out the candles for colored ones to add a pop of visual interest.
Or, fill them partway with water and pop in some floating votives for a luxurious, spa-like feel (don't do this if your family is prone to spills and tumbles!).
I love these mosaic balls because they feel homespun and ethereal at the same time. Their shimmery, almost pastel finish can fit into so many different decor styles and color schemes and feels effortlessly elevated and dreamy.
They'd look great in a neutral-tone basket or tray – just make sure they're able to catch the light, wherever they are.
Conclusion
The great thing about coffee table decor is it's easy to play with.
You can try out new styles without committing to a complete decor overhaul. It's a way to experiment with new colors, heights, and textures according to your mood, time of year, current trends, or even who's coming to visit that weekend.
I hope this gave you some inspiration to try something new for your own coffee table!
For more Dianne Decor follow me on Bloglovin', Instagram, Twitter, and Pinterest.
To have my latest posts delivered directly to your inbox, join the mailing list before you go. I'll send you my weekly newsletter filled with weekend reads, decorating inspiration, and the best home decor deals of the week.
Thanks for reading!
coffee table accents
coffee table decor
coffee table styling