FTC Disclosure - This post contains affiliate links and I will be compensated if you make a purchase after clicking on my links.
*Item received for free for promotional consideration or a sponsored link.
Spring decorating is in full swing.  If you've been looking for some spring porch ideas, you've come to the right place.
One of the most popular ways to decorate during this season is to update your porch decor.  The warmer weather is the perfect invitation to read a book, chat with a neighbor, or enjoy a cup of coffee on your front porch.
This area, however, is highly visible to the public, so it's understandable that taking on this decorating task can be a little nerve-wracking. You want to create a cozy space that is beautiful, inviting, and also a functional entryway to your home.
Before I get into a few amazing spring porch ideas, it's important that we touch on some guidelines for this space.
Spring Porch Decor Guidelines
The first is to maintain accessibility.  If we're talking about a true front porch that leads directly to your front door, maintaining accessibility is a must.  Not only for guests arriving at your home, but also for packages, food deliveries, and for your family to come and go.
If you're decorating a back or side patio check out the post "Patio Decorating – How to Create an Amazing Outdoor Space".
The second thing to consider when setting up your spring porch decor is your neighbors and any home-owners association restrictions you may be obligated to follow.
Spring Porch Ideas
#1 – White Base and Vibrant Colors
Starting with a blank white canvas is always intimidating, but when it comes to porch decor, it can make your job very easy.  Adding a few vibrant colors to a white base creates an amazing contrast that just screams spring.  This is also a great color combo to carry through the summer months as well.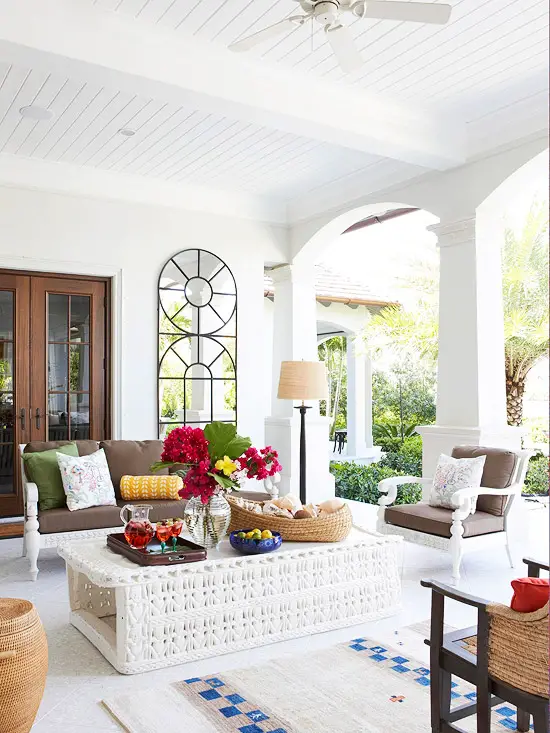 #2 – Natural Wood and Peach
If you prefer a softer look to your decor, consider mid-toned wood furniture with peach cushions.  This example below is mixes varying peach tones and patterns with rattan furniture.  As you can see, it's a lovely combination.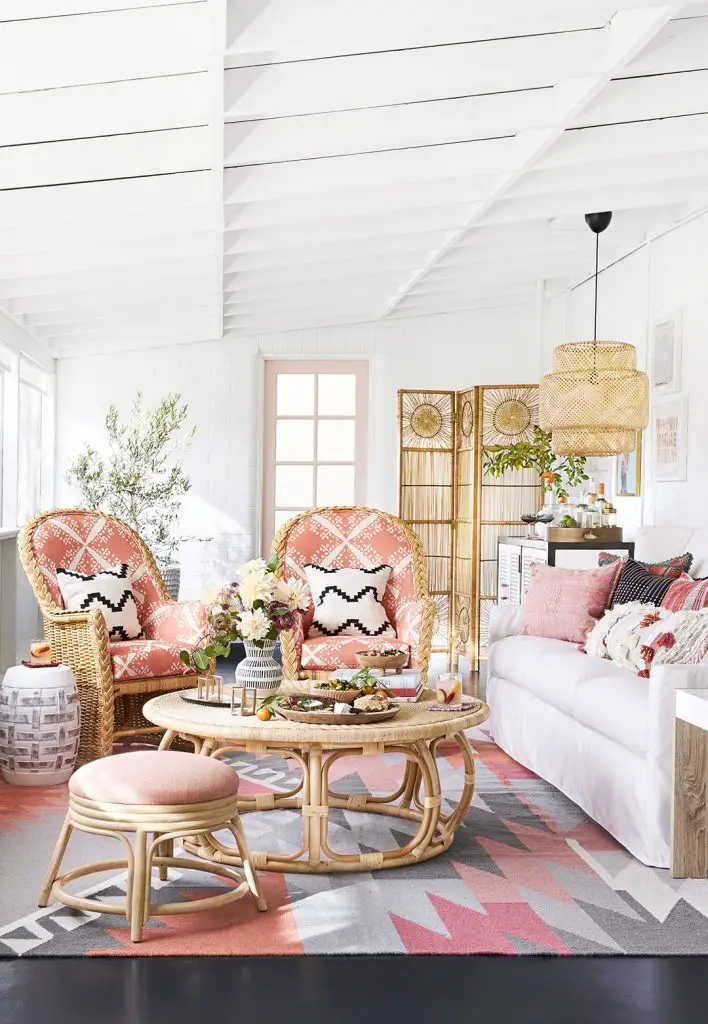 #3 – Classic Color Blocking
Much like example #1, this spring porch uses a white base and bring colors, but in a different way.  Here, solid blocks of blue, white, and yellow give this porch a very bold, intentional look.
#4 – Orange and Blue
The combination of orange and blue is fantastic for spring and summer.  This porch is very colorful and the arrangement of the furniture makes is incredibly inviting.
#5 – Classic Spring
If you prefer the look of classic spring colors, opt for soft shades of pink, green, and yellow in your decor.  Those colors are carried throughout this picture-perfect porch.  Aside from the colors, the layout of this porch is special.  There's not only a conversation area where multiple people can sit, but you can see a quiet single chair nook in the back as well.
#6 – Black and White Spring Mashup
The use of black and white patterns in this porch is perfect.  There's a great combination of contrasting colors and contrasting patterns on this spring porch.  It's also a great example of a smaller setup with a sofa and a single chair.  Instead of a large coffee table, there are footstools and a small accent table.
#7 On-Trend Classic Blue
Shades of blue are very popular this year.  In part because of the Pantone Color of the Year selection, "Classic Blue".  This porch below features a lovely tone on tone mix of denim blues and classic blues.  This is a great spring porch decor idea.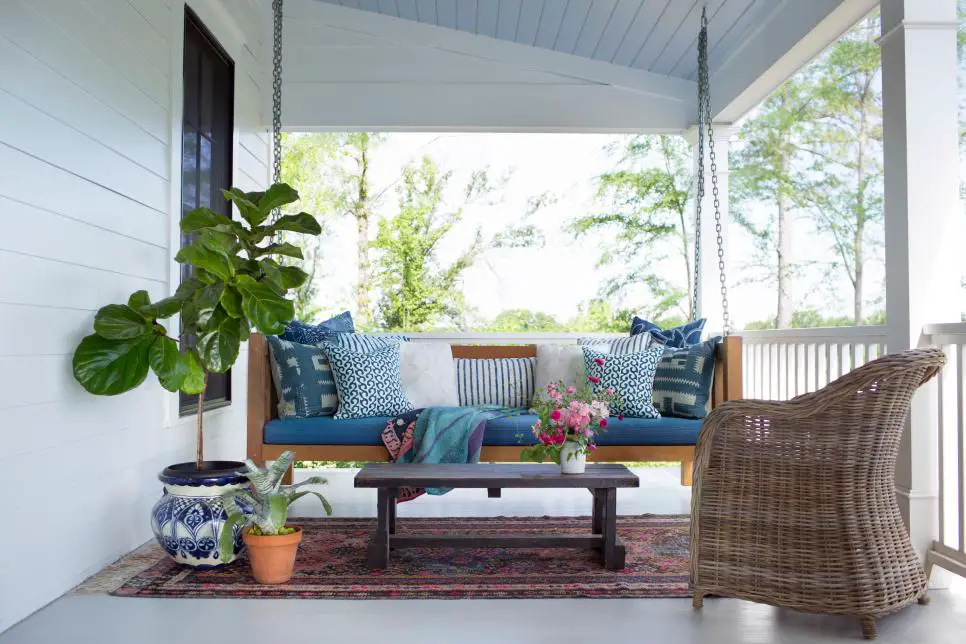 #8 – Contemporary Black and White
The use of black and white on this porch from CitrineLiving.com coordinates perfectly with the house colors and trim.  This is an easy way to select your porch decor color palette.  Matching your furniture and other accents to your house trim will create a lovely cohesive design.
#9 – Statement Flower Basket
This example below shows that you don't need a big porch to create a lovely entryway to your home.  This simple doormat and door decor combo are perfect for small entryways like apartments and townhomes.
#10 – Cool Gray Base
There's a reason why gray is still the "new neutral" 10 years on.  It coordinates well with many colors and many tones.  Here we see it paired up with pinks and blues for a subtle spring look.
#11 – Small Conversation Area
A well-designed small space can make a big impact on your entryway, even more so than a large wrap-around porch.  To pull this off, skip the large coffee table and add a bar trolley instead like in the example below.
#12 – Dreamy Boho Screened In Porch
This porch has a really soft, inviting feel with its greenery and soft rosy tones.  The oversized rug really makes this feel like a true outdoor room.
#13 – Layered Rugs and Wreath
Certainly, this brightly colored accent door screams spring on its own.  And while we all may not want such a statement for our entryway, the double layer doormat and floral wreath make a simple spring decoration that anyone can do.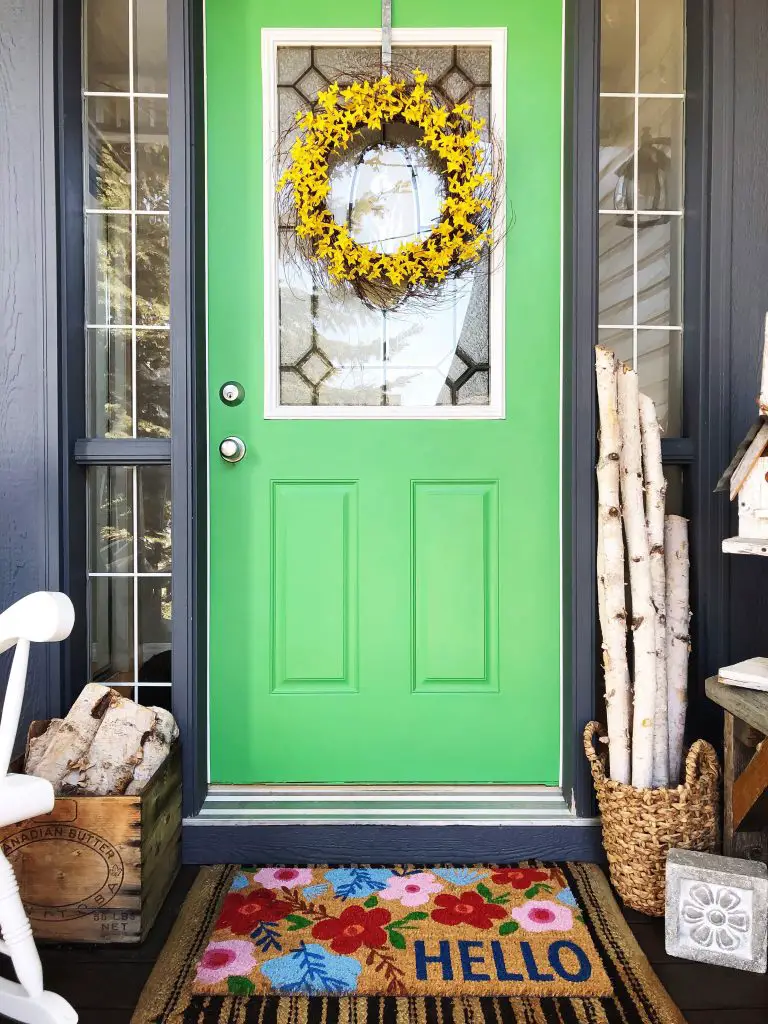 #14 – Cabbage Rose and Whimsical
I just love this wreath.  The colors are gorgeous, especially against the brown door.  The potted plants help draw the eye down to the lovely monogrammed doormat.  This is a simple, sophisticated touch that will make your home look incredibly inviting.
I hope you found this post helpful.  For more content follow Dianne Decor on Bloglovin.  To receive new blog post notifications delivered directly to your inbox join the mailing list before you go.
Thanks for reading!
outdoor spring decor
porch decor
porch decorating
porch ideas
spring decorating
spring patio ideas
spring porch decor
spring porch ideas