FTC Disclosure - This post contains affiliate links and I will be compensated if you make a purchase after clicking on my links.
*Item received for free for promotional consideration or a sponsored link.
Kitchen decor signs can help set the tone for a kitchen you're just starting to dip your toes into decorating, or they can help drive home an existing style.
It's easy for kitchens to feel like a purely utilitarian part of a home.  But, if you're anything like me, it's where you spend a good chunk of your time every day.  So, why not add some personality?
Kitchen signs are a fantastic way to evoke the feeling you want people to have in your kitchen, including yourself.
15 Kitchen Decor Signs
This sign screams "homey."  If your kitchen is a place for gathering and fun as well as cooking, this sign is an instant way to communicate that to your guests.
The light wood frame is clean and crisp, but it's available in six other stains so you can match it to the feel and tone of your home.
Bonus, every sign is handmade to order – every piece has a slightly different wood grain and tone, so yours is unique to you.
2. Custom Metal Monogram Kitchen Silverware Sign
Perfect for the home chef who wants every décor item to be unique to them (or to claim their space).
It's steel, so you know it's easy to clean and won't get ruined, no matter how many kitchen disasters it witnesses.
It is also a nice blend of feminine, whimsical, and classic, and the black goes with any color scheme.  This sign is available in four different sizes. ranging from 12 inches to 30 inches.
So whether you're decorating a studio apartment or have a lot of ground to cover, you can find a way to make the space all your own.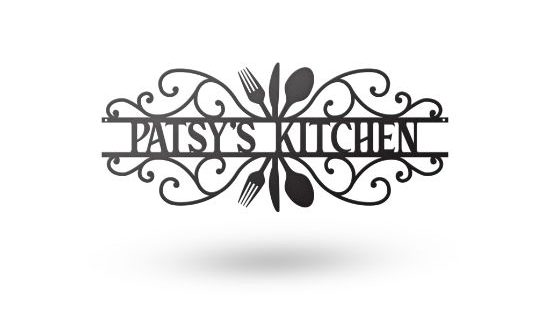 3. Happiness is homemade sign
We love this clean design. It looks crisp without being cold, warm without veering into rustic territory. It's a great middle-ground if your style is simple and fuss-free above all else.
This sign makes me think of a home full of laughter and a kitchen full of friends. If your house is the gathering spot for the neighborhood kids, this is a great tongue-in-cheek nod to that role.
Its modern farmhouse feel is also welcoming, yet refined.
I love the sleek literary look of the wood frame with the serif text. It's simple but will make anyone who enters your kitchen smile, and immediately tells them what you're all about.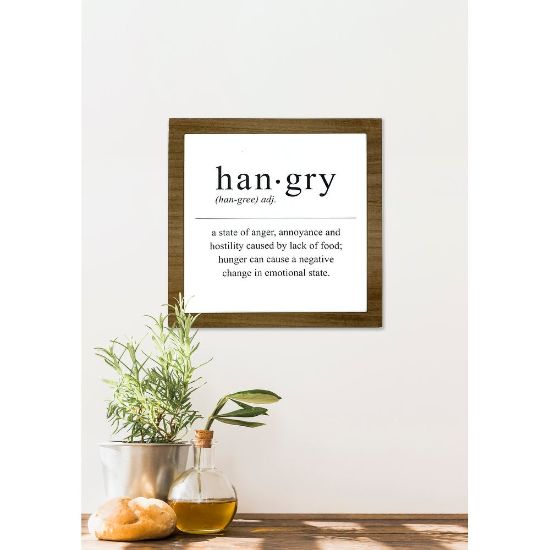 Who doesn't love a good vintage sign?  As far as kitchen decor signs go, this style is a classic.
The perfectly-imperfect distressing and soft beige and brown tones add such a cozy feel.  Anytime a piece of decoration can remind me of my favorite coffee shop, I count that as a win.
The canvas-printed aspect of this piece really sets it apart and drives home the feeling of classic Americana.
Details like the distressed metal hinge at the bottom make this piece feel much more expensive than it actually is, and the delicate floral motif along the sides gives it such a sweet feel.
It would look great alongside an herb garden or distressed spice rack, but it has enough character to stand on its own as well.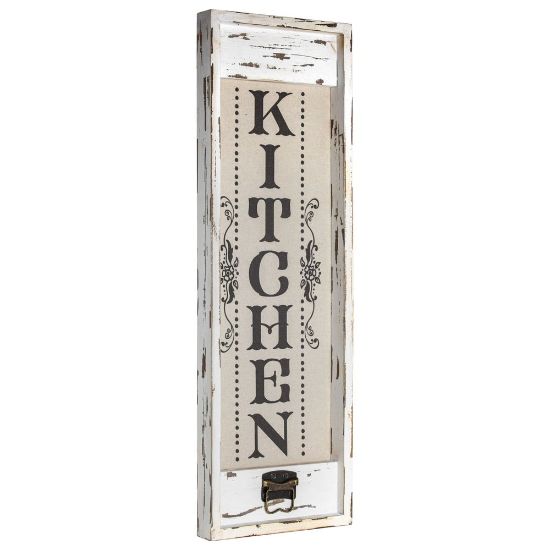 8. Personalized Distressed Vintage-Look Kitchen Metal Sign Wall Décor
This piece reminds me of hidden gem diners off the side of freeways that you stumble into and discover during a road trip. Who doesn't want their home kitchen to feel that way?
This would fit perfectly in a kitchen full of other vintage or thrifted pieces. And since it has a classic font and neutral colors, it can pair really well with a boldly styled atmosphere or play nicely with strong colors.
9. Kitchen Rules Horizontal Pallet Wood Sign Wall Décor
This is great inspiration if you're going for comfortable, homey, lived-in vibes.
Reclaimed wood affords a look you really can't replicate. It has bold contrasting colors and multiple fonts, so there's a lot going on and makes it feel bigger than it is.
Because it makes such a big statement, it would be a great way to set the tone in a kitchen you're just starting to make your own.
10. Lakeside Autumn Harvest Enamel Block Sign – Gather
Most of the items on this list are big statement pieces that demand space and belong in a place of honor, setting the tone for the room. They're mainstays.
I like this one because it's small and, frankly, adorable.
The metal handle adds a distinctive touch, and its tones are warm without being obtrusive. You could hang this up year-round, or reserve it for fall and play it up alongside a garland of leaves, mini pumpkins, or a seasonal figurine to keep it company.
The chalkboard finish on this piece gives me old-timey schoolhouse vibes, and I'm loving the fresh greens, blues, and yellows. It's bright and cheery without being loud.
At 7 inches tall it's small enough to nestle into an alcove under your spice cabinet, but it also has enough going on visually that it can hold its own in a larger space.
I'd love it next to the rich greens of an indoor herb garden.
Again, we're seeing old-timey charm and vintage vibes, a common thread in decorative kitchen signs. This piece feels wonderfully homemade, and honestly, with its small size it would look fantastic alongside a few other similar witty signs or vintage-style wall hangings in reds or neutral tones.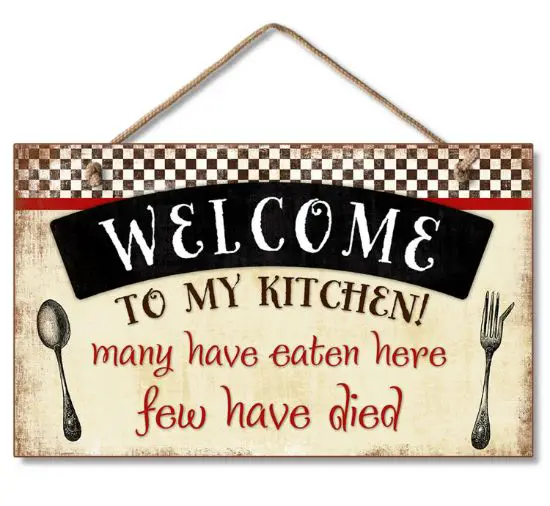 This modern farmhouse style "Bless The Food Before Us Wood Sign" makes it easy to create a decorative focal point in or around your kitchen. It's a great visual anchor.
You could accompany it with garlands and greenery, or flank it with family photos or other framed art with pops of color. It's sweet, yet unobtrusive, which gives you the option to either dress it up or keep it simple.
Yet again we see a small standing sign, perfect to add a touch of personality to the edges of your counters or your backsplash.
The rivets at the corners give it a modern, distinctive touch that I haven't seen elsewhere.
This is another one that would pair well with a touch of greenery from a potted herb, though if you're into the message on this sign, you're probably into keeping things simple.
I love the style of these frames – the neutral wood finish lets the geometric shapes of each component stand out as the most striking visual feature, which gives it a fun design feel and visual texture.
Several of these would look great alongside a larger sign or wall hanging, batched together, or interspersed throughout your kitchen to tie it all together.
Conclusion
Decorative kitchen signs are in, and with good reason – they're cute, homey, and literally send a message about how you feel about your home. Hopefully, these ideas gave you some inspiration to add a bit of your personality into your kitchen!
For more Dianne Décor follow me on Bloglovin', Instagram, Twitter, and Pinterest.
To have my latest posts delivered directly to your inbox, join the mailing list before you go.  I'll send you my weekly newsletter filled with weekend reads, decorating inspiration, and the best home decor deals of the week.
Thanks for reading!
baking signs
cooking signs
kitchen decor
kitchen decor signs
kitchen plaques
kitchen signs