7 Affordable Home Decor Brands You Need To Know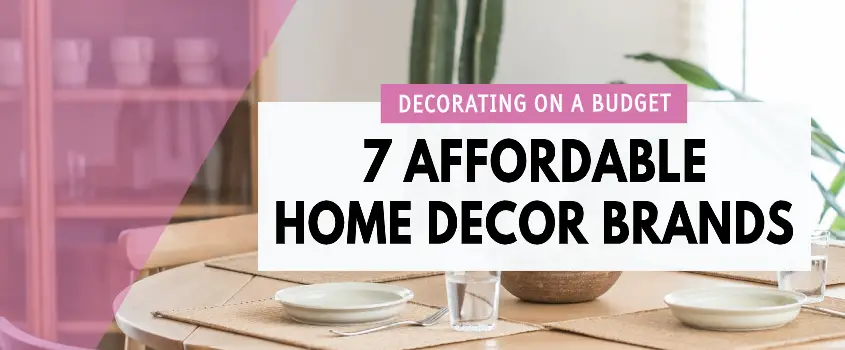 FTC Disclosure - This post contains affiliate links and I will be compensated if you make a purchase after clicking on my links.
*Item received for free for promotional consideration or a sponsored link.
When decorating on a budget, knowing where to shop to find the best deals makes all the difference.  But as more and more retail stores begin shifting to a marketplace format, knowing the affordable home decor brands is even more important.
To better understand this concept, let's begin by breaking down the difference between the retail stores and the brands.
If this is your first time visiting DianneDecor.com, welcome.  I'm glad you stopped by.   In the past, I've written a number of posts revolving around methods and shopping tips for decorating on a budget.
Suggested Read: Budget-Friendly Home Decor – What to Buy and Where
Suggested Read: 10 Places You Never Thought to Shop for Home Goods
And while these posts are helpful for identifying stores to buy from, they don't talk about brands.
The Marketplace Movement
The Amazon marketplace has drastically changed the way we shop for everything online.  When you go to Amazon you can sort through hundreds of thousands of brands selling the items you want.
Did you know there are over 2.5 million sellers on Amazon?  That's crazy!
The Amazon platform is not only convenient for the customer, but it allows you to compare and contrast considerably more products than you ever could walking through a mall.
Moreover, it encourages competition among retailers which leads to discounts and sales as they vie for your business against others.  This is why they are so popular, and why everyone's first stop and/or last stop is Amazon before they buy.
There are, however, a lot of other retailers that have adopted this marketplace model, Walmart included.
Affordable Home Decor Brands
Now, let's talk about the individual brands.
We all know that Target and Walmart offer affordable home decor.  But they are offering these items from hundreds of different brands.  And what those brands offer may be specialized by type (i.e. furniture, lamps, etc.) or price.
Today, I'd like to look specifically at those brands that stylish home accents at a lower price point than other comparable brands.
Below, I'll share my top 7 picks and let you know where you can find each one online.
7 Affordable Home Decor Brands
First up is Sonoma Goods for Life.  This brand is available exclusively at Kohls.  In addition to fashion, they also offer home essentials under this brand.
They offer decorative home accents, area rugs, bedding, window treatments, and furniture.  Most of their furniture selection ranges between $100 – $300.  I didn't see anything over $500 in their entire collection.
Some of the standout items are their vases, wreaths, decorative pillows (see. Decorative Pillows 101 before you buy), decorative bowls, hand towels.
A popular affordable brand is Target's in-house brand called Threshold.  This brand is exclusive to Target.  If you see Threshold products anywhere other than Target's website, beware.
Because they are so popular, Threshold, in particular, is a frequent target for online arbitrage.  This means that unauthorized sellers list Threshold items on sites like Amazon for a higher price than they are listed on Target.
When they sell, they buy that item from Target for less, send it to the customer as a "gift" to hide the pricing info, and then have it shipped directly to the customer.
They pocket the difference as a profit.  This business practice is super scummy, and really gets under my skin.  I have an upcoming post all about how to spot this scam when shopping online.
When it's complete I will post a link to it here.  This is it –> Watch Out For This Online Shopping Scam!
Anyway…let me get back on track.  The Threshold brand offers a lovely selection of affordable decorative accents and furniture in a wide variety of home decor styles.  There really is something for everyone, which is part of what makes the brand so attractive.
As you may know, I have a serious soft spot for Better Homes and Gardens.  You can read all about it in the post, The Best of Better Homes and Gardens.
Their brand is simply iconic.  But few people know of their home products.  In my opinion, they offer the absolute best quality for the price of any affordable brand.
They are also my first stop when browsing for new items.  What may be confusing to some, however, is that BHG has its own website, but you can't shop their products there.
This is because of a special agreement they have with Walmart as the exclusive carrier for its products.  So, if you want to shop the Better Homes and Gardens' brand, go to Walmart's website.
Home Decorators Collection was acquired by Home Depot in 2006.  They are one of the largest direct sellers in the country.  Their selection of products is vast, to say the least.
Not only that, but their prices are amazing.  Each time I browse their products on Home Depot's website, I'm always impressed by the style and detail of some of their pieces.
Granted, to keep prices affordable you'll see things that you see in other affordable home decor brands.
You may have faux marble instead of real marble.  You may see canvas wall art that appears to be painted but is really printed with a smattering of brush strokes to give it texture.
These things are common when it comes to budget-friendly decor.  But what makes them stand out to me is the incredible variety.
There are lots of affordable brands that specialize in certain styles.  Like cb2.com, World Market, Urban Outfitters, and H&M Home.  But when you go to those places you're only going to see one particular decor style that is prevalent through the collection.
If you're more of a fan of eclectic decor and what to pick up pieces in different styles without hopping from one site to another, check out the Home Decorators Collection at Home Depot.
Another great affordable brand is 17 Stories.  Unlike the others, 17 Stories can technically be found in a few different places.  Really, it's found under the Wayfair brands which not only includes Wayfair.com, but also Birch Lane, Joss & Main, and All Modern.
The price point on 17 Stories is wide-ranging.  If you land on their brand page on one of these sites and see a bed for $1,100 or a sofa for $3,000, don't be scared off.  Just sort their listings from low to high and you'll be able to find some really stylish affordable items.
Okay, brace yourself for this.  CosmoLiving is a brand created by Cosmopolitan (the magazine).  However, much like the Better Homes and Gardens products, it isn't sold on Cosmopolitan's website.  Instead, it's sold by a variety of retailers like Walmart, Overstock, Wayfair, and Kohls.
They offer stylish, affordable furniture and rugs.
As far as where you want to buy CosmoLiving, it's dealers choice. For the most part, all of the prices seem to be within a couple of dollars of one another.
Last but not least, Opalhouse.  I explored Opalhouse in depth a while ago in the post "What's Opalhouse from Target All About?".  But, to give you a brief recap, the collection is very much so an earthy, eclectic style brand.
You won't see a huge range in styles from them like with Threshold or the Home Decorators Collection.  Instead, they have more of a signature style that uses lots of textured decor and natural material.
Their decorative accents and furniture have a hand-crafted/artisan appeal about them.  They're very nice and affordably priced.
Suggested Read: Eclectic Decor – Everything You Need to Know
Conclusion
Check out these 7 brands the next time you're shopping for home decor.  You're guaranteed to find something you love at a really great price.
I hope you found this post helpful.  If you did, please share it with a friend and follow Dianne Decor on Bloglovin' and Instagram.
To have my latest posts delivered directly to your inbox, join the mailing list before you go.  I'll send you a copy of my weekly newsletter filled with weekend reads, decorating inspiration, and the best deals on home decor.