What To Buy For Your Home In May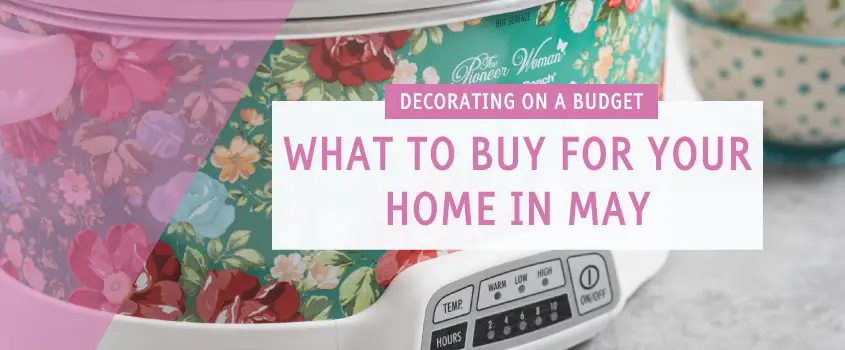 FTC Disclosure - This post contains affiliate links and I will be compensated if you make a purchase after clicking on my links.
*Item received for free for promotional consideration or a sponsored link.
The month of May has arrived and a whole new crop of retails offers has come with it.  This is a good month for shopping.  In this post, we'll talk about what to buy for your home in May, and more importantly, when to buy.
What to Buy In May
When considering what to buy and when it's important to remember that promotions are cyclical.  Retail sales revolve heavily around holidays and seasons.  They reoccur each year around the same time.
When we look at the month of May, there are two big holidays happening this month. First up is Mother's Day followed by the Memorial Day weekend towards the end of the month.
While there's a bit of crossover between the types of items you'll find on discount during each holiday, there are some things that are better purchased at the beginning of the month than the end.
So, what should you buy on Mother's Day?  And, what should you buy on Memorial Day?
Here it is.
Furniture
Wait for the 3-day Memorial Day weekend for furniture purchases.  You'll see big sales around this time for mattresses and beds.
The same is true for the Labor Day weekend and the President's Day weekend.  So, if you're not in a position to buy this month, you can catch sales on furniture again in September for Labor Day.
I recommend keeping an eye on items like this Dolante Queen Upholstered Bed below.  As of the time I'm writing this post (first week of May) it has been marked down $100 from $299.99 to only $199.99.
That's a great deal, but I'd keep watching this item until the Memorial Day weekend to see if the price drops further.
You may also see sales on bedding, including pillows, duvets, comforters, and sheets to compliment the bed mattress sales.
If you're working on decorating your home, it may be a good idea to focus on a bedroom or a nursery this month.
Small Kitchen Appliances and Cookware
Although it may seem like a weird thing to be on sale in honor of Mother's Day, alongside jewelry and perfume you're going to find small kitchen appliances discounted.  Standing mixers, slow cookers, Instant Pots, will all be on sale before Mother's Day.
When it comes to kitchen decor, your choice of appliances can really make a statement in this room.  More and more, we're seeing styled kitchen decor.  Gone are the days when your options were black, gray, and stainless steel.  You can find gorgeous floral kitchen appliances, dishes, and cookware from the Pioneer Woman line at Walmart.
The Rachel Ray cookware collection also comes in a rainbow of colors.
Plant Stands and Outdoor Decor
Tiered plan racks, shelves, and planters will also be on sale for both Mother's Day and Memorial Day.  If you're looking to spruce up your back patio or score a great deal on some stylish planters for your living room, now is the time to look around.
Certainly, we'll talk about deep discounts on outdoor decor at the end of the summer, but you can still find good deals now as well.  Moreover, you'll have a larger selection of trendy items to choose from in May versus September.
Large Home Appliances
Last, but not least, let's talk about large appliances.  For these deals, you'll want to wait until the Memorial Day weekend towards the end of May.  In the week preceding the holiday, and the celebration weekend itself, you'll find big discounts on appliances.
If you need a washer and dryer set, a refrigerator, or even a range for your home, now is the time to buy.
Check out Home Depot, Build.com, and Lowe's for their deals.
What to Buy Next Month
Don't forget to come back next month to find out where you can save money on your home in June.  You can review the entire "What to Buy for Your Home Series" here for more deals.
If you found this post helpful, please share it with a friend and follow Dianne Decor on Pinterest, Bloglovin', Instagram, and Twitter.