FTC Disclosure - This post contains affiliate links and I will be compensated if you make a purchase after clicking on my links.
*Item received for free for promotional consideration or a sponsored link.
With the springtime fast approaching, you may be thinking ahead to your next event.  The holidays are officially over and with only a short break in January and February; a new season home entertaining will be here.
Easter, Mother's Day, spring weddings, and May Day are just around the corner.  One of the most popular at-home entertaining options during this season is to host a brunch.
In this post, we'll take a look at 5 unique brunch buffet ideas and how you can save money with each.
Why Host a Brunch?
So, why are brunches so popular during this time of year?  Honestly, I don't know.
I suspect it has to do with foods coming back into season, flowers blooming, fair weather, a yearning to gather together again, or any combination of these.
Morning and early afternoon are great times to be out and about in the spring.  The sun is shining and we're able to enjoy the warmest parts of the day outside.
This makes brunch a perfectly timed meal and the obvious event choice.
You may, however, be lost for ideas when it comes to approaching this type of gathering.  It's part breakfast, part lunch, part cocktail hour and part tea party all rolled into one.
But, never fear, here are 5 cool and inexpensive brunch buffet ideas.
5 Creative & Inexpensive Brunch Buffet Ideas
1 – A Biscuit Bar – Check out this adorable biscuit bar complete with a variety of jams, jellies, and gravy.  What a great idea!  It takes care of the sweet and savory lovers all at once.  This event was featured on PoppinPartiesHouston.com and is a great example of a well balanced brunch spread.  The biscuits are a nice departure from the traditional Belgium waffle or breakfast casserole option.  The fruit salad alongside a traditional salad is another great balance of sweet and savory in this display.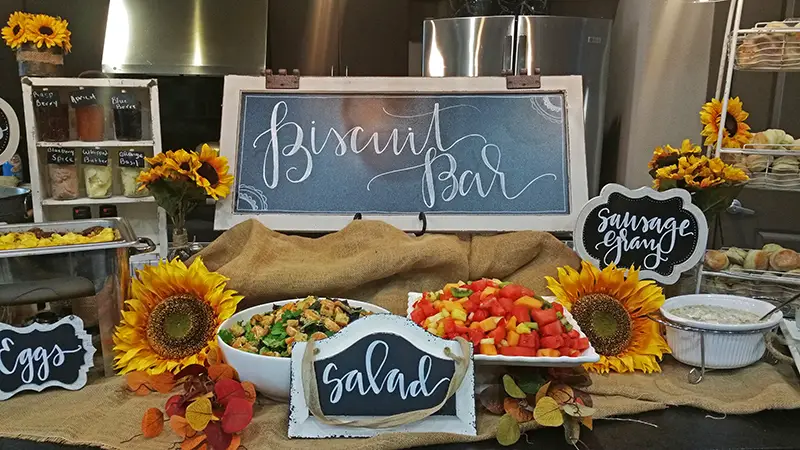 2 – A Mini Brunch – If you're cramped for space or on a tight budget, consider a mini brunch.  Simply slim down your offering to 3 or 4 main items.  Make just enough so your guests can sample one of each.  Remember, you don't have to make your brunch an "all you can eat" style buffet.  There's no need to break out the large catering tubs and platters for 6 people.  Instead, keep it intimate and informal like this mini brunch feature below from KellyGolia.com.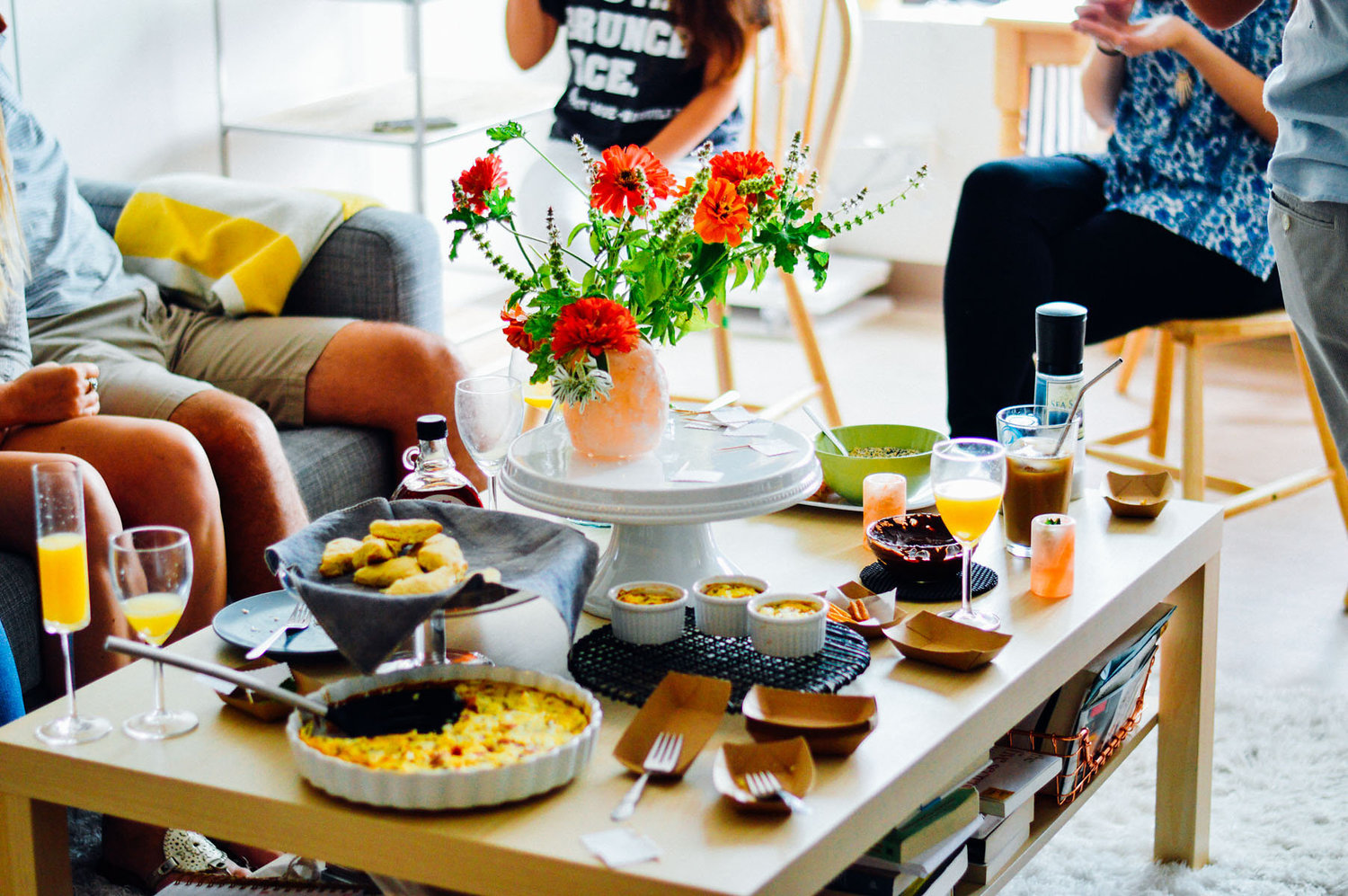 3 – Kabob Style Entrees – Along the same vein as the mini brunch; offering a traditional brunch entree on a stick is a great inexpensive option.  For example, french toast on a stick with some berries makes for a creative and colorful display.  When your food is bright and colorful it will save you from having to purchase expensive florals and greenery to create a beautiful display.  It will also help stretch your food.  The french toast skewer below use only a few small pieces of bread with the rest of the kabob being fruit.  Other brunch items such as bacon, donut holes, and mini cinnamon rolls can also be presented in kabob form.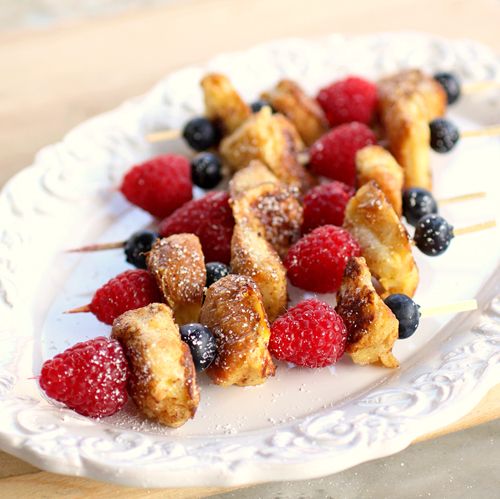 4 – Substitute Candy for Pastry – Donuts, waffles, bagels, pancakes, scones, and french toast are all traditional brunch food options.  However, fancy pastries can start to add up.  You can cut cost and offer something sweet by substituting one or more of these items with a specialty candy.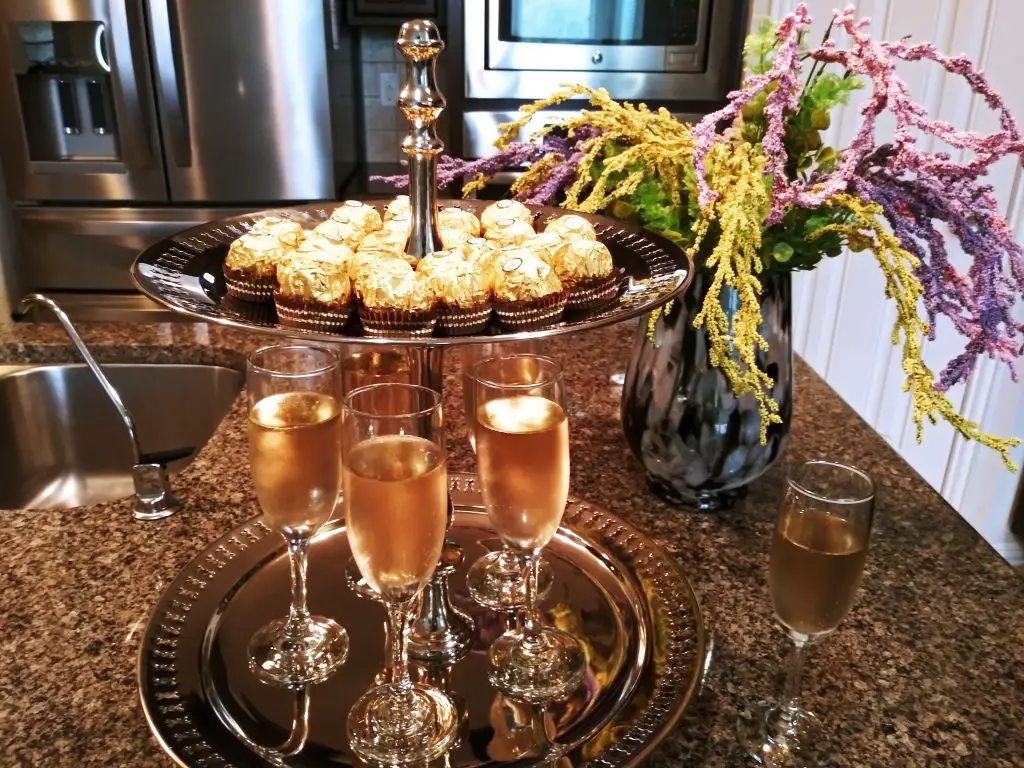 5 – Double Duty Glassware – Finally, if you're short of serving platters and tiered stands, make use of your extra glassware.  Goyo Catering shares some incredibly creative ways of using glassware in their food displays.  In the first photo below they're used stemless wine glasses to elevate a tray.  In the second photo they've filled tumblers traditionally used for beer with garnishes and toppings.  Very cool.
That concludes my roundup of 5 cool and inexpensive brunch buffet ideas.  If you found this post helpful, please share it with a friend.  For more content from Dianne Decor follow us on Bloglovin' and Instagram.
Thanks for reading!
brunch
brunch buffet
brunch buffet ideas
brunch ideas
buffet ideas
easter brunch
home entertaining
may day brunch
mother's day brunch
spring entertaining