FTC Disclosure - This post contains affiliate links and I will be compensated if you make a purchase after clicking on my links.
*Item received for free for promotional consideration or a sponsored link.
If you have a bare floor-to-ceiling bookcase that needs a little color, you may be considering styling them with color-coordinated decorative book bundles.
You know that gorgeous rainbow bookshelf look that is all over Pinterest.
Sure, some home decor is worth the splurge, but do you really want to spend big bucks on decorative books that you likely won't read?
I see so many listings for color-coordinated decorative book bundles that are overpriced.
So before you buy, read this post to find out what you should do instead to save big.
What Are Decorative Book Bundles?
Decorative book bundles are a bundle of books for you to display that are sometimes pre-loved or brand new which can be opened and read.
Decorative book bundles are often color-coordinated so that all you have to do is pick the right color bundle to complement your home's overall aesthetic.
Etsy, Amazon, and other sellers have started to offer decorative book bundles for purchase.
All you have to do is pick a color for your book stack bundle.
While some sellers allow you to submit custom requests for topics, most select books for the purpose of spine color only because these are intended to be a decorative display.
By purchasing decorative book bundles you run the chance that some books may have scratches, scrapes, pen or pencil marks, highlights, and stamps, etc.
This is common with pre-loved books or library copies.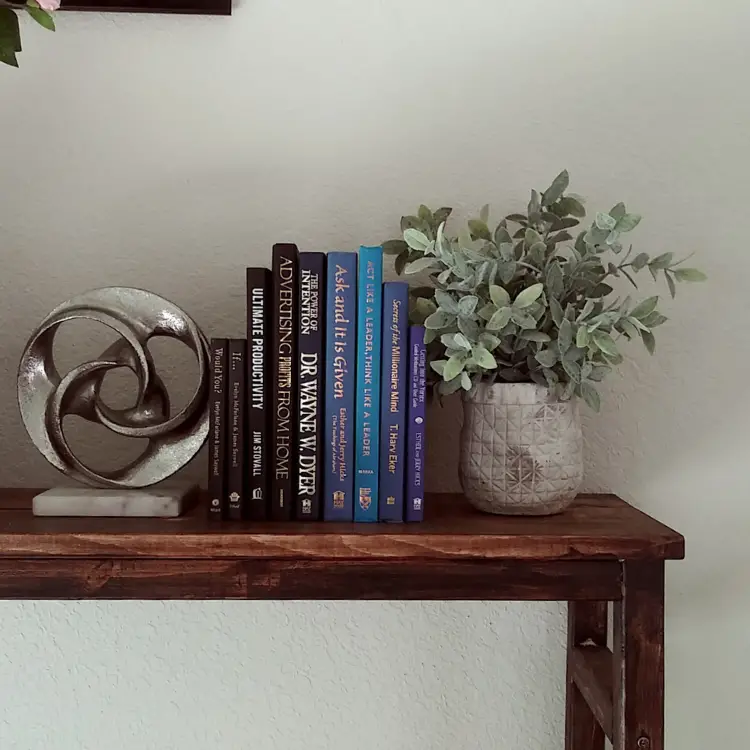 The Evolution Of Bookcase Styling
Back in the day, we used to fill our bookshelves with everything from books to CD and DVD collections.
Nowadays, as more and more of us embrace digital reading and audiobooks, fewer people are purchasing printed copies of books.
Moreover, the days of CD and DVD collections are long gone.
So, what's a gal to do with all that open shelf space?
Today the fashionable thing to do is to fill that space with a combination of color-coordinated books and pottery, figurines, photos, or other collectibles.
When color-coordinated bookshelf styling gained popularity; the curated book bundle was born.
Savvy entrepreneurs and businesses alike began curating books based solely on color and started selling them as sets or bundles.
As this trend became popular over the last decade, it not only captured the interest of interior designers but of book lovers looking to display their collections in a unique way.
What better way to make use of hard copies than turn them into a decorative display of your favorite titles, right?
Why Are Decorative Book Bundles So Expensive?
Book bundles can set you back $20-40 even up to $170 for a few color-coordinated books.
But, why?
Here are some of the things factoring into the high cost of decorative book bundles:
REASON #1 – Time & Materials
Much like the pricing you see when you go to the car mechanic. You're not only paying for the part you need but also the service or time it takes to install that part for you.
With book bundles, you're paying not only for the books but the time and the effort behind acquiring the books.
REASON #2 – Quality & Thickness
To really get that color payoff you need a book with a thick spine. This will likely be a book that is at least 200 pages.
In addition to the thickness, you'll want to make sure the outer cover is not damaged or showing signs of wear, particularly the spine.
These two factors will narrow down the pool of books from which to source. This means careful curation is required. That careful curation requires time and as we all know, time is money.
REASON #3 – Color Demand & Color Availability
The ability of the seller to locate a large number of books in a popular color also factors into the price.
Certainly, black and white are the most common and the most requested because they work with a variety of interior styles.
On the other hand, colors like red, yellow, pink, and purple are harder to come by and therefore may become more expensive to purchase in bundles due to their rarity.
How To Get The Look For Less
TIP #1 – Thrift for used books at second-hand stores like Goodwill, Salvation Army, Library Book Sales, etc.
Scout in thrift stores and second-hand stores like Goodwill, Salvation Army, Library Book Sales, or similar shops for used books.
Most books run between $1 – $3, making this one of the most affordable ways to pull off this project.
It simply takes a little patience on your end to be able to go through what's available.
Remember, you're not looking for things to read. You're curating solely for a decorative display, so look for color, condition, and thickness only.
The author, the interior pages, and the subject really don't matter.
TIP #2 – Buy new books at extreme discounts at Dollar Tree or Dollar General
This approach can get you good-looking, new books but at a discounted price.
If you have a Dollar Tree or Dollar General store near you, now is the time to consider dropping by to make your bundled books décor idea a reality.
TIP #3 – DIY books by painting or covering them
If you're not afraid to roll up your sleeves and do a little painting, then go for the DIY method.
It doesn't matter what color books you collect if you can paint over them. The beauty of the DIY painted book project is that you can customize your colors as much as you want.
The odds of you finding 10 lilac-colored books are rare. But covering 10 white books with lilac paint only takes a few minutes.
TIP # 4 – Display Your Books Pages Out
Neutral tones of white, cream, and beige work with absolutely any home decorating style.
And that's exactly what you'll get if you simply flip your books around and display their pages out.
Genius, right?
Or, you can take it a step further and paint the pages.
Gilded book edges scream luxury. Fortunately, there is an affordable way to achieve gilded edges that don't require you to scour your city for antique books.
If you're someone who isn't afraid to paint your books' edges, all you need to create gilded book edgest is a little paint, a sponge applicator, masking tape, and a paperweight.
That's it! Check out this awesome tutorial below from PeaceLoveBooksxo for details on how to do this DIY.
Popular Ways to Use Color Coordinated Books for Decor
There are a number of ways to use color-coordinated books to spruce up your bookcase. Here are just a few to get you started.
Mix and Match Ceramics With Decorative Books
Ceramic jars come in an assortment of sizes and gorgeous colors.
Blue and white chinoiserie jars are best matched with blue-spined books.
Gilded jars can also give off a luxurious appeal to your book corner.
All-white ceramic jars will add a Nordic touch to your bookshelves when paired with cream or white-spined books bundles.
The same can be done with porcelain bowls which can serve as a catch-all for smaller trinkets such as stones, keys, and other accessories.
Accessorize With Wood Accents & Earth Tones Books
Wooden accents make perfect pairings for brown-spined books, especially if your home is leaning towards a bohemian style.
It also matches macrame or crochet knitted accessories that can sit beside your book bundles.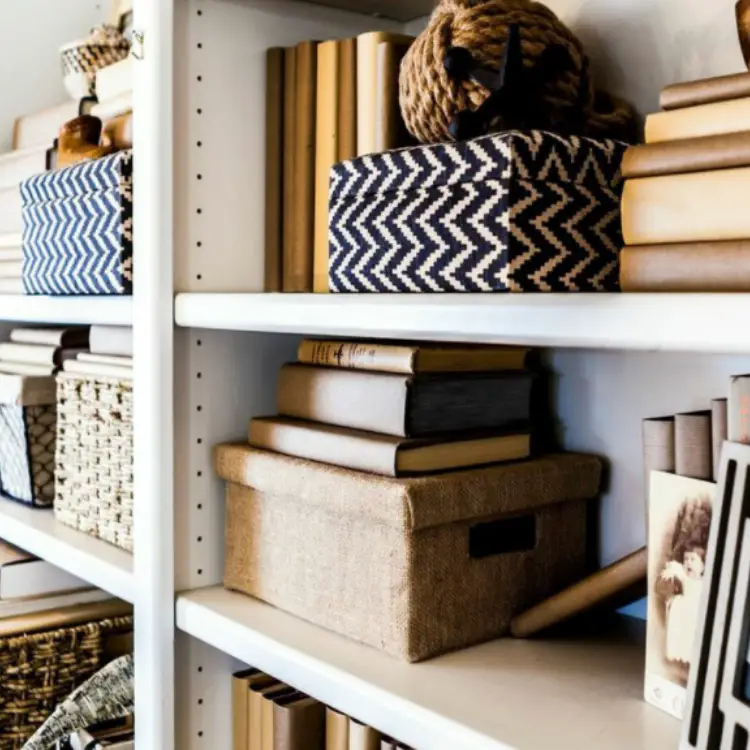 Pair Decorative Book Bundles With Potted Plants
If you are someone who loves having plants and other greenery indoors, then potted plants in your bookcase with your decorative book bundles is perfect.
Small succulents that aren't likely to overgrow their pots are perfect for this.
Modern Geometric Accessories and Blush Bundles
Geometric shapes and vessels can lend a modern touch to your décor.
They look especially good when paired with pale pink, blush, cream, or beige books on a shelf.
Books and Frames
Photo frames will add a personalized touch to your decorative book display.
Create a formal, uniform look with a single size and color for your frames.
Or, add a cute, quirky touch by purchasing various sizes and frame designs within a singular color family.
Add in books of a complementary color and you'll have a beautiful display on your hands.
For even more shelf styling ideas check out the post How To Decorate Floating Shelves and Bookcases.
Conclusion
Color-coordinated decorative book bundles can set you back a few bucks if you are looking to get them from high-end suppliers.
But for those decorating on a budget, a quick trip to a local craft store and second-hand shop will be your solution to getting this designer look for less.
And who knows, you may find some unexpected treasures in between the pages of your thrifted decor.
If you enjoyed this post please share it with a friend and follow Dianne Decor on Medium for more from me.
You can also find me on Pinterest, Twitter, and Instagram.
To have my latest posts delivered directly to your inbox, join the mailing list before you go. I'll send you a copy of my weekly newsletter filled with weekend reads, decorating inspiration, and the latest deals on home decor.
Thanks for reading!
bookcase
bookshelf styling
decorating on a budget
decorative book bundles
decorative books
home decor
rainbow bookcase
rainbow bookshelf
shelf styling