18 Oversized Wall Art Ideas From Overstock
FTC Disclosure - This post contains affiliate links and I will be compensated if you make a purchase after clicking on my links.
*Item received for free for promotional consideration or a sponsored link.
Hanging oversized wall art in your home is a fantastic way to create a decorative focal point in a room.  It can help reinforce your color palette and break up a large wall.
Whether you opt for one large canvas or multiple panels to achieve the look, utilizing super-sized wall art is a great way to decorate your home.  As with any piece of artwork, the price ranges and varies greatly.
Typically, the larger the canvas, the more you should expect to pay.  Moreover, handpainted canvas art and those including mixed media tend to be more expensive than prints and posters.
Over the years, I have found that one of the best places to find amazing prices on large wall art installations is Overstock.  They have a huge catalog to choose from and cover almost any subject you can imagine.
Here are 18 oversized wall art ideas under $200 from Overstock.
18 Oversized Wall Art Ideas
If you're looking for an edgy piece of art to put on your walls, this 3-panel Saddle Ink Elephant VI canvas set is a cool option.  It's vibrant and colorful and will make a big impact on your space.
I also think this would be great if you're looking for some modern masculine decor that isn't sports or beer-themed.
These multi-colored birds are a nice way to infuse a little color, without going overboard.  This is also a really big canvas at 46 inches by 36 inches.  So if you have a lot of space to cover, consider something like this.
It would work well with several different home decor styles and color palettes.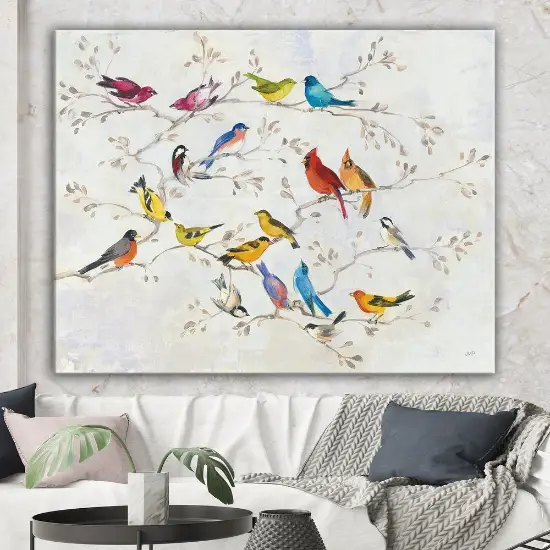 This subtle, barely-there glitter embellished wall art from Madison Park has a quiet sophistication about it.  This will by no means create a decorative focal point in your home.
The colors are much too muted for that.  However, it will bring texture to your space which is always great.
I like multi-panel canvas sets when they're large enough to stand on their own.  While I'm focusing this post on oversized wall art that's intended to take up a lot of real estate, you could also purchase something like this and break up the panels to distribute throughout your home.
You can't pull this off with all multi-panel installations, however, but with this one, in particular, you could certainly do that.
The panels aren't so skinny that they would look odd on a wall without the others.  And, the image isn't so intertwined that the individual panels wouldn't make sense on their own.
For that reason, I think this set offers a lot of versatility.
Here's another really large print at 40 inches by 30 inches.  As I mentioned earlier, the price of prints versus painting is usually significantly less.
The three-panel canvas painting in the previous listing is regularly priced at $155 and is the same size as this print below that is regularly priced at $114.
Both are currently on sale for less, by the way.  And, this gorgeous forest print is available in a ton of different sizes.  They range from 32 inches by 16 inches, all the way up to 46 inches by 36 inches.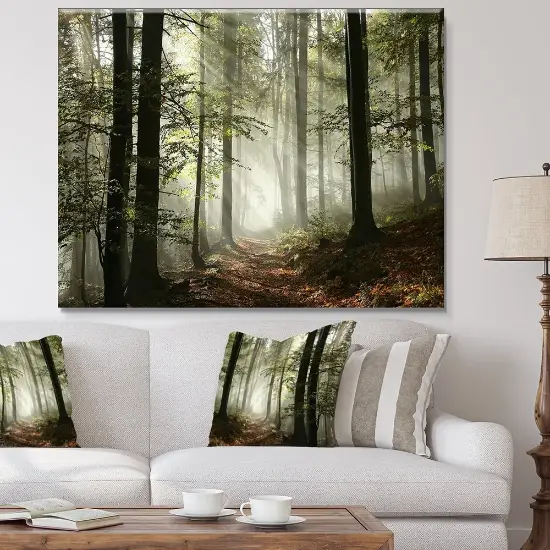 Much like the elephant at the beginning of this list, this two-piece set has an edgy appeal to it.  I think this would look stunning amongst minimalist decor with a white and black color palette.
It'd be striking set against an uncluttered white wall.
If you're looking for something a little bit more contemporary.  This iCanvas Water's Edge I print fits the bill.  The watercolor is inviting and the soothing earth tones used in this painting are beautiful.
Regularly priced, the largest version of this set is 26 inches by 40 inches and around $100.
I really love this Wisdom Tree wrapped canvas.  There's something about the light peeking out from behind the tree that is a bit mesmerizing to me.  It's a really great size at an affordable price too.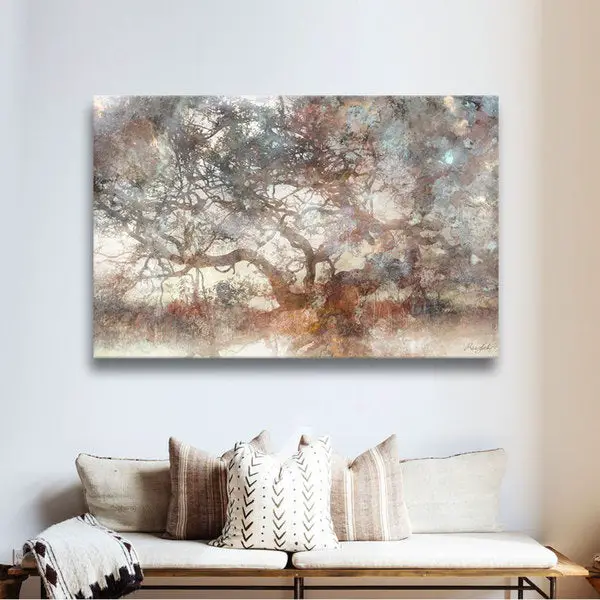 Another masculine option is this Inkd XXIX canvas set.  The colors and the style are very bold and would look great above a leather sofa or in a home office.
While I wouldn't dare to try to interpret this one for you.  I find it to be quite bold and interesting to look at.
What do you think about this piece?  Let me know in the comments below.
I absolutely love this Gold Medallion Canvas Set from Madison Park.  The pretty antique gold set against the stark white canvas is fantastic.  The 3D embellishment is such a show-stopper.
This piece would look fantastic in an entryway or dining room.
This boat artwork would look right at home in a beach house or Hamptons style interior.  The three-dimensionality of this print is what really stood out to me.  The boat looks like it's coming right at you!
Something like this would make an amazing conversation starter.
If you like florals but prefer an abstract interpretation, you may really like this painting.  The colors are fantastic and the portrait orientation makes it a refreshing change of pace for the traditional landscape orientations we're used to seeing.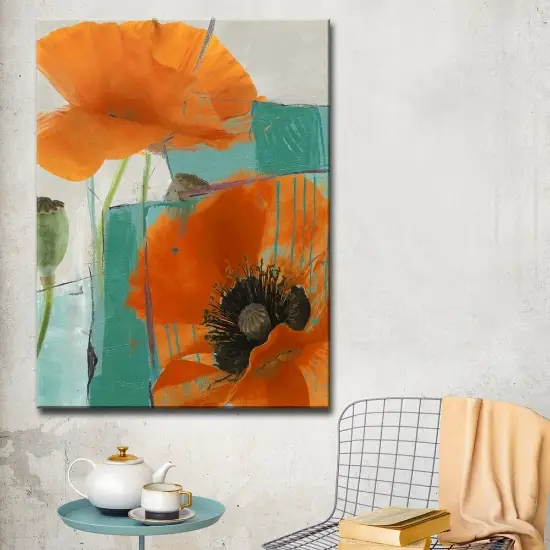 If you have a modern farmhouse interior and don't have a horse painting yet, here you go! Hahahaha.
This type of depiction is really popular right now and for good reason.  It's subtle and sophisticated and on theme with that idealized farm life.
While this doesn't necessarily go with my decor, I find it to be beautiful nonetheless.  At 30 inches by 30 inches the size of this is just right and it's currently on sale at Overstock for around $80.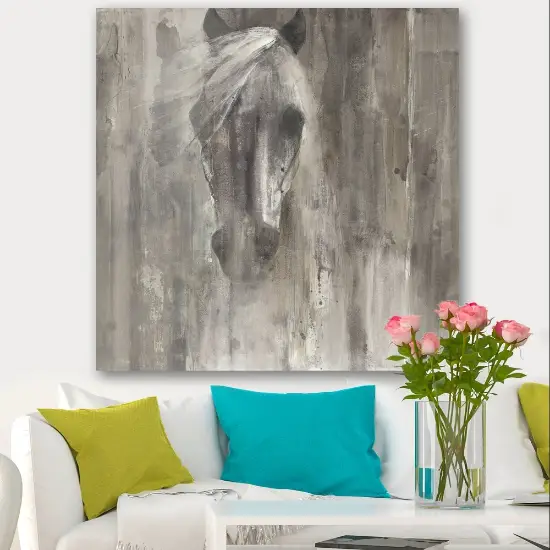 Here's another fun beachy print from Design Art.  This picture has a carefree feeling about it that I really like.
It comes in a few different sizes with the largest being 46 inches by 36 inches and regularly priced around $157.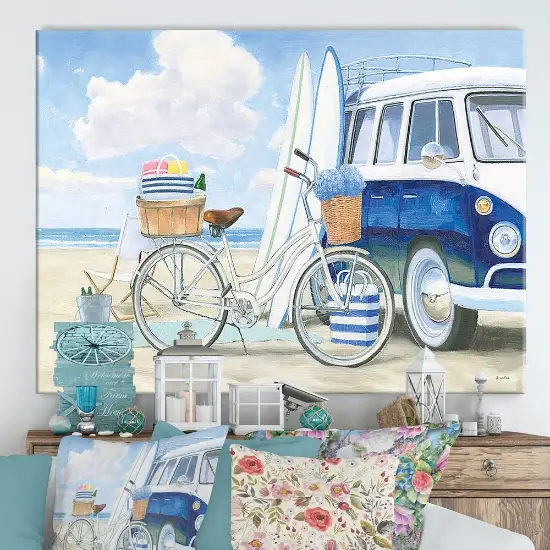 Hand down this is my favorite artwork on this list.  I really love that gold-embossed medallion wall art in number 10 above, but this is it.  In fact, this is in my shopping cart right now.
This is bold and feminine and detailed.  I just love it!
If you like the concept but not the colors, check out the other Design Art listings on Overstock.  There are several different florals like this in different colors.
Not to be confused with the high shine resin epoxy pour paintings.  This Ocean Blue Golden Jasper Agate II Print will mimic that look but at a fraction of the price.
So, if you like those swirly glittery paintings that seem to be all over Instagram.  This is a nice one and it's really big at 46 inches by 36 inches.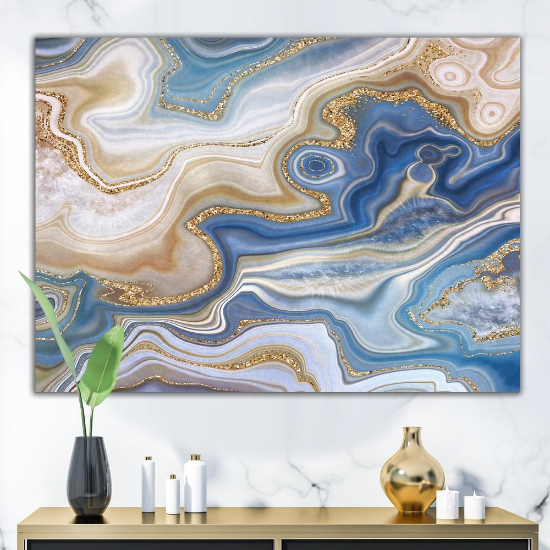 Muted forest scenes with gold leaf detailing are also really popular right now.  This 3 panel set from Madison Park is gorgeous and would look great on your living room wall.
It has a subtleness about it that will warm up your space, yet won't detract from another statement accent you may want to feature in your room.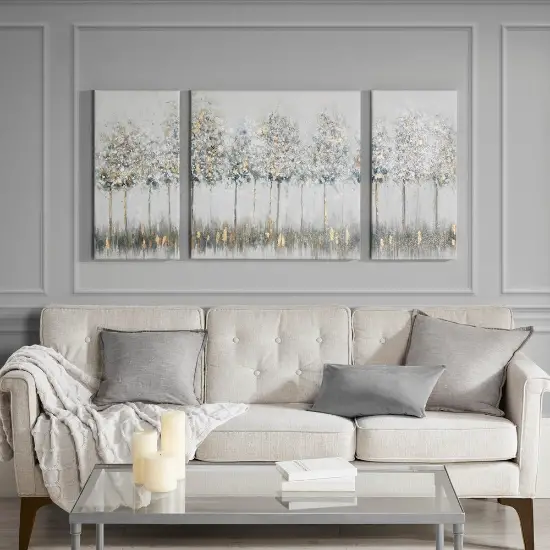 I remember seeing someone DIY this type of chandelier on YouTube and even finished it off with lights where the flame of the candles is depicted.  It was amazing to see.
But, if you're like me and wouldn't touch that DIY project with a ten-foot pole, check out this lovely chandelier canvas print from Overstock.
While this one doesn't light up, it is really pretty to look at and has great reviews.
Conclusion
That concludes this list of affordable oversized wall art ideas.  I hope you found this post helpful.  If you did, please share it with a friend and follow Dianne Decor on Bloglovin', Instagram, Twitter, and Pinterest for more from me.
To have my latest posts delivered directly to your inbox, join the mailing list before you go.  I'll send you a copy of my weekly newsletter filled with weekend reads, decorating inspiration, and the latest deals on home decor.
Thanks for reading!