FTC Disclosure - This post contains affiliate links and I will be compensated if you make a purchase after clicking on my links.
*Item received for free for promotional consideration or a sponsored link.
It seems with each passing year the coffee table moves further and further away from a place to serve a cup of coffee or tea.
This popular piece of furniture has become a display case of sorts.  Books, vases, candles, decorative bowls, and trays are among the things you can expect to find on a coffee table nowadays.
In truth, they've become a home for a menagerie of decor items.
But, how much is too much?  Let's start by looking at the function of the coffee table.
Has the Coffee Table Lost Its Function?
Not really.  It's just evolved into a different type of conversation piece.
Growing up, I remember my parents having friends over for dinner.  The evening always ended in the living room, seated around the coffee table or some other type of round table seating.
They'd all enjoy a cup of coffee and an Entenmann's coffeecake after dinner.
The whole idea of the coffee table is to settle in around it, relax, and chat.  It's still that.  But, the idea of brewing a whole pot of coffee or tea has been left to the older generations.
This is arguable because of the introduction of the single-serve brewer (aka Keurig).  Instead of centering around a beautiful tea or coffee serving set, we now center around a variety of other conversation-starting items.
So, what types of items should you place on your table?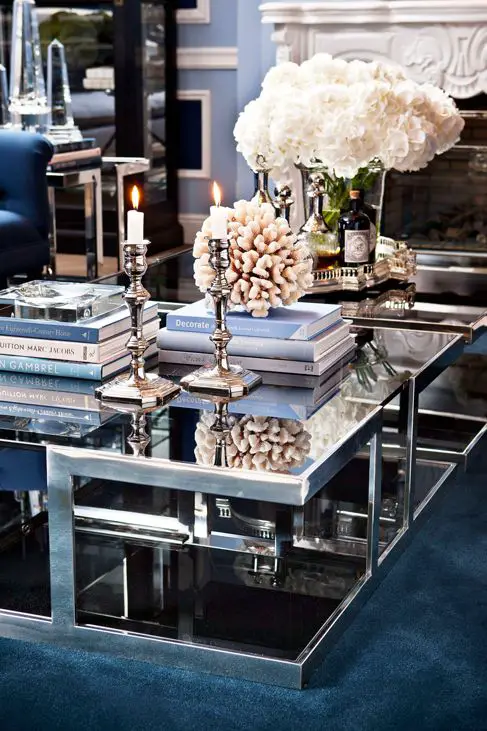 What Types of Items Should I Display on My Coffee Table?
Plants, vintage fashion books, home decorating books, maps, puzzles, candles, figurines, and other tabletop accents are great options.  If I were to choose, I'd start with 3 key items.
Something to flip through such as a vintage fashion book, interior design book, or photo book.
A natural element like a house plant, flowers, driftwood, or coral.
A game board; like those fancy oversized silver or gold tick tac toe boards.  Or, a unique chess or checkers board.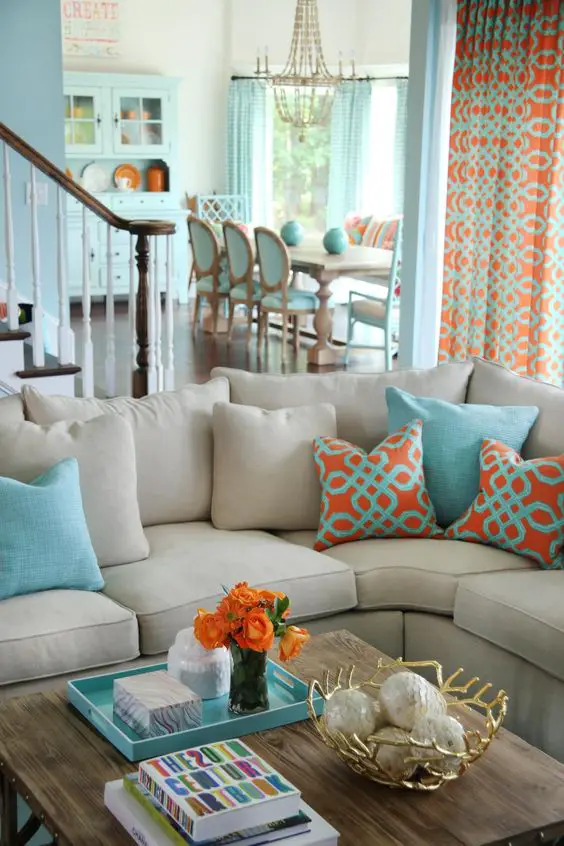 How Many Items Should I Display on My Coffee Table?
So, how much is too much?  This is going to depend on the size of your coffee table, but a good rule of thumb is, if you can't move everything off of the table in two trips max, it's too much.
If items, such as books are stacked more than three levels high, it's too much.  If you can't set down a cup of coffee without sliding things out of the way, it's too much.
My recommendation is to arrange all of the items you want to display onto a tray.  This way, if you want to sit down with some hors d'oeuvres and a beverage, you can pick up the tray and move all of the items out of the way easily.
In the end, your coffee table maintains its function and is a beautiful display as well.
Conclusion
I hope you liked this post.  If you found it helpful, please share it with a friend.
For more coffee table decorating inspiration check out the Pinterest Board for this post.
Also, Dianne Decor is now on Bloglovin'.  Follow me there for even more content.
Thanks for reading!
coffee table
coffee table decor
coffee table decorating
decor
decorating
home decor
home decorating
how to