FTC Disclosure - This post contains affiliate links and I will be compensated if you make a purchase after clicking on my links.
*Item received for free for promotional consideration or a sponsored link.
Wedding season is here and so are some money-saving tricks to use inexpensive mason jars to substitute pricey wedding decor.
As I mentioned in a previous post about versatile decor, the mason jar is a DIYers' best friend.  It's particularly great for creating centerpieces and lighting fixtures.  These are two wedding decor items that can add up quickly.
If you're planning a wedding and are looking for a place to save a few bucks, check out this list of 10 ways to use mason jars at your wedding.
10 Ways to Use Mason Jars at Your Wedding
#1 – Floating Candles
Whether you'd like to use them as a part of your tablescape, or to help light the aisle, mason jars are the perfect containers for floating candles. The clear glass will help amplify the light of the candle and make for a beautiful decor piece.
#2 – Flower Backdrop
The example below of a flower backdrop made from hanging mason jars is gorgeous.  This can be easily replicated at your own wedding and save you from spending big bucks on a premade backdrop.
#3 – Aisle Decor
Decorating your aisle down to the alter is something you don't want to skip.  After all, your guests will be seated on either side of it anxious to take pictures.
Provide them with a backdrop that is not just other guests by decorating your aisle with mason jars.  Use them as charming flower pots and hang them from hooks at the end of each seating row.  It will add beautiful detail to your aisle.
#4 – Illuminated Tablescape
This style of tablescape is perfect all year round, but especially for an outdoor or backyard wedding under the stars.  However, crystal candleholders for each table can get a bit expensive.  Especially if you are hoping to have enough to illuminate an entire table at night.
Opt instead for mason jars.  They'll hold many different sized candles and provide a safe, secure place for it to be lit throughout the evening.
#5 – Hanging Chandelier
This may take some doing, but using mason jars to create a chandelier is an awesome idea.
#6 – Snack Jars
A great way to treat your guests and provide them with an easy, handheld snack is to use mason jars.  Add a variety of popular treats and let your guests grab a jar and enjoy it.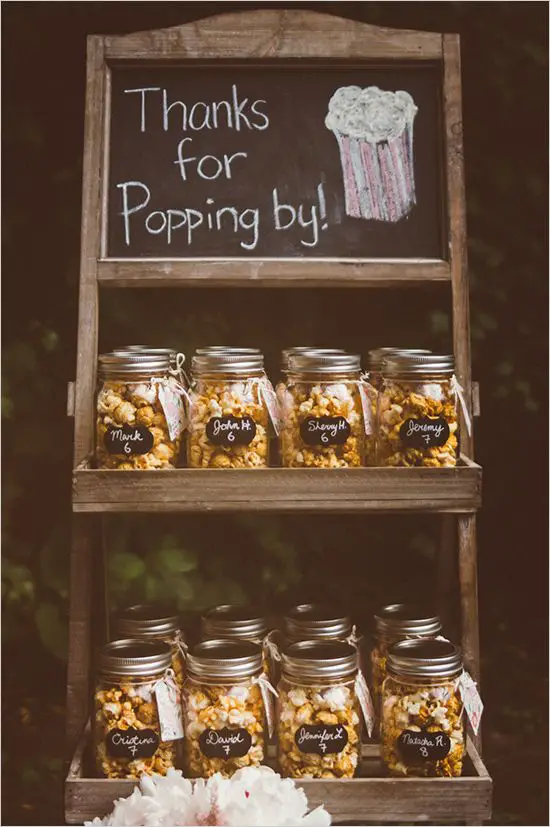 #7 – Utensil Holders
Instead of the traditional place setting that sees your utensils placed neatly to the side of your plate, try this.  Roll your napkin, spoon, fork, and knife up together and tuck it into a mason jar.
This will help your guests to not only identify their utensils easily but also their glass!
#8 – Ceremonial Unity Sand
You've most likely seen unity sand or a unity candle ceremony at a wedding.  But, if you're unfamiliar with the concept, its basically a representation of his, hers, and ours.
The bride and the groom are assigned different colored stand and together they pour them into a single container.  This makes for a sweet keepsake after the wedding.
For this, you don't have to spend a ton.  A mason jar is perfect for the job.
#9 – Drinking Glasses
As I mentioned above in item number 7, the mason jar makes for a great drinking glass.  Of course, it may not meld well with all wedding styles, but if you're going for that rustic barn wedding, a mason jar is perfect to replace a traditional wine glass.
#10 – Wedding Favors
Send guests home with a sweet keepsake tucked into a mason jar.  You can fill it with just about anything.  Its durable, portable, and can be painted or tagged with the bride and groom's initials.
Conclusion
What did you think of our roundup?  Please comment below.
If you liked this post, I'd love it if you'd share it with a friend.  Follow Dianne Decor on Bloglovin' for more content and check out our Pinterest Board for more mason jar decor inspiration.
Thanks for reading!
centerpieces
mason jar
the mason jar
wedding centerpiece
wedding decor
wedding diy
wedding favors