FTC Disclosure - This post contains affiliate links and I will be compensated if you make a purchase after clicking on my links.
*Item received for free for promotional consideration or a sponsored link.
Round table sitting areas, also referred to as conversation seating has increased in popularity in the past 10 years.
Often used in addition to, or sometimes in lieu of a traditional living room.  They frequently feature four chairs set around a large round table or ottoman.
What makes these rooms particularly special is their focus on people.  When you invite your friends and family to join you in this type of space, you're telling them that they have your undivided attention.  You want to hear what they have to say and what's going on in their lives.
By stripping away the distraction of television, you create an opportunity for a meaningful exchange.  I, for one, love this idea.
So, how do you create the perfect round table sitting area?  There are four key elements that you'll want to address.
How to Create a  Round Table Sitting Area
Furniture Selection
Although you can certainly create conversation seating with a square table, I happen to really like the round table look.  Select something that sits at a coffee table height.
It can be a traditional wood table or an upholstered ottoman.  Next, select a set of large, comfy, cozy, armchairs.
Accent them with pillows and drape a throw blanket over the back of one of the chairs to complete the look.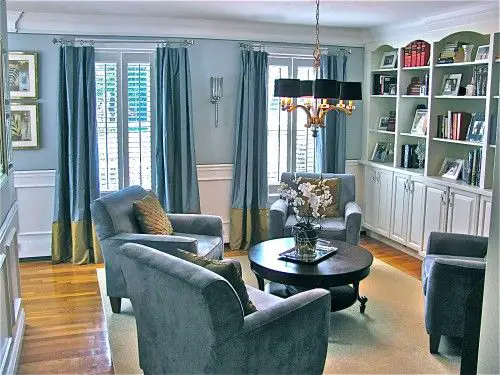 Centerpiece
Go for a large flower arrangement.  It will bring a natural element into your space and is easy to maintain.  If you have an upholstered ottoman with an interesting pattern, you may opt to skip the centerpiece altogether.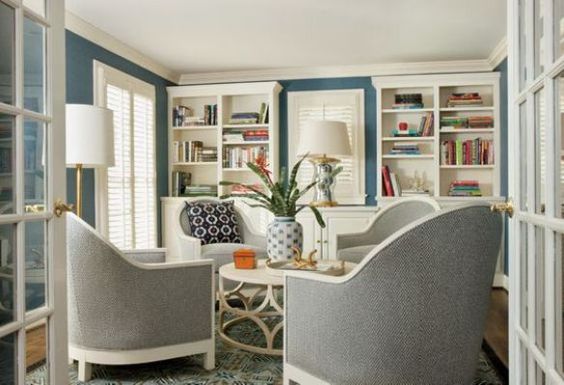 Natural Lighting
The more natural light, the better.  It's soothing and will put your guests at ease.  Try to arrange your round table sitting area in a corner where you can take advantage of light coming in from windows on two walls.
If this isn't an option, try to set the furniture as close to a window as possible.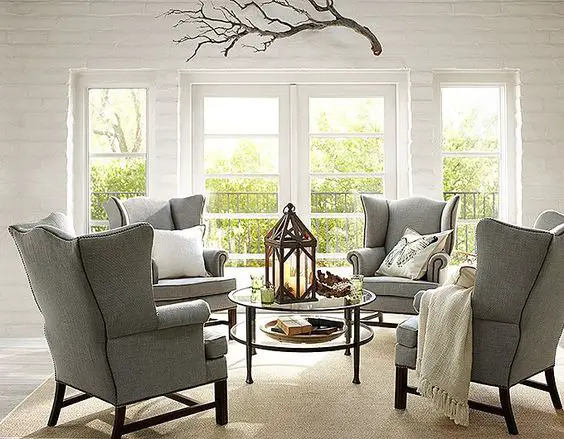 Backdrop
This is where you can really get creative.  Wall shelves, gallery walls, bookcases, china cabinets, or large scale wall art are all options.
The idea is to create areas of interest around the room. Interesting decorations are great conversation starters.  Another reason why you should pay special attention to your backdrop is that it completes the space.  It says to your guests, this is a room.
If your sitting area is adjacent to a living room with a fireplace and television, there's a bit of competition there, visually speaking.
By taking the time to complete the room with wall art, window treatments, rugs, etc, you'll have plenty to gaze at and won't feel like you're missing out on something.  The last thing you want is the feeling of being annexed from the action of the main living area.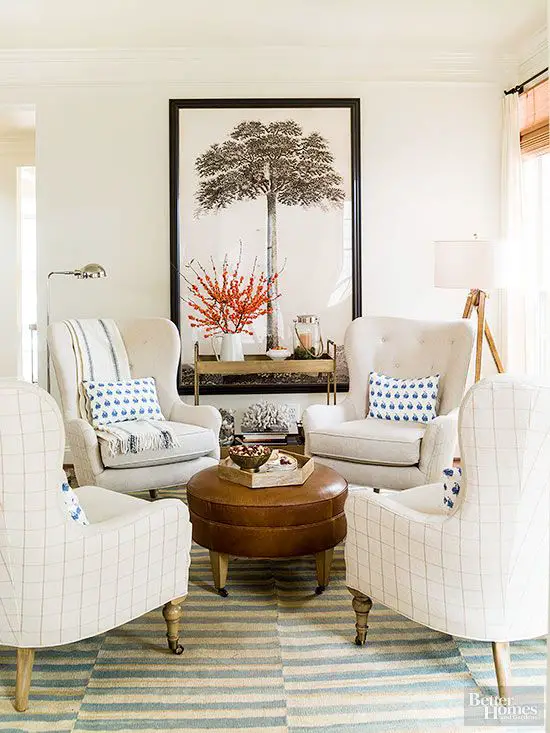 Conclusion
Addressing these four things is sure to set you on the path to a beautiful conversation area.  What did you think of this post?  Please comment below.
If you found these tips helpful, please share this with a friend. Check out my Pinterest Board that goes along with this post for more round table sitting area inspiration.
For more from Dianne Decor, follow me on Bloglovin'.
Thanks for reading!
conversation area
decor
home decor
interior design
room design
room ideas
round table
round table living room
round table seating
sitting area