FTC Disclosure - This post contains affiliate links and I will be compensated if you make a purchase after clicking on my links.
*Item received for free for promotional consideration or a sponsored link.
Are you loving the large scale wall art trend like I am?  Why settle for a picture in a frame when you can install an entire wall of art!  Large wall decor, multi-panel installations, and mural walls are soaring in popularity.
These installations make a bold statement and can really create a beautiful atmosphere.
If you want to bring a bit of the outside indoors with a forest depiction, there's an option for you.
Or, if you prefer contemporary art pieces, there are super-sized versions available for you to create your very own wall of art.
1. Multi-Panel Wall Decor Installation
The first type of large wall art is the multi-panel installation.  This has been popular for a while now and can be found just about anywhere.
You can go anywhere from 2 – 5 individual panels, which collectively create one beautiful image.
This particular type of wall decor is interesting because it forces the eye to bridge the visual voids and piece together the full picture in your mind.
You can get creative and install pieces in a staggered manner as opposed to a straight line for an even more distinct look.
2. Full-Width Wall Decor Installation
The second type of large scale wall art is the full-width installation.  This is a single oversized piece that usually spans the width of the furniture it sits behind.
For example, you may have something on the wall behind your sofa that spans end to end, or a piece in your bedroom that spans the entire width of the headboard.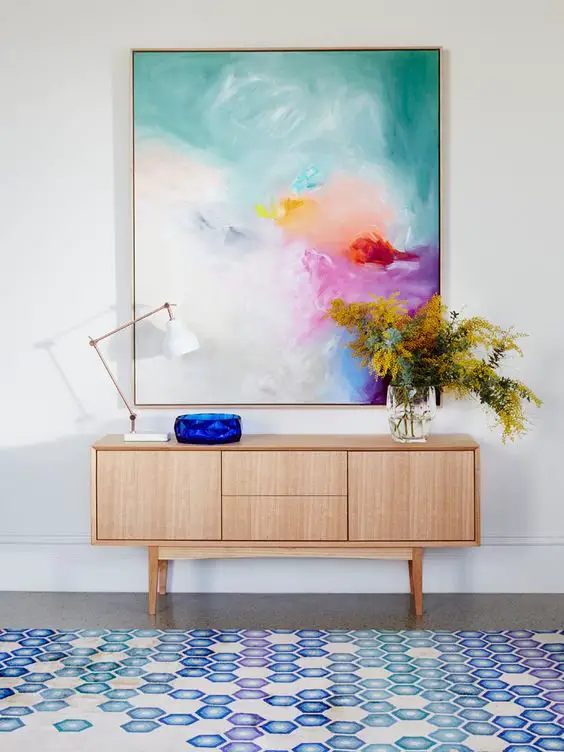 3. Mural Walls
The final type of large wall art is the mural wall.  I've been seeing more and more of these this year and I love them.
Everything from forest scenes and florals to black and white noir compositions are being installed in homes.  Furthermore, the method of installation varies almost as much as the styles, which is really interesting.
You can choose to have a massive print installed by a professional, or you may opt for piecing together self-adhesive wall decals.
Although I can tell you from experience, this can be very time-consuming.  Particularly those cute little woodland scenes with leaves and animals for kid's rooms.
Super cute, but wow, the time.  But I digress.  The options for at-home wall murals are practically limitless.
For sure, large scale prints can get pricey.  But, if you want to try the do it yourself approach, there are a ton of tutorials to be found online.
I've seen some amazing things done with a little paint and poster board templates.  Best of all, a DIY approach ensures that your creation will be one a kind.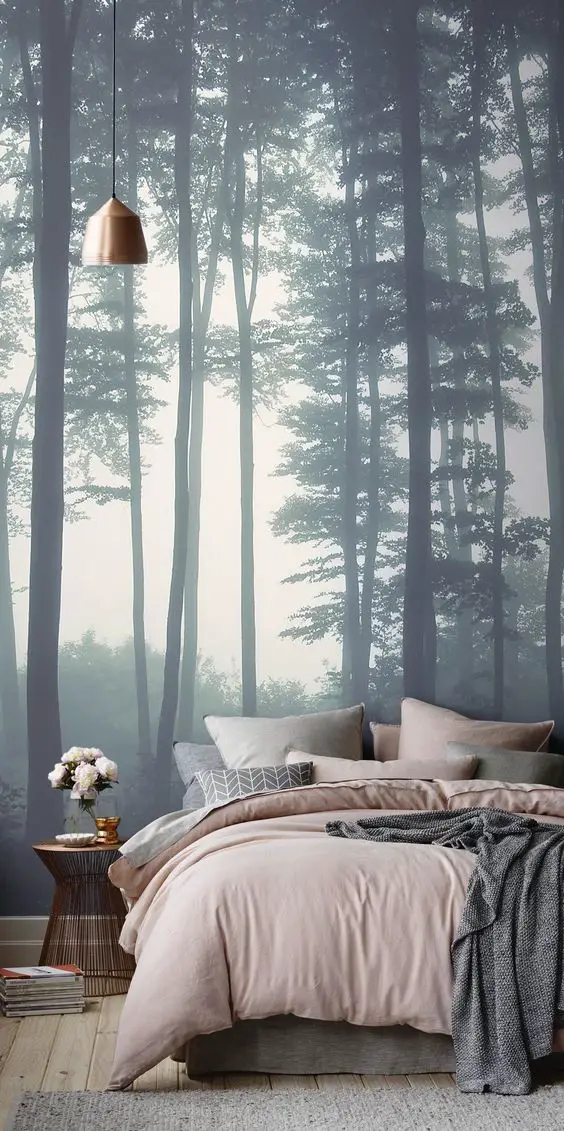 Conclusion
I'll end by offering my stance on trending decor, which is always to explore the most temporary route.  In this case, I'd say, if you want to go for a wall mural, chose the decal option.
You might not like it in two of three years and be ready for a change.
If this is the case, you don't want to create a massive project for yourself trying removing sticky wallpaper or having to repaint a wall.
There are a ton of mural wall stickers and mural wall decals available.  Make it a weekend project and have a little fun with your friends and family piecing it together.
If you've recently installed any large scale wall decor please comment below on your experience.
Also, if you found this post helpful, please share it with a friend.  Thanks for reading and I invite you to head over to MY Pinterest Board for even more examples of mural walls and large scale wall decor.
Thanks for reading!
home mural wall
large wall art
large wall decor
mural
mural decal
mural stickers
mural wall
mural wall decal
wall art
wall decor
wall sticker