FTC Disclosure - This post contains affiliate links and I will be compensated if you make a purchase after clicking on my links.
*Item received for free for promotional consideration or a sponsored link.
Welcoming guests to your home may seem like a no brainer, but there are a few, often forgotten details that can make a huge impact on how your guest feels.  This is where entryway decor comes into play.
Transitioning from their car to your home comfortably and without stress entails more than just a hug and a kiss hello.
The most important thing to remember is that although you may know all the ins and outs of your home, your guests may not.  They won't know where to put their coats, shoes, purses, gifts, etc.
Here's how to use it to address all of your guest's needs and make them feel at home the moment they step through the door.

Source: Pinterest
6 Key Items for Your Entryway Decor
Shoes
A place for shoes is important.  Whether you're a shoe-free household or not, you need a place for shoes.  Some people will automatically remove their shoes either by habit, or to be courteous.
Weather is also another huge factor in having a place for footwear.  You may not worry about sneakers in your home on a regular day, but on a snowy, or rainy day it may be a totally different story.
Decor Suggestion: Try baskets tucked under a bench or a shoe tray filled with river rocks as a quick and easy place to store footwear.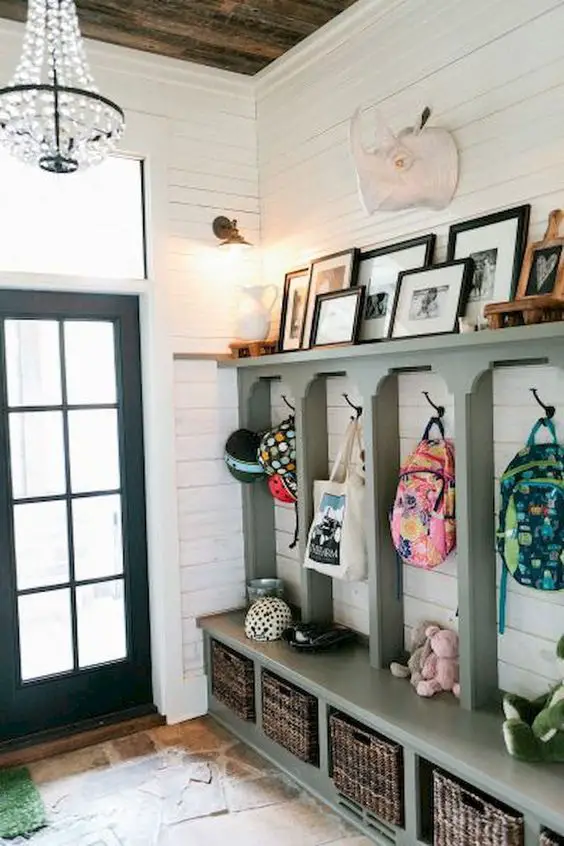 Scents
A nice, fresh-smelling home is so inviting.  Trumped only by the smell of great food cooking on the stove.  Make it a point to place a candle, diffuser, or other types of air freshener right by your door.
It's a great way to greet guests.  If you don't like to use air fresheners, make sure you open the windows and air out your home before company comes so you have fresh air flowing through your house.
Another option is to bake some cookies.  There's a reason why realtors use this trick when showing homes.  The scent evokes the feeling of warmth and coziness.
Decor Suggestion: Scented candles and oil diffusers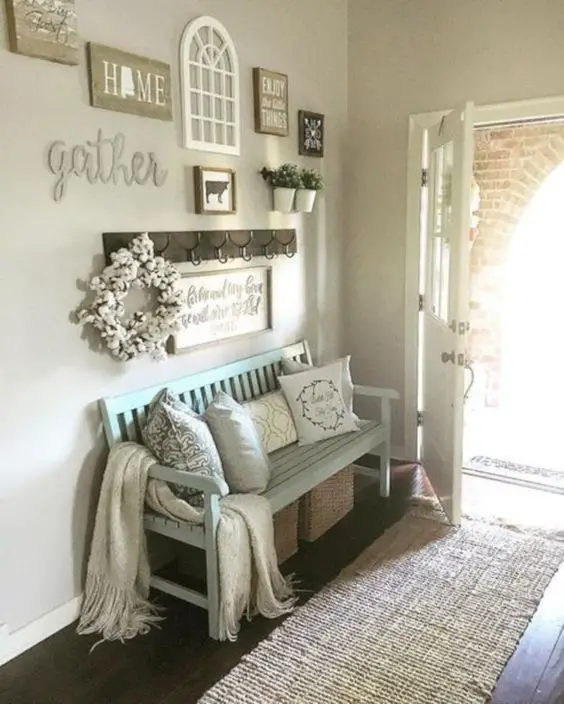 Natural Elements
Fresh flowers or a houseplant close to your entryway is a great way to soften the feel of your home.  Wall art and vases are fine but can look a bit rigid and structured on their own.
By adding a few flowers or greenery you'll add a natural, organic element to your home that is calming and inviting.
Decor Suggestion: Fresh flowers in a vase.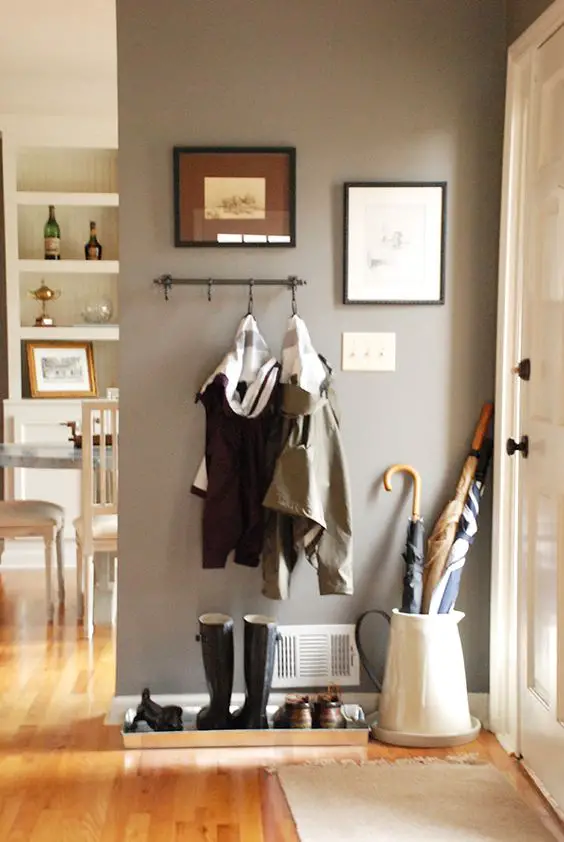 Coats
Hooks and hangers for outerwear should be readily available for guests.  If you've ever visited someone's home and found yourself twirling around with a jacket in one hand looking for where to put it; you know the importance of a coat rack.
Gone are the days when you'd just throw all the coats on a bed in a spare room.  A few hooks on the wall are all you need to make your guests feel like you considered their needs.
Decor Suggestion: Install a set of beautiful wall hooks and a shelf near your entry.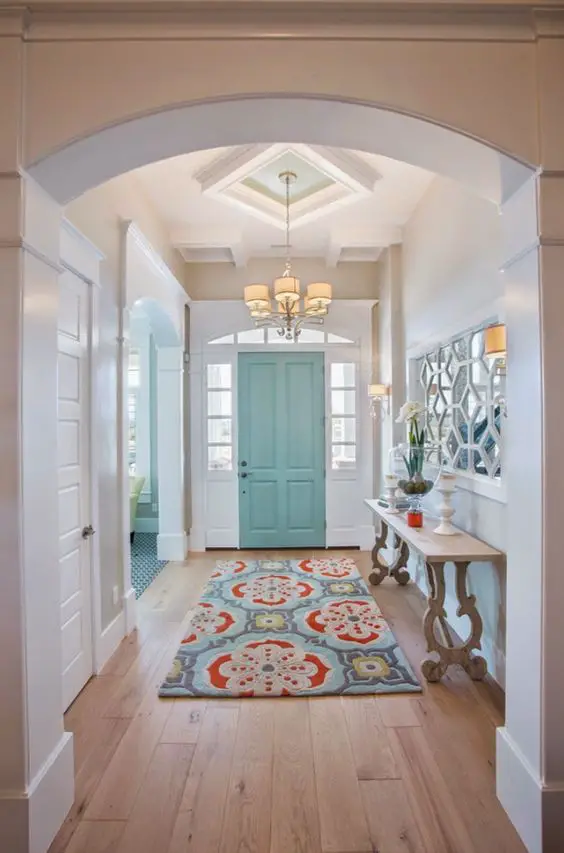 Seating
A place to sit down and take off your shoes shouldn't be a luxury.  There are so many reasons why this is important.  If your guests are wearing heels with straps or buckles, you don't want to force them to balance like a flamingo to take them off.
Older folks or others that aren't so mobile, may also need a place to sit down at the entry whether or not they're removing shoes.
Getting footwear on and off kids is infinitely easier when they can sit down.  Being seated on a stool instead of grabbing onto your shoulders to balance themselves while you try to slip them on is a nice thing to offer your guests.
Decor Suggestion: A small bench, set of stools, or leather ottoman style pouf is great, compact, seating options for the entryway.
Mirrors
Although you may not use your front door as your primary entry and exit point, your guests will.  They may want to check their hair and straighten their clothes when they come in from outside.
A wall mirror and a nice touch.  It will also help bounce around the natural light in your entryway.
Decor Suggestion: A lovely round wall mirror is always a good decor choice for an entryway.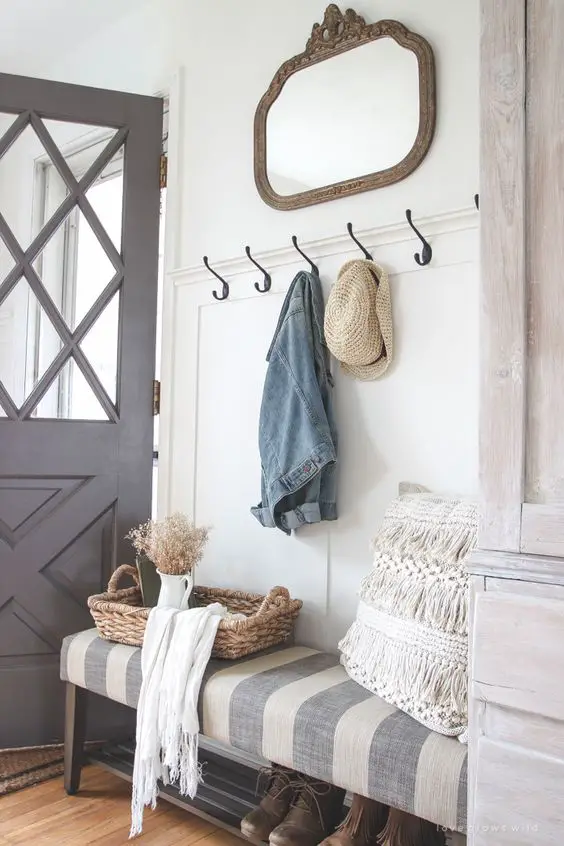 Conclusion
Is there any entryway must have that I missed?  Comment below.  If you found this post helpful please share it with a friend and follow me on Medium for more from Dianne Decor.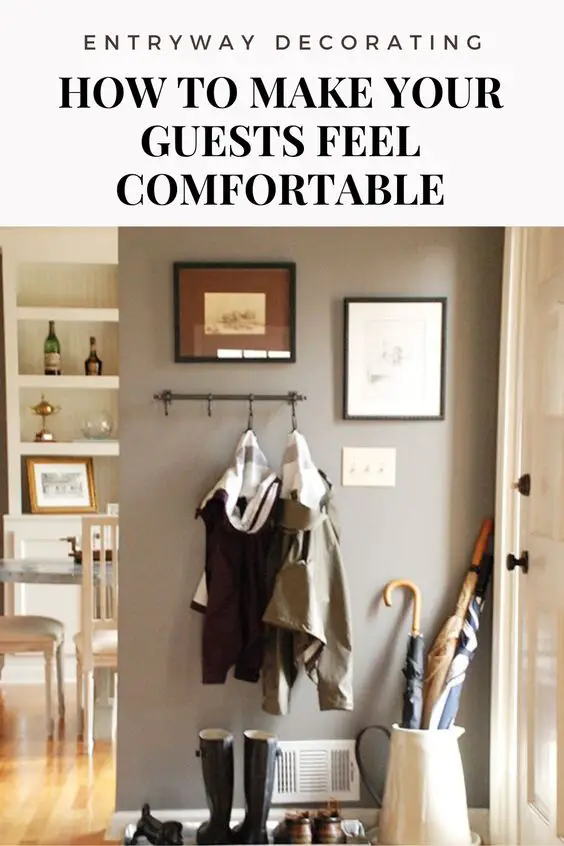 Thanks for reading!
decor
entry
entry decor
entryway decor
foyer
foyer decor
guests
home decor
hostess