FTC Disclosure - This post contains affiliate links and I will be compensated if you make a purchase after clicking on my links.
*Item received for free for promotional consideration or a sponsored link.
Making window decor a part of your holiday decorating scheme can make a huge impact on a room.
Decorating your windows helps create a festive vista within your wall.  Furthermore, you're decorating both the interior and the exterior of your home simultaneously.
What's better than that?  Here's how to get the biggest bang for your buck with holiday window decor.
Window Decor for Christmas
1. Window Wreaths
A simple green window wreath hanging from a red ribbon screams Christmas.
It's a lovely way to accent your windows whether you place your wreaths on the inside or outside.  Many people opt to place outdoor wreaths on their front windows, or those facing the street or driveway.
In the living room or kitchen, wreaths can be hung on the inside creating a lovely picturesque wall.
If you're wondering how to hang window wreaths on your exterior, check out this post from the blog betweennapsontheporch.net for ideas.
2. Candlesticks
Adorning your window sills with tall taper candlesticks is a tradition that goes way back.
I remember my mom doing this every year when I was young.  I highly recommend using the electric or battery-operated versions over an open flame.
You can get a pack of 10 LED window candles on Amazon that are battery operated with remote control under $50.
3. Window Clings
Decals or window clings are another popular window decor option for the holiday season.  Snowflakes, winter scenes, snowmen, Santa, you name it, there's a window decal for it.
4. Garland
Simply draping a string of garland across the top of your window is one of the easiest ways to decorate for the holidays.
You can lay it right across your curtain rod.  Or, drape it along the window sill.  Garland could even be used to trim the inside of your window frame.
In my opinion, the easiest way to add garland to your windows is to stick a few small command decorating clips along the perimeter of the window.
Then, slide the wire of the garland into the hook to secure it to the wall.  This way, it's not draped right on top of your curtain rod and won't get in the way of you opening and closing your curtains.
5. Lights
Last but not least, a simple string of lights can be used in the same way as the garland.
You can use one or the other, or wrap your garland in the lights and use both.  Either way, you'll have beautifully trimmed windows that help set the tone for your room.
Another string light option is the curtain light shown below.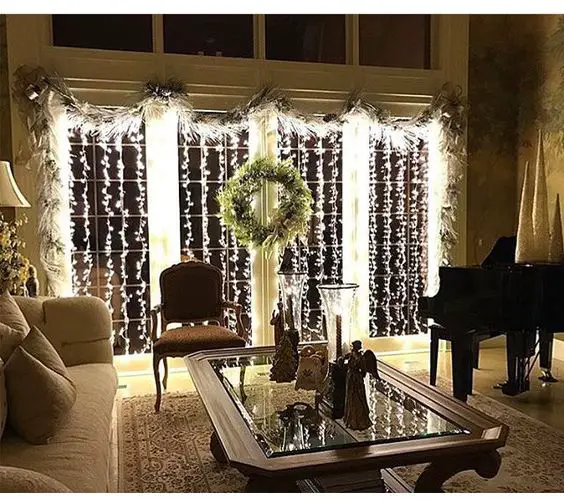 Conclusion
That concludes my list of 5 easy ways to decorate your windows for the holidays.  If you enjoyed this post please share it with a friend.  For more content from Dianne Decor follow us on Bloglovin' and Pinterest.
To have my latest posts delivered directly to your inbox join the mailing list before you leave.  I'll send you a copy of my weekly newsletter filled with weekend reads, decorating inspiration, and the latest home decor deals.
Thanks for reading!
decor
decorating
holiday decor
holiday decorating
holiday window decor
home decor
window decor
window decorating