FTC Disclosure - This post contains affiliate links and I will be compensated if you make a purchase after clicking on my links.
*Item received for free for promotional consideration or a sponsored link.
Basic cabinet hardware can be found at just about any big-box retailer or home improvement store.  Glam cabinet hardware like you see in those Pinterest perfect kitchens are a little bit harder to track down.
Moreover, depending on the materials used and construction method, decorative hardware can be incredibly expensive.  Would you pay $160 for a single knob or pull?  I certainly wouldn't.
But, I do love the look of shiny, glitzy, glam hardware.  It makes your kitchen or bathroom look upscale and intentionally designed.
In this post, I'll share 7 places to find glam cabinet hardware at an affordable price.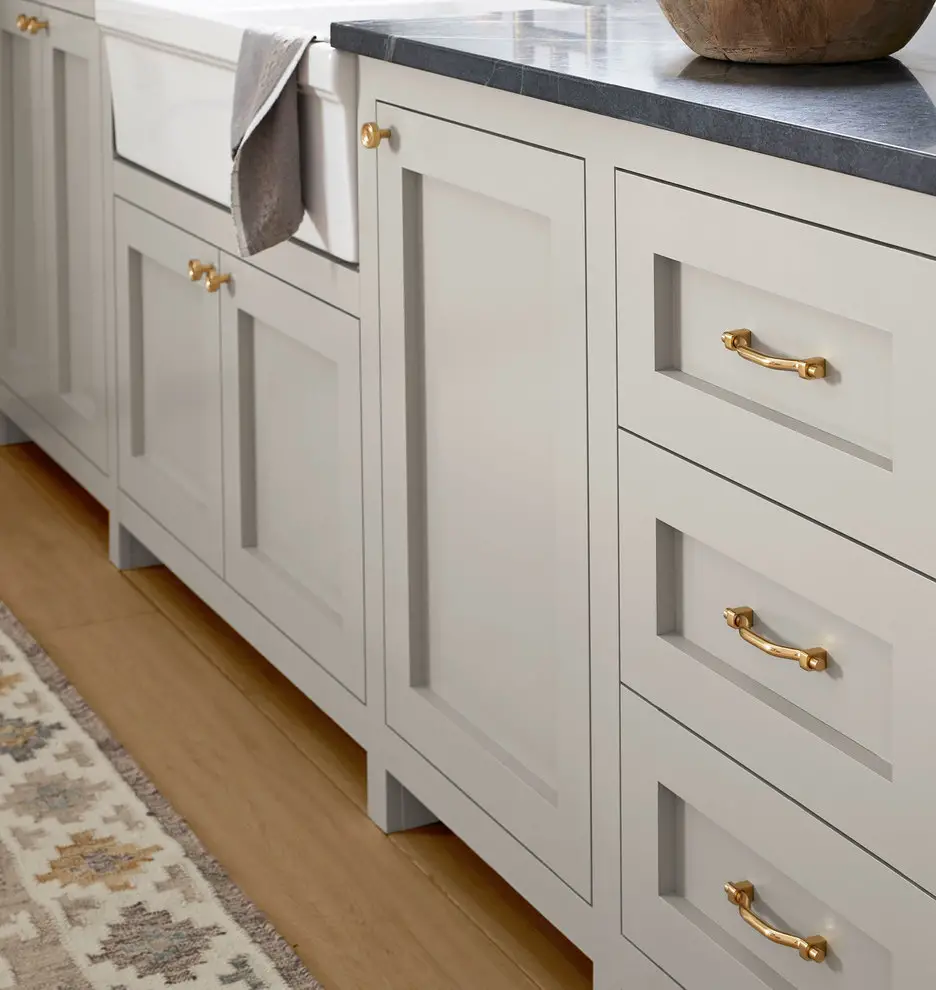 3 Things To Consider Before Buying Decorative Hardware
I shared a post a while back about how to upgrade your guest bathroom using cabinet hardware.  In this piece, I talked mostly about using decorative hardware to make a statement in a room frequented by your guests.
While the method for updating your kitchen hardware is basically the same, there are some additional considerations that should be made before selecting new knobs or pulls.
1. Family Age
The first thing to consider is the age of your family.  If you have older residents living in your homes, such as your parents or grandparents, pulls may be a better option than knobs.
As we age dexterity and reach may present themselves as issues more and more.  A cabinet pull is simply easier to operate than grasping a small knob.
When selecting a knob there are a few stumbling blocks that may present themselves.  Things like some decorative knobs can be too shallow to grasp and pull easily.  Knobs can be slippery with wet hands.  Knobs can also snare bathrobes and belt loops causing accidents.
2. Durability
Crystal knobs and silver cabinet pulls with mother of pearl inlay are gorgeous, but not practical for a kitchen.  These are better suited for dressers.  I can't tell you how many times I've banged the back of a heavy pan against a cabinet while trying to get it in.
I can only imagine how I'd feel if my knobs were crystal encrusted instead of stainless steel with a very basic brushed nickel finish.  My heart would probably stop.
The kitchen is a high traffic area that requires durability.  Make sure the type of decorative hardware you choose is properly-suited for this space.
3. Quantity Needed
There is nothing that will narrow down your choices for glam cabinet hardware like the price.  And by this, I don't mean that the price for the individual hardware components.  I mean the total price that is determined by how many pulls or knobs you need.
For example, I have a medium-sized kitchen.  It's not small, and many are much bigger than mine.  In total, I have 44 cabinet pulls.  That means that if I want to upgrade all of my cabinet's pulls for a budget of $200, I can only afford to pay around $4.50 per pull.
This isn't much, and my options for a high style look will be limited.
So, before you start window shopping, take a tally of exactly how many pieces of hardware you will need.  Divide that by your target budget for the project and then filter your results that way when you visit the sites below.
There's no sense in spending hours favoriting gorgeous knobs when realistically, you can only afford to outfit half of your kitchen with them.
Where To Find Glam Cabinet Hardware
Now, with those tips and considerations out of the way.  Let's shop hardware!  Here are 7 places to find glam cabinet hardware for your kitchen.
Myknobs.com is a place where you can spend a lot or you can spend a little.  They have a wide range of styles and prices.  Their selection is huge.  There's no way you will leave that site without seeing something you like.
Because the catalog is so big, I recommend you start your search by choosing a theme.  There are a lot of glam options under "art deco", "crystal" and "transitional".
Before I move on I'd like to add a quick note about the "Crystal" category.  Some of the knobs are real crystal and some are acrylic.  You can find the exact material on the product details pages.  But, you'll probably be able to tell just based on the pricing.
Ahhh Etsy.com.  Is there anything you can't find on this site.  Handcrafted artisan cabinet hardware is among the many things you can find on Etsy.  The seller PoshHardwareShop has an amazing collection of super glam knobs and pulls for sale.
Many are available in a variety of sizes.
I think of Build.com as a slightly upscale version of Home Depot or Lowes.  I think the biggest difference between those traditional home improvement stores and Build.com is the lack of lumber offerings.
Mostly, you'd visit this site for fixtures, lighting, faucets, fans, chandeliers, and decor.  Of course, cabinet hardware can be found on their site as well.  I found these super sleek finger pulls from Miseno.
They're very affordable at only $3.25 each.  Bulk buys in quantities of 10 and 25 are also available and will save you a little extra money.
Okay, ShopTopKnobs.com is a little pricier than the others on this list, but their selection is gorgeous.  These Trevi Cup Pulls are amazing.  If you like the look of these, but want a different type of cabinet hardware like a bar pull, or knob, they those in this style as well.
AllModern.com has a small but nice selection of glam cabinet hardware.  The collection isn't nearly as big as the other retailers on this list, but it's worth a look.  Don't forget to look out for open box deals to save a little extra money.
Much like AllModern.com, the Anthropologie collection isn't huge, but it's definitely worth checking out.  Be sure to double-check the sizing on the knobs and pulls.  Some of the options are a bit smaller and intended for dressers more than kitchen cabinets.
Aside from that I think you'll find their collection to be really unique.  It will be easy to make a statement in your kitchen with these handles and knobs.
Rejuvenation is a part of the Williams-Sonoma brands along with West Elm and Pottery Barn.  If you've never visited their website you should definitely take a peek.
They have a ton of stuff aside from cabinet hardware.  That being said, their selection of knobs and pulls is exceptional.  They're so sleek and glam but have a simplicity about them that looks really upscale.
The pricing is mid to high end.  The only downside I see about purchasing from here versus somewhere like Build.com is that I don't see any bulk pricing discounts.  So expect to pay a bit more for that high quality without a price break.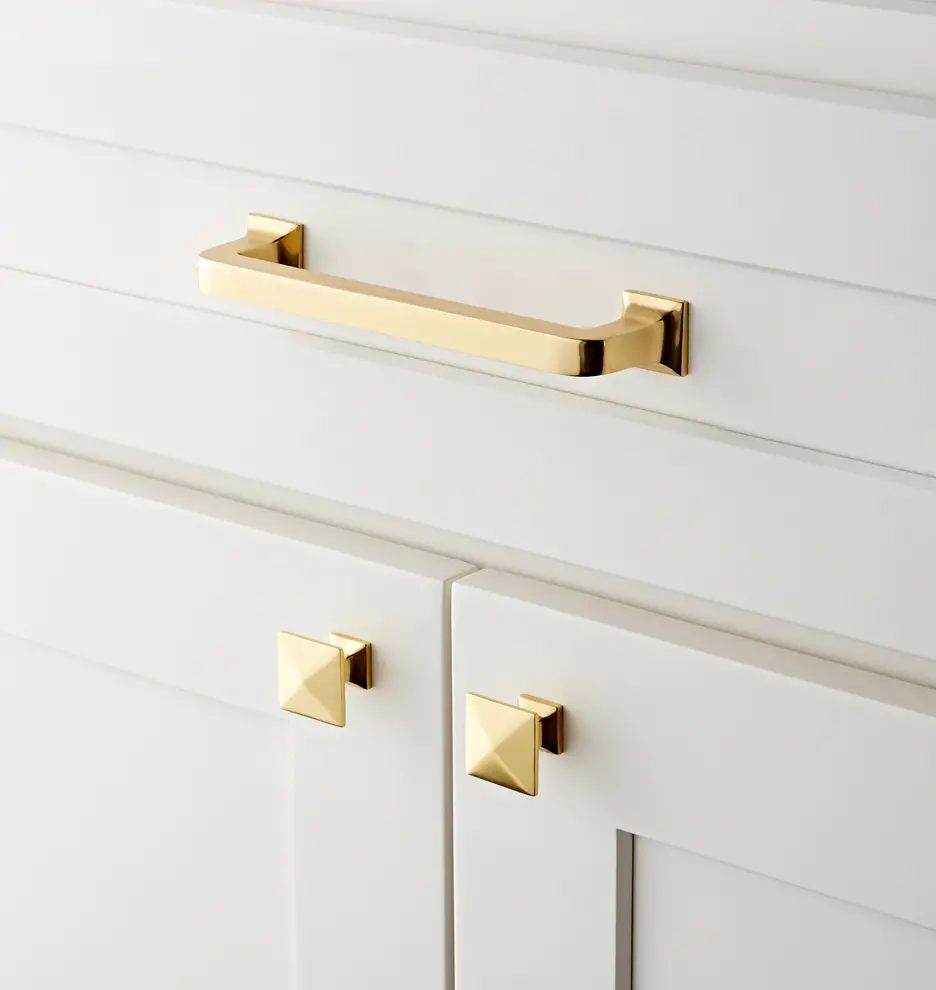 Conclusion
That's it for this post.  I hope you found it helpful.  If you did please share it with a friend and follow Dianne Decor on Bloglovin', Instagram, Twitter, and Pinterest for more from me.
To have my latest posts delivered directly to your inbox, join the mailing list before you go.  I'll send you a copy of my weekly newsletter filled with weekend reads, decorating inspiration, and the latest deals on home decor.
Check out the newsletter archive here to browse past issues.
Thanks for reading!
cabinet hardware
cabinet knobs
cabinet pulls
glam cabinet hardware
kitchen cabinets
kitchen design
kitchen ideas