How To Design Your Entire Home On A Budget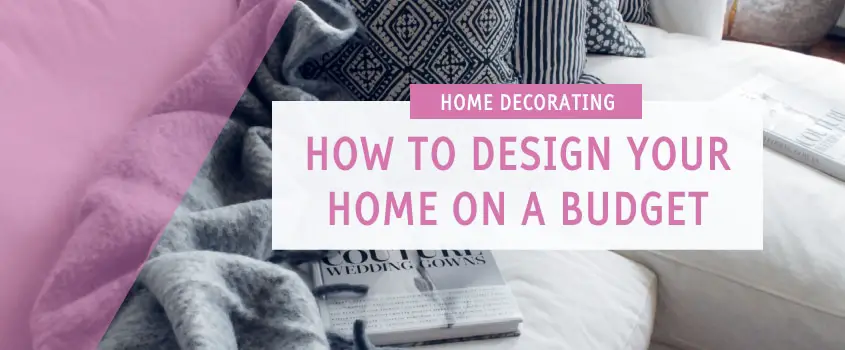 FTC Disclosure - This post contains affiliate links and I will be compensated if you make a purchase after clicking on my links.
*Item received for free for promotional consideration or a sponsored link.
Figuring out how to design a home on a budget can be tough.  It's a topic that many people research, and for good reason.
Nowadays, getting into your first home is very expensive.
And the last thing you want to do, after years of saving to scrounge up enough money for your down payment, is to get into further debt trying to furnishing and decorate your home.
In this post, we'll discuss where you can save money decorating each room of your home.  Most of these ideas are well under $100.
But before I get into the decorating tips, there are a few interior design principles worth reviewing.
Knowing these before you begin designing your home will help you determine your priorities and direction.
Design Home Without a Professional Interior Designer
1. Select Decorative Focal Points
In many instances, your decorative focal point may already be decided for you.
Depending on the layout of your home, you may have elements built into your rooms that automatically draw your eye to them.
For instance, you may have a fireplace in your living room.  This is often a decorative focal point.
A large bay window, a kitchen island, or a staircase in your entryway are all decorative focal points that have been chosen for you.
Sure, you can attempt to draw attention away from them, if needed.
But why not just go with the flow?
I've always found that to be the easiest thing when decorating on a budget.
Things can always be changed later on down the road.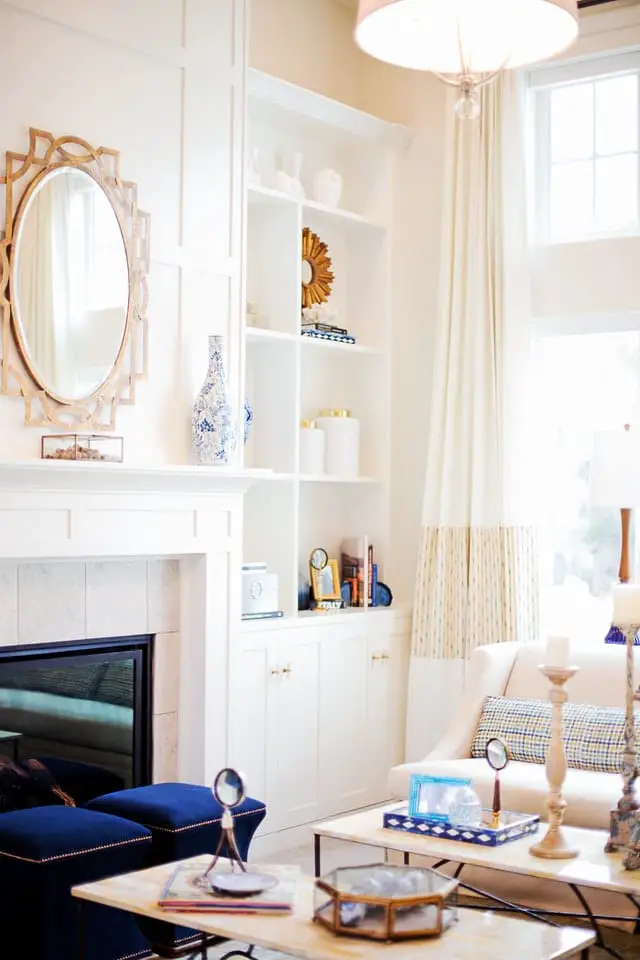 2. Creating a Theme
The easiest way to create a theme is to first, answer the question…"What's Your Home Decor Style"?
Determining this goes a long way in establishing your focus when you're trying to choose furniture and decorative accents.
If you're not sure, browse around Pinterest for a while and look at room ideas.
You may begin to find some similarities in the types of images you like.  This can help point you in the direction of your home decor style.
Second, you'll want to decide on a color palette for your home.  For ideas about how to do this, check out the post "How Do I Choose a Color Palette For My Home?".
3. A Plan of Action to Design Home
"If you fail to plan, you plan to fail".
Hahahaha! Just kidding.  It's not nearly that serious.  I can't tell you how many times I heard that saying in school. ????
But, having a plan of action regarding your approach to designing your home will make the process smoother.
Do this by first deciding which room is the most important.  This may be a common area like your kitchen or living room.
For me, anytime we've moved, the very first space I unpack and get in order has been the kitchen.
It's a good place to start, not only because it's a high traffic area, but it's also rather easy to decorate.
So, without further adieu let's jump into the decorating ideas, starting with the kitchen.
Kitchen Design & Decorating on a Budget
Cabinets
Estimated cost: $75 – $100
Your kitchen cabinets take up a lot of visual real estate.  And while they don't need to be "decorated" per se, they should be appealing (to you at the very least).
A quick and easy way to improve the look of your kitchen is to update the knobs and pulls on your cabinets and/or give them a new color.
This isn't nearly as hard as you may think.  You don't need to hire a professional to do this.
A really popular and inexpensive DIY method is to use one of the Rust-Oleum Transformations Kits like the one shown below.
Replacing your knobs and pulls is also really easy.  They're just screwed in.  So if you already have them, but don't love the look of them, find something you do like at Home Depot or Walmart.
For more cabinet ideas, check out the post "7 Kitchen Cabinet Upgrade Options".
Paint walls
Estimated cost: $15 – $30
Painting your kitchen walls is another easy win.  You'll likely find that you have very little wall to paint.  Between appliances, cabinets, and backsplashes, there usually isn't a lot of painted wall to be found in a kitchen.
This is great because it means you can get the job done for cheap with a small can of paint.
Rugs, Towels, and Curtains
Estimated cost: $25 – $75
By far, the kitchen is the one room in your home that will be the least expensive to add curtains, rugs, and towels.
Take advantage of the fact that you won't need multiple full-length curtain panels or large area rugs.  Go for inexpensive runners, curtain valance, and decorative kitchen towels, trivets, and potholders.
These will all give you a lot of bang for your buck when it comes to kitchen decoration.
Buy Mullions for Cabinet Doors
Estimated cost: $25 – $50
Another inexpensive way to add some style to your kitchen is to buy mullions for glass cabinet doors.
If you have a single pane of clear glass in some of your cabinet doors you can upgrade the look by installing mullion overlays.
Since you'll likely only have 2 – 6 glass cabinet doors, buying a few mullion overlays is an affordable upgrade option.
Add a Kitchen Island or Kitchen Cart
Estimated cost: $100 – $300
Growing up we didn't have a kitchen island.  They were pretty rare in the early '90s in New England.  But now, they come standard in most homes.
If you don't have one, you can easily purchase one to add-on to your kitchen.  Not only do they improve the function of your kitchen by providing you will more working space, storage, and seating, but they're a decorative focal point.
Kitchen islands aren't super cheap, but they're a less expensive way to upgrade your kitchen than a full redesign.  A standard kitchen island will run you a few hundred dollars.  Smaller islands and kitchen carts that don't provide seating are around $150.
Replace Backsplash
Estimated cost: $15 – $50
Over the years, more and more attention has been given to backsplashes.
This is another design element that wasn't popular back in the day.  But they're something worth looking into.
They protect your walls from splashes and splatters.  And, they can add a lot of visual interest to your kitchen.
Best of all, peel and stick tile is super cheap.  You can even find them at Dollar Tree!
Bathroom Decorating Ideas Under $100
When it comes to decorating your bathroom there are a lot of great, free options.  One of my favorites is to utilize decorative storage for your bath towels.
I have a blog all about this here.  Beyond that, there are many, many inexpensive ways to decorate your bathroom under $100.  Here are just a few.
Add Plants
Estimated cost: $10 – $20
Plants are a good addition to any room, but especially bathrooms.  They add in a nice natural element and can be displayed in many different ways.
You can add a small potted topiary to your bathroom countertop, for example.  Likewise, if you have shelving, it can be added there as well.  Hanging small pots from a towel bar using an "S" hook is also a creative option.
Light and Bright Paint
Estimated cost: $15 – $30
While you can certainly go bold with your walls, I'd recommended keeping it light and bright in a small bathroom.
Just like in the kitchen, the amount of wall you'll need to paint in a bathroom is rather small.  Between cabinets, sinks, tubs, showers, and mirrors, there will likely be very little wall to paint.  This makes it a cheap and easy update.
If you prefer to add decorative wallpaper, you can do this inexpensively in a bathroom as well.
Change Light Fixtures
Estimated cost: $20 – $50
Vanity lighting in the bathroom is surprisingly inexpensive.  Most 3 bulb light fixtures are well under $50.  You can even find them under $20 at Home Depot.
Choose something with a little style and a contemporary finish to decorate your bathroom.
Update Sink and Bath Faucets
Estimated cost: $30 – $60
There are a lot of really pretty sink faucets under $100 at home supply stores like Home Depot, Lowes, and Build.com.
Bathtub and shower faucets are also a lower cost item.  Although if you're looking for something with a lot of style, they'll run you a bit over $100 on the low end.
New Shower Curtain and Rugs
Estimated cost: $20 – $50
Anytime I have the itch to redecorate in the bathroom and want to get a lot of bang for my buck, I go for a new shower curtain and new bath mats.
There are so many places to get them and they come in an endless supply of designs.  This makes it easy to carry your decor style into the bathroom.
Whether your preference is Boho, Minimalist, or French Country, you can find a shower curtain and bath mat set to suit your style.
Candles
Estimated cost: $5 – $25
Candles are sold by tons of retailers.  They can be as cheap as $1 or as expensive as $50 or $60.
The price is very much so dependent upon the ingredients of the candle.  Is it wax?  Made from soy?  Is it made with essential oils?  What's the burn time?
If you're using candles purely for the aesthetics, ignore all of these things.  Just look at the container itself.
Try Dollar Tree, Target, Walmart, or your local grocery store for large inexpensive candles to decorate your bathroom countertop or shelf.
Over the Toilet Shelving
Estimated cost: $30 – $100
Over the toilet shelving is not just a storage solution, but a great opportunity to add decorative accents to your bathroom.
They cost anywhere from $30 for a basic shelving rack to around $150 for cabinet/shelf combinations.
An easy decorating idea is to grab an inexpensive open shelving option for under $50, then spend another $50 on a few baskets and other decorative items for the shelves.
Living Room Decorating Ideas Under $100
Paint
Estimated cost: $25 – $75
By now you've probably noticed paint as a recurring theme.  The simple truth is, it just makes good sense.  Especially in a large room.
Up until this point we've talked about smaller areas of the home.  But, when it comes to tackling rooms with a lot of exposed walls, paint should be your first step.
However, if it ain't broke, don't fix it!  Moreover, if it's too difficult to do on your own or will require special gear because you have 20-foot double-height ceilings, opt for a different way to decorate to start.
You can always circle back to it another time.
Area Rugs
Estimated cost: $100 – $200
Large rugs can be expensive.  There's really no way around this.  You can try to buy second hand, but if you'll want to have it professionally cleaned which will add to the cost.  Instead, opt for a smaller area rug if you can.
Of course, you still want something that will fit your room properly, but save money if you can.
Places like Houzz, Home Goods, and Wayfair have budget-friendly options between $100 – $200.  We found a great quality rug at our local Home Goods for around $160.
Gallery Wall
Estimated cost: $10 – $30
Large scale wall art is another home accent that can be expensive.
And while you can find great deals at Burlington and Home Goods, try creating a gallery wall from smaller pictures instead.  This is an inexpensive way to cover a large surface area.
I have a whole post on the "Ins and Outs of Gallery Walls" for more info.
Mirrors
Estimated cost: $50 – $100
I talked about my struggle to find a large mirror on a budget in my post "Home Depot's Hidden Gems".
Instead of trying to find a large mirror on the cheap, go for a smaller mirror and mount it over a console table or end table.
Another option is to double up on two smaller mirrors and hang them side by side like in the image below.
Lamps
Estimated cost: $25 – $40
Much like candles, lamps fall into a really wide price range.  Table lamps and floor lamps can be as low as $10 or hundreds of dollars.  My advice, don't go too cheap.
Find something with a little style in a $25 – $40 price range.
You can also buy second hand to save money.  Or, try switching out your lampshade for some added style.
Walmart, Target, Burlington, At Home, and Home Goods are the first places I'd look for a deal on nice lamps.
Coffee Table
Estimated cost: $25 – $75
Coffee table styling is a lot like shelf decorating, in that you can find small, inexpensive home accessories to cluster together.
Consider a small tray on which to place a few books, a candle, and a vase with flowers.  This is an easy decorating idea for your living room that won't cost you more than $100.
Suggested Read: "Coffee Table Decorating: How Much Is Too Much?"
Plants
Estimated cost: $25 – $75
Incorporating natural elements into your living room design is an affordable way to decorate.  Large artificial plants can be a bit pricey, so consider buying something real if its feasible.
Or, go for a second hand find at a thrift shop.
Suggested Read: "Home Decor Hack: Easy Thrift Store Artificial Plant Makeover"
Dining Room Decorating Ideas Under $100
Cover Tables With Runners
Estimated cost: $15 – $35
Similarly to shower curtains and bath mats, table runners are great for reinforcing your color palette and decor style.  In the dining room, they can be used not only on your dining table but also on a buffet or console table if you have one.
Furthermore, they're very inexpensive.  You can find small runners at Dollar Tree, but I recommend looking for something with a bit of style.  Look for designer collabs at other big box stores like Target or Walmart.
For instance, Drew Barrymore has a line with Walmart and Joanna Gaines has her Magnolia line in Target.
Inexpensive Accessories
Estimated cost: $15 – $75
Finding cheap home accessories to fill shelves and countertops is easy.  Try places like Big Lots, Dollar General, Burlington, Five Below, or Goodwill for inexpensive items.
Target's Dollar Spot and the TJX Companies (Ross, Marshalls, TJ Maxx, Home Goods) are also good for small items under $20.
These can be decorative bowls, candleholders, figurines, pottery, vases, baskets, shadow boxes, etc.
Furniture Bank
Estimated cost: $0 – $200
Much like visiting a consignment shop or Goodwill, a furniture bank is a fantastic place to find inexpensive second-hand furniture.
If you need a dining table, chairs, or even a sofa or bed but don't have much of a budget for these items, look for a furniture bank.
Depending upon your circumstances you may even qualify for free furniture.  If not, you can shop their selection for highly discounted goods.
By far, in your quest to decorate your home, you will spend the most on furniture.  I highly recommend starting small and getting the basics first.
First, tackle beds, next get a sofa, then buy a table and chairs.
There are a lot of furniture banks to be found around the country.  But, if you live in the Houston area like me, check out the Houston Furniture Bank.  There is something for everyone and this can be a great solution to design your home on a budget.
Add Mirror for Light
Estimated cost: $50 – $100
Similarly to the living room, two or three small mirrors hung in a series works well for a dining room.  Especially if you only have light coming in from one side of the room.  This is common in dining rooms and mirrors can help bounce around the light.
Slipcovers
Estimated cost: $20 – $75
Slipcovers are a budget-friendly option for updating worn out or second-hand dining chairs.  This works for sofas and accent chairs in your living room as well.  You can find slipcovers in a variety of places.
My only experience buying them has been with Surefit.  A few years back I bought a sofa cover from them.  I wanted to change up the look of my apartment but didn't have the money for a new sofa so I opted for a slipcover.  It worked out well and I was happy with my purchase.
Furthermore, it bought me some time to save up for something new later down the line.
Cheap Master Bedroom Decorating Ideas
Paint
Estimated cost: $25 – $75
Not to be a broken record, but here again, I suggest a fresh coat of paint.  Most noteworthy, beyond the benefits previously stated in sections above, a change in paint color can modernize your space.
If you have an older home, your interior paint colors may reflect what was popular in 1985 (e.g. pistachio green) vs. what is trendy now.
Suggested Read: "How to Stay Ahead of Home Decorating Trends"
De-clutter
Estimated cost: FREE!
The concept of "editing" a space is something interior designers use with their projects.  Home organizers use a similar tactic called de-cluttering.
Before bringing anything new into your room, remove all unwanted items.
A master bedroom can sometimes become a dumping ground for things that need to be put away.  Make sure your items all have a home, the floor is clear, the nightstands are organized, and no unnecessary items are creating visual clutter in your space.
You can also try rearranging items in the "editing" process.
While this is not decorating per se, it is incredibly important when it comes to creating and maintaining beautiful rooms.
Suggested Read: "A Clean Sweep: How to Declutter Your Home Quickly"
DIY Wall Art
Estimated cost: $15 – $45
Wall decor, especially abstract wall art is easy to DIY and will save you a ton of money.  There are so many different ways to create DIY wall art, it would be impractical for me to list them all here.
However, acrylic pour canvas art, DIY thumbtacks art, framed fabric, and DIY poster frames are a few examples.
DIY Furniture or Unfinished Furniture
Estimated cost: $30 – $70
I previously mentioned furniture banks as a way to get your hands on cheap furniture.  If you don't want to buy second hand, however, you can always try your hand at a DIY furniture project.
Earlier this year I made a console table for our entryway and it came out great.
Another way to bring down the cost of furniture is to buy it unfinished or unstained.  Then, simply invest a few dollars in the stain of your choice and finish and seal it yourself.
I promise you, this is an easy thing to do.  Buy a fine-grit sanding block for a few dollars to make sure your surfaces are smooth before you start.
Then, use an old t-shirt or a rag as your method of application.  You don't need any fancy tools or brushes.  Just a little elbow grease and you're good to go.
Home Depot has an entire section of their website just for unfinished furniture.  You'll be surprised to see how much cheaper the pieces are unfinished.  Benches, end tables, nightstands, accent tables, and chairs can all be found well under $100.
3 Ways to Design Home on a Budget
1. Do It Yourself
If you've visited my site before, you know I'm a big advocate for doing it yourself.  My general philosophy is… if you can read and follow instructions, you can do it yourself.
That being said, just because you can do it yourself, doesn't mean you ought to.
The time, effort, and money it takes to say… build a bed from scratch for the first time, versus paying for one already built might not make sense.  You'll likely spend more time and money fixing mistakes that you're bound to make as an amateur than it's worth.
Therefore, choose your projects wisely.
2. Design Home with an E-Designer
Ahhh, e-design.  The new frontier.  As a former graphic designer and web designer, I have a strong biased when it comes to ordering up design services on the internet.
While I'm all about supporting freelance designers online, there are a few pros and cons to consider when working remotely with a designer.
Pro: You can save a lot of money by using an e-design service over a traditional interior designer.
Pro:  The process will likely be streamlined for you with a quicker turn-around.  You'll have a set number of revisions or be presented with a set number of options.  This will help you narrow your focus quickly and get to the finish line faster.
Pro:  You'll have a second person to bounce ideas off of and offer a new perspective.
Con: You may not be able to communicate your vision clearly enough to be on the same page as the designer.  This can lead to dissatisfaction with your results.
Con:  Not everyone offering design services on the internet is a trained professional.  The quality of service you receive may be affected.
3. Design Home with an App
Nowadays it's easier than ever to design your home virtually with an app.  There are a ton of free tools available for both Android and iOS devices.
If you need help measuring your space, try the Measured app ( iOS ) from Lowes.
Need help with identifying your color palette?  Check out the Color Capture app ( Android | iOS ) from Benjamin Moore.
Or, if you want to see how new items will look in your space there's the Room Planner by Ikea ( Android | iOS ), the "View In My Room 3D feature inside the Houzz app ( Android | iOS ), and the Rooomy app ( iOS ).
Conclusion
Whew!  That was a lot. ????  I hope you found this post helpful and are reassured that you can indeed design home on a budget.
Finally, for more from Dianne Decor add yourself to the mailing list before you go to receive my weekly newsletter.
You can also find me on Bloglovin', Twitter, Instagram, and Pinterest.  Thanks for reading!
Thanks for reading!