FTC Disclosure - This post contains affiliate links and I will be compensated if you make a purchase after clicking on my links.
*Item received for free for promotional consideration or a sponsored link.
Kitchen cabinets make a huge impact on the way your kitchen looks overall.  They can make or break your space.  This makes the topic of kitchen cabinet upgrades very popular.
Whether you have scratched, faded, or otherwise, outdated cabinets they can be upgraded in a number of ways.
Kitchen Cabinet Upgrades
In this post, we'll go over our options and how to save a little money along the way.  Here are seven kitchen cabinet upgrades that will improve the look of your room.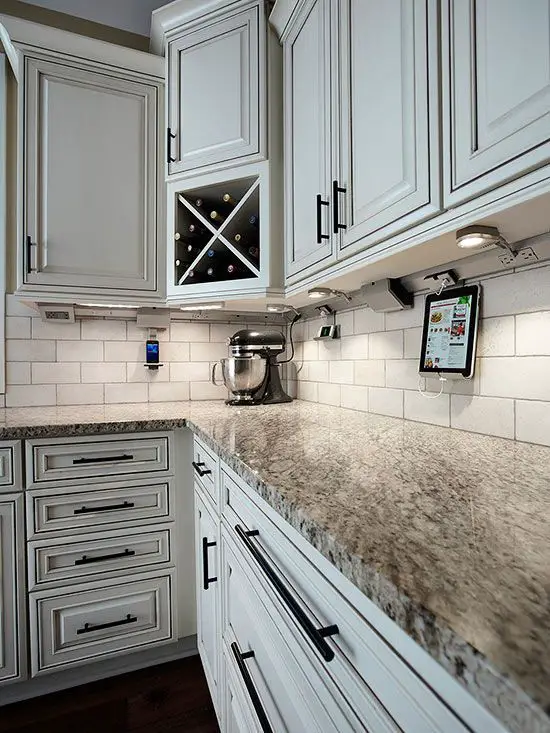 #1 – Hardware Update
If the overall condition of your cabinet fronts is good, but you're wanting a bit of a style update, try changing out your hardware.
Cabinet pulls and knobs come in a ton of different styles and finishes.  Best of all, they can be purchased in a variety of places online and in-store.  Houzz has a nice selection in addition to your traditional home stores like Home Depot and Lowes.
Money-Saving Tip 1: Change the finish of your existing hardware with a quick coat of spray paint.  A change in the finish from chrome to matte black or bronze to gold can make a big difference.
Money-Saving Tip 2: Check out the Habitat for Humanity Restore for deep discounts on previously owned pulls and knobs.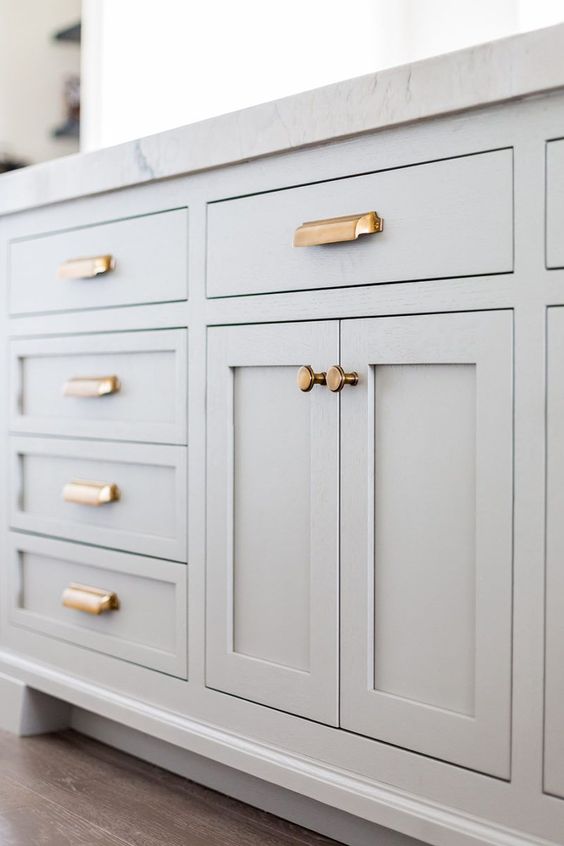 #2 – Paint
Another relatively inexpensive way to upgrade your kitchen cabinets is by re-painting or re-staining them.  This is a slightly more labor-intensive option as it will require you to remove doors from hinges and hardware to do a thorough job.
Money-Saving Tip 1: Get a cabinet kit such as the Rust-oleum Cabinet Transformations.  These kits are specially designed to work with multiple surfaces and don't require you to sand, strip, or prime your cabinets.  The quick-drying makes this an easy 1-day project.
#3 – Cabinet Door Replacement
If you want style refresh or have some damaged cabinets consider replacing your cabinet fronts.  This includes the doors, drawers, and any other decorative fillers.
This is a more expensive option.  However, it is most certainly cheaper than replacing everything.
Money-Saving Tip: Change the style of your cabinets by adding trim and molding instead of replacing the fronts.  A variety of different trims can be purchased from Home Depot.  They'll even cut them to size for you.  Remember, a little crown molding will go a long way towards upgrading your look.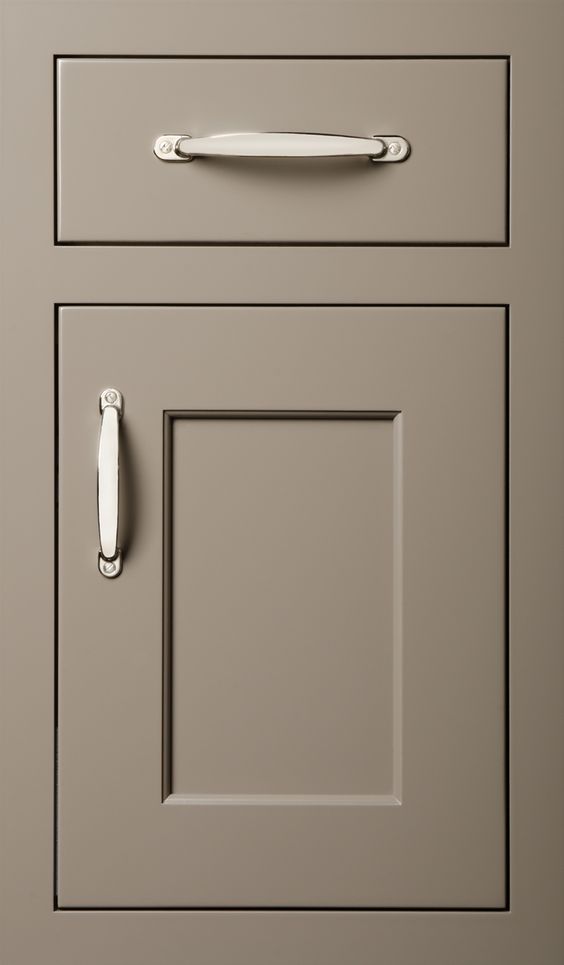 #4 – Glass Cabinet Door Inserts
This might be my favorite cabinet upgrade option.  Adding a glass insert into 1, 2, or 4 cabinet doors is a great way to change the look of your kitchen.
You can highlight your dishes and glassware while also breaking up the solid wood look running throughout the kitchen.
Money-Saving Tip: Buy a glass ready cabinet door and stain it to match.  Then, purchase and insert the glass yourself.
Note: You can cut your existing cabinet door, but it is a bit labor-intensive and not an amateur project, in my opinion.  It requires a circular saw and other tools to pull it off.  An easier option is to just buy a glass ready door from a place like cabinetdoor.com or cabinetdoorsupply.com.
#5 – Mesh Cabinet Door Inserts
This process is similar to the glass door inserts.  But, instead of glass, you're using mesh.
There are lots of die-cut patterns in addition to the traditional diamond cut mesh shapes.  If you're looking for a unique upgrade.  This might be right up your alley.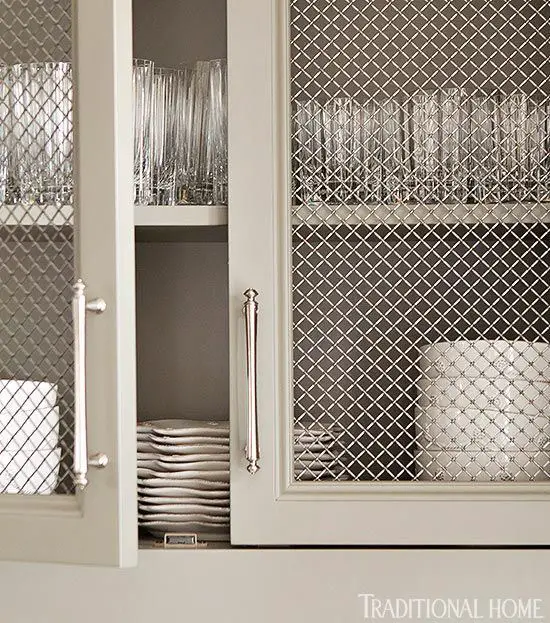 #6 – Cabinet Conversions
If you are already satisfied with the outer appearance of your cabinets but want to upgrade their function; a cabinet conversion is what you want.
Slide-out garbage cans, dish racks, pot holders, and lazy susan inserts are just a few options.  More to come on cabinet conversions in a later post.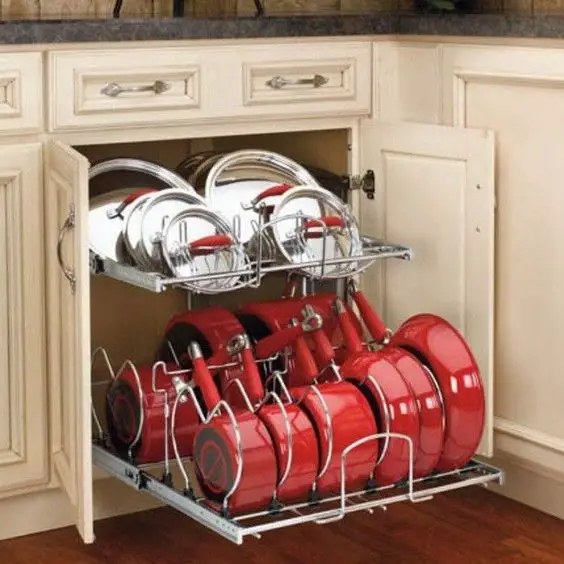 #7 – Under Cabinet Lighting
Lighting your countertops by installing under cabinet lighting will make an incredible impact on the look of your kitchen.  A subtly illuminated kitchen is warm and inviting.
It will also help you spotlight your countertop decor (more on kitchen decorating here).  There are a number of options for under cabinet lighting including, hardwired, plug-in, and led tape strips.
That concludes my round-up of kitchen cabinet upgrades.  I hope you found this post helpful.  If you did, please share it with a friend.  For more content, follow Dianne Decor on Bloglovin' and Twitter.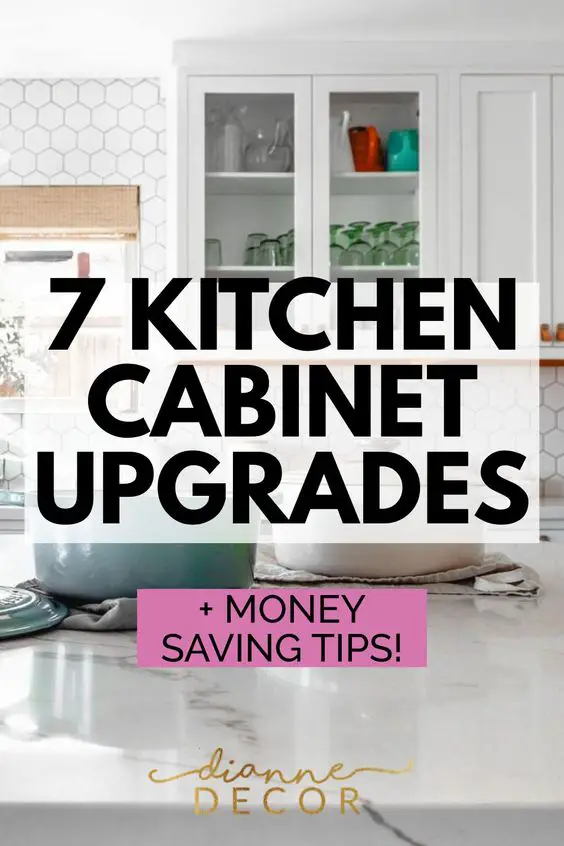 Thanks for reading!
cabinet update
cabinet upgrade
cupboards
decorating
home
home decor
kitchen
kitchen cabinet update
kitchen cabinet upgrades
kitchen cabinets
kitchen cupboards
kitchen makeover
kitchen remodel
kitchen update
kitchen upgrade
remodel
renovate