FTC Disclosure - This post contains affiliate links and I will be compensated if you make a purchase after clicking on my links.
*Item received for free for promotional consideration or a sponsored link.
Since being stuck indoors, I've found a new home decor obsession, home tours.  Specifically, spring home tours.
I've never written about this particular internet phenomenon, mostly because I find it (nay, found it) to be a little odd.
Home tours are almost like an acceptable way to be a voyeur online.
I would never peep through your kitchen window to check out your two-tiered tray vignette, but I will scroll through your Instagram to see exactly what type of bedding you have.
It's kind of weird, right?
Spring Home Tours
With home tours, you've basically been granted permission to snoop through people's homes and look at their kitchen, their pantry, their bedroom, etc.
As an interior design tool, it's awesome.
Not only do you get great ideas for how to style a room, but you can see the bigger picture.
Home tours allow you to really see the cohesive design elements used in a home to tie everything together.
So, today I thought I'd share some of my favorite spring home tours.  If you've been looking for a little inspiration for your spring decorating, or just want to daydream for a while, check these out.
The combination of whimsical florals, woven baskets, and mid-tone browns punctuate the rooms in this home wonderfully.
If you enjoy a soft, somewhat traditional look and feel to your decor, check out these rooms designed by Amanda Marie at Sincerely, Marie Designs.
This "Light & Bright Spring Home Tour" is just that.  Bright white walls and light furniture create a clean backdrop for pops of green plants and florals.
If you have a color scheme like this in your home it won't take much to highlight it with a few pops of color for spring.
The thread of pink running throughout the kitchen with the rug, dishtowel, and tulips is carried into the next room with the floral print accent pillows.  It's lovely!
No matter the season, Randi Garrett's home is one of my favorites to look at.  The white and gold combo is complimented by pink florals and her signature chinoiserie ginger jars.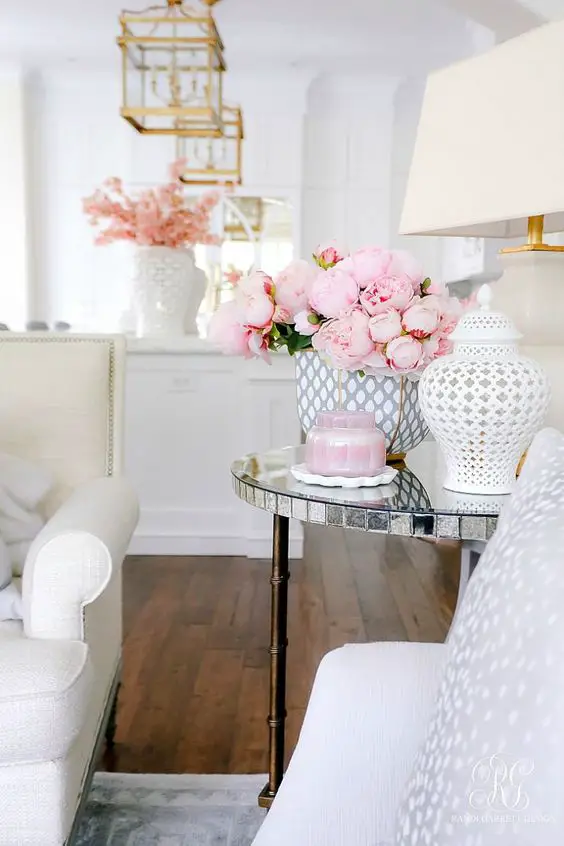 If you think this dining room is stunning, wait until you see the kitchen and living room.  The Leslie Style home is bright and romantic and a little boho mixed together to make a wonderful look.
This tulip filled home is super inviting.  If you prefer subtle spring touches or decor that works all year round, check out the styling of Bless'er House.
This home has a great balance between light furniture and accessories and rich wood tones and metallics.
If you're a fan of pink and you like flowers, The Pink Dream is for you.
You'll find a lot of great styling ideas from this spring tour.
The rose gold metal accents found throughout this home give it a glam appeal.  A home decor style that I appreciate seeing more than ever since the rise of farmhouse decor.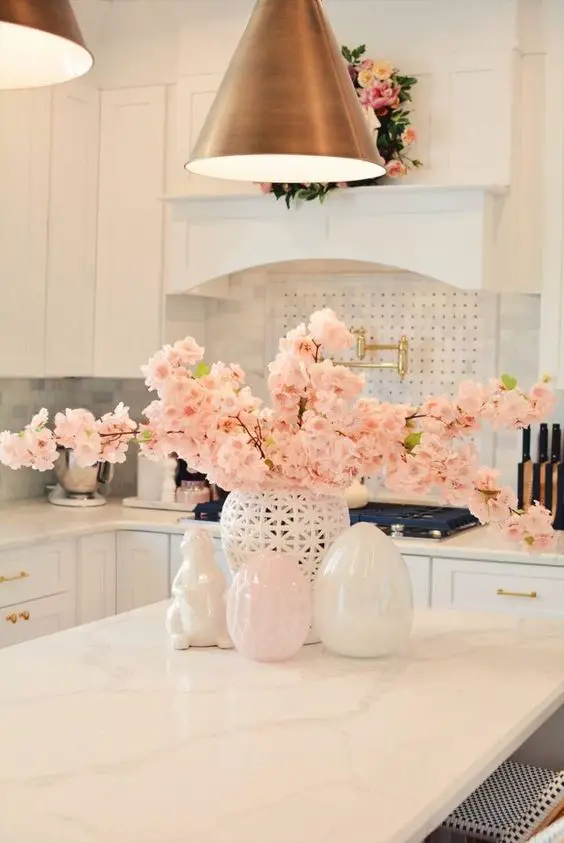 There are so many interesting things about this interior, I'm not sure where to start.  The spring home tour by the Happy Happy Nester is filled with a million little details that are creative and unique.
From the all white paper garland on the mantel to the wreath with felt flowers used in place of an accent pillow; the decor choices in this home are something to see.
This home from Sanctuary Home Decor is one of my favorites.  It's light and contemporary with lovely wood accents and pink florals.
The thing I like most about this home is that it has a light and airy feeling without being totally whitewashed.  There are a lot of rich tones and colors in the living room and dining room, but it doesn't feel dark.
All of the spaces shown throughout this home tour are warm and inviting.
Another really great example of how to balance of color and light is the home shown from Dimples and Tangles.
For sure, there is a lot more vibrant color found in this interior, but it's done spectacularly well.
You'll see a mix and match of bold patterns and floral prints throughout the home, along with some really cool statement furniture pieces.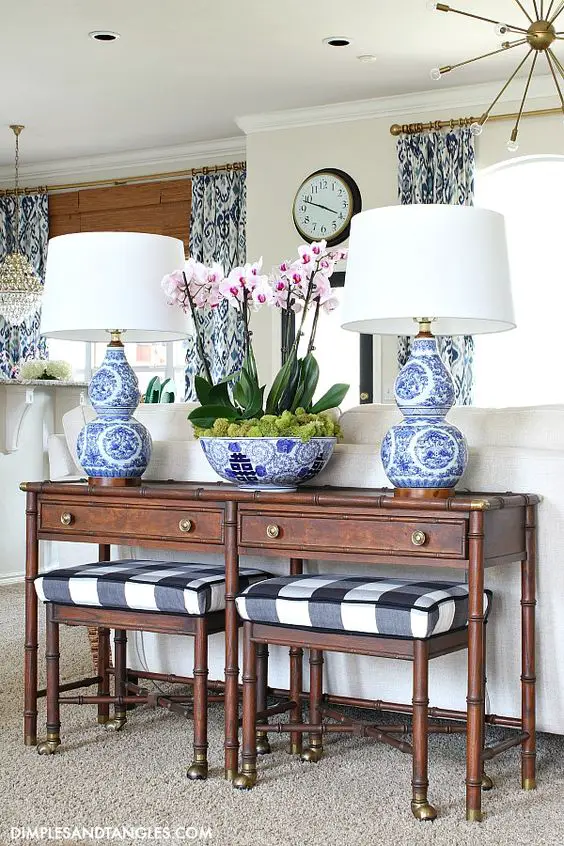 Keeping the train chugging along with colorful interiors, there's 11 Magnolia Lane.  This spring home tour is really just about the Easter tablescape, but it's still worth seeing in detail.
A great example of a bright and inviting spring home is that from Thistlewood Farms.
I love the subtle dimension of color in this home.  At first glance I thought the kitchen was all white, but it's not.  There's a lovely pale grayish green island with matching china cabinet in the breakfast area.
You'll also notice the countertops are light but not white.  I love this tone on tone style decorating.
For spring, however, the pièce de résistance is that long trough filled with flowers and used as a centerpiece on the coffee table.  It's such a statement that nothing else needs to be there.
It's absolutely fabulous.
This eclectic spring tour from Joanna Anastasia is a dream.
I love all the little details from the spring decals added to the chest in the entryway to the casually laid eucalyptus vine in the fireplace vignette.  There are so many charming details in this interior that make me smile.
It has an effortless, whimsical look, but I'm certain a lot of time was spent on these details.  If you like eclectic, boho decor, I highly recommend this home tour.
If you've seen the home from Stone Gable Blog in past seasons, you may not recognize it from the picture below.  That's because they've moved and this is the first time we're seeing the styling of the new house for spring.
It, of course, is beautiful.  I love Yvonne's style.  It's homey and sophisticated and inviting.  I highly recommend checking out this spring home tour.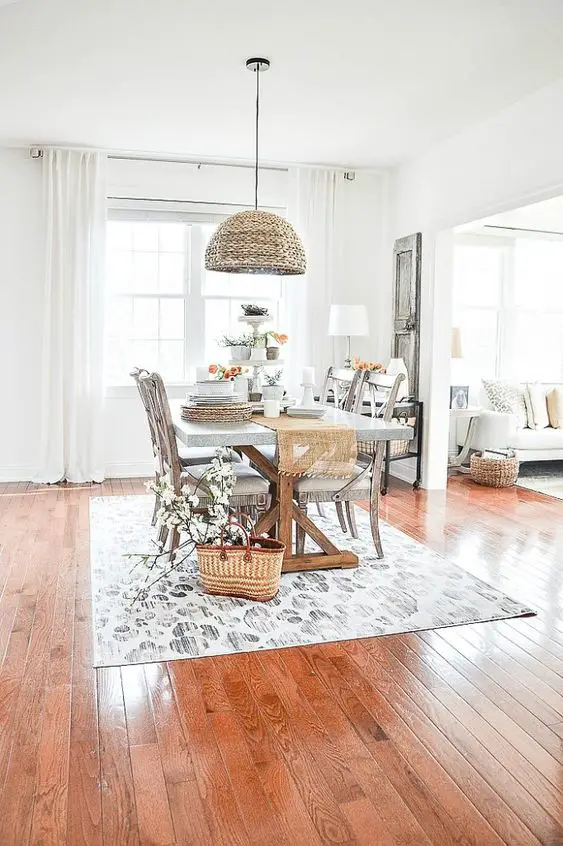 Although yellow tulips and pink roses are prevalent in spring decorating, we shouldn't forget how pretty citron decor can be.
The Southern State of Mind Blog features lemon/citron branches tucked inside vases and woven into the front door wreath.
It's a refreshing change of pace and the yellow pairs wonderfully with the other blue accents throughout the rooms.
If you like color, pattern, and high style, the home of Jewel Marlowe at JeweledInteriors.com is fantastic.
This home is not merely decorated, it's a work of art.
The jewel-toned interior is bold and unique.
Another great combo of blue and yellow for spring is the home from RemodelaCasa.  I really enjoyed this home tour, not just for the pretty images, but for all the little decorating tips hidden within the post.
Cristina mentions DIY artwork and switching out prints within frames to help bring her color palette together.  It's a great reminder that you can update your home with a few minor changes, and without spending a lot of money.
I hope you found this post helpful in your spring decorating efforts.  Don't forget to click through to each of these ladies' websites to see their full home tours.
For more from Dianne Decor follow me on Bloglovin' and Instagram.  To receive email notifications about new posts, join the mailing list before you go.  Thanks for reading.
Thanks for reading!
decorating inspiration
home tours
spring decor
spring decorating
spring home tour