How to Get on the Chinoiserie Train Without Going Overboard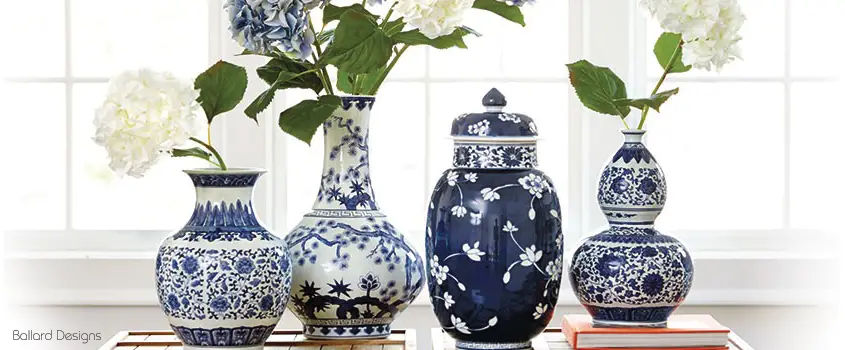 FTC Disclosure - This post contains affiliate links and I will be compensated if you make a purchase after clicking on my links.
*Item received for free for promotional consideration or a sponsored link.
Even if you don't know it by name, you've most likely seen Chinoiserie decor over the years.
I remember seeing it at homes of older people when I was a kid.
Today, I can't flip a page in a magazine or scroll through Pinterest without seeing homes featuring Chinoiserie.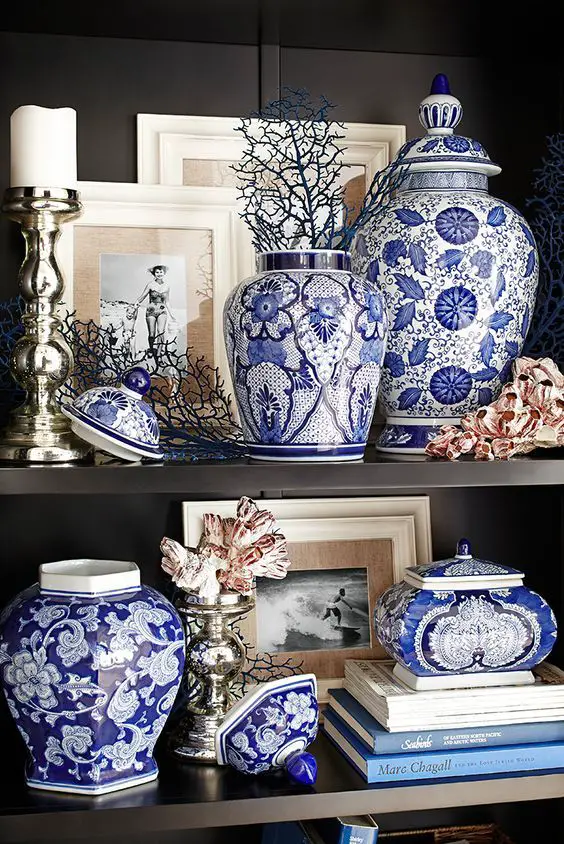 What Is Chinoiserie?
This highly ornate style of decor is the Western interpretation of Chinese motifs.
Most popularly seen in white and blue porcelain pots and vases.
I must admit, I used to think this style looked cheap and gaudy.  However, my affection for this style has grown as I see it styled in a more modern fashion.
Also, those beautiful porcelain pieces are anything but cheap.  The large pots can go for a few hundred dollars.
Furniture, like credenzas and dressers, can be sold in the thousands.
So, why has my opinion changed?  I think it's because all of the examples I experienced growing up were overdone.
There was too much pattern on too many surfaces and in way too many colors.
As I learn new ways to style these accents, I find the key to be a balance of color, surface choice, and quantity.  By being careful to consider each of these things in your design, you'll prevent your space from being overpowered.
How To Balance Chinoiserie Decor
Color
Avoid layering too many color patterns together.  Opt for a tone on tone motif.  For example, choose all of your pieces in shades of blue and white, or blank and gold/brown.
This is the cleanest way to feature this type of decoration.  Placing seven blue and white pots on top of a black and gold credenza, in front of a multi-colored tapestry is going to be way too much.
Instead, try tone on tone Chinoiserie set on a solid, neutral surface or backdrop.
Surface
For this style of decor, it's best to stick to decorating one or two surfaces
By this, I mean consider walls, floors, ceilings, and elevated horizontal surfaces (i.e. countertops, tabletops, shelves, mantles) as your 4 surface types.
Choose decor items that were meant to be displayed on a maximum of two surfaces.  i.e. Rugs or tile (surface 1) can be paired vases placed on a shelf or mantle (surface 2).
Avoid having a rug, pottery, wall painting, and hanging lantern all in one space.  Using all four surfaces at once will just make it the "Chinoiserie Room".
It will be all anyone sees.
Quantity
The number of items you choose goes hand in hand with the number of surfaces you choose to style.  If the only thing you're styling is a white credenza then go crazy.
Fill the entire surface with it if you'd like.  It will look like a lovely display of your collection.
You'll have a balance of color and surface.  However, if you're hanging Chinoiserie art on your wall behind the credenza, limit the number of items to 3.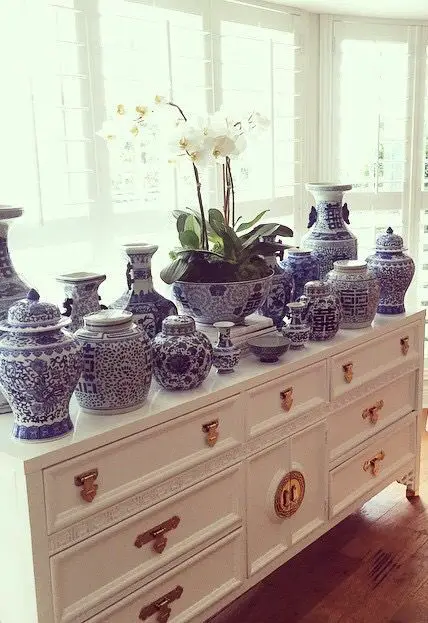 Do you have Chinoiserie decor in your home?  If so, comment below and tell us how you styled it.
If you liked this post please share it with a friend.  For more content from Dianne Decor follow us on Bloglovin'.
Also, check out our Pinterest Board that goes with this post for decorating inspiration.