FTC Disclosure - This post contains affiliate links and I will be compensated if you make a purchase after clicking on my links.
*Item received for free for promotional consideration or a sponsored link.
Finding stylish and affordable accent tables can be a bit tricky.  Many of the less expensive options the design details you would find in pricier alternatives.  Luckily, there are a few hidden gems to be found online.
In this post, I'll round up 15 affordable accent tables under $150 that you can find at Hobby Lobby.
15 Affordable Accent Tables
If you need something to compliment your light and bright modern farmhouse interior, this is a great pick.
What I like most about this table is the angular structure of the base.  It brings a lot of character and helps make the distressed parts of the table really stand out.
The console table below has a bit of an ambiguous style.  This is great because you can insert it into just about any home decor style.  It will work for modern farmhouse, boho, traditional, or modern industrial just to name a few.
If you prefer a strong modern industrial look, this three-tiered wood shelf table is great.  This type of table makes for a really cool accent piece.  It also gives you the opportunity to layer in home decor of varying shapes and sizes.
This table would be fantastic in an entryway, dining room, or even a home office.
Behind the sofa bar tables are really popular right now.  They're multi-functional and work well as an extra at-home workspace.  The drawers on this particular table are what really drew me in.
If you're old enough to remember your library having a card catalog, you'll likely appreciate the nostalgia this type of drawer hardware brings.  They're commonly referred to as card catalog drawer pulls or cup pulls.
Overall, this table is a nice decorative accent and the extra storage option is always a good thing.  Best of all, it's less than $150, which makes this a great buy.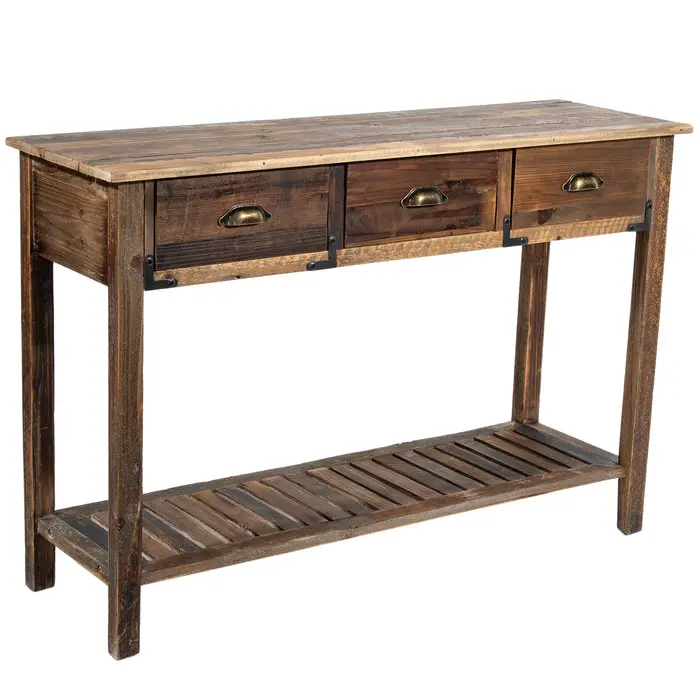 The scrollwork plant stand table set below is really pretty.  The smallest table in this set is 23 inches and the tallest is 28 inches.  That places the tallest one just below your hip height for the average woman.
If you like this pattern, but don't want planters quite this tall there's another set of 3 available at Hobby Lobby with the same pattern, just shorter.  It's called the Round Black Scroll Metal Plant Stand Set and it's about $20 cheaper.
I have to say, from this list, this may be the thing I like most.
The staining on the wood is gorgeous and the structure of this modern industrial style side table is really unique.  You have the traditional chunky wood and black metal accents, but they aren't overdone.
Moreover, the legs of the table have a soft curve to them which makes this look a bit softer despite the bold choice of materials.
If you like the modern industrial style but are struggling with your rooms looking too masculine, search for pieces like this with a nice balance between bold materials and soft silhouettes.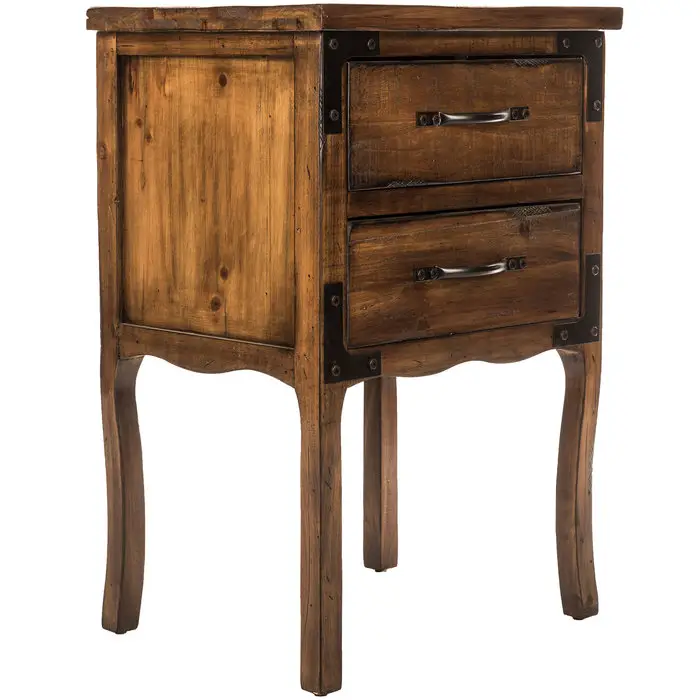 7. Tall Gathering Table
If you're looking for something with a sleek, modern, or contemporary look to accent your room, this little table is great.
Don't be fooled by the name, however.  This is not a table that you can pull a chair up to and gather with others.  It's much too small for that.
Instead, this would be a great place for a signature home accent or some chinoiserie pottery.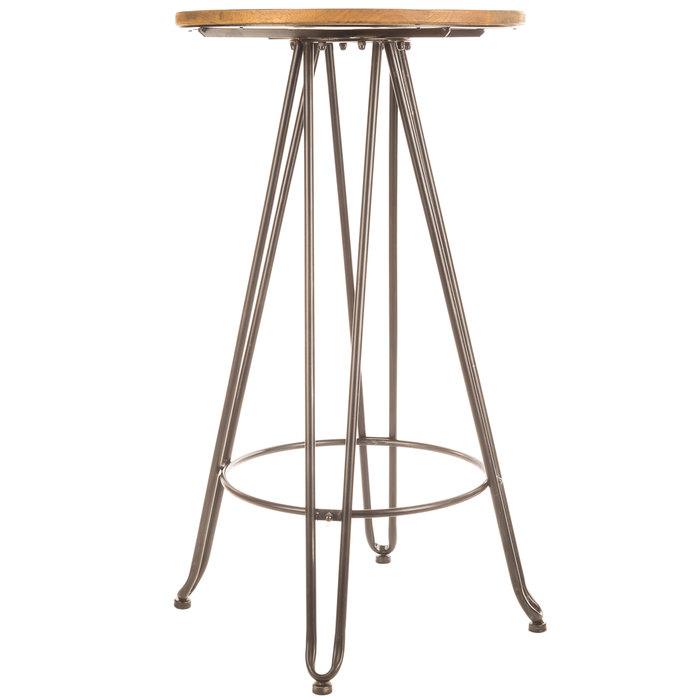 Hobby Lobby's Scroll Rustic Wood Console Table is lovely.  It would make a fantastic place to set up your entryway decor.  If you have a large space behind your sofa, it would work well there too.
The open base gives you the opportunity to pull up a stool easily.  This feature alone, makes it a really versatile piece, along with its neutral wood tone.
A pedestal table is the perfect type of accent furniture to fill little nooks in your home.  If you have some extra space leading into your bedroom or at the top of the stairs, a table like this would work well.  It gives you a place to add some seasonal decorations without being too obtrusive.
Don't forget to check the dimensions before ordering, however.  The photo definitely makes this appear larger than it is.  This is a small side table, much like the gathering table from #7 above.
The design is what makes this table stand out as a lovely decorative accent.  This table is lightweight and made of MDF wood.  And that is reflected in the price.  It's currently on sale for $39.90.
If you have an artist's studio or are just looking for something unique; this cute paint palette table may be exactly what you want.  This small, decorative table is perfect for adding a bit of interest to a bland space.
It would also work well in a small apartment or as dorm decor.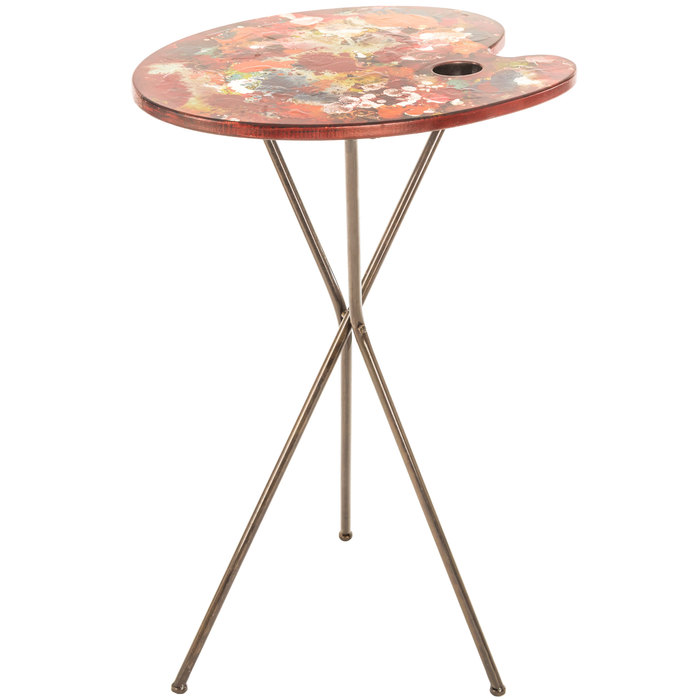 11. Rustic Wood Accent Table
The Rustic Wood Accent Table below would look great in your living room or bedroom.  It's a budget-friendly option, currently on sale for $59.50.  It features a faux metal distressed frame and a lower shelf for basket storage or decor.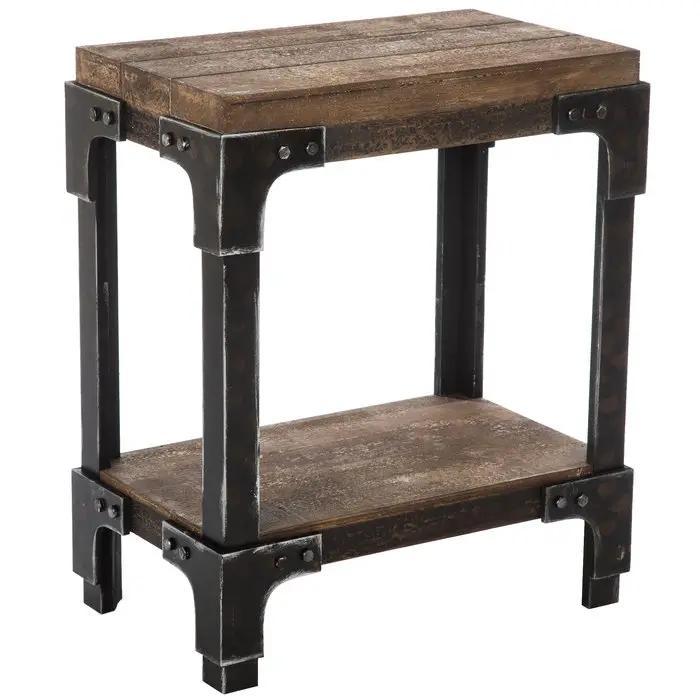 Here's another really affordable option with a lot of style.  This antique looking criss-cross side table is only available in-store at the moment.  But it has great reviews and is currently on sale for less than $100.
So, if you're near a Hobby Lobby and are looking for a stylish accent table on a budget, it's worth stopping in to check out their in-store selection.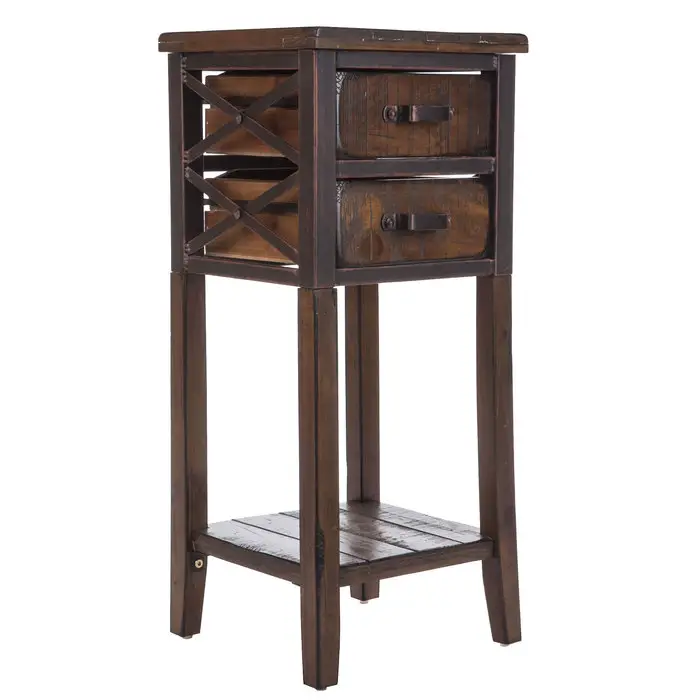 Another light and bright option is this sofa table with a white-washed frame and mid-tone wood tabletop and drawers.  It screams modern farmhouse.  So if that's you're style, check this out on their website.
Admittedly, their selection is heavy on the chunky farmhouse style wood tables.  But there are some other options in the mix.  This gold table set with faux marble tops is perfect for a glam interior, boho, or contemporary look.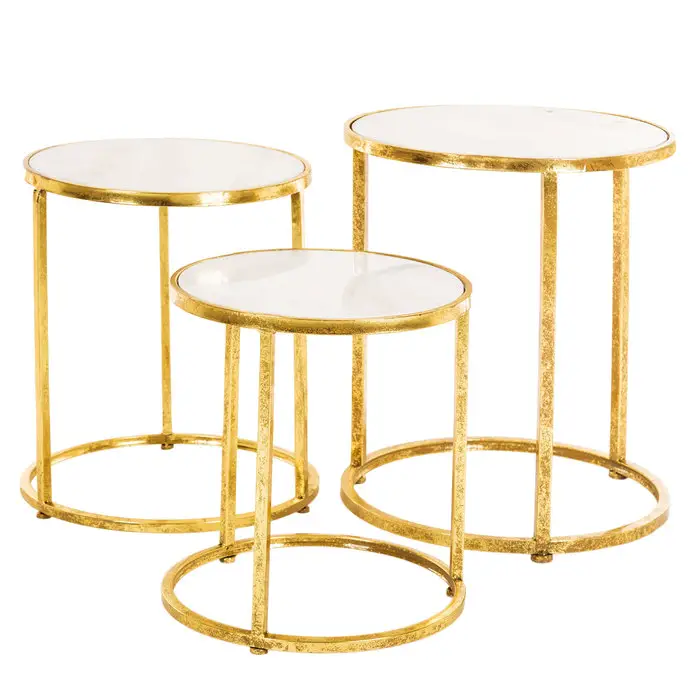 Finally, I found this slatted industrial style console table.  This is an affordable accent table with a lot of character.  The pin legs give it a retro mid-century modern feel.  You really can't beat the price on this one and the reviews are great.
Conclusion
Hobby Lobby has a surprisingly stylish and affordable collection of accent tables on its website.  Frankly, anytime I've visited their store I've seen some of the furniture pieces in the front entryway, but have rarely stopped to check prices.
It was never a place I went to in search of furniture.  I was really surprised to see just how budget-friendly their options were.
If you're in the market for some accent furniture and are trying to stay in a tight budget, check them out.  Also, they have much more to offer than just accent tables.  Their collection includes benches, cabinets, shelves, and even chairs.  All priced really well.
That's it for this post.  I hope you found it helpful.  If you did, please share it with a friend and follow Dianne Decor on Medium and Instagram.
To have my latest posts delivered directly to your inbox, join the mailing list before you go.  I'll send you my weekly newsletter filled with weekend reads, decorating inspiration, and the best home decor deals of the week.
Thanks for reading!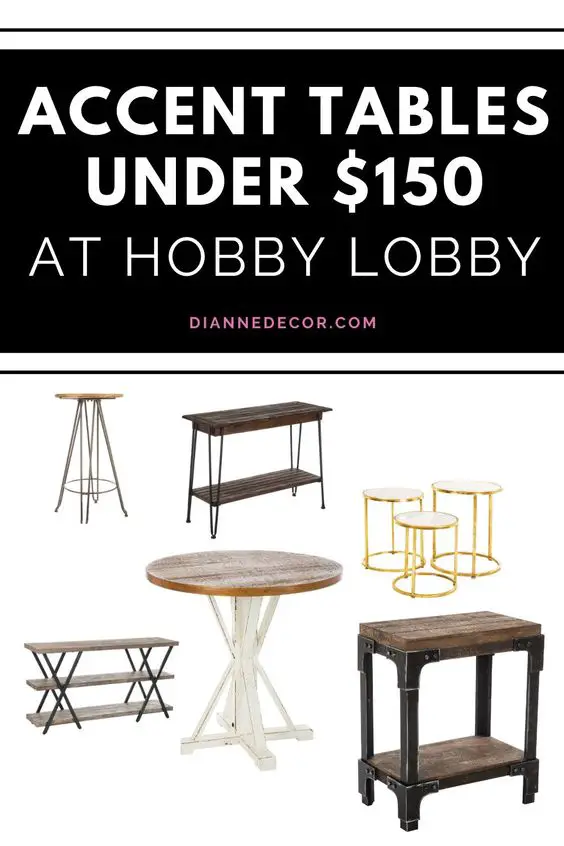 Thanks for reading!
accent furniture
accent tables
affordable accent furniture
affordable accent tables
cheap furniture
decorating on a budget
hobby lobby
home accents
home decor
home decorating
where to shop