FTC Disclosure - This post contains affiliate links and I will be compensated if you make a purchase after clicking on my links.
*Item received for free for promotional consideration or a sponsored link.
Have you been looking for a way to add extra seating to your living room but are short on space?  A sofa bar table may be exactly what you need.
What Is a Sofa Bar Table?
Sometimes called a "sofa pub table", this interior design feature has become more and more popular.  In essence, a sofa bar table is a tall, narrow table that matches the height of the back of the sofa with bar stools tucked beneath.
The major distinction between a traditional console table and a sofa bar table is the construction of the legs.  In order to utilize the table as a bar, you'll need an open space to slide the stools under.
Why Are Sofa Bar Tables So Popular?
While we used to rely on bringing in extra folding chairs for a larger than normal crowd or resorting to our "multi-function" ottoman that doubles as seating in a pinch, the sofa bar table behind the couch option is far superior in many ways.
Frankly, I'd rather stand than crouch down and balance on a pouf.  And I don't think I'm alone in this.  For anyone over the age of 20, proper seating really is required.
Imagine this scenario with me.  You're all dressed up in your new skirt and heels.  You arrive at the party.  There's a beautiful brunch buffet of food and drinks.  You grab a plate and some wine and look to find a seat and the only thing available is a Moroccan pouf.
So you're expected to balance on this pouf that has no back, no arms, with a plate in your lap and your knees together until your body aches and you just give up a stand?!
That's a hard pass for me.  And, I beg you not to do that to any grown adult either.  I know I'm not alone in this.
This is undoubtedly why the sofa bar table option has become so popular.  It's an inexpensive way to provide not just extra seating, but a full multi-tasking surface for both parties and everyday family life.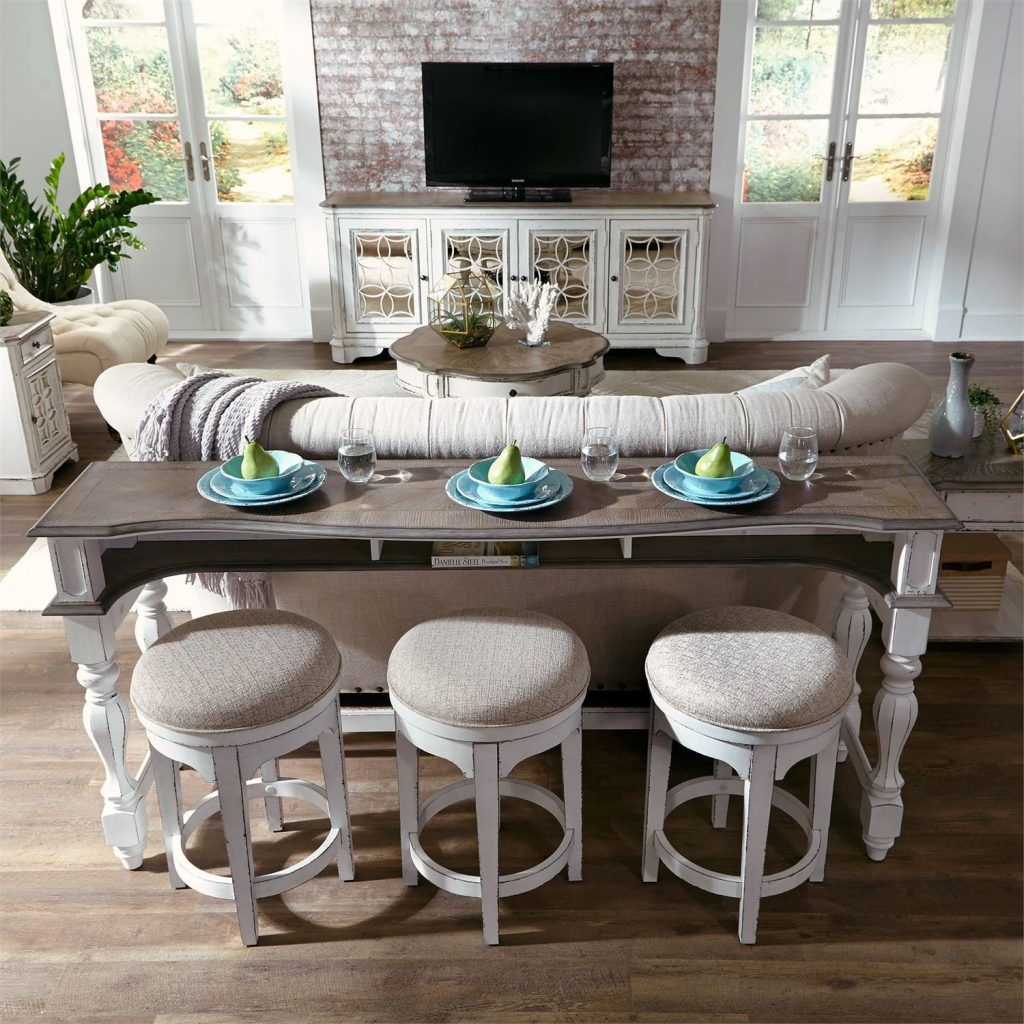 4 Benefits of a Sofa Bar Table
#1 – Room Definition
Not only does the addition of a sofa table help hide the back of a couch, but it also completes the look of a room.  They're a structural piece of furniture that helps define the living room area.
#2 – Snacks off the Sofa
By opting for a sofa bar table, there'll be no excuse for crumbs on the couch anymore.  It's called a pub table because it is intended to function in just that way.  It's a seating area where you can comfortably eat or drink without missing your favorite program or sporting event.
#3 – Multi-Tasking Space
Not only will it provide you with an additional 3 or 4 seats, but it can double as a bar cart for a party or a study/homework area.
#4 – Slimline Bonus Seating
Unlike ottomans, pours, and floor pillows, the sofa pub table provides you with extra seating and an eating surface in a slimline form.  Stools are tucked beneath and won't take up any extra space.  The tables are on average 20 inches; making them perfect if you're short on space.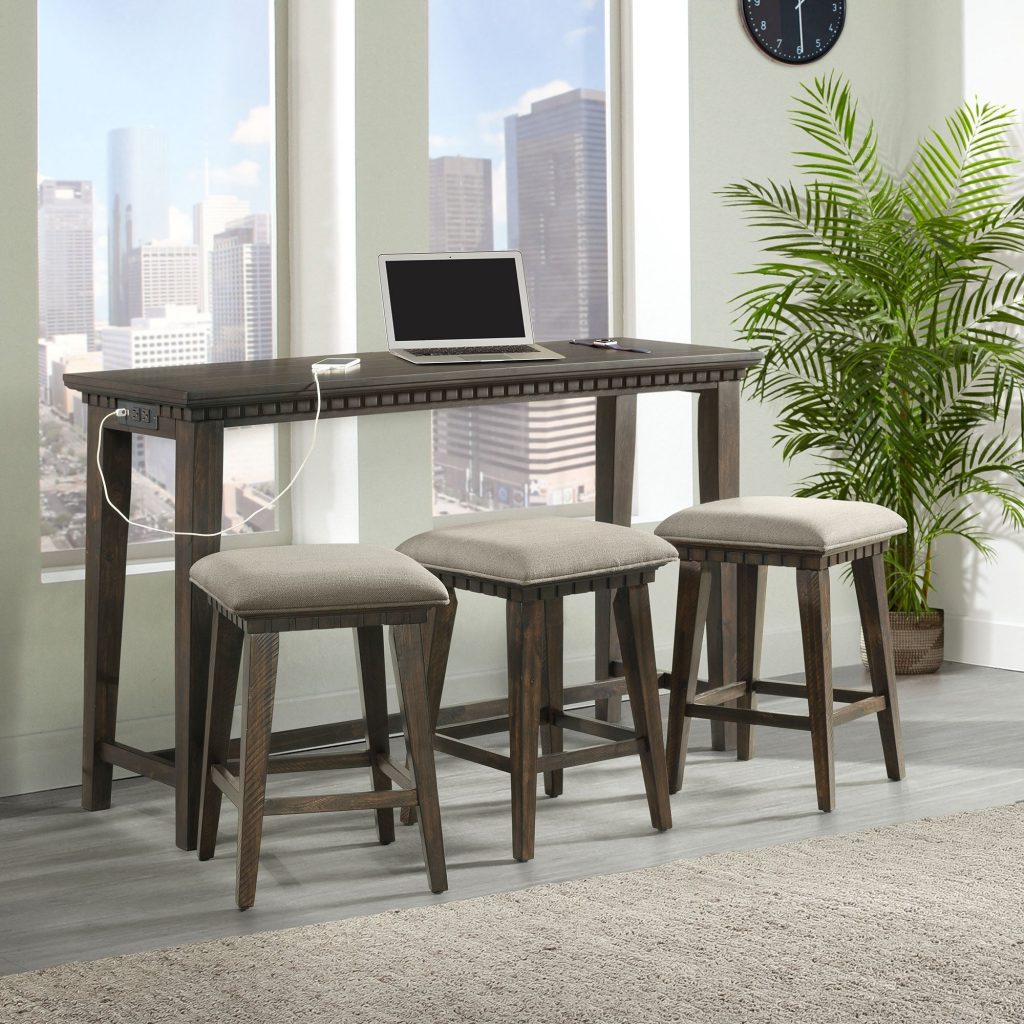 Conclusion
That's all for this post.  I hope you found it helpful.
Let me know what you think about sofa bar tables in the comments below.  Do you think they're just a fad or here to stay?
Thanks for reading and don't forget to join the mailing list before you leave.  Find me on Bloglovin', Instagram, Twitter, and Pinterest.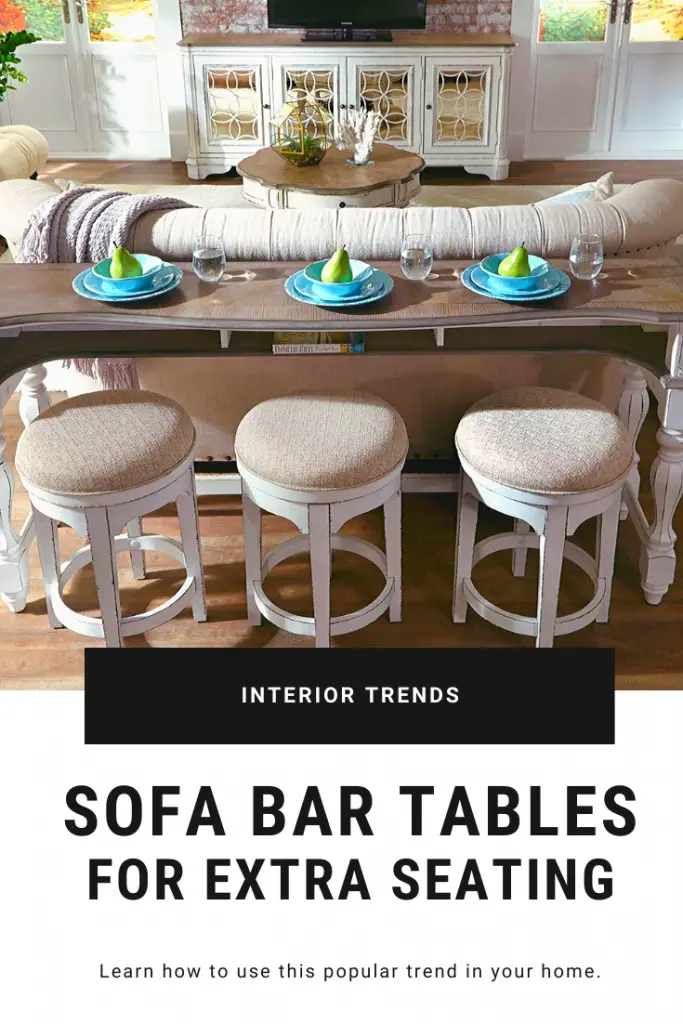 Thanks for reading!
bar table
extra seating
living room design
living room furniture
living room ideas
pub table
seating ideas
sofa bar table
sofa pub table