FTC Disclosure - This post contains affiliate links and I will be compensated if you make a purchase after clicking on my links.
*Item received for free for promotional consideration or a sponsored link.
If you're not into scary Halloween decorations, but still want to decorate… what should you do?  Try one of these 5, not scary Halloween decor ideas this year.
With these creative decorating ideas you no longer have to settle for fall decor on Halloween.  Instead, you can opt for these really cool and inexpensive decorations to celebrate the holiday without giving anyone nightmares!
Before I jump into the list, let's talk about why non-scary Halloween decor is a good idea.
Not Scary Halloween Decorations
Personally, I've never really liked super scary Halloween decorations.  Even as a kid.  But, as an adult, I love passing out candy and like to decorating my porch for the holiday.
And while the vast majority of Halloweeners veer towards scary decorations and costumes, there are some big benefits to opting for non-scary Halloween decorations.
Benefits of Using Non-Scary Halloween Decor
The first is they're appropriate for all ages.  As a first-time trick-or-treating parent of a toddler last year, I opted to avoid homes with super scary decorations, lights, and creepy music.
I also waited for groups of kids with creepy costumes to leave doorsteps before I paraded my proud little ladybug up to the door.  These are things I never once considered before our first trick-or-treat adventure.
By opting for a more tamed down display you make your home more approachable for little ones.
The second big benefit of opting for not scary Halloween decor is less setup and tear down.  Those elaborate spiderweb displays and flying ghosts and fog machines and sound machines require a lot of work to set up.
And if you're one of those people who go all out, hats off to you.  That's a lot of work and I admire the dedication.
But if you're looking for an easier path to decorating for Halloween, check out my list of 5 not scary Halloween porch decor ideas.  No witches, ghosts, spiders, or bats included.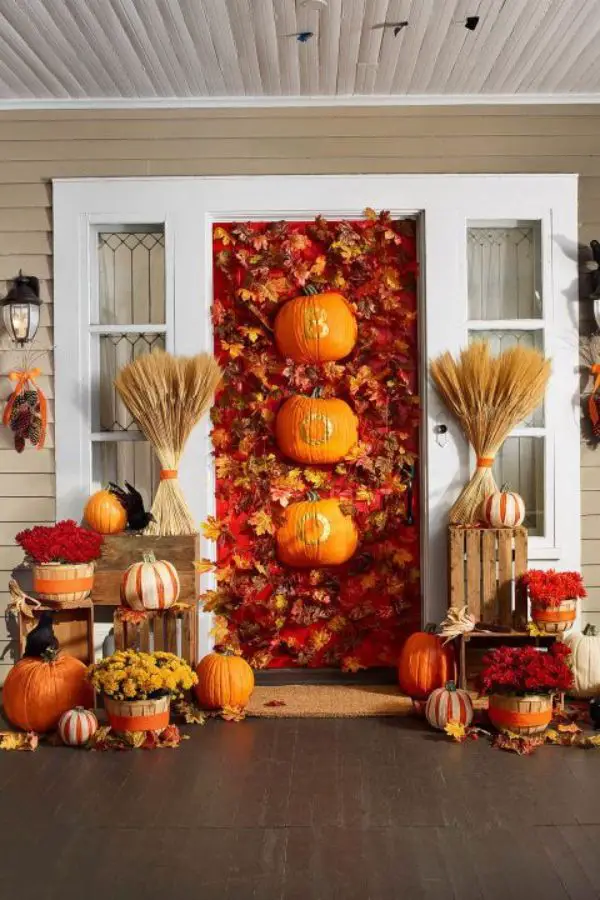 5 Not Scary Halloween Decor Ideas
1. Jack-o'-lanterns and Painted Pumpkins
Whether you choose to carve your own or buy them from the store.  Simple jack-o'-lanterns, lighted pumpkins, and painted pumpkins make for a great front porch display.
There are a lot of different ways to incorporate these throughout your porch decor.  You can nestle them into your plant beds, line your pathway, or even stack them to make a tall pumpkin pillar.
2. Trick or Treat Banners
Porch signs are popular all year round, but a trick-or-treat sign on Halloween is even better because it signals to others that you are in fact distributing candy.
These are really easy to DIY, but if you're not into that, they're also really inexpensive to buy.
Expect to pay $10 or $15 on Amazon for the long polyester hanging banners.  You can also find trick-or-treat signs on Etsy, but expect to pay a bit more as these are usually made from wood.
3. Pumpkin String Lights
Trimming your porch with pumpkin string lights is an easy Halloween decoration to install.  Simply use command strips or thumbtacks to attach, plug them in, and you're good to go.
Although I would combine this particular decorative element with others from this list since they're pretty small on their own.  You could also drape them over your hedges just as you would with Christmas lights.
4. Light Up Leaf Garlands
Light up leaf garlands work in a similar way.  They look really nice strung above your front door or around porch columns.  They can also be used to adorn any outdoor lantern lights you may have on the front of your house.
If you have any of those large oversized decorative lanterns, you could use the lighted leaf garland to fill the lanterns and place them along your pathway or beside your door.
Suggested Post: Lantern Styling 101: How to Style a Lantern
5. Hanging Pumpkin Pathway Lights
The last not scary Halloween decor idea on this list is hanging pumpkin pathway lights.  I first saw these on the Balsam Hill website.  They're essentially just combining a jack-o-lantern with a shepherd's hook.  That's it.
You could, for sure, make this a DIY decor project by buying the hooks and pumpkins yourself.  A 4 pack of shepherd's hooks goes for $20 – $25 on Amazon.
Then, buy a pack a hanging paper jack-o-lanterns and add your lights.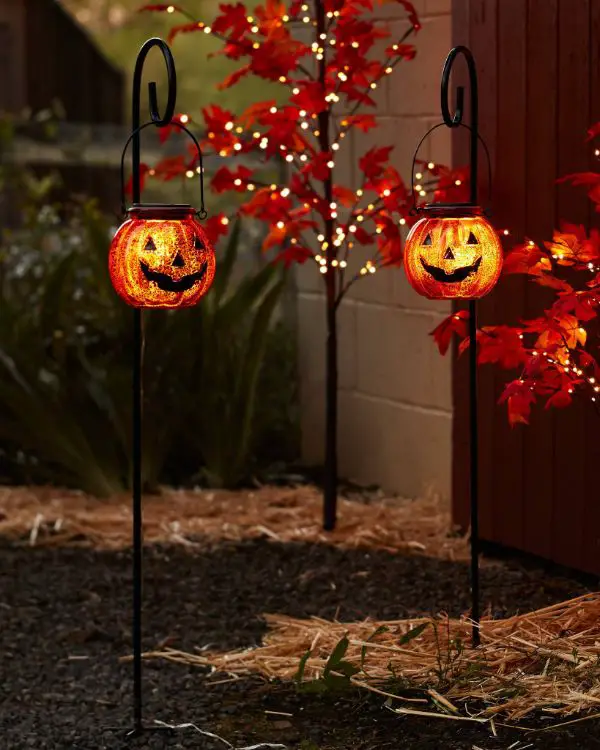 Conclusion
What did you think of this round-up?  Let me know in the comments below.  If you found this post helpful, please share it with a friend and follow Dianne Decor on Bloglovin' and Instagram.
For more non-scary Halloween decorating ideas check out my Not Scary Halloween Decor Board on Pinterest.
To have my latest posts delivered directly to your inbox, join the mailing list before you go.  I'll send you a copy of my weekly newsletter filled with weekend reads, decorating inspiration, and the latest deals on decor.
Thanks for reading!
halloween
halloween decor
halloween decorating ideas
non scary halloween decor
non scary halloween decorations
not scary halloween decor
not scary halloween decorations