FTC Disclosure - This post contains affiliate links and I will be compensated if you make a purchase after clicking on my links.
*Item received for free for promotional consideration or a sponsored link.
Seasonal decorating is a great way to refresh your home and showcase your unique interior style.  It's a time to try out new trendy colors, decorative accents, or home decor styles.  But, no matter the current trend, there are some things that will always be classic fall decor.
In this post, we'll look at 5 classic fall decorating themes and where you can incorporate them into your home this fall.
5 Classic Fall Decorating Themes
While trends come and go from year to year, there are a few fall decorating themes that are classics.  Year after year, they're always in style and relevant.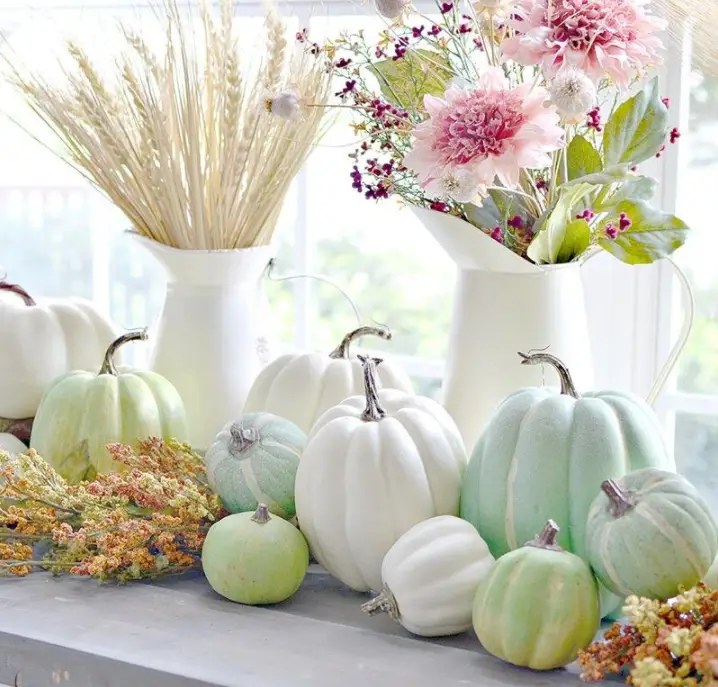 Harvest Theme (Hay, Corn, and Scarecrows)
The first is the Harvest Theme.  This decor revolves around the idea of a fall harvest.  Hay bales, corn stalks, and scarecrows are prevalent throughout this theme.
You see this theme not only in homes but in businesses and other community spaces.
Decorating Idea: Add hay bales and corn stalks to your front porch and flower beds.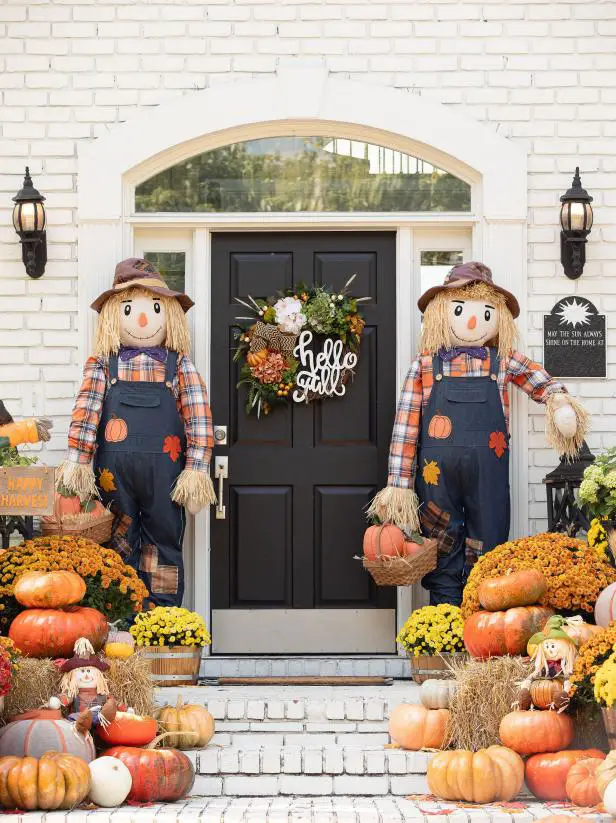 Fall Flora (Sunflowers & Leaves)
Another popular option for fall decorating is working with autumn flora.  These are the flowers and foliage seen during this season.  Think colorful maple leaves, sunflowers, and mums.
If you like the traditional autumn colors of orange, red, brown, and yellow, incorporating the fall flora theme is a great way to get these colors into your home.
Decorating Idea: Add a string of leaf garland to your fireplace mantel to easily add fall decor to your living room.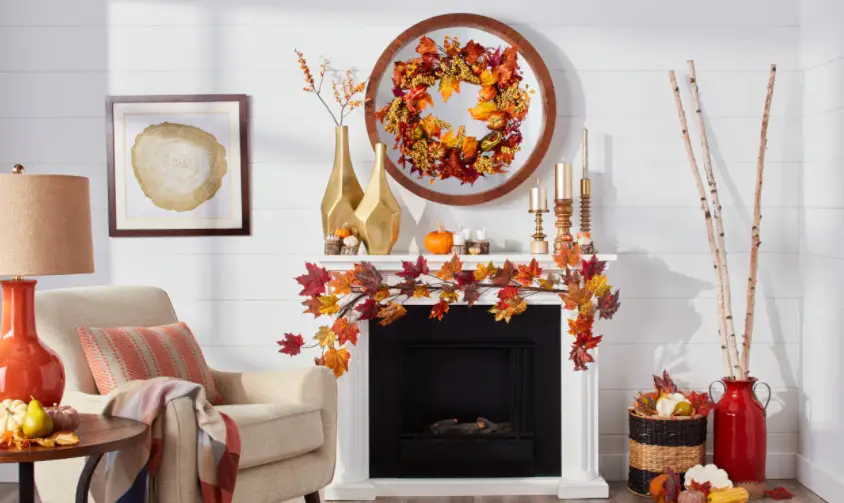 Fall Foods (Pumpkins & Gourds)
We all know, pumpkin spice anything reigns supreme when it comes to fall foods and drinks.  So it will come as no surprise that the pumpkin and it's slightly less cool cousin the gourd is a winning decor combo.
Whether you place them on your entryway table, countertop, or doorstep, pumpkins and gourds are super versatile.  This is because they come in a huge range of sizes and colors.
Moreover, pumpkins can be used indoors and outdoors.  They can be painted, covered in fabric, carved, and illuminated.
Best of all, you can find them everywhere.  If you prefer real pumpkins you can find them in abundance at your local grocery store or farm.  Faux pumpkins are easily found at home good stores, craft stores, and online at places like Amazon and Walmart.
Decorating Idea: Add pumpkins to an entryway table in a variety of sizes to create a quick and easy fall display.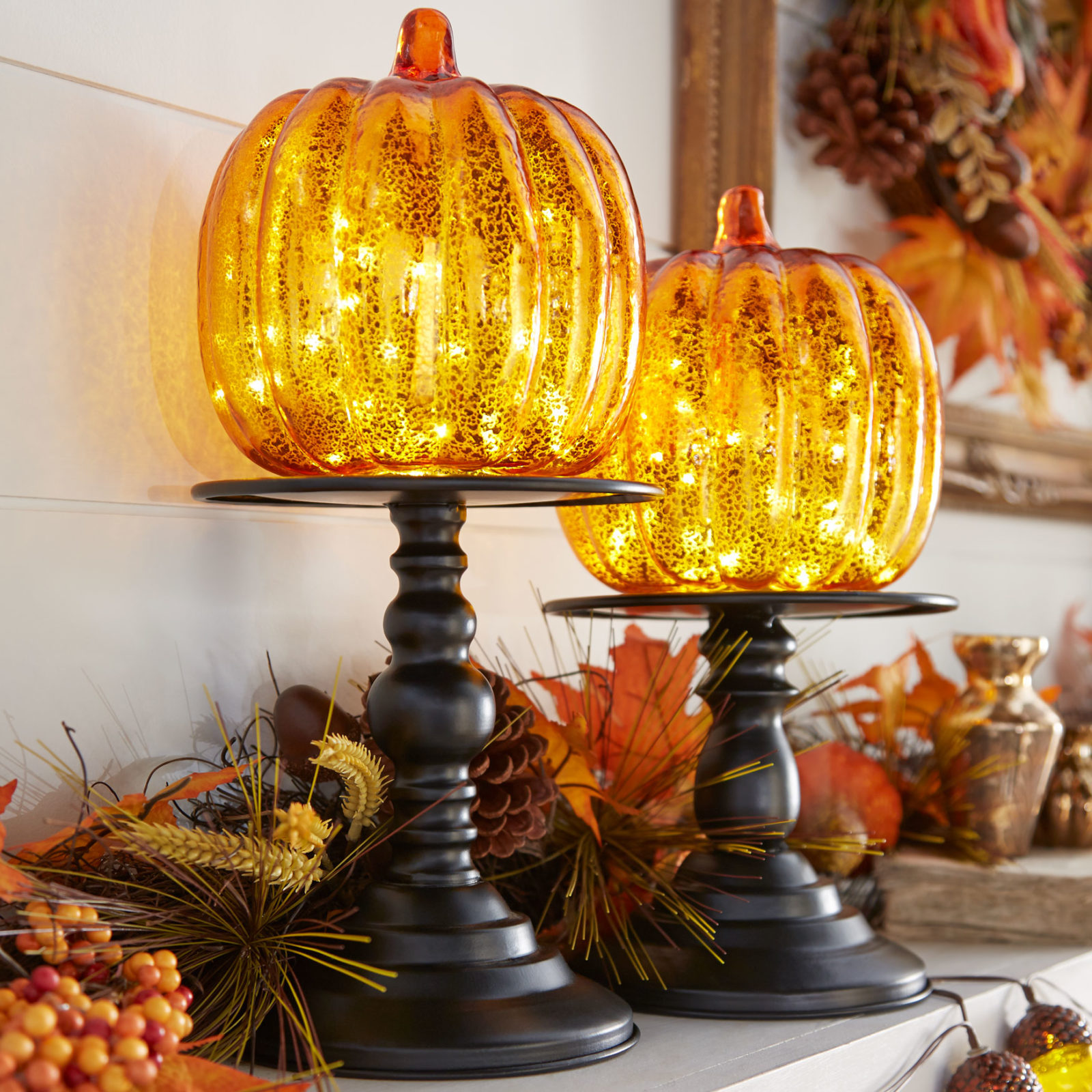 Cozy Home (Buffalo Check)
Cozy home decor is very popular this year.  While it's not a new fall theme, it is the most sought after this season.  If you're feeling in need of a little extra, comfort, and security at home, consider layering in some buffalo check decor to get that cozy home feeling.
This can be done via blankets, pillows, bedding, tree skirts, etc.
For more on buffalo check, check out the post "Big, Bold, Buffalo Check Is Everywhere".
Decorating Idea: Easily transform your all year round wreath with a buffalo check bow for the season.
The Gather Theme (Thanksgiving)
The Thanksgiving or "Gather" theme is a classic.  While fall is most often associated with Thanksgiving, the general theme of this time of year through the new year is gathering.
We make a concerted effort with friends and family to get together.  This can be reflected in the way you decorate your home in a number of ways.
Beyond the obvious "gather" themed accents featuring the word, things like beverage stations, reading nooks and, firepits that encourage people to slow down and spend an extra moment or two together.
Decorating Idea: Add a fall-themed beverage station with hot chocolate and cider options to your living room or kitchen.
Conclusion
That concludes my round-up of the top 5 classic fall decorating themes.  I'm curious to know how you like to decorate your home for fall.  Let me know in the comments below.
For more from Dianne Decor, follow me on Bloglovin', Instagram, Pinterest, and Twitter.
To have my latest posts delivered directly to your inbox, join the mailing list before you go.  I'll send you a copy of my weekly newsletter filled with weekend reads, decorating inspiration, and the best home decor deals of the week.
Thanks for reading!
beverage station
buffalo check
fall
fall decor
fall decorating ideas
fall themes
gather
thanksgiving