Transform Your Space with These 10 Apartment Decorating Ideas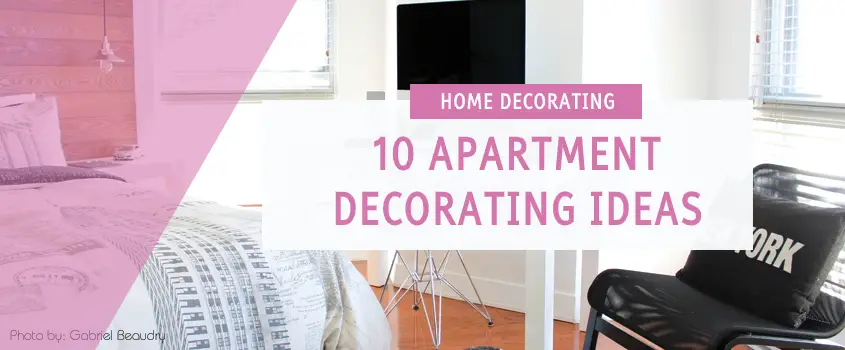 FTC Disclosure - This post contains affiliate links and I will be compensated if you make a purchase after clicking on my links.
*Item received for free for promotional consideration or a sponsored link.
Apartment decorating can be a lot of fun.  There is so much excitement that comes with decorating your first, second or even third apartment!
Frankly, I never tire of decorating and redecorating.  It's a chance to establish your style and decide how you want your home to function.
Apartment decorating is unique in that you tend to have spatial as well as structural restraints.
But, never fear, here are 10 apartment decorating tips that will bring a ton of style without damaging walls or taking up too much space.
10 Apartment Decorating Ideas
Gallery Wall
Try a gallery wall.  Photographs and art prints are a great way to add color to bland beige apartment walls.
Suggested Read: The Ins and Outs of Gallery Walls
Suggested Read: How to Fill Your Blank Walls
Window Treatments
Curtains are the perfect way to cozy up any space.  Adding curtains or drapery to your apartment will also give you the appearance of being settled in your space.
It will help you control your lighting, privacy, and even the temperature of a room to your lighting.
Suggested Read: Going Beyond Curtains: Window Treatments 101
Flowers and House Plants
Adding flowers to the inside and on the outside of your apartment will quite literally add life to your space.  Don't forget a nice seasonal wreath on your door.
Greeting visitors with a beautiful wreath at the door makes for a great first impression.
Wall Mural
If you want to add color on a large scale and painting or wallpaper is a no go, try a wall mural decal.  Large scale wall art is very popular right now and can be used to create an accent wall without having to break out the paint bucket.
Tiered Trays
If you're tight on space, tiered trays are a great way to store and display items.  While they're traditionally used to serve food, they also make great jewelry holders, perfume displays, and are a creative way to store hand towels and bathroom toiletries.
Entertainment Centers
A great multi-tasking piece of furniture is an entertainment center.  It will do double and triple duty by housing your television, books, and other decor items.
Baskets
Another great way to add storage without taking up too much space are by using baskets.
I swear by using them in my pantry to help organize items.  It keeps things organized and easy to access.  They can also be used to store bath towels and throw blankets.
Read more about basket decor in our post "Baskets: They're Weaving Their Way Onto Our Walls".
Rugs
Creating distinct zones in an open plan apartment can be done easily with a rug.  They're also great for adding color to your space, and of course, adding a little extra cushion under your feet.
Suggested Read: 20 Awesome Area Rugs Under $50 from Houzz
Bookcase Mudroom
If you don't have a hallway closet, or just need a little extra storage in your entryway, try a bookcase mudroom.  These are great for apartments.
Just make sure you have enough room in your entry.  You don't want it to crowd you as you go in and out.
Mirrors
Enlarge and brighten your space by adding a mirror.  They're great over a fireplace, near a dining set, or at your entry.
What did you think of this list?  Please comment below.
If you enjoyed this post please share it with a friend.  Follow Dianne Decor on Bloglovin' for more content.
And, for more apartment decorating inspiration, check out my Apartment Decorating Ideas Pinterest Board.