FTC Disclosure - This post contains affiliate links and I will be compensated if you make a purchase after clicking on my links.
*Item received for free for promotional consideration or a sponsored link.
Let me begin by saying, the irony of a woman who sells home decor telling you to stop buying home decor items is not lost on me.  But, sometimes the truth is what it is.
There are some home decor items that we really do not need to buy.  In fact, these are items that can be very expensive.  So finding a workaround for them has been amazing.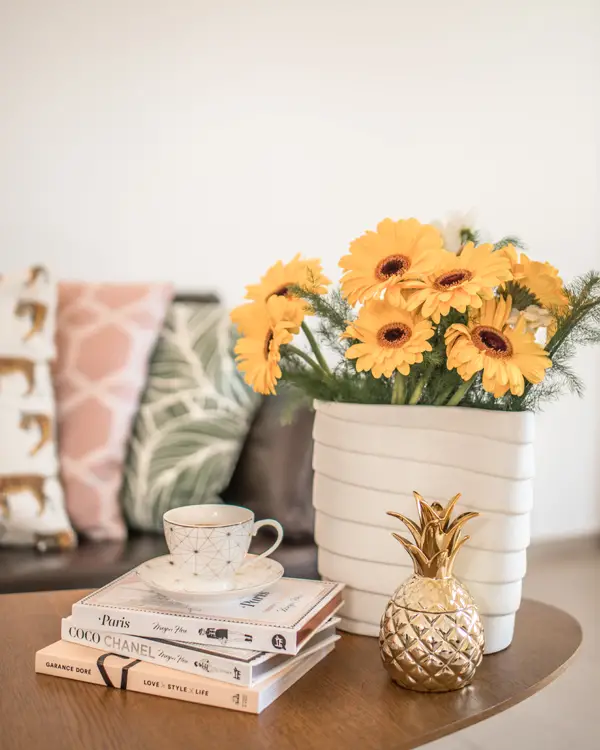 I believe that creating a beautiful home that feels warm, comforting, and expresses your personal style does not have to cost a lot.  The comforts of home are not only for the rich (see: "How to Create A Luxurious Looking Interior on a Budget").
3 Home Decor Items You Shouldn't Buy
There are, of course, some items that are worth the splurge, but the things I'm about to share are simply not.
In this post, we'll take a look at 3 home decor items you should stop buying and I'll let you in on my secrets for achieving the look for less (a lot less).
1. Wreaths
Pre-made door wreaths are unbelievably easy to make.  Large wreaths that you would typically use for a front door are generally 18 inches – 22 inches.
In a store like Pier1 or Kirklands, these will run anywhere from $60 – $150.  Oversized wreaths can cost as much as $300.  That's crazy!
For a fraction of the price, you can make a beautiful wreath in a matter of 10 or 15 minutes for under $20.  Check out my DIY Fall Wreath Centerpiece Tutorial to see how easy and inexpensive it is to make your own wreath.
2. Pre-Mounted Canvas Wall Art
I absolutely love canvas wall art.  You can pick up large prints at a ton of different places.  Hobby Lobby, Home Goods, and Burlington all carry beautiful canvas wall art.
They'll run you anywhere from $120 – $300 for large canvas prints already stretched on frames.  However, you can save a ton of money by just buying an unframed print on Amazon and picking up a canvas frame from a craft store.
For example, the canvas print below from Wayfair costs $77.99 for 32 x 24-inch print stretched and mounted on a frame.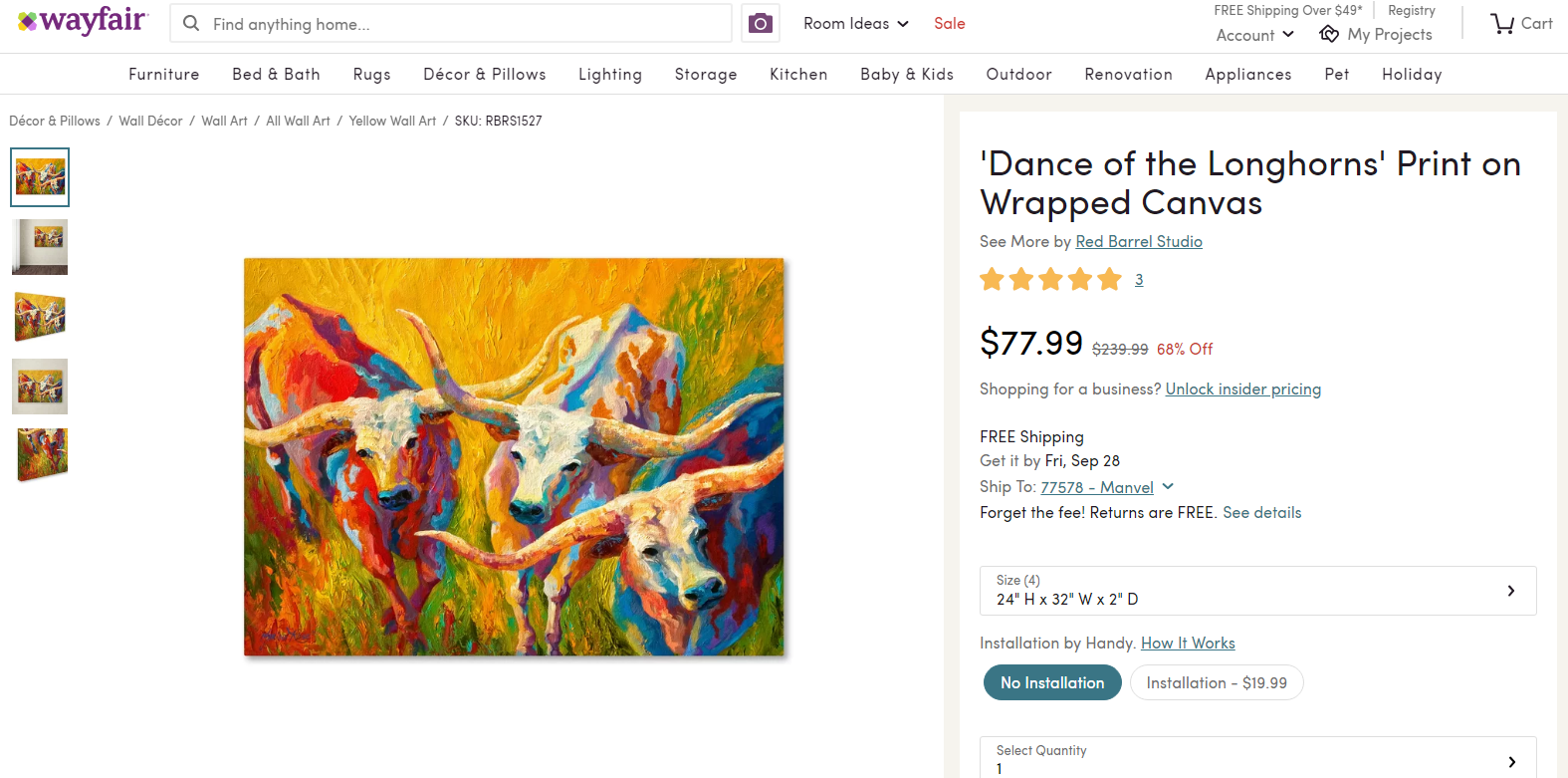 But, you could save $35 on this piece if you buy and unmounted canvas and frame it yourself.  It's not complicated, I promise.  Below is a similar print from Amazon that is selling for $26.93 and is 48 x 32 inches.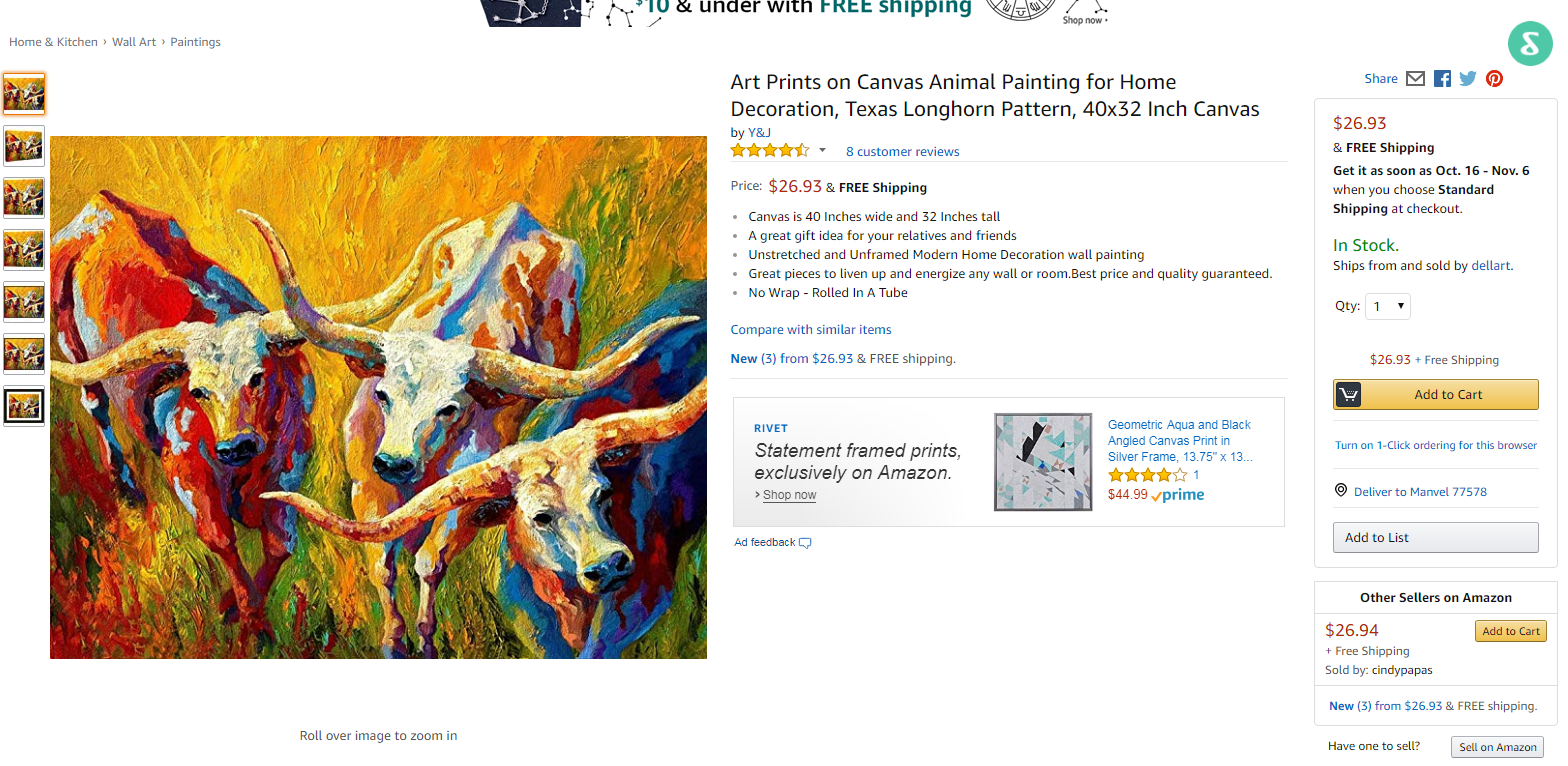 Note: When you buy canvas art to wrap around the frame; size up so you have enough length for the image to wrap all the way the sides.
You can then mount that painting right on top of a pre-stretched canvas frame.  This is great because you don't have to have the bare wood frame only.
You can wrap it right over another blank stretched canvas.  This one from Walmart is only $10.97 and is 24 x 36 inch, which is actually slightly bigger than the Wayfair option.
Even better, you can reuse an old piece of canvas art that no longer suits your style.  This will alleviate the need to buy a new canvas or frame altogether.
Mounting it requires nothing more than stretching it tightly around the frame and securing it in the back with a staple gun.  It doesn't matter if it's picture-perfect at the back.
No one is going to see it.  Using this method will cut the cost of the artwork in half.
3. Decorative Pillows
Continuously buying decorative pillows to change up the look of your rooms each season is totally unnecessary.  Not to mention expensive.
Suggested Read: Decorative Pillows 101: Pillow Covers, Pillow Inserts, and Sizes
Instead of stockpiling pillows, just buy pillow covers online.  You can buy them at Amazon, Ebay, Wish, and a lot of other retailers.
They're almost impossible to find in stores but are plentiful online.
A standard size 18-inch x 18-inch throw pillow could cost anywhere from $15 – $40 for a single pillow.  This trendy buffalo check pillow is on sale at Wayfair for $36.78.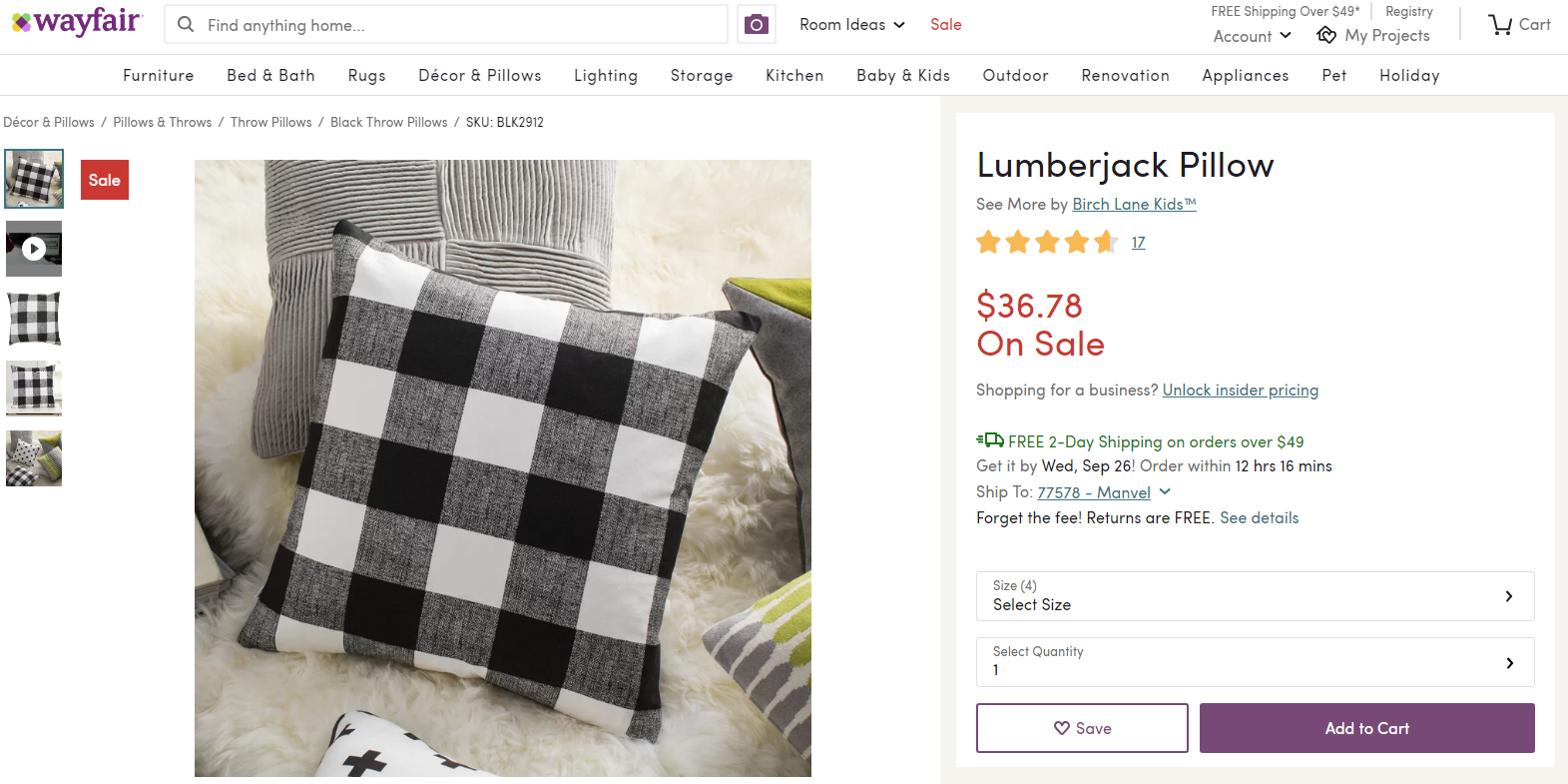 This set of 2 very similar pillow covers is only $9.99 on Amazon.  And you get 2!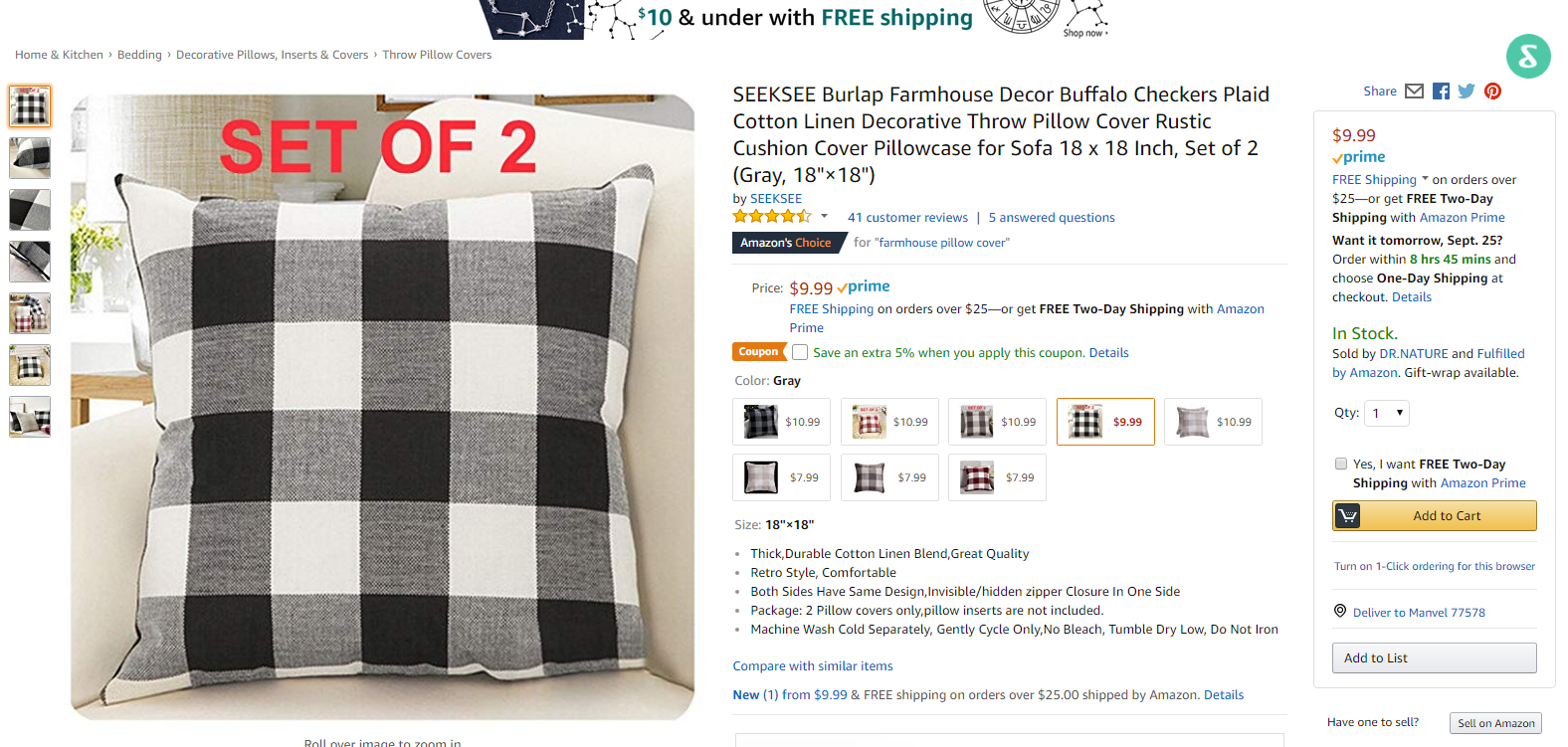 Conclusion
So, the next time you're out shopping for home decor remember these three tips.  You'll save yourself a lot of money in the long run.
I hope you found this post helpful.  If you did, please share it with a friend.  For more content from Dianne Decor, follow us on Bloglovin'.
Thanks for reading!
decorating
decoration
diy
home decor
interior decorating
interior design