FTC Disclosure - This post contains affiliate links and I will be compensated if you make a purchase after clicking on my links.
*Item received for free for promotional consideration or a sponsored link.
Home decorating can be expensive. Especially if you want to create an elaborate display.  One of the best ways to decorate on a tight budget is to update something you already own.  With a few minor changes you can transform something old into a new trendy piece.  In this post I'll show you how I transformed an old hurricane lantern into a beautiful new centerpiece for only $1.00!  Yes, that's right. $1.00.  Here it is.

Last week I started brainstorming fall decor ideas.  I've been considering my options for fall color combos and whether or not I wanted to lean more contemporary or traditional with my displays.  Near my entryway I have a set of old hurricane lanterns that I purchased from Hobby Lobby on clearance a while back.  I had them filled with some faux moss and flowers for the spring and they've been sitting like that ever since.  I never really loved what I did with them.  But, I knew they were a type home accent that would be good to have in my collection.
Hurricane Lantern Hack
Here's a look at one of the lanterns.  It's very basic with a brass metal frame and a circular glass insert with no bottom.  It looks really plain on its own, which I don't love.  I also didn't like the fact that it was clear.  Now, this makes sense if you're using it as an actual lantern with candles nestled inside.  But frankly, I've never had candles large enough to use in these lanterns and didn't care to order them.  Because of that, they've been used as vases from the moment I brought them home from the store.
After playing around with it, and trying to figure out how to infuse some color into this lantern I came up with an easy hack.  A place mat!

I took a $1.00 place mat from Dollar Tree that I bought earlier in the year, rolled it up and tucked it behind the glass.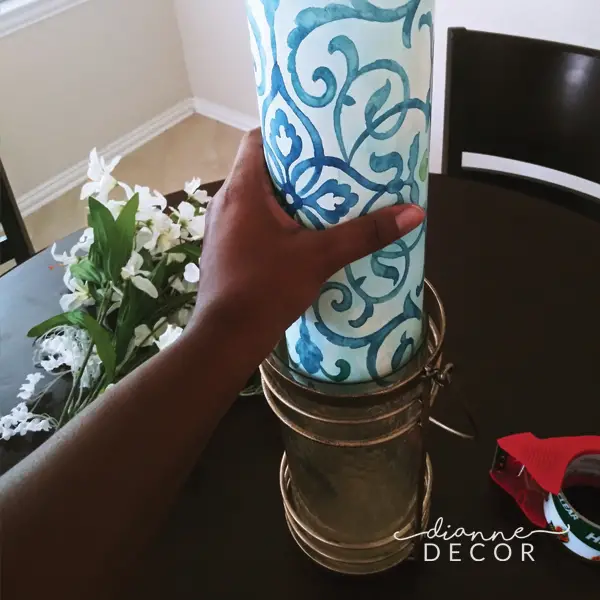 Instantly, I had a totally different decor accent on my hands.  It had a gorgeous blue and white pattern.  Better yet, because of the clear glass overlay, it looked like this is the way it was made all along.
I taped the place mat together where the ends met to help secure it, placed some floral foam and flowers inside and that was it.  Now I have a new, colorful vase that I can use as side accent or centerpiece.  Best of all, I can switch this out anytime I want.  Changing decor with the seasons will be a breeze with this hack.
Here's a look at it on our little table in the breakfast nook.
That's it for this hack.  It's a super simple, one step process that will help you transform your old hurricane lanterns into something new.  I hope you found this post helpful.  If you did, please share it with a friend and follow Dianne Decor on Instagram and Bloglovin'.
Thanks for reading!
candle lantern
decor
decor hack
dollar tree
home accents
home decor hack
hurricane lantern