DIY No Sew Replacement Patio Cushions
FTC Disclosure - This post contains affiliate links and I will be compensated if you make a purchase after clicking on my links.
*Item received for free for promotional consideration or a sponsored link.
Did squirrels destroy your patio cushions too?  Or is your patio set so uncomfortable and worn out that you'd rather just stay inside?  Don't worry.  I'm going to show you how to fix it with this easy DIY no sew replacement patio cushions hack.
Better yet, I'm going to show you a no-sew, no cutting, no picking fabrics way to do it.
Let's go!
Old Patio Cushions
Here's a quick look at my old patio cushions. As I mentioned above. We have a particularly aggressive squirrel that lives in the woods behind the house.
I purchased this patio set in March of 2021. We had the furniture arranged on a different part of the patio where it was open and easy to access for the squirrel. By October he had destroyed most of the cushions and stolen my son's butterfly net.
Next year I was wiser and moved the furniture under the canopy, closer to the house. The squirrel won't venture that close to the door, so we were saved from further damage in 2022.
But, the patio furniture still looked ridiculous.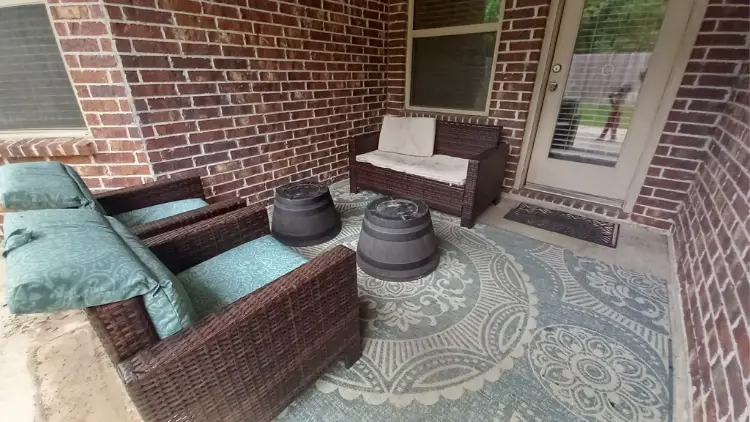 As you can see, I tried to find a cheap replacement solution for the chairs. Unfortunately, that was a fail. Not only were these cushions not made for this type of chair, but I also couldn't find any more than 2 since they were on a limited sale at Aldi.
I needed a better solution. I needed real replacement patio cushions. But I still didn't want to spend a lot of money, so I decided to DIY it.
DIY No Sew Replacement Patio Cushions
This DIY replacement patio cushions hack is perfect for the not-so-crafty crew.  We're not sewing anything and we're not making any trips to JoAnns.
There are three things we need to pull this off.  The filling, the cover, and a way to waterproof our cushions.
Outdoor Cushion Filling
For the cushion filling, I recommend using polyurethane foam.  I used 4-inch thick foam for my patio cushions, although there are other thicknesses available.  
Just make sure your cushion covers match the thickness of your foam.

The foam is going to be your biggest expense in this project.  I purchased a 4 x 24 x96 roll from Amazon for just under $50.  With this roll I was able to create cushions for 2 chairs and a loveseat.

Here's a link to the foam I purchased.  There are a variety of sizes available under this link.  The brand GoTo Foam is very highly rated and I give them 5 stars as well.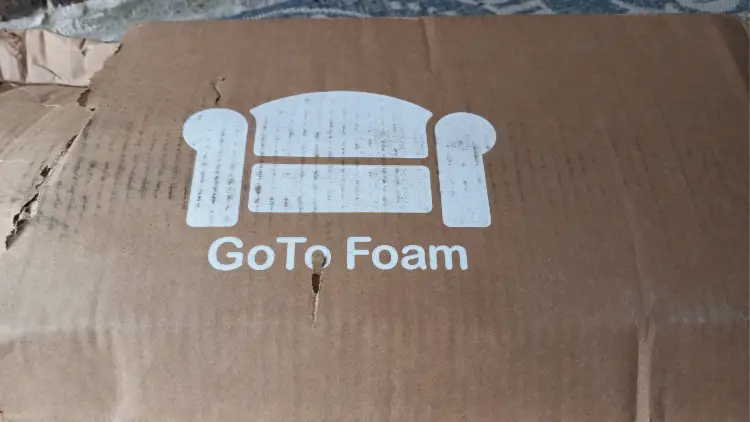 No Sew Covers
Next, go to Amazon and search "replacement patio cushion covers".  Every size, style, and color you could imagine is available.

I wanted something that was going to look just like the original cushions, so I went with a more basic option.  I purchased this set of 4 from Cinnamonee for around $50.  They're already water-repellent so the waterproofing step is optional.
Important!  Don't forget your cushion backs.  If you want to use the foam for your cushion seats and backs don't forget to take measurements and purchase extra foam and covers.

Alternatively, you can do what I did and use pillows for back cushions.

Pillow Inserts
For the pillow inserts, I used my favorites from Utopia.  These are the same inserts I use for the throw pillow on my sofa indoors.
I chose 22 x 22-inch inserts and placed them in 20 x 20-inch covers. 
To save a few extra bucks on this project, I purchase a "like new" pack.  While I wouldn't recommend "like new" for bed pillows, I think they're perfectly fine for a set that's going to live outside.
They worked out great, except for 1 little hiccup that I'll show you at the end.

Pillow Covers
I find the "outdoor pillow cover" style selection to be very limited.  
The pillow covers you choose do not need to be specially made for outdoor use since we're going to waterproof everything anyway.
It's okay to broaden your search to include both indoor and outdoor pillow covers, but do look for a durable fabric like burlap.  
Steer clear of anything delicate like velvet, macrame, hand-woven, or covers with fringe.  They're going to be harder to clean and harder to waterproof.
My favorite brand for pillow covers is MIULEE on Amazon.  I purchased pillow covers from them on multiple occasions and they're always great quality and usually under $20 for a set of 2.
These are the pillow covers I chose for my patio.  They're a thick, durable, burlap linen cover with a hidden zipper.
How To Waterproof Outdoor Cushions
Here comes the easiest part of this.  Grab a can of Scotchgard Sun and Water Shield.  It runs around $10 on Amazon or Walmart.
All you need to do to protect your pillows and seat cushions is spray the covers with a light even coating of Scotchgard.
Note: It's probably easier to do this before you put the covers on the cushions and pillows, but I didn't think about that until after the fact.
That being said, whether you do it before or after you assemble your cushions, you'll be left with a nice water-repellent surface.
How To Make Replacement Patio Cushions
Here's a list of what you need to make these cheap DIY outdoor cushions and step-by-step instructions.
What You Need
Before You Begin
Measure your chairs and/or sofas twice to make sure you order long enough and wide enough roll of foam.  
Instructions
Step 1: Cut your foam
Unbox your roll of foam and measure out your first segment.  
Use a box cutter or knife to make several shallow passes through the foam.  
Do not try to cut through the whole thing all at once.  Instead, make multiple scores until you get roughly halfway through the thickness of the foam.  
Then, turn the foam over, measure again, and continue to make shallow passes with your box cutter until you make it all the way through.
Step 2: Clean the edges and slip on the cushion cover.
Pull off any hanging or frayed pieces of foam to clean up the raw edge.  Then, slip the foam into the cushion cover.
Step 3: Repeat steps 1 and 2 until all cushions are complete.  Then, move on to step 4.
Step 4: Spray Scotchgard
Waterproof your new cushions with the Scotchgard Sun and Water Shield.  Follow the instructions on the can.   
Final Results
My total cost for the roll of foam, 4 cushion covers, 4 pillow inserts, 4 pillow covers, and a can of Scotchgard was $174.84.
Here's a look at my DIY No Sew Replacement Patio Cushions.
I love the final results, except for 1 minor detail. Can you guess what it is?
I'll show you a close up.
The zipper for the cushion cover is on the long side (the 24″ side) instead of along the short side. Because most seats are deeper than they are wide, this is not standard practice.
It exposes the zipper slightly and makes it look like I have my cushions turned the wrong way.
It's a minor detail, but it still bothers me a bit, so I thought I'd share.
Another Solution
Now, if after reading this tutorial, you're still not sure you want to take on this project yourself, no worries.  
I scoured the internet for you and found the cheapest comparable patio cushion replacement.  
They're the Arden Selections Outdoor Deep Seating Cushion Set, currently being listed on Amazon for around $55 for a 5-inch foam seat and back pillow included.
I would have needed 4 of these for my project which would have brought my total to around $220.  So, if you don't mind spending an extra $45 or so, this is the set to get.  They have stellar ratings and a few different colorways currently available.
Conclusion
That's it.  All you need to replace your old worn-out patio cushions is a roll of foam, replacement covers, and a can of Scotchgard.
I hope you found this post helpful.  If you did, please share it with a friend and follow Dianne Decor on Pinterest and Instagram.
Here are a few more posts you may like:
Don't forget to join the mailing list before you go.  I'll send you a copy of my weekly newsletter filled with my latest posts, decorating inspiration, and sale alerts on home decor.