FTC Disclosure - This post contains affiliate links and I will be compensated if you make a purchase after clicking on my links.
*Item received for free for promotional consideration or a sponsored link.
Endeavoring into the creation of a luxurious looking home when you're decorating on a budget can seem impossible.  Sometimes inexpensive decor can look just that; cheap and inexpensive.  And while I'm a big fan of thrifting and DIY projects, not everyone is into that.  So, knowing what to buy to create a luxurious feel in your home is important.
Here are the 4 things you should incorporate in your home to make it look luxurious, comfortable, and stylish.
1. Use Woven Fabrics to Create a Luxurious Looking Interior
Your choice of fabric can scream luxury.  Not only should you consider the weight and texture of the fabric, but also the pattern and texture.  Look for a fabric that has been woven on a loom.  These are the ones that have a raised pattern that you can feel.  They're similar to embroidery in texture.  Anything with a name like brocade, jacquard, or damask will have this texture.
If you're looking for something without a pattern then opt for a fabric with heavier weight like velvet.  Another option is to choose an item with an embellishment like pom poms, piping, or fringe.
Use blankets, pillows, bedding, and curtains or drapes to add these fabrics to your home.  Mixing textures and patterns throughout your home will give it a styled and curated feel.
I would like to add a word of caution, however, when choosing fabrics for window treatments.  Heavy fabrics can block the natural light for entering your home.  For a sheer option to let light in, consider a double-hung curtain rod and pair a sheer with a heavier fabric.
Curtains with a smooth printed pattern can look nice at times but are really the fast fashion of the window treatment world.  For more on window treatment options check out the post Going Beyond Curtains: Window Treatments 101.
2. Keep Your Metals Consistent
Choosing a metal to feature throughout your home helps to create a cohesive design and the feeling of a well-planned space.  A luxurious feeling space is not just about the things you choose to decorate with, it's also about intention and attention to detail.
There are a lot of different choices when it comes to metals.  Polished chrome is very common along with brushed nickel.  But, you could opt for oil rubbed bronze, matte black, or champagne bronze just to name a few.
The most important part of choosing a metal to feature in your home is consistency.  Having a hodgepodge of finishes running throughout your home will make it look disjointed and an afterthought.  Stick to one finish for fixtures like faucets and towel bars and another for things like cabinet hardware.  Also, don't forget about your appliances.  Try to keep them all in the same color family if possible.
3. Permanent Lighting Installations
If you really want to level up your home, consider upgrading your lighting.  Replacing bedside table lamps with wall sconces creates will create a luxurious looking bedroom.  Sconces are also great in the dining room.  Beyond sconces, upgrading your builder grade chandelier is another good move.  A list of gorgeous, budget-friendly chandeliers can be found in the post 20 Incredible Chandeliers Under $200.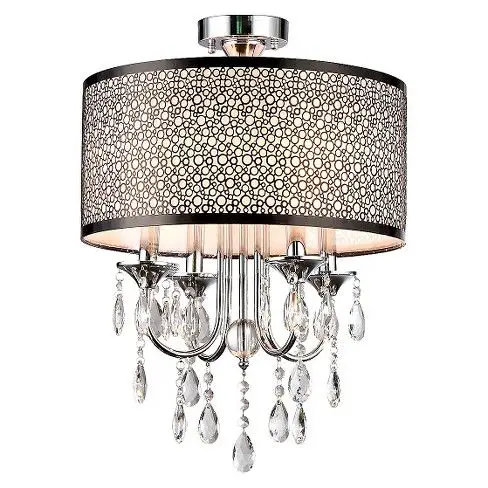 Installing dimmer switches, under-cabinet lighting, and picture or shelf lighting are other ways to amp up the look of your home.  And, don't forget your outdoor spaces.  Solar lights for your flower beds, pathway lights, and string lights for your patio are great inexpensive options to upgrade your space.
4. Don't Forget About Rugs
Last, but not least anchoring and accenting your rooms with rugs make a huge difference in the overall look and feel of your home.  Featuring hardwood floors throughout a home isn't as impressive as it once was with all of the new engineered wood flooring options.  It's no longer a splurge option.  What is impressive, however, are area rugs.
For fabric choice, I refer you back to the first section of this post.  Just like with curtains, you don't want a printed pattern on your rug, you want a woven design.  The sizing of your rug is also important along with the placement of your furniture in relation to the rug.
Taking the time to accessorize your rooms, kitchen, and hallways with rugs will add a layer of decor that often gets skipped by amateur decorators.  It also creates a textural experience which is a hallmark of a luxurious interior.
Like chandeliers, we can sometimes shy away from purchasing large area rugs due to price.  However, you can get a great deal at places like Home Goods, Wayfair, and Overstock.  If you're in the market for rugs check out the post 20 Awesome Area Rugs Under $50 at Houzz.
I hope you found this post helpful.  If you did, please share it with a friend and follow Dianne Decor on Instagram and Bloglovin' for more content. Do you have any tips on how to create a luxurious looking home?  If so, please share them in the comments below.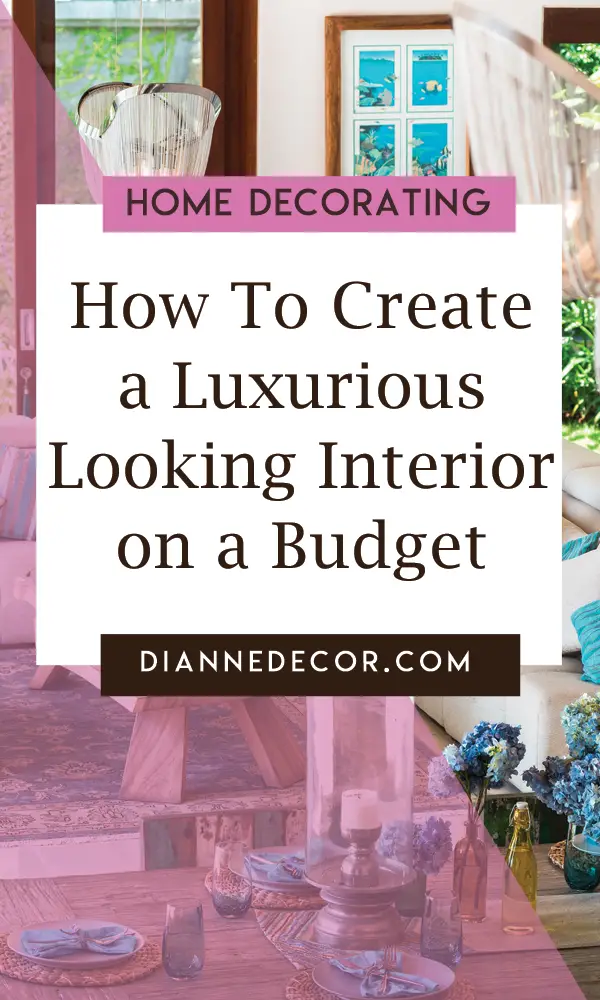 Thanks for reading!
decorating on a budget
elegant interior
home decor
home decorating
interior decorating
luxurious interior
luxurious looking
luxurious room