FTC Disclosure - This post contains affiliate links and I will be compensated if you make a purchase after clicking on my links.
*Item received for free for promotional consideration or a sponsored link.
DIY marble home decor projects are an easy way to class up any space.  This sleek, modern look paired with rose gold is a hot trend this year.
And, sure you can buy a variety of marble accents in-store, but honestly, these DIY projects are so much fun!  Not to mention, considerably less expensive.
For most of these projects, all you need is a pair of scissors and some marble contact paper in addition to any of these items listed below.
Check out these 10 ways to add marble accents to your home today.  
Buying Marble Home Decor vs. DIY
The problem with buying marble home decor is that marble, like most other natural stones, is expensive.
This means that if you're decorating on a budget, you'll likely have to settle for a faux marble finish or something that only partially incorporates marble to get a deal.
So, when you consider that, you might as well, DIY your own faux marble accents.  This can be done easily with either contact paper or paint.
10 Trendy Marble Home Accents
Below I've compiled 10 different DIY marble home decor ideas that are quick and easy.  Let's take a look.
1. Picture Frame
Whether you're framing a photo for your desk or wall, trimming it with some marble contact paper is a quick and easy project.
2. Vase
A marble vase on your bathroom vanity filled with a beautiful bouquet is the height of sophistication.  To avoid unsightly bubbles or a hassle smoothing the contact paper, try the marble dipping method instead.
3. Wall Clock
I found a number of marble wall clock DIY projects on Pinterest.  A numberless analog clock is your best bet.
Simply remove the first and second-hand hardware, place the contact paper on the face of your clock, then reattach the hardware.
4. Tabletop
Whether you're decorating a coffee table, console table, end table, desktop, or vanity top; a marble surface will make a big impact.  This is one of the easiest projects with the biggest impact.
I guarantee a marble top console table in your entryway will not be ignored.
5. Candleholders
Illuminate in style with marble wrapped candle holders.  This is also a quick DIY that will make your countertop or table look chic and sophisticated.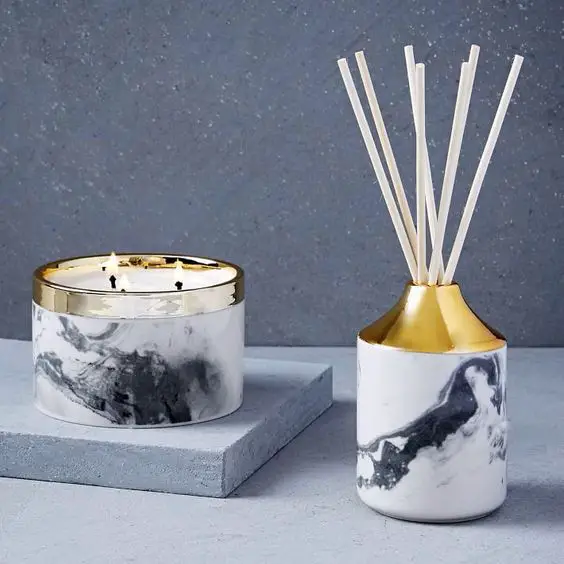 6. Canisters
Marble wrapped canisters are a great option if you're looking to add a little something extra to your kitchen.  
7. Wall Art
Marble can be used in wall art in a variety of different ways.
You can trim a frame, much like the marble picture frame.  Or, you can choose to wrap the matting within the frame with marble contact paper and place a graphic or quote on top.
Alternatively, you can choose a more colorful marble pattern and cover the entire frame insert and have the marble stand along as your art piece.
8. Trays
A basic serving tray can be upcycled into a lovely tabletop accent with a little marble contact paper.
9. Planter
A small planter or set of planters is a great accent.  Fill them with tiny succulents and place them on your desktop for a sleek, modern look.
10. Pencil Holder
Another great desk accent is a marble pencil holder.  This is another easy upcycle project.
You can choose an old cup, can, or candle holder to style.  Small glass cups and containers that are perfect for this project can also be purchased at the Dollar Tree.
Conclusion
Have you tried any of these DIY marble home decor projects?  Let me know in the comments below.
If you found this post helpful, please share it with a friend and follow Dianne Decor on Bloglovin' for more content.  To have my latest posts delivered directly to your inbox, join the mailing list before you go to receive my weekly newsletter.
Thanks for reading!
marble accents
marble countertops
marble decor
marble decorating
marble home accents
marble home decor
marble picture frame
marble vase