FTC Disclosure - This post contains affiliate links and I will be compensated if you make a purchase after clicking on my links.
*Item received for free for promotional consideration or a sponsored link.
After weeks of procuring the perfect decor accents for your room, coordinating colors, and styling windows, you're finally done. The bedroom, living room, or bathroom you've always wanted is complete.  Or is it?  Did you forget your statement ceiling?
Statement ceilings are bigger and better than ever.
Best of all, they can be done on any budget.
What Is a Statement Ceiling?
A statement ceiling is a design or treatment applied to the ceiling of your room.  It is used to create a bold and unique focal point within a space.
If you want to take your home from beautiful to worthy of the cover of Better Homes and Gardens, you might want to take the time to design your ceiling.
Now, you may be thinking why?  What makes a statement ceiling so special?
Here it is.
What Makes a Statement Ceiling Special?
Besides the unexpected aspect of this decor feature, whatever you choose to place on your ceiling will be fully enjoyed.  It will be appreciated in a way that no other element in the room can.
This is because it is almost completely unobstructed.  This means you're seeing it in its full glory, and that creates a "wow" factor.
Your oriental rug may be beautiful and your Chesterfield sofa may be timeless, but they cannot compete with the prime real estate the ceiling holds.
Sofas, rugs, coffee tables, and walls are all a part of a whole.
These items are special because they are in harmony with the other items around it.
Pillows make a sofa pop.  Lamps can make end tables stand out, and rugs can anchor your seating and focus your room.
The ceiling, much like the cheese, stands alone.  With the exception of a chandelier or other lighting fixture of course.
Besides that, there usually isn't much going on up there.  Until now.
Here are five popular statement ceiling styles that you can try in your home.
5 Statement Ceiling Styles
Coffered Ceiling
This is probably the most popular style.  A coffered ceiling has exposed beams that intersect one another.  This often creates a pattern of squares or other geometric shapes on the ceiling.
Pros: This is one of the most classic and refined styles.  It is likely to stand the test of time and shifting trends.
Cons: Installing a coffered ceiling is a bit labor-intensive.  Lots of measuring, cutting, and properly securing lumber to avoid accidents are involved.
Cost: $$$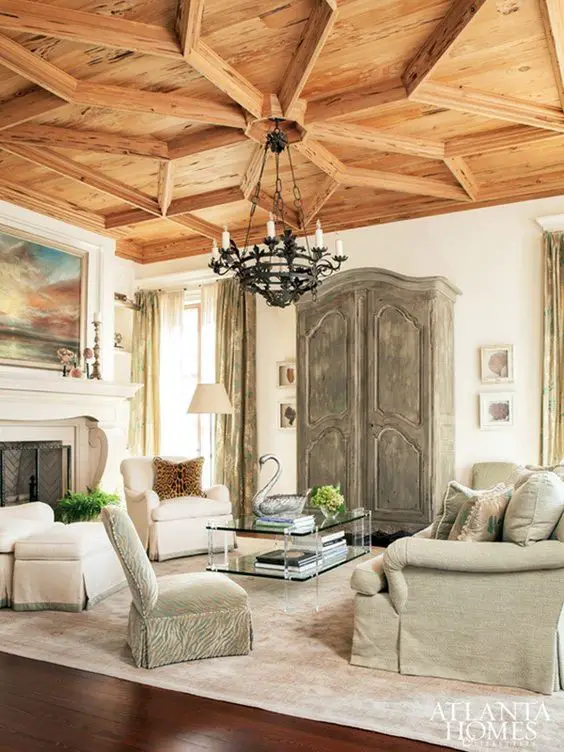 Exposed Beams
The traditional exposed beam look features beams running parallel to each other across the ceiling.
Although many of the exposed beam ceilings we see now are not load-bearing, some may be.
If this is the case, it makes it an easy choice for a statement ceiling because they can't easily be removed.
Pros: This style is versatile in that you can choose to paint the beams the same color as the rest of the ceiling.  This will help them recede into the background and create a more subtle detail.
Alternatively, you can choose to stain them a variety of different tones to contrast the ceiling color and make the beams stand out.
Cons:  This can at times look dated or make your home look a little like a log cabin.  If country chic isn't your thing, consider a different statement ceiling style.
Cost: $$$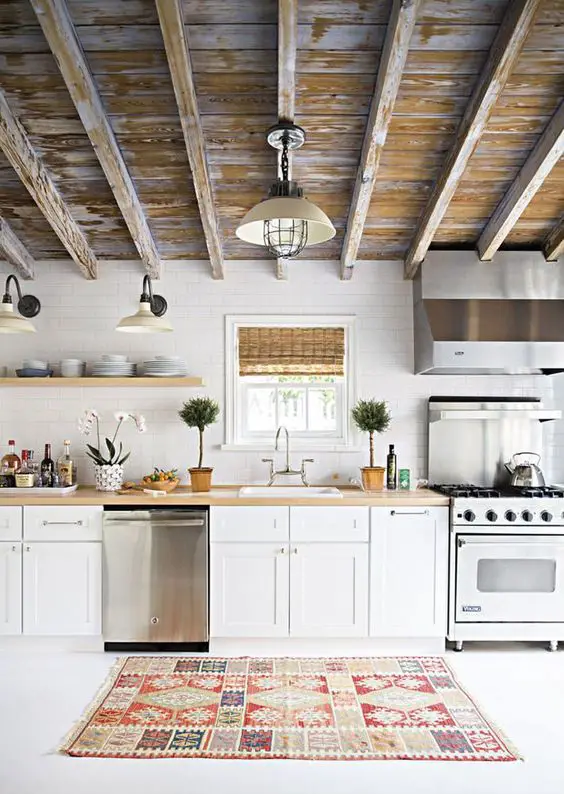 Wood Plank Ceiling
Basically, this is like installing wood flooring on your ceiling.  It can be done using real or faux tongue and groove wood floors.
Pros: Quick installation. A large variety of stain options.
Cons: Hmmm… it looks like you have a floor on your ceiling.  It's not for everyone, and for some can be a bit disorienting.
Cost: $$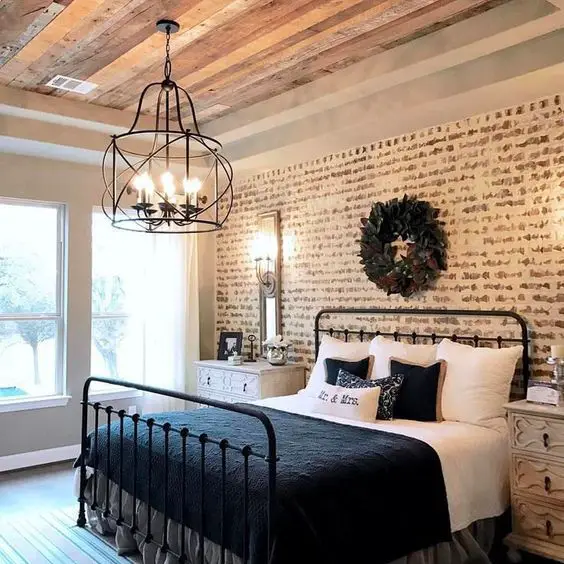 Wallpaper
This is a great weekend DIY project.  Self-adhesive wallpaper affixed to the ceiling gives you endless possibilities for design.  It's also easy to remove if you tire of it in a few years.
Pros: Cheap, quick, easy.
Cons: It can look cheap if not installed properly.  Make sure there are no air bubbles or peeling edges.
Cost: $
Paint
This is probably self-explanatory.  Great paint color on your ceiling can make the entire space pop.  Particularly if you choose black.
Pros: Super easy and inexpensive.
Cons: Not every color is for everybody.  If you've selected a bold color and are about to sell your home, you may be advised to switch back to a neutral to appeal to more home buyers.
Cost: $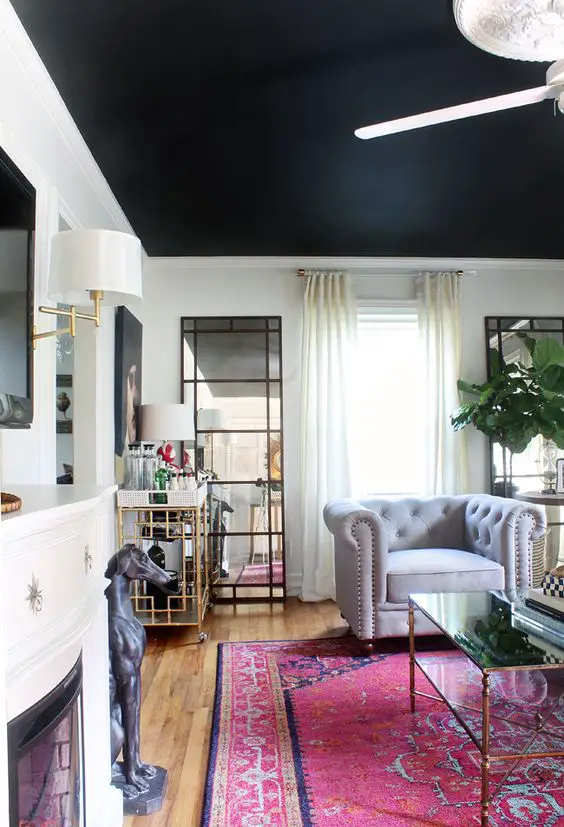 Conclusion
What do you think of statement ceilings?  Comment below.
If you found it helpful please share it with a friend.
Also, comment below if you've recently installed a statement ceiling in your home.  I'd love to hear about your experience.
For even more content follow me on Bloglovin'.
Thanks for reading!
ceiling
ceiling decor
ceiling decoration
coffered ceiling
exposed beam ceiling
painted ceiling
statement ceiling
statement decor
wallpaper ceiling
wood ceiling