Is That a Pantry Wall I See?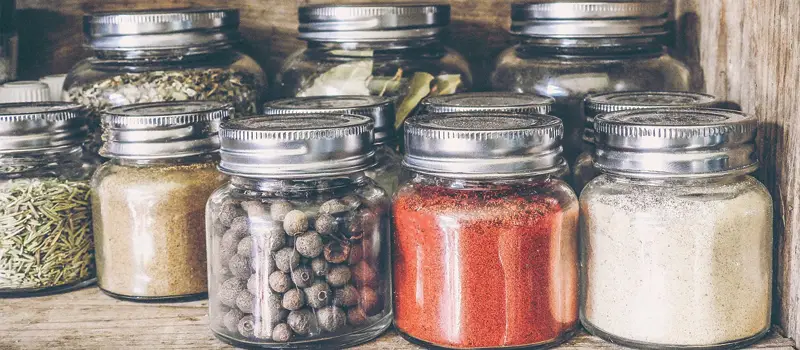 FTC Disclosure - This post contains affiliate links and I will be compensated if you make a purchase after clicking on my links.
*Item received for free for promotional consideration or a sponsored link.
If kitchen storage is an issue for you, like it is for me, a pantry wall may be the answer.  The dilemma: lots of pantry items and no walk in pantry.  Cabinet space can fill up quickly with dishes and appliances, particularly if you like clean, clutter free counter tops.  The fix: A pantry wall.  It's the newest kitchen storage solution for this problem and it's making a splash.
The Benefits of Having a Pantry Wall
Often made from reclaimed space between appliances or inset between wall studs, these creative nooks can really make a statement.  Because in wall pantries are typically shallow, your spices and baking goods are often laid out in a single row. This makes everything accessible and easy to identify.  Sometimes with walk in pantries or cabinet storage things get stacked two and three rows deep.  This makes it hard to find items.  It's also a waste of time and energy.  Constantly shifting items around just to find what you need is inefficient, not to mention incredibly frustrating.  There's nothing worse than having to pull out a bag of flour to reach a small spice container that has slid behind it.
Having a pantry wall will eliminate this problem.  It places everything front and center.  Best of all, it's a really unexpected kitchen feature that is sure to spark conversation.  Let's take a look at a few examples.
This in wall pantry featured on polebarnhome.net is very cool.  The barn door gives it a great rustic vibe that will go with your modern farmhouse decor.
Another great example is this in-wall pantry enclosed with frosted glass doors.  It gives this kitchen a sleek, modern update.
This pantry wall uploaded to
Pinterest
is incredible.  The white and brown basket theme coupled with the uniform glass jars is spectacular.  Well done!
What do you think of this innovative kitchen storage trend?  Do you plan on using a pantry wall in your home?  Comment below.  Don't forget to follow Dianne Decor on Bloglovin' for even more content.
Thanks for reading!